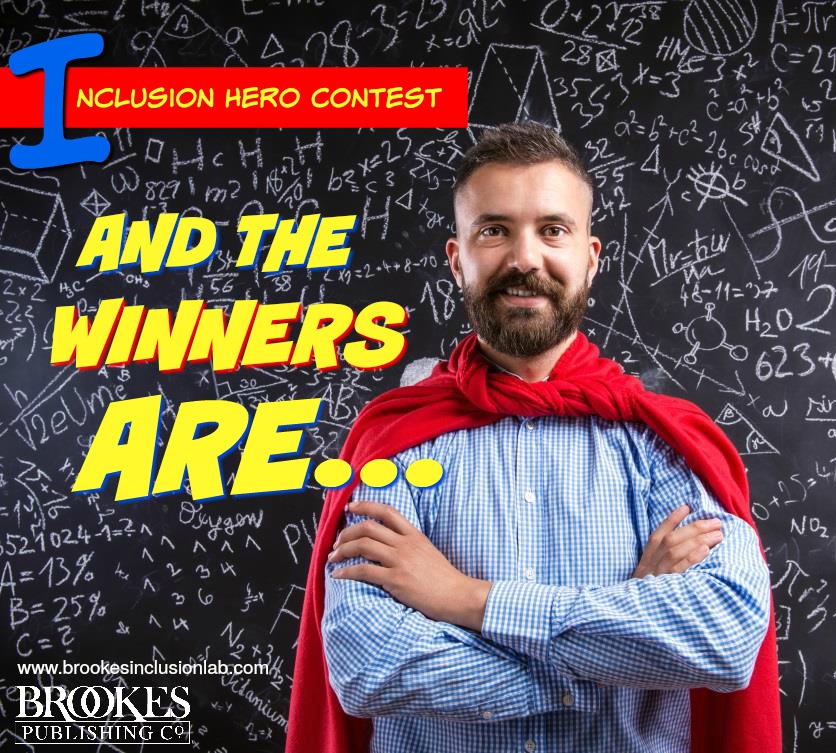 Huge thanks to everyone who nominated an Inclusion Hero last month for our calendar contest! We got so many amazing entries that narrowing down the winners was almost impossible. Your stories are proof positive that real heroes don't wear capes–they work tirelessly in classrooms across the country to help every child succeed and thrive.
Here are the 12 winners of the Inclusion Hero contest. Winners will each receive a spotlight in our upcoming inclusion calendar, so their excellent work can inspire other teachers across the country to be the "inclusion hero" their learners need.
PATRICIA BATES
Content Area Chair, Special Education Department
Centennial High School
Champaign, IL
KYLIE BENSON
Learning Behavior Specialist I
Sharon Christa McAuliffe Elementary
Chicago, IL
TIMOTHY D. DAVIS
Associate faculty member, Physical Education Department
State University of New York at Cortland
Director of the SUNY Cortland CHAMP/I Can Do It afterschool peer mentorship program and creator of the Skill Builders/Challenger Sports service learning program
KRISTIN FRANK, Resource Teacher & HEATHER JONES, Inclusion Support Teacher
Stratford Northwestern Secondary School
Ontario, Canada
DAVID JOSEPH GAMEZ
Fifth grade math and science teacher
Natalia Elementary
Natalia, TX
CARRIE KINZEL
Child Care Specialist, PreK classroom
St. Louis Community College at Florissant Valley, Child Development Laboratory Center
St. Louis, MO
KELLY B. MARSHALL
Seventh-grade Special Education Teacher/Co-Teacher
Great Brook School
Antrim, NH
STEVE AND NANCY McCOY
Co-Educators in the Full Inclusion Program
Archbishop O'Hara High School
Kansas City, MO
AMY MUNN
Kindergarten teacher
St. Clement's Regional Catholic School
Saratoga Springs, NY
ADRIANA PEHL
Special Education Teacher/9-12 Options Program Teacher
Cathedral Catholic High School
San Diego, CA
JENNA MANCINI RUFO
Director of Special Education and Student Services
North Penn School District, PA
KATE SMALL, Special Education teacher & SHARON SOBOTKIN, fifth grade teacher
Co-teachers at Oak Park Elementary School
Lansdale, PA
Congratulations to all the winners–and special thanks to the other nominees, who are no less heroic in our eyes (or in the eyes of their students)!
Summer break
Just wanted to add that the Brookes Inclusion Lab is on a short summer break for the rest of June and part of July. We'll be busy creating more great content for you before your next school year starts–and in the meantime, if there are any topics you'd like to see us cover in the fall, please drop us a line in the comments and let us know how we can help.
Thanks to everyone who read and shared our blog posts this year! We hope our posts gave you some fun and useful tips you can use in your classroom for many years to come. Whether you're a teacher, a parent, or another member of an inclusive education team–congrats on another successful school year, and thanks for all you do to help every child learn, grow, and work toward their dreams.
Enjoy the start of your summer, and see you in July!