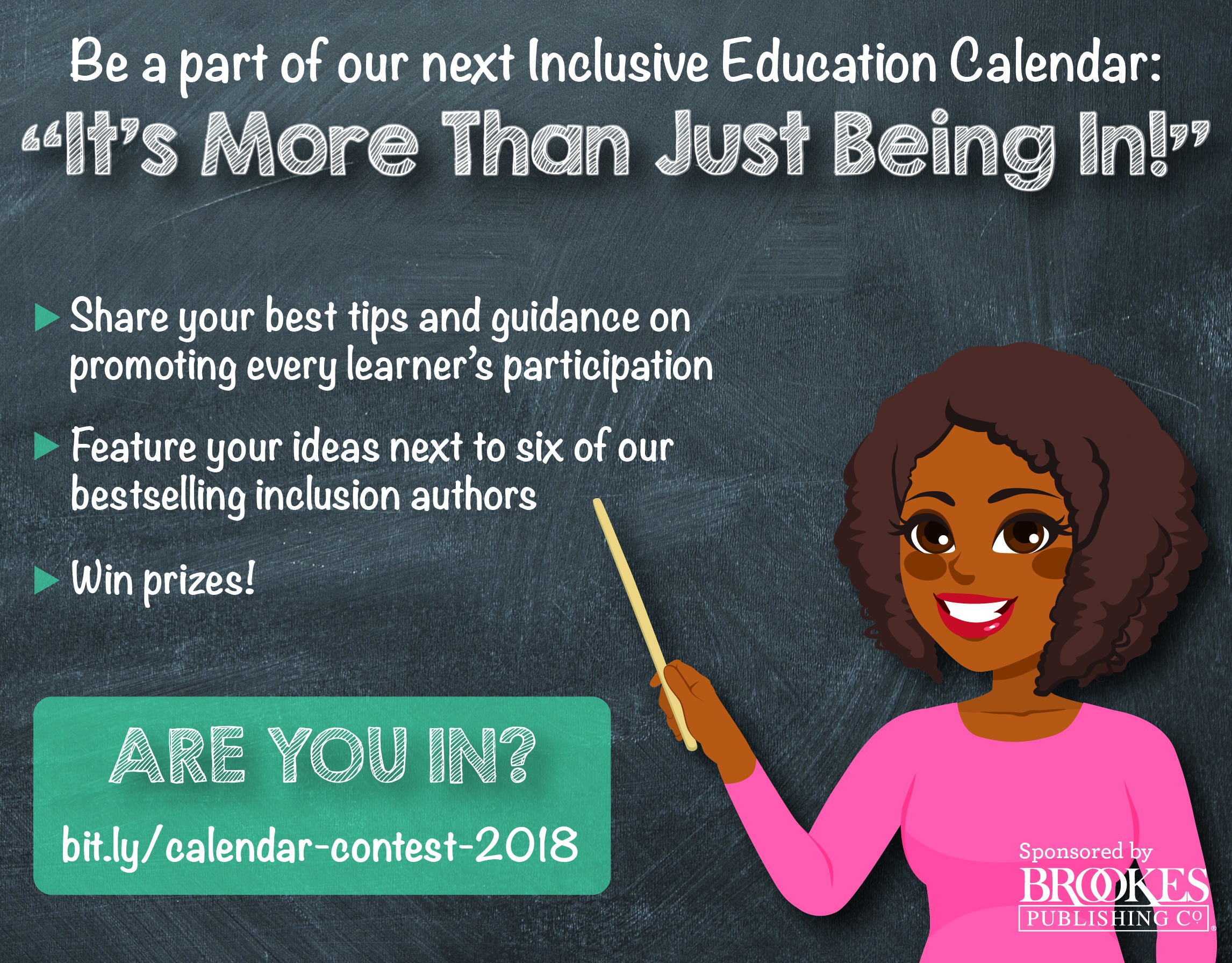 It's almost time for our annual inclusion calendar–and this year we've got a great theme we think you'll love!
What do you think of when you hear the words "authentic inclusion"? If you're an inclusive educator, you know that meaningful inclusion is about much more than a student's physical presence in a classroom–it's also about every student's full participation and membership in the school community. That's what this year's inclusive education calendar is all about…and we want YOU to be a part of it!
This year's calendar theme is "It's More Than Just Being In" (inspired by the upcoming Brookes book by inclusion advocate Cheryl Jorgensen). We want the calendar to be an awesome free resource for the inclusion community, full of practical tips and guidance on authentic inclusion. So we're asking for contributions from the experts: the authors of bestselling Brookes books on inclusion, and the teachers who welcome and include every learner.
Enter our contest, and you could be one of the teachers featured in the calendar!
Here's how to enter: 
Visit our calendar contest entry page by March 31.
Answer a few questions about your approach to inclusion. What do you do in your classroom to ensure that students with disabilities are more than just physically "in"?
Hit SUBMIT and you're done! (Winners will be announced the week of April 8th.)
Here's what you could win:
Six winners will each receive a spotlight page in our "It's More Than Just Being In" inclusive education calendar. They'll also win a library of books from authors featured in the calendar, donated to a school of their choice.
All other contest finalists will win a free copy of Cheryl Jorgensen's new book, It's More Than Just Being In: Creating Authentic Inclusion for Students with Complex Support Needs. If you're a finalist, your inclusion tips may also be featured in a post right here on the Inclusion Lab.
We hope you'll enter the contest and share your best tips on promoting every learner's participation and membership in school. Good luck!