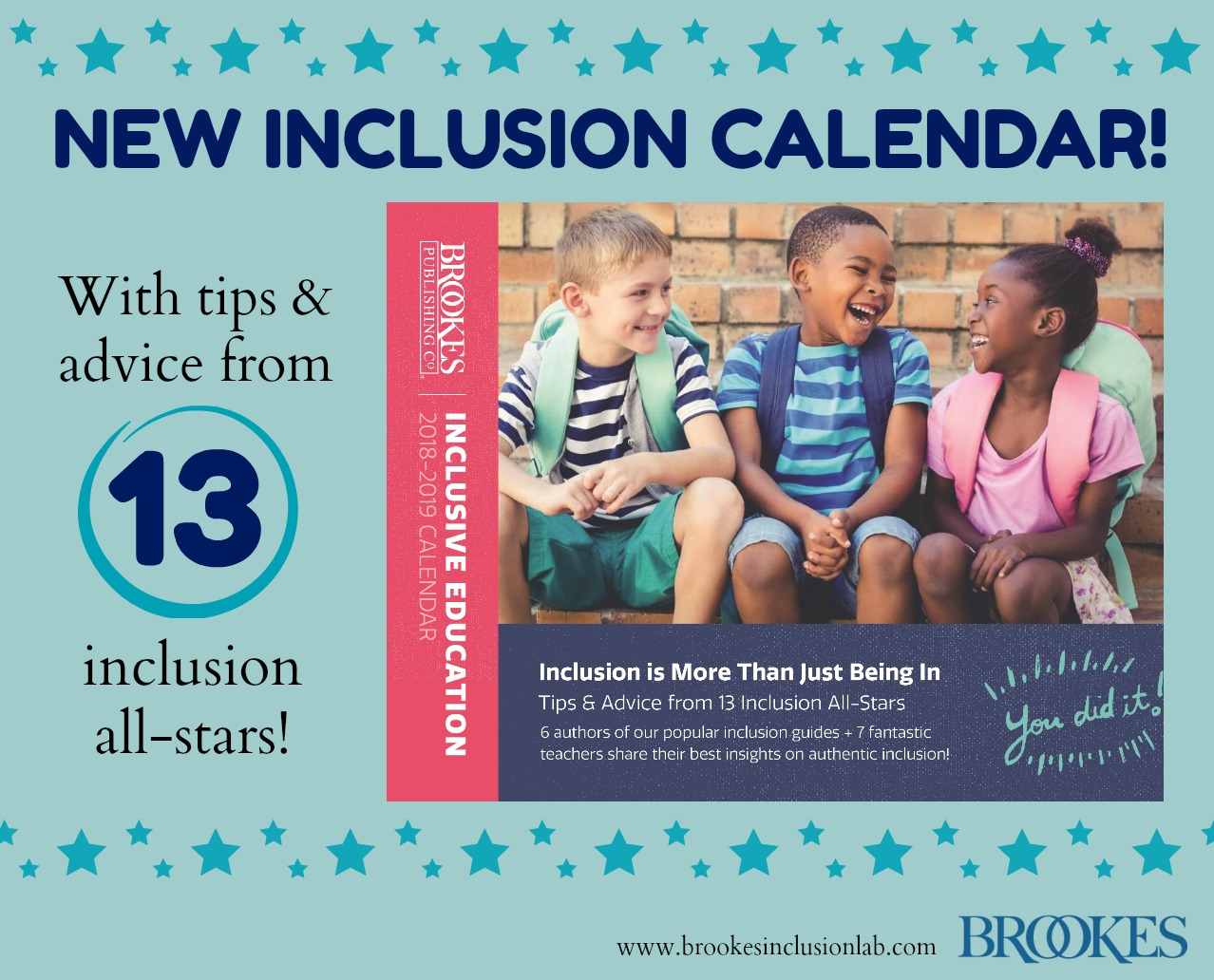 The start of a new school year is on the horizon, and today we're so excited to unveil a little back-to-school gift for our educator friends: our annual inclusion calendar!
If you're an inclusive educator, you know that authentic inclusion goes way beyond your students' physical presence in your classroom. Inclusion is about every student's full participation and membership in the school community–and that's what this year's calendar is all about. Taking our inspiration from Cheryl Jorgensen's new book, It's More Than "Just Being In," we asked six authors of bestselling Brookes books to share their words of wisdom on how to achieve authentic inclusion. We also ran a contest asking the community of educators on social media for their best tips and guidance on putting inclusion into action in their classrooms. Seven of these amazing educators are featured in the calendar (and a huge thanks to EVERYONE who entered the contest–you're doing incredible work to reach and teach all kids).
Here are the winning educators and advocates featured in this year's calendar:
ANGELA DIEKER & KELSEY STOLT, co-teachers
JACQUELINE GIAMMARCO, inclusion facilitator
AMANDA MORIN, special education advocate, writer, and parent
RANJANA RANGANTHAN, inclusive educator
AMY STANDRIDGE, inclusive music therapist
CHRISTINE WEBSTER, instructional special education coach
And here are the authors featured:
ERIN BARTON, coauthor of The Preschool Inclusion Toolbox
NICOLE EREDICS, author of Inclusion in Action
EVA HORN, coauthor of Six Steps to Inclusive Preschool Curriculum
CHERYL JORGENSEN, author of It's More Than "Just Being In"
PAULA KLUTH, author of many books on inclusion, including "You're Going to Love This Kid!"
WHITNEY RAPP, author of Universal Design for Learning in Action and coauthor of Teaching Everyone
Thanks again to everyone who entered the contest! You can download your calendar for free at the link below. Hang it up and keep it close by all year for inspiring tips and thoughts from some real "inclusion all-stars"!