Screener Spotlight: Your Quick Guide to the Well Screening
October 7, 2021
This is the best kindergarten screener available...great for detecting kiddos with reading difficulty and speech and language needs.
—Lisa Sandoval, M.A., CCC-SLP,
Executive Director of Dynamic Therapy Solutions, Los Angeles
---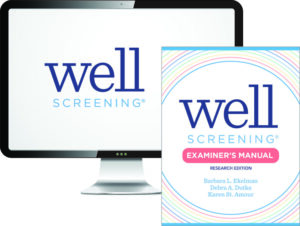 When it comes to identifying a young child's risk for learning disabilities, one rule of thumb applies: the earlier, the better. Today, we're dedicating a Screener Spotlight to the Well Screening® tool, a quick and reliable way to identify kindergarten students (ages 4–6) at risk for learning disabilities, including developmental language disorders, dyslexia, ADHD, dyscalculia, and speech sound disorders.
Created by Barbara Ekelman, Ph.D., CCC-SLP, Debra A. Dutka, M.A., CCC-SLP, & Karen St. Amour, M.A., Well Screening is an engaging, game-like online screener that looks at student performance in multiple skill areas that predict their future school success. Use it after a universal screening questionnaire—in just 20 minutes, you'll get a deeper look at children's skills in these important domains:
receptive language
expressive language
social communication
early literacy
reading
attention
math calculation
speech sound production
motor skills
The Well Screening shows the growth my students make over the course of a school year and helps guide my teaching to best support each individual learner.
—Lauren Brown, Teacher, Private School
Topics
Tags