Are you getting the most out of your IEPs? Make sure you are by implementing these two state-of-the-art practices
June 5, 2015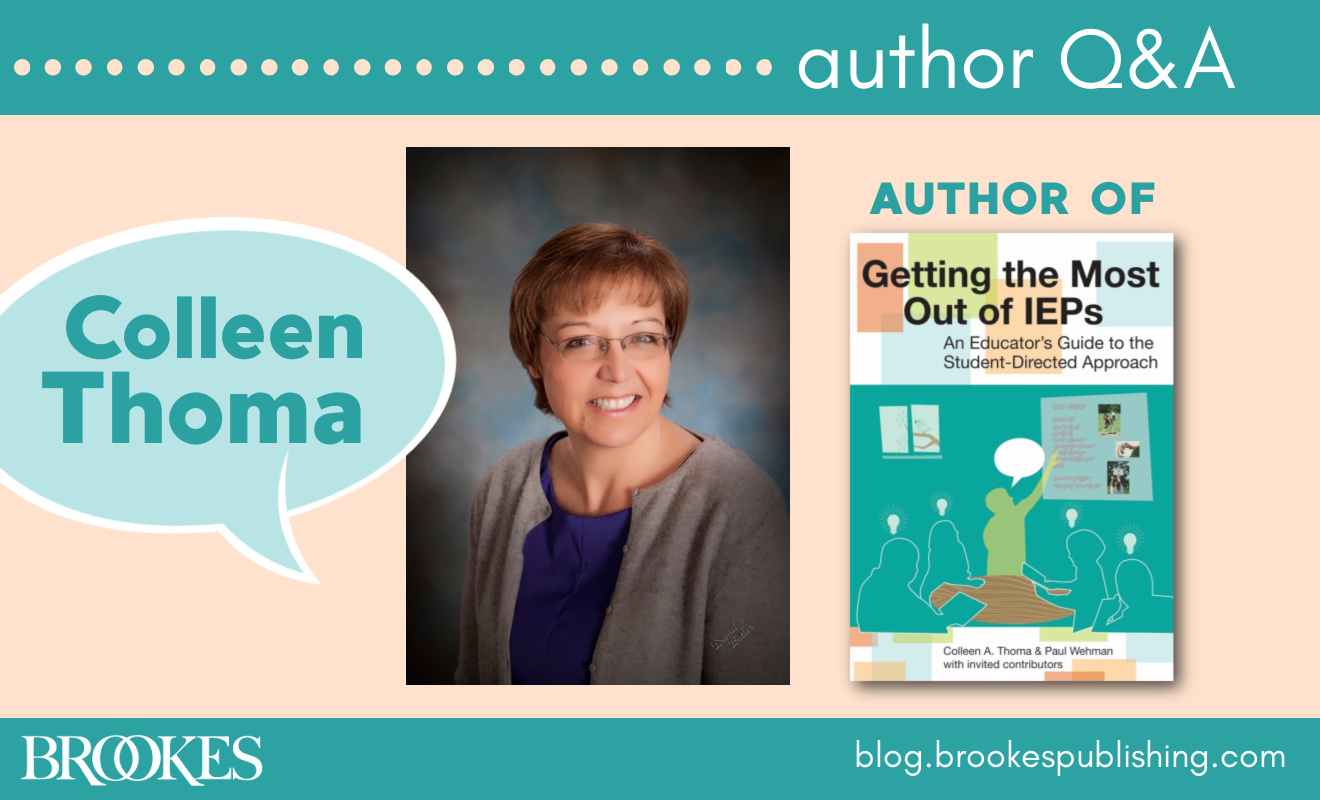 Learn the benefits of using a student-directed approach and a trained IEP facilitator in this Q&A with the authors of two new guides sure to help you optimize the IEP process.
Colleen Thoma, Getting the Most Out of IEPs
Q:
What is a student-directed approach to IEPs?
A:
Student direction refers to a range of supports and procedures that can be used to facilitate student involvement, at whatever level, throughout the individualized education program (IEP) process. The IEP process includes three parts: premeeting activities; the meeting itself; and implementation and evaluation of the IEP components.
Student direction unfolds along a continuum from person-centered planning, where adults are in charge of the process but ensure that student needs guide the components of the plan, to student involvement, where students are present at the meeting and have some responsibility for sharing their own ideas, through student-led processes, where students take the lead for the entire process.
Q:
How is that different from a more typical approach?
A:
Often IEP development is focused on completing the paperwork or legal requirements rather than on optimizing the opportunity for students to be more engaged in their academic and transition goal development. Students can learn skills that will prepare them for their adult life, when they will be required to advocate for their own supports, services, and accommodations.
Involving students in the meeting can help re-focus the process on the students and not on the differences of opinion between the various stakeholders who are typically part of the process. It helps extend our definition of collaboration to include students as equal members of the IEP team and not just a set of "deficits" to be "remediated."
Nicholas Martin, Supporting the IEP Process
Q:
How can a leading role for students in the process help them accomplish some of their critical goals?
A:
Our field has so much evidence about the positive impact that self-determination skills can have on students in achieving goals such as employment, post-secondary education, community living, quality of life, and inclusion in general education classrooms. However, teachers report that it is difficult to fit self-determination instruction into their already busy schedules during the typical school day.
Of course, a number of instructional strategies have been developed to address this issue but including students in their IEP process can help them learn their educational rights and involve them in assessing their strengths and weaknesses as well as progress in meeting their IEP goals.
We've seen the use of student-directed IEP strategies increase students' interest in their education and significantly change the quality of the goals developed. When students are more actively involved and the information shared is more personal, the IEP goals tend to be more attainable and connected to student preferences and interests.
Q:
What is an IEP facilitator?
A:
The term IEP facilitator has been used to refer to any of a number of people whose role it is to make the IEP meeting run more smoothly and hopefully result in an agreed-upon plan for the child.
Although many people in the meeting may use facilitation skills, the role of the "IEP facilitator" is becoming more widely understood and more consistently applied to define a person who
1) is not a member of the team
2) does not sign the IEP
3) does not have authority over any team members, and
4) attends for the purpose of supporting the collaborative process of the team members
In this last regard, the facilitator supports effective communication and intervenes when collaboration is breaking down. In this narrow definition, he or she has no other role to play and thus may spend most of the meeting time quietly listening.
Others may expand that definition to have the facilitator provide recommendations and advice, or to offer expertise in the subject matter under discussion. It is important to understand that the definition is evolving and people may be talking about different things when they talk about an "IEP facilitator."
Q:
How commonly is a facilitator used?
A:
Even if we agree to refer to the more narrow definition of facilitator above, it would be impossible to quantify because facilitation is not a requirement of law; it is not being used in all states—at least not as a statewide initiative. Those states that do provide facilitation are not necessarily keeping records or making their numbers public.
What we can say is that facilitatioin is being used in at least the 17 states that have submitted summaries to the Center for Appropriate Dispute Resolution in Special Education (CADRE). We can also say that facilitation has been found to be highly effective and its use is rapidly expanding. Currently, it appears to be being used primarily in contentious team meetings, but it has the potential to be used at any meeting where the members see benefit in having a skilled and neutral person to support their collaborative process.
Q:
How does the presence of a facilitator affect the prospects for success?
A:
From the summaries presented to CADRE, it is becoming quite routine to hear reports of success rates ranging from 73% to 95% of the time. Success is generally defined as resulting in a signed IEP at the end of the meeting, but another indicator of success is the high satisfaction rates reported by the participants. Again, record keeping and public reporting are not at all standard at this early point.
The 73-95% success rate is consistent among those states reporting, and what makes such numbers particularly impressive is when we consider that these are not average, ordinary IEP meetings! These are usually the contentious meetings, the ones in which participants may be seeking facilitation as a way of warding off the need for legal action or state intervention, and preventing what the participants fear may otherwise result in a failure to reach consensus.
Q:
What accounts for this success?
A:
Well, let's begin with the ultimate purpose of the IEP team—made up of parents, school professionals, sometimes other service providers, and occasionally the student him- or herself [see more about the student's role above]. The team's purpose is to create an IEP that will safeguard the student's entitlement to a free and appropriate public education (FAPE) in the least restrictive environment (LRE). It is expected to do this by collaboration leading to consensus.
If all team members knew how to do this—work collaboratively towards consensus—there would be little or no need for facilitation. But that's just it. The vast majority of IEP team participants have received little or no training in how to work collaboratively and how to achieve consensus, and what to do when opinions differ and feelings are strong.
This, then, is precisely where the facilitator can add so much. The facilitator, ultimately, is an expert in collaboration—in how participants can work together, communicate effectively, share and explore their different perspectives, work through their difficult issues, manage their hard feelings, and come up with an IEP they can all feel good about. When those pieces are in place, consensus evolves quite naturally as the logical extension of collaboration.
Getting the Most out of IEPs: An Educator's Guide to the Student-Directed Approach
Topics