Resource Spotlight: 4 NEW Quick-Guides on Virtual Instruction and Engagement
June 7, 2022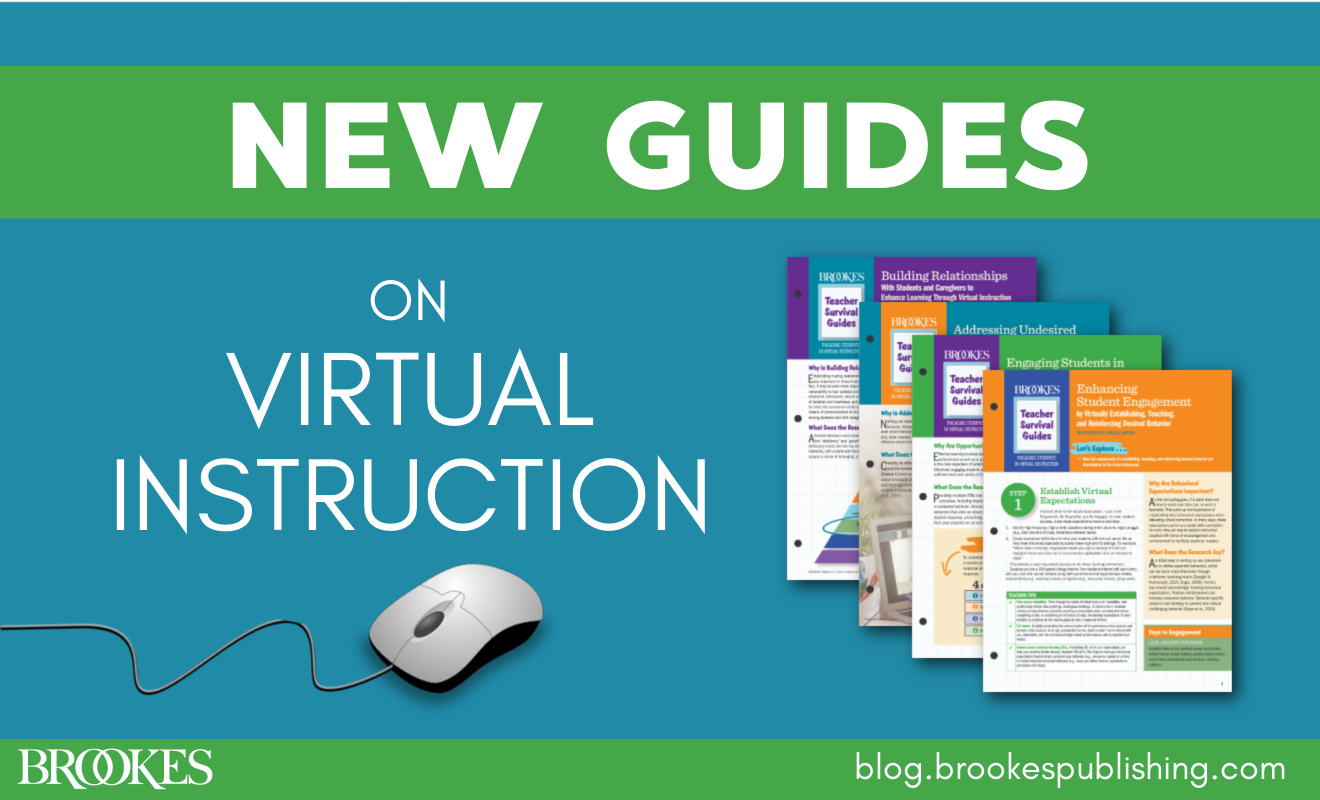 Even before the COVID-19 pandemic, enrollment in virtual and blended schools had been steadily rising, and remote learning will likely continue in some form for the foreseeable future. That means teachers will need explicit guidance on how to resolve the challenges of virtual instruction—not just the technical issues, but the essentials of keeping students engaged, improving social-emotional skills from a distance, and addressing the issues unique to remote behavior management.
In today's post, we're introducing a new resource that every educator who teaches remotely should have at their fingertips: The Teacher Survival Guides on Engagement of Students in Virtual Instruction. These four laminated quick-guides give K–12 teachers tips and strategies for boosting engagement, student wellbeing, and positive behavior in a range of virtual settings. The guides break important guidelines into small, easy-to-remember nuggets of wisdom: brief keys to engagement, teaching tips, proven strategies, and short FAQs. They're specially designed to help any teacher take immediate action to support their students' academic, social-emotional, and behavioral success year after year.
Why These Guides?
We asked co-creators Timothy Knoster, Ed.D., & Danielle Empson, M.Ed. to explain why these new quick-guides are so urgently needed. Here, in their own words, are the Top 5 Reasons Your School Needs These New Survival Guides:
Virtual instruction isn't going away. First and foremost: One outgrowth of our collective experiences these past couple of years with COVID-19 is the increased expectations for effective utilization of virtual instruction. Remote learning will be with us well into the future, so every teacher needs to be well versed in delivering virtual instruction.
It's about more than technology. Many of the resources available concerning virtual instruction primarily emphasize the actual technologies—for example, the benefits of one learning platform or application vs. another. Our teacher guides focus mainly on the translation of instructional practices—the pedagogy, or how we approach teaching—into the virtual space. Technology is constantly changing, but the principles we share in these guides are foundational and will always be useful to teachers in any kind of virtual setting.
The science of instruction should be easy to learn. These teacher guides are well-researched and based in the science of instruction—but they're also written in user-friendly language. That means both seasoned teachers and novice educators will be able to pick these up and immediately understand and use recommended practices.
Trauma-informed practices are a must. Our teacher guides will show you how to implement the four cornerstones of effective trauma-informed educational practice with each and every student. This foundation, much like the foundation of your home, provides a stable platform to build on throughout your career so you can provide students with the support they need.
Cost-effective teacher prep makes all the difference. Bottom line is the bottom line: The cost for these guides won't break the bank for school systems, or for professional educators in the event that they are paying out of pocket for these resources. Preparation for virtual instruction should be affordable to every educator who needs it.
What The Guides Cover
The survival guides cover four topics essential to the success of virtual instruction:
Building Relationships With Students and Caregivers to Enhance Learning Through Virtual Instruction: Learn how to create healthy relationships in an online classroom and how to identify and connect with students at greater risk for social-emotional and/or academic difficulty.
Enhancing Student Engagement by Virtually Establishing, Teaching, and Reinforcing Desired Behavior: Get essential tips on the interrelated components of establishing, teaching, and reinforcing desired behavior in an online classroom.
Engaging Students in Virtual Instruction Through Opportunities to Respond: Discover the benefits of providing multiple OTRs, the different types and modes for student responses, and how to monitor student engagement virtually.
Addressing Undesired Student Behavior During Virtual Instruction: Get tips and strategies for preventing undesired behaviors before they start, as well as ways to redirect undesired student behavior in a trauma-informed manner.
How to Get Them
The guides are ready to order now. At $12.95 each, they're easy to add to your education team's toolbox. Just click the button below to learn more and order!