Top 5 Planning Tips for Families of Children with Disabilities
April 19, 2022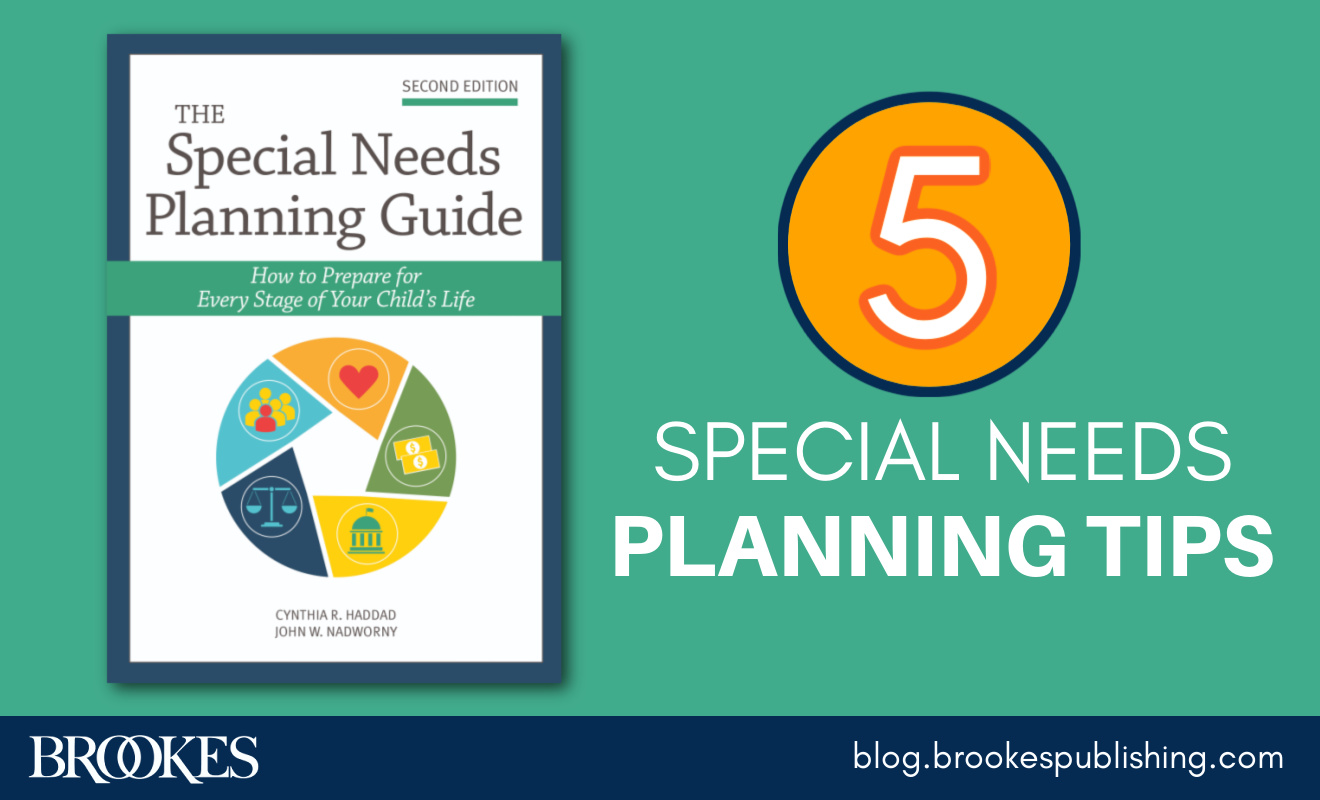 How can families of children with disabilities navigate the complexities of planning for the future of their family and their child? Planning for the future may seem overwhelming at first, but getting started and taking small steps forward makes an enormous difference. Great for sharing with families, today's blog post offers tips parents can use to start planning for lasting financial security at every stage of life.
Today's post is adapted from the excellent book The Special Needs Planning Guide, Second Edition—a primer for parents and professionals to keep on hand and reference as they progress through planning for the future. It's packed with information, tips, examples, and stories, and includes a suite of downloadable tools to customize for each family's specific circumstances. Here are 5 key tips and action items from the book to address these common questions parents have when planning:
Where do I begin?
How can I analyze my situation and make decisions when my circumstances are so complicated?
What tools are available to help me plan?
Who will step in when I can no longer be there for my child?
How can I tie all the pieces of planning together?
Where do I begin?
Your family will have a unique set of circumstances for which to plan, and prioritizing goals and a path toward achieving them can be a complex process. It is key to be purposeful with your time and energy and focus on doing the right things at the right time. To help you identify an effective course of action, begin by finding your family on the Special Needs Planning timeline.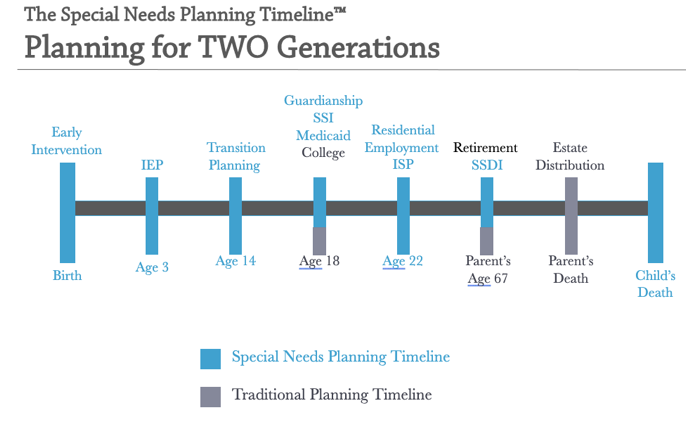 This helpful Special Needs Planning Timeline identifies the planning pressure points—defined by changes in the child's services, supports and benefits—for families to focus on. The Special Needs Planning Timeline identifies 5 key planning stages of your child's life and presents action items for every stage. The 5 stages are:
Early Childhood (Birth–age 3): When your child is very young and receiving early intervention services, live in the present and seek strategies to help plan for the future.
Transition into School (ages 3–14): For many parents, the first major transition will be from early intervention services, which are home-based and family-centered, to an Individualized Education Plan (IEP) for your child provided in a classroom environment.
Transition into High School and Government Benefits (age 15–21): Your child will be developing both life and vocational skills as they approach age 22. Now is a time to plan for adult services and guardianship and alternatives, when applicable.
Transition into Adult Services (age 22 & beyond): School is over now, so the focus is on where your child will live and what they will do during the day (e.g., employment, day programs).
Transition to the Next Generation (build your Team to Carry On): Build a team of family, friends, community, and professionals to provide support for your child when you are no longer able to do so. Communicate with and include your team members in your child's life whenever possible to create a comfort level for both potential caregivers and your child.
How can I analyze my situation and make decisions when my circumstances are so complicated?
LEARN ABOUT THE BOOK!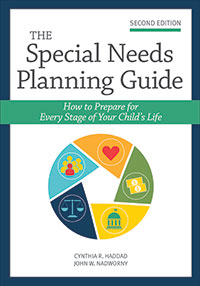 See the end of this post to learn about the empowering and practical second edition of The Special Needs Planning Guide!
The Special Needs Planning Guide outlines how to plan based on the framework that best describes your family's financial situation. The basis for your planning will be determined by your financial framework:
Family with limited means: Your family will be planning with government benefits only. The planning focus should be on identifying all benefits your child may be eligible for and working with state agencies and a local family support agency to maximize and protect these benefits.
Family with modest wealth: Your family will be able to supplement government benefits with personal savings. Working with a provider agency to identify and maximize government benefits will provide a baseline of services and supports for your child. Save for your financial security and for supplemental items or activities your child enjoys that the government does not pay for.
Family with significant wealth: Your family will plan to use personal resources first, and then government benefits to supplement. Apply for appropriate government benefits and protect your eligibility for these. Consider hiring a private case manager to help and a job coach to increase your child's independence.
Family with high net worth: Your family will plan to use family resources without government benefits. Be creative with your planning and work with professionals to maximize your resources.
What tools are available to help me plan?
Depending on your financial framework, there are many planning tools and strategies to determine the cost of the supports needed and how to maximize your resources to provide for your family. The Special Needs Planning Guide includes a suite of downloadable planning tools to customize for your specific circumstances. These forms and spreadsheets can get you started with the planning process before meeting with a qualified financial planner. In addition to the downloadable forms, the book includes strategies for utilizing  ABLE accounts, trust funding strategies, insurance strategies, maximizing and protecting eligibility for government benefits and retirement account strategies.
Who will step in when I can no longer be there for my child?
No one can replace a parent, but it helps to begin the process of building a Team to Carry On at every stage of the Timeline. This takes time, thought, and many conversations, and is best not done in times of crisis.
Begin the process of building your TEAM with 4 steps:
T—Think about your options and possibilities of the who, what, when and how of the members of your team.
E—Envision and identify the professionals, individuals, family, friends, and agencies you might want as part of your team. Ask them and coach them to prepare them for their role.
A—Assist your team by connecting them together at social and family events, and include them in ISP and IEP meetings. We encourage successor trustees to attend our meetings with clients.
M—Mentor your team and monitor your plan by stepping aside and bringing the team into your child's life.
How can I pull all the pieces of planning together?
The five factors of special needs planning—elements to consider when setting goals and planning for the future—are family and support factors, emotional factors, financial factors, legal factors, and government benefit factors. All five will come into play when you're developing a coordinated plan to provide for the needs of all family members. A great way to pull together the elements of your plan is to complete a Special Needs Letter of Intent. Organized by the five factors, the Letter of Intent will include all the details of daily living and more that a caregiver would need to know.
The five steps outlined in today's post will help families start working toward a secure and full life for their child. For more in-depth information about planning, plus a complete package of online resources and downloads, pick up the second edition of The Special Needs Planning Guide!
The Special Needs Planning Guide
How to Prepare for Every Stage of Your Child's Life, Second Edition
By Cynthia R. Haddad, CFP®, ChSNC®, & John W. Nadworny, M.B.A., CFP®, CTFA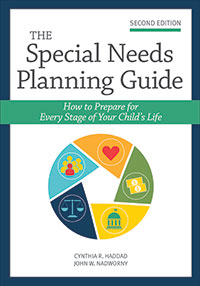 The first edition of The Special Needs Planning Guide was published in 2009. At the time, there was virtually no organized source of information available to parents to help them plan for their child with special needs. The goal of the book was to empower parents with information about planning for the future of all their family members, including their child with disabilities, and to provide a framework for them to work with.
Fast forward to December 2021: the second edition of The Special Needs Planning Guide is published! Building on the information presented in the first book, this edition allows the authors to share the knowledge they have learned from working with hundreds of families over the past 15 years and incorporates many of the positive changes that advocacy for people with disabilities has helped achieve. There have been important advances in areas of expanded housing options, the introduction of ABLE accounts, and changes in retirement planning from the Secure Act. Parents are encouraged to think about all the people in their child's life when planning for their lifelong support and social interactions. This includes communicating with each of their other children individually when planning for their sibling with disabilities.
GET THE BOOK
Topics
Tags