10 Free Resources for Mental Health Awareness Month
May 7, 2019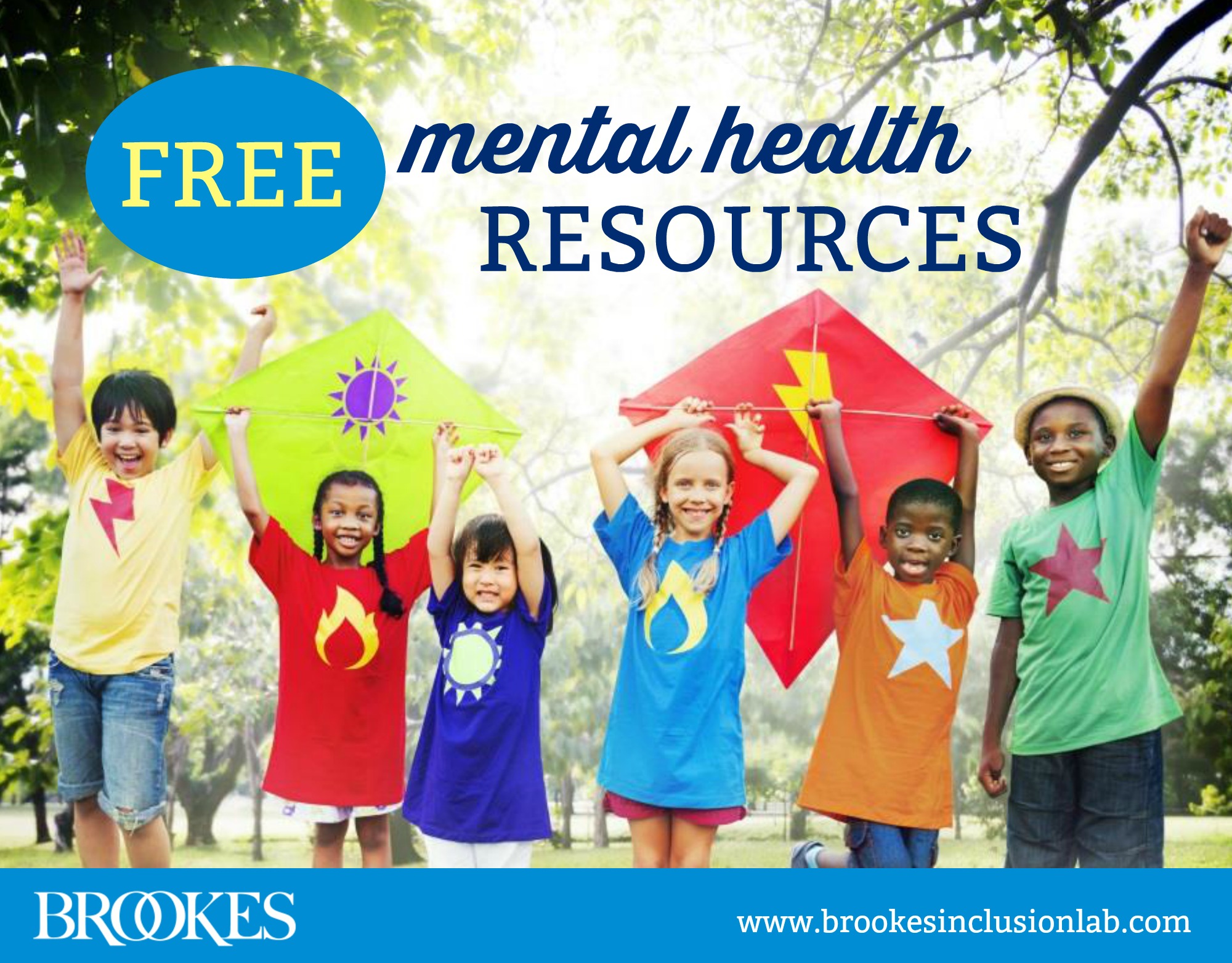 May is Mental Health Awareness Month, a time for reflecting on the importance of mental health to a child's development and thinking about new ways to support this critical dimension of children's well-being.
To mark this occasion, we've collected 10 of our favorite free resources from Brookes books and authors. These resources will give you new tips and insights on issues closely related to mental health: supporting students exposed to trauma, reducing stress, promoting healthy social-emotional development, helping grieving students, and more. Whether you work in an early childhood program or a school serving older students, you'll find a mental health resource for your toolbox on this list.
ARTICLE: Social-emotional development in young children
One of the strongest indicators for school readiness and future success is how well a child manages emotions and social interactions. In this Brookes newsletter article, learn how social-emotional screening can help—and get some free downloadable ASQ handouts to help parents and staff boost young children's social-emotional skills.
READ THE ARTICLE
BOOK EXCERPT: Building Trauma-Sensitive Schools
Creating a supportive school is essential to the mental health and well-being of students who have experienced trauma. In this excerpt from Jen Alexander's new guidebook, Building Trauma-Sensitive Schools, you'll get an introduction to a comprehensive framework for developing a safe, supportive school environment.
READ THE EXCERPT
AUTHOR Q&A: Terry J. Tibbetts
What's the difference between "social maladjustment" and "emotional disturbance"? What does an assessment for emotional disturbance look like in an educational setting? What are the next steps once a child with emotional disturbance has been identified? Find answers to these and other mental health questions in this Q&A with Terry Tibbetts, author of Identifying and Assessing Students with Emotional Disturbance.
READ THE Q&A
TIP SHEET: 20 stress-busters for young children
 Your little learners may be small, but they can experience big emotions when stressors put them to the test. Use these 20 tips—adapted from Alice Honig's warm and practical guidebook Little Kids, Big Worries—to help children solve conflicts, manage their fears, release tension, and more!
GET THE TIP SHEET
SAMPLE LESSONS: Strong Kids
Strong Kids is a popular series of evidence-based, age-appropriate curricula that help students develop the social-emotional skills they need to manage challenges and succeed in school and life. Each 10- to 12-week curriculum covers essential skills such as managing anger, dealing with stress, understanding emotions, and solving interpersonal problems. To preview Strong Kids, you can download free sample lessons from all the curricula. (Please click the buttons below and fill out the very short information form to get your free lessons!)
K-2 LESSON
GRADES 3-5 LESSON
GRADES 6-8 LESSON
GRADES 9-12 LESSON
FREE TOOLKIT: Social-emotional screening
 Early identification of social-emotional challenges can make a huge difference in the life of a young child. With this free toolkit, you'll get more than 25 pages of resources that help you conduct successful screening with the social-emotional screener ASQ®:SE-2. Use these tip sheets, parent handouts, and activities to effectively implement ASQ:SE-2, involve families in screening, and boost social-emotional development between screenings.
GET THE TOOLKIT
AUTHOR Q&A: Andrew Jonathan Cole and Aaron Shupp
Psychologists Andrew Jonathan Cole and Aaron Shupp wrote their book (Recognize and Respond to Emotional and Behavioral Issues in the Classroom) as a how-to guide for teachers without training in mental health issues. In this Q&A, they talk about why they wrote the book and give teachers a few practical pointers. (You can also download a free excerpt of the book at the link below.)
READ THE Q&A
INFOGRAPHIC: How parents of preschoolers can support social-emotional development
 If you're an early childhood educator, share this colorful infographic with the parents of young learners. They'll get valuable reminders of things they can do at home to support the social-emotional development of their children. (Adapted from the Social-Emotional Assessment Evaluation Measure [SEAM™]).
GET THE INFOGRAPHIC
BOOK EXCERPT: Support for grieving children: what to do
What are some concrete steps your school can take to help children experiencing loss and grief? Find out in this excerpt from The Grieving Student, an excellent teacher's guide by David Schonfeld & Marcia Quackenbush. You'll learn about six goals of intervention and get practical suggestions on what to say (and what not to say) to a grieving child.
READ THE EXCERPT
EBOOK: Taking Care of Them, Taking Care of You
We teamed up with some of our expert authors to put together a free ebook packed with tips, ideas, and advice to help stressed-out teachers and students. Download it today for dozens of student support strategies and teacher self-care tips—and if you like this resource, please share it with your fellow teachers who might need a pick-me-up. (Just click the button below and fill out the very brief information form to get your free ebook!)
GET THE EBOOK
Hope this list gave you some new tools to use in your work with children and families. If you're an early childhood professional, be sure to check out the social-emotional screener ASQ:SE-2 and the in-depth assessment SEAM—widely used tools that will give you a complete picture of young children's social-emotional development. And if you're a K-12 teacher looking to support students experiencing emotional challenges, we recommend Building Trauma-Sensitive Schools, The Grieving Student, and the other books in the mental health section of our store.
Do you have another favorite book or online resource for supporting students' mental health? Recommend it in the comments below!