15 Fun Ways to Build Language & Literacy Skills in Young Learners
May 9, 2017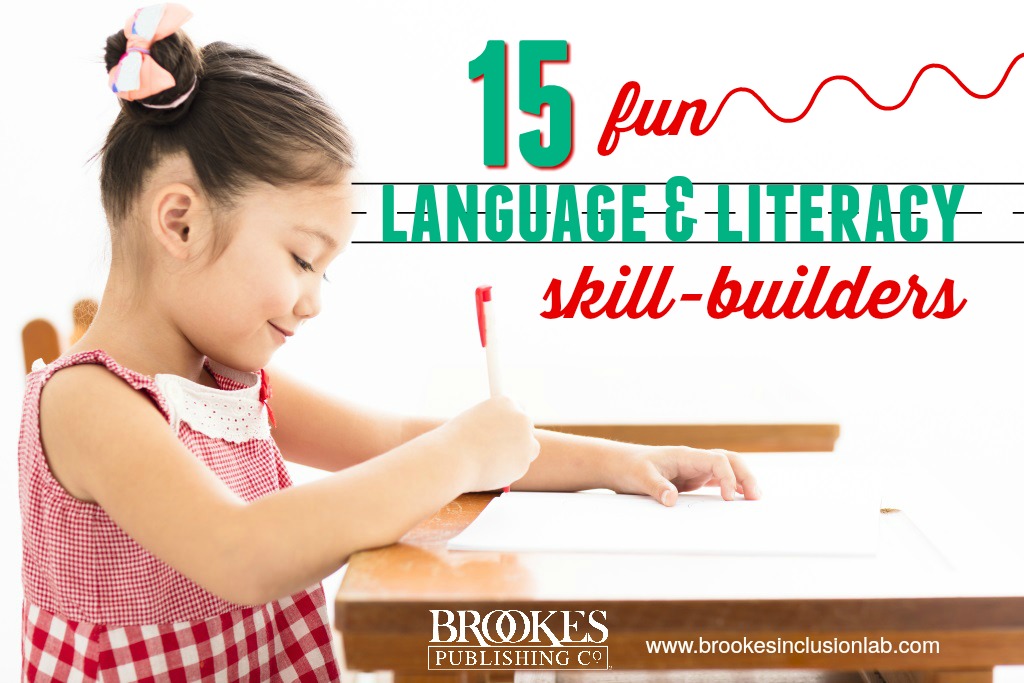 What makes a successful reader? The journey starts in early childhood classrooms, where young children are laying a foundation for their lifelong language and literacy skills. Children who hear more words and are exposed to more language games and activities will be better prepared for reading success–and today's post gives teachers a bevy of bright ideas for building crucial early literacy skills.
Excerpted and adapted from Talk to Me, Baby! by Betty Bardige, these 15 fun and easy games and activities will help you spark a love of words and books in all your young learners.
Tell a book by its cover
Try this at your next storytime session: Before you even open the book, do a mini show-and-tell session with the cover. Point out the title, author, and illustrator, and have the child read and repeat the words after you. If the book is part of a beloved series, see if children can recognize the author, illustrator, or main character of the book just by studying the cover. You might also ask young learners to be "cover detectives," looking for clues that indicate what type of book it is: fiction, nonfiction, humor, fairy tale, etc. If it's fiction, see if children can guess what the story is about or where it takes place.
Put on a play
Engage children in storytelling by helping them reimaging a favorite book as a play or puppet show.
It doesn't have to be a huge production–you can keep the props, costumes, and scenery simple, and minimize rehearsal time by narrating the story yourself and cueing the characters when it's their turn to speak. Involve children in pre-show activities that boost literacy skills: making tickets, putting together programs, and creating signs for use in the show ("The Forest," "Gingerbread House," "Applause, Please," "The End").
Share wordplay jokes and riddles
Jokes that play with words are a great way to increase young learners' facility with language. Tell your students jokes throughout the day like "What do you do if your puppy can't come into the store with you? Leave him in the barking lot." (Don't worry if they're corny–kids are a forgiving and enthusiastic audience!) Build up your joke collection by searching joke sites online and checking out joke and riddle books from the library. For an extra literacy boost, you can help kids make books of their own favorite jokes, complete with illustrations.
Play storytelling and memory games
Here are some of our favorites:
Decode directions together
Are you reading a recipe for a class cooking session, opening a new game for the first time, or assembling a new classroom toy? Get kids involved in decoding and following the directions. See if students can point out letters and words they know on the recipe or instruction sheet. They can help you collect all the parts or ingredients, arrange them in order, and keep track of each step of the process. Even if they can't read yet, they might be able to recognize the pictures and help figure out the directions.
Make "me" books
Have your students make illustrated "me" books that share basic information and fun facts about themselves. They can include names, family members, favorite color, favorite book, hobbies, important milestones like when they learned to ride a bike or tie their shoes, and odd bits of information like how many light switches are in their house or apartment. If they're practicing letter-writing skills, they can caption the pages.
Compare name lengths
Show children how to clap out the syllables in their names and those of their friends, pets, and family members (assign one clap to each syllable). Ask students to listen closely and answer questions: Whose names have only one clap? Two? Three? Does anyone's have four or more? Then write the names on graph paper–one letter to each square–to illustrate how many letters are in each name. Children might be interested to learn that a one-clap name like Blake might have the same number of letters as a three-clap name like Anara.
Pay attention to letters in the environment
Remind your young learners that there are letters and words all around us, and point them out whenever you see them. Encourage children to look for letters everywhere: on product labels in the classroom, on pamphlets and signs on field trips, on other children's sweatshirts on the playground. You might challenge your students to find all the letters in their name or the letters of the alphabet, one at a time.
Find words within words
Show young learners how small words can sometimes "hide" in bigger words (the word can hiding in candy, the word pot hiding in potato). Make a game of it–encourage students to find other examples in books, newspapers, signs, advertisements, and other print media.
Make word and sentence puzzles
This is a great way to make a language game from a text familiar to the children (the book Goodnight, Moon, for example). Write some words, phrases, or sentences from a well-known book or song on index cards. Then cut each card like a puzzle, splitting the words between syllables or between onset and rime (for example: Good | night, moon. Goodnight light and the r | ed balloon.) Have children match up the two parts of the text.
Give books as special gifts
You can communicate the value of books by giving them as gifts to the children in your life and encouraging them to give their own favorites to their friends. Make your literary gift extra-special by including a personal note for the child–tell them why the book is special to you or why you chose that book for the child. You might even include a recording of yourself reading the story.
Plan an imaginary trip
Tap into your students' sense of adventure by planning an imaginary trip together. Decide with your class where you'd like to go, and then involve students in the planning process in ways that expand their language skills. Collect travel or tourist brochures, look up information online and read it together, use maps to figure out how to get there, write an itinerary, and make lists of items they would need to pack.
Make a board game
Start by asking children to pick a theme: maybe it's a trip to an amusement park, an adventure in an enchanted forest, a submarine expedition, or a time machine back to the time of the dinosaurs. Sketch out a path and divide it into squares. Then your students can illustrate the board, add labels to the squares, and make a deck of index cards with directions ("Take a ride on the roller coaster," "You got lost in the forest. Miss one turn.") You can also involve them in creating an instruction sheet that describes how to play the game.
Go on a scavenger hunt
This is a fun idea to try on a field trip. Give each child or team a list of things to find and check off: for example, a specific type of animal, a red car, a square inside a rectangle, something purple, and something that holds water. Review the list before your trip to make sure each child or team can read/understand all the items. (If your students aren't reading yet, you can use picture or color clues to help them out.) You can also have a "letter scavenger hunt" right in your classroom–give each child a list of letters to find on your bulletin boards, product labels, and school supplies.
Set aside special times for reading and conversation
Throughout the day, actively work in small celebrations of language and literacy: read stories, play word games, establish sustained silent reading times, and start conversations at the snack table. Parents play a key role in reinforcing the skills you teach at school, too. Encourage them to read to children at bedtime, talk to them at the dinner table, and take 15 minutes in the evening for a family read-aloud, sing-along, or silent reading time.
***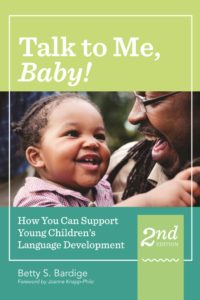 Have a favorite literacy-building strategy for young learners? Share it in the comments below–and for a warm and wise guide to boosting language and literacy in early childhood, check out Talk to Me, Baby!
MORE BLOG POSTS
Literacy-Rich Preschool Environments for All Learners
Start Some Drama! 7 tips on dramatic play activities that boost language learning
Language Intervention for Preschoolers with Special Needs: Tom's Story
7 Steps to Teaching Writing Skills to Students with Disabilities