Author Q&A: David Schonfeld and Marcia Quackenbush on the new edition of The Grieving Student
March 2, 2021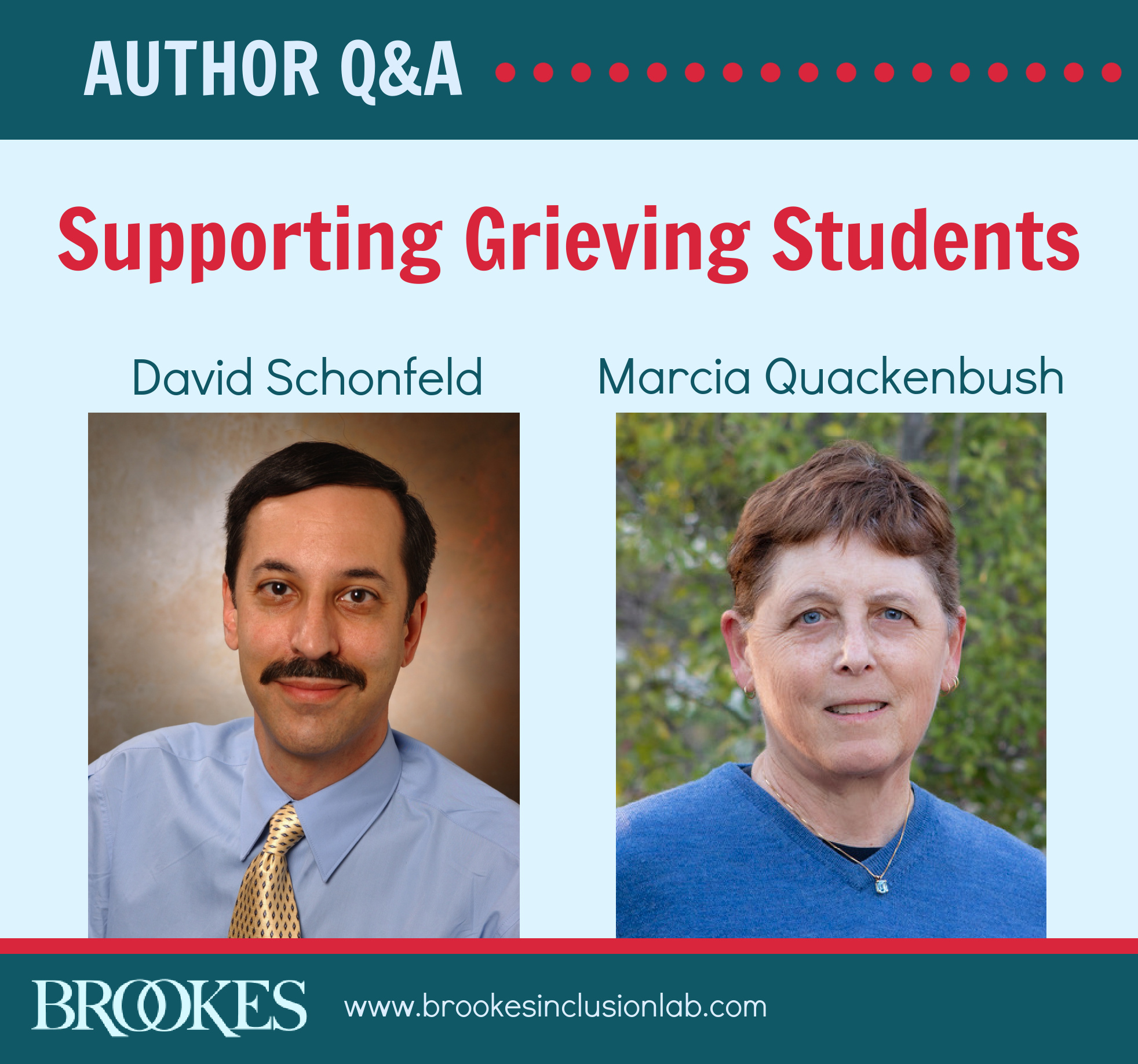 Death and grief will affect the lives of almost all children at some point—and in the era of COVID-19, more families than ever are experiencing traumatic losses. Teachers and other school staff can be critical lifelines for grieving students, who may struggle with academic performance, social relationships, and behavior after the death of a loved one.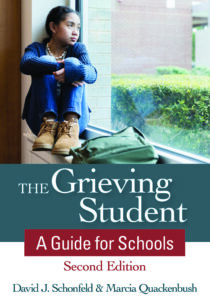 Today we're turning the spotlight on an important resource for all school staff as they navigate the challenges of this era: the newly updated second edition of The Grieving Student. This guidebook gives education professionals the practical information they need to provide sensitive support to both students and families. Authors David Schonfeld and Marcia Quackenbush are here today to discuss the increasing importance of knowing how to support grieving students, the updates in their new edition that will be especially helpful and relevant to today's educators, and more.
Why is it important for educators to know how to support grieving students right now? Is this just related to the COVID-19 pandemic?
Even before the COVID-19 pandemic, grief among students was surprisingly common. About one in 20 students will lose a parent before completing school. Virtually all will lose a close family member or friend at some point before adulthood.
Issues of student grief have become even more imperative in the context of the COVID-19 pandemic. Every community has experienced loss. Many students are grieving family, teachers, or mentors who have died. Students are struggling with isolation and the frustrations of distance learning. "Distance grieving"—the remote ways we have had to mourn loved ones who have died of any cause over this past year—has been a burden for educators and students alike.
Educators can play a vital role in offering support to grieving students. Simple steps—expressing condolences, offering minor adjustments in assignments, checking in once in a while—can make a huge difference for grieving students. And while academic, social, and emotional challenges are common for grieving students, support from educators helps them adjust to their new circumstances and do better in school and socially. Schools that are ready to establish practices and policies to become better prepared to support grieving students can pledge to become grief-sensitive schools and start this journey together as a school or district.
We are already hearing from educators who are eagerly anticipating the new edition of The Grieving Student. What changes did you make in the new edition that will be especially helpful to educators?
While the first edition focused primarily on teachers, in the new edition we've broadened the audience to include educators more generally, including administrators, school mental health professionals, and educational support professionals. There is more guidance about how to talk about death and grief with students who learn in atypical ways or have intellectual disabilities. We've addressed the special circumstances of children who lose a loved one through a line-of-duty death in policing or military service, and we've expanded the companion online Study Guide.
We've also added two completely new chapters. One addresses the special issues raised by suicide. These deaths present a number of particular challenges for students and schools. The other new chapter looks at ways to implement support for grieving students in settings other than K-12 public schools. While our overall focus is the K-12 environment, guidance in this book is relevant in any setting where young people gather under adult supervision to socialize or learn. We share ideas about ways to adapt the book's recommendations in pre-K, college and trade schools, home school settings, online-only schools, charter schools, private and boarding schools, and community-based organizations.
It was also important for us to include more information about the ways social media affects students' experiences of grief and loss. So much has changed in the social media world over the past decade! We've integrated material throughout the book addressing these dynamics, along with practical suggestions for educators and schools to promote student wellbeing in the social media landscape.
We've provided more information about crisis incidents in schools, including a first-person account by the principal of a school that experienced an on-campus shooting resulting in multiple deaths. We're also honored to offer a powerful foreword by Superintendent Robert Runcie of Broward County Public Schools regarding the impact of the shooting at Marjory Stoneman Douglas High School.
What aspects of the book will be especially useful for educators as schools reopen after COVID-19 closures?
David is the Director of the National Center for School Crisis and Bereavement, which has provided over a hundred trainings and presentations on COVID-19 for schools, districts, and other audiences of education professionals over the past year. The Center put together a guidance document called "Support for Students During the COVID-19 Pandemic." This includes 10 steps educators and school administrators can take to create a supportive environment for students. The first three are truly central:
Take care of yourself.
Make a connection with your students.
Don't pretend that everything is ok when it clearly isn't. Talk to your students about what is happening.
In a sense, this is really what The Grieving Student is all about. We need to reach out to grieving students and find ways to talk about what is happening. As it turns out, this is also excellent guidance for educators as their schools reopen after an unusual and challenging year dealing with the pandemic. Additional free resources can be found at the Center's COVID-19 pandemic response resources webpage.
During the current COVID-19 pandemic, many educators have experienced losses. What advice does this book offer for educators supporting grieving students when they are themselves grieving?
It's difficult to witness grief in children. When you have conversations with children about death, they may express pain and sadness. We point out repeatedly in the book that it's the loss, not the conversation, that's causing this pain. To simply acknowledge and accept a child's grief—rather than saying, "Buck up! Be strong! Count your blessings!", to say, "I'm thinking about you and sorry for your loss. How are things going?"—that is one of the greatest gifts any educator can offer. So yes, it's difficult. But it's also powerful and rewarding.
Staying present with a grieving child is trickier if we are grieving ourselves. This might be a recent loss, or something triggered from long ago. The Grieving Student has an entire chapter on taking care of yourself. It looks at steps like self-awareness, talking with colleagues or family, seeking professional support, and knowing whether to step forward or step back when supporting a student or engaging with the student's family.
Could you tell us about the expanded online Study Guide that comes with this book? What have you included in it, and what are some ways schools and educators can use it?
The online Study Guide goes chapter-by-chapter and reviews Key Concepts. It provides Self-Check questions that cover main knowledge points. It offers Personal Reflection questions that explore personal experiences and perspectives. There are also Discussion Questions and a list of Practical Applications that suggest ways to put the guidance in the chapter into practice.
We designed this guide to be used in many different ways. An individual reader might look over the guide after reading each chapter to consolidate learning and think about the personal relevance of the content. A small study group could work informally with the Discussion Questions for each chapter. A staff member could use content from the Study Guide, along with the PowerPoint deck, to deliver anything from a one-hour in-service to an all-day training.
What made you want to write The Grieving Student? Why did you decide to update it now?
David is a developmental-behavioral pediatrician. Early in his career, a local elementary school asked for an expert to come to their school. Three students had experienced deaths in their families from unrelated causes, and the school wanted someone to talk to all of the students to help them better understand and cope when someone they care about dies. David did the talk, the school found it helpful, and soon other schools began calling. In short order, it became obvious that educators wanted to engage in these kinds of conversations but did not feel prepared. They wanted ideas and guidance. Over time, David offered over a thousand presentations around the nation and the world addressing grief, loss, crises, school shootings, large-scale natural disasters, and more. People always came up afterwards and said, "Where can I get your book?"
Marcia is a family therapist who worked with many families in the early days of the AIDS epidemic. Over time, other families coping with life-changing and life-threatening illness came to see her. Parents, teachers, and children themselves wanted support to talk about death, grief, and living through the uncertainty of serious illness.
It was a natural outgrowth of our own experiences and the clear need among education professionals that made us decide to write this book. We wanted others to have some of the same opportunities we've had to reach grieving students, address a critical need, and be enriched through these conversations as we have been.
As for the new edition—well, any book is ready for an update after 10 years! Today, there is more understanding and appreciation of the importance of schools being grief-sensitive. There is more research on students and grieving. And there is greater wisdom across the field as educators share more of their own experiences and strategies. While the basics have stayed the same, there are so many more ideas and suggestions now, we knew the book was ready for an update.
****
Thanks to David and Marcia for answering these timely questions—and updating a book that will be an essential companion for educators in the era of COVID-19 and beyond. For more information about the new edition of The Grieving Student, click the link below.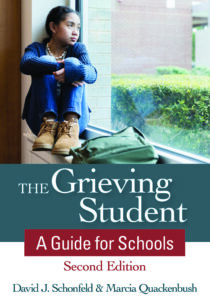 The Grieving Student
A Guide for Schools, Second Edition
By David Schonfeld, M.D., FAAP, & Marcia Quackenbush, M.S., MFT, CHES
Get an in-depth understanding of a child's experience of grief and learn about the most powerful ways to make a positive difference. Drawing on both empirical research and extensive professional experience, the authors have enhanced this new edition with up-to-date information on grief in the context of school crisis and trauma, suicide loss, social media, and other timely topics. School staff will get real-world tips, strategies, vignettes, and activities to help them skillfully support students as they cope with grief and loss.


Topics
Tags