FREE DOWNLOAD: Tip Sheets from Two NEW Books on Positive Behavior Support
March 22, 2022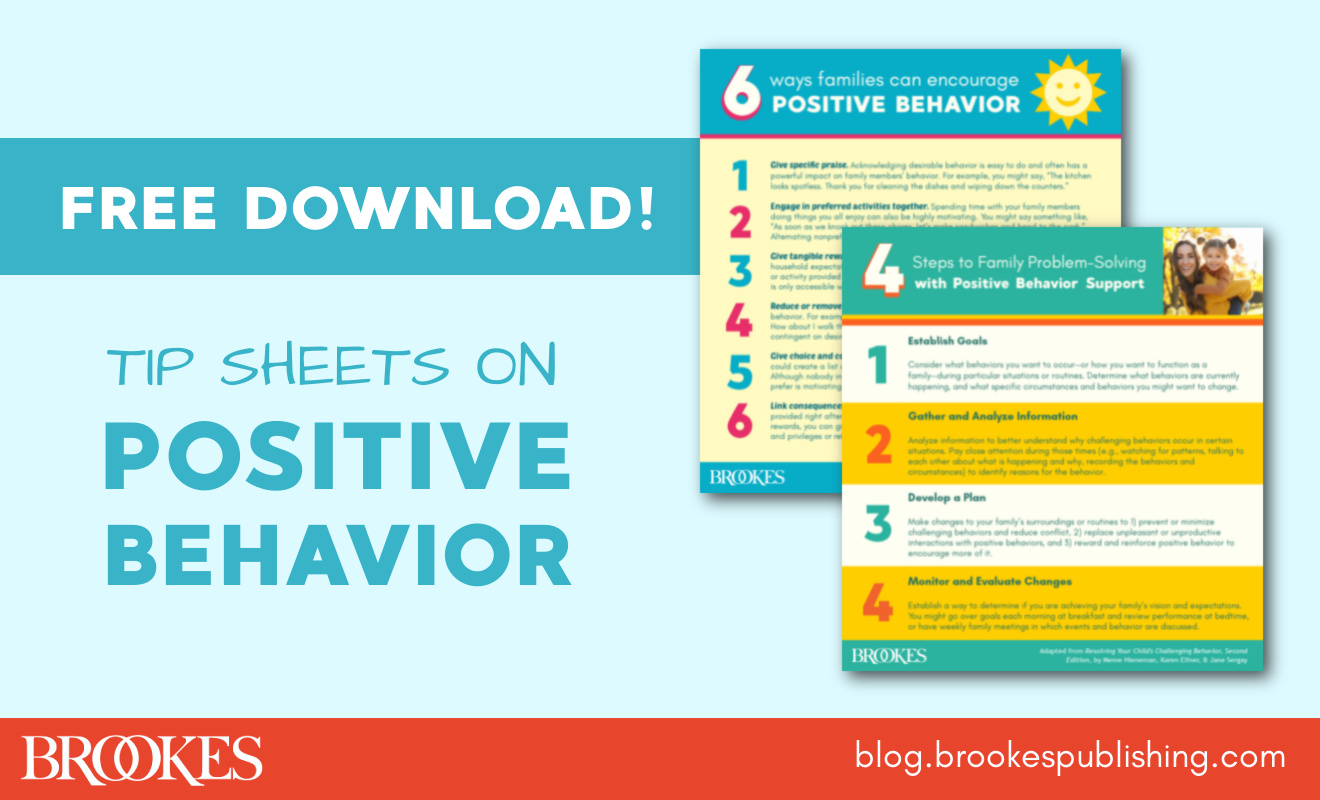 Here on the Brookes blog, we've posted frequently about positive behavior support (PBS) and its benefits in a wide range of learning environments. In today's post, we're turning the focus to parents—and two practical new books designed to help them put PBS to work in their own families.
Written by behavior experts and parents, Helping Your Family Thrive and Resolving Your Child's Challenging Behavior show families how to use PBS to solve many different types of specific behavior issues and strengthen their family functioning. Today we're sharing two tip sheets adapted from these books. Print or email these to families, and turn to the books for many more tips, guidelines, and resources parents can use to improve their home life and strengthen their bonds with their children.
First: here are 6 effective ways that families can encourage desired behavior in daily routines and activities, adapted from Helping Your Family Thrive by Meme Hieneman, Sarah Fefer, Shane Isley, & Missy Sieders.
Give specific praise. Acknowledging desirable behavior is easy to do and often has a powerful impact on family members' behavior. For example, you might say, "The kitchen looks spotless. Thank you for cleaning all the dishes and wiping down the counters."
Engage in preferred activities together. Spending time with your family members doing things you all enjoy can also be highly motivating. You might say something like, "As soon as we knock out these chores, let's make sandwiches and head to the park." Alternating nonpreferred activities with preferred activities can keep behavior on track.
Give tangible rewards. You might make things like screen time contingent on following household expectations and/or completing work around the house. Make sure any item or activity provided is motivating to the family member(s) receiving the item, and that the item or activity is only accessible when desired behavior occurs.
Reduce or remove demands. Decreasing the level of demands can increase desired behavior. For example, you might say, "You have really been pitching in with the pets lately. How about I walk the dog for you today?" By reducing, delaying, or removing demands, contingent on desired behavior, you can reward both the behavior itself and positive effort.
Give choice and control over a situation. Instead of simply assigning chores, you could create a list and allow each family member to pick what they want to do. Although nobody in the family may like the chores, having the ability to do what they prefer is motivating.
Link consequences to behavior. Positive consequences work best when they are provided right after desired behavior, or are at least clearly linked to it.  If using tangible rewards, you can gradually phase them out and shift to natural outcomes such as praise and privileges or retain them only for difficult tasks.
Setting the stage for desired behavior with the strategies above is important, but even well-organized and positive families experience periodic behavior challenges within certain situations or routines. Here are 4 steps families can use to solve behavior challenges with positive behavior support, adapted from Resolving Your Child's Challenging Behavior, Second Edition, by Meme Hieneman, Karen Elfner, & Jane Sergay:
Establish goals. Consider what behaviors you want to occur—or how you want to function as a family—during particular situations or routines. Determine what behaviors are currently happening, and what specific circumstances and behaviors you might want to change.
Gather and analyze Information. Analyze information to better understand why challenging behaviors occur in certain situations. Pay close attention during those times (e.g., watching for patterns, talking to each other about what is happening and why, recording the behaviors and circumstances) to identify reasons for the behavior.
Develop a plan. Make changes to your family's surroundings or routines to 1) prevent or minimize challenging behaviors and reduce conflict, 2) replace unpleasant or unproductive interactions with positive behaviors, and 3) reward and reinforce positive behavior to encourage more of it.
Monitor and evaluate changes. Establish a way to determine if you are achieving your family's vision and household expectations. You might go over goals each morning at breakfast and then review performance at bedtime, or have weekly family meetings in which events and behavior are discussed.
If you liked the starter tips and guidelines shared in today's post, pick up the books for much more PBS guidance to share with families. Enhanced with the latest research and practical materials—including case stories, activities, and downloadable forms and worksheets—these two essential new guides should be on every parent's bookshelf.
GET THE BOOKS
With Helping Your Family Thrive, families will lay a foundation for positive behavior and improve their overall quality of life through five critical steps, from identifying family strengths and needs to monitor­ing outcomes. And Resolving Your Child's Challenging Behavior gives families a proven approach for addressing specific behavior issues, creating effective individ­ualized support plans, and tracking their progress.
Resolving Your Child's Challenging Behavior, Second Edition
By Meme Hieneman, Ph.D., BCBA, Karen Elfner, M.A., & Jane Sergay, M.Ed.
Helping Your Family Thrive
By Meme Hieneman, Ph.D., BCBA, Sarah Fefer, Ph.D., BCBA, Shane Isley, M.S., BCBA, & Missy Sieders, B.A.
Topics
Tags