How Mediation "Restores the Respect" in Schools: Guest Post by Author Ondine Gross (Post 1 of 2)
April 12, 2016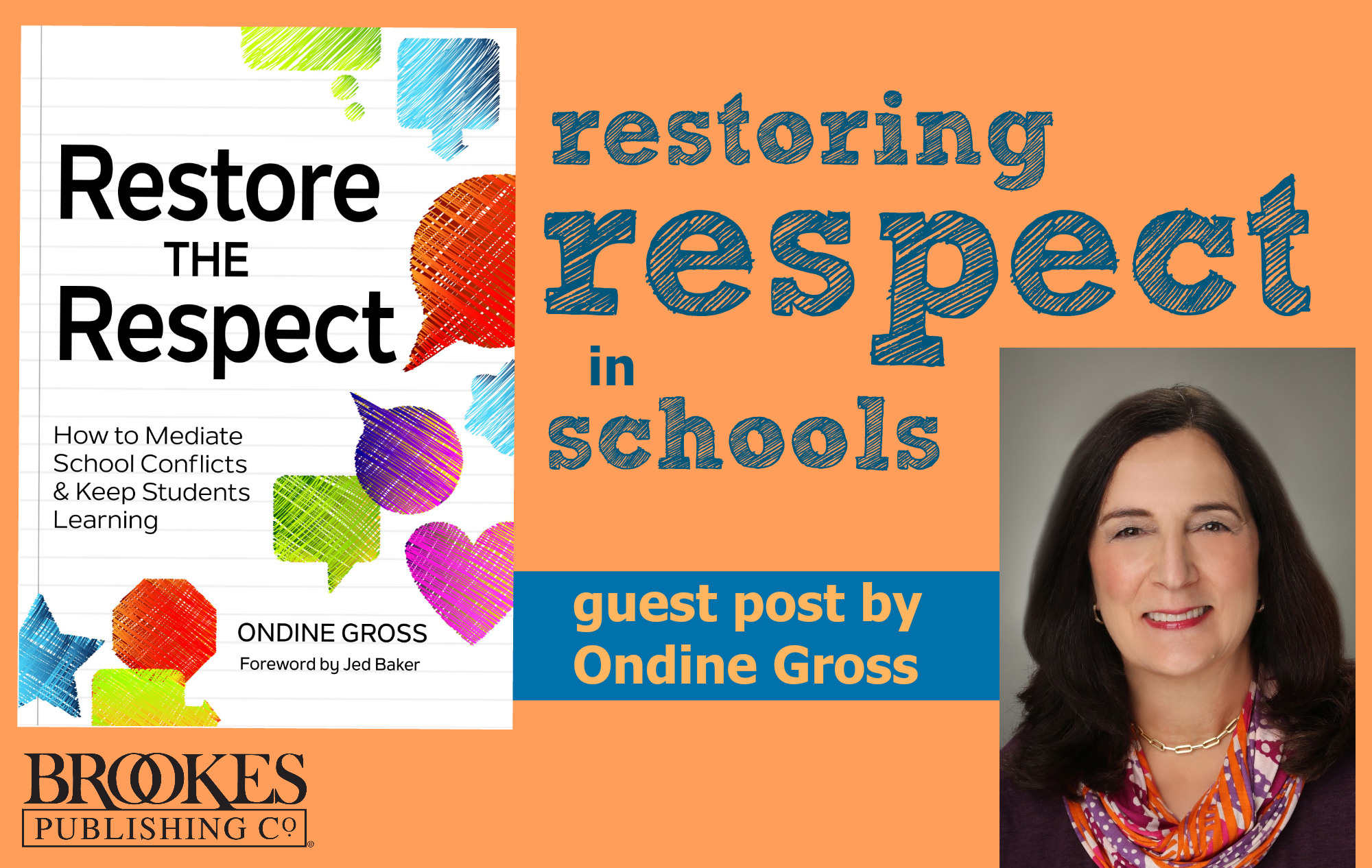 If you're a teacher or other education professional, you've probably seen firsthand how unresolved conflicts in schools build barriers to learning. Traditional disciplinary actions take students out of the learning environment—sometimes repeatedly—making it harder for them to stay on track with their classwork. Maybe you've thought, "There has to be a better way. A solution that addresses the behavior without the student losing so much learning time."
There is, and we have a guest with us today to tell you all about it.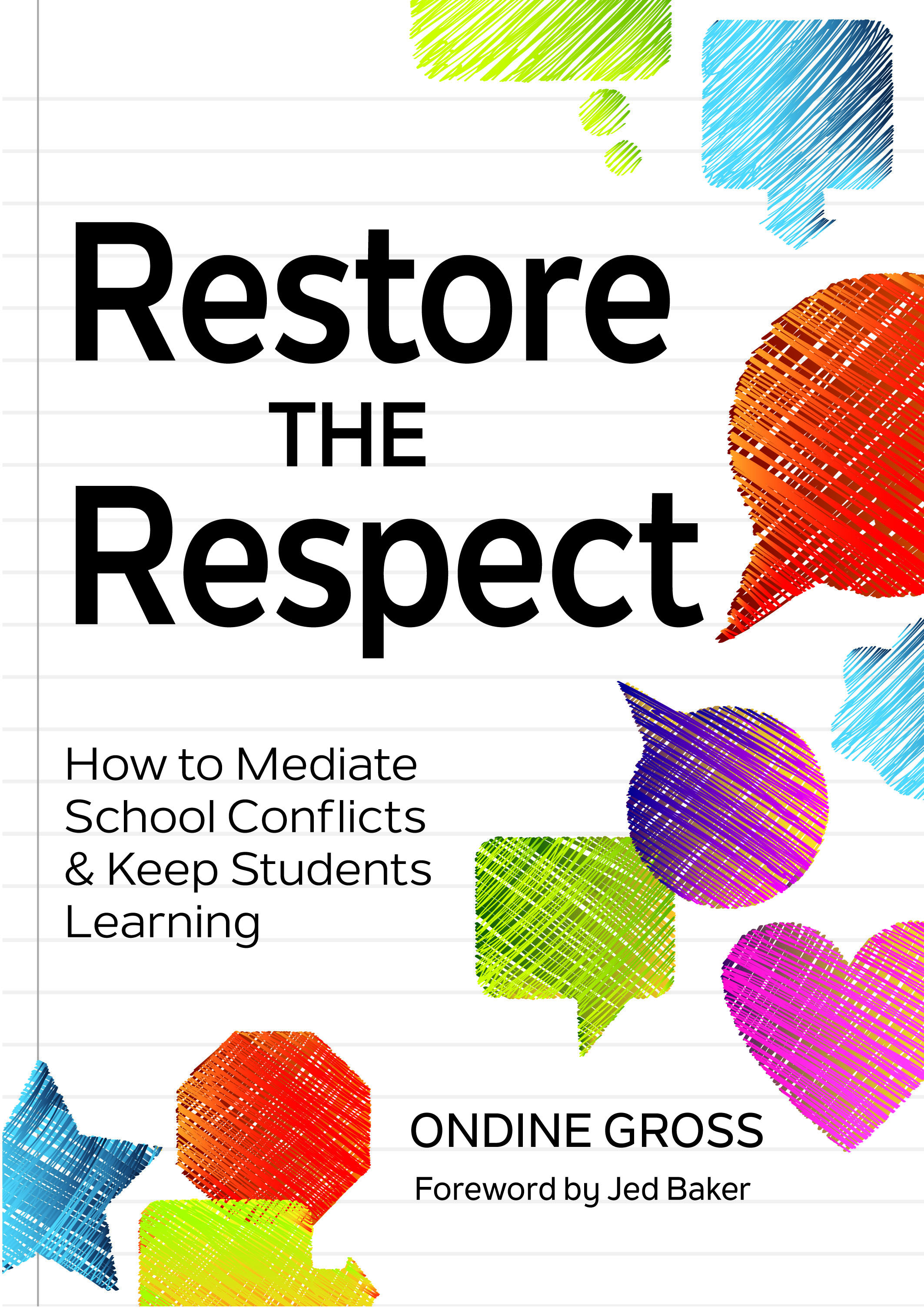 In her reader-friendly guidebook, Restore the Respect, school psychologist Ondine Gross introduces an evidence-based solution for conflicts in Grades K-12: an easy and effective 50-minute mediation technique. In today's post, Ondine briefly describes her technique and how it works, and then she shares a sample story that vividly illustrates the benefits of mediation. On Thursday, she'll be back to answer some specific questions about mediation, including how it benefits both teachers and students, what skills successful mediators need to cultivate, how schools can tell if mediation is working, and more.
Without further ado, I'll let Ondine talk us through the inspiration behind Restore the Respect and share a success story:
***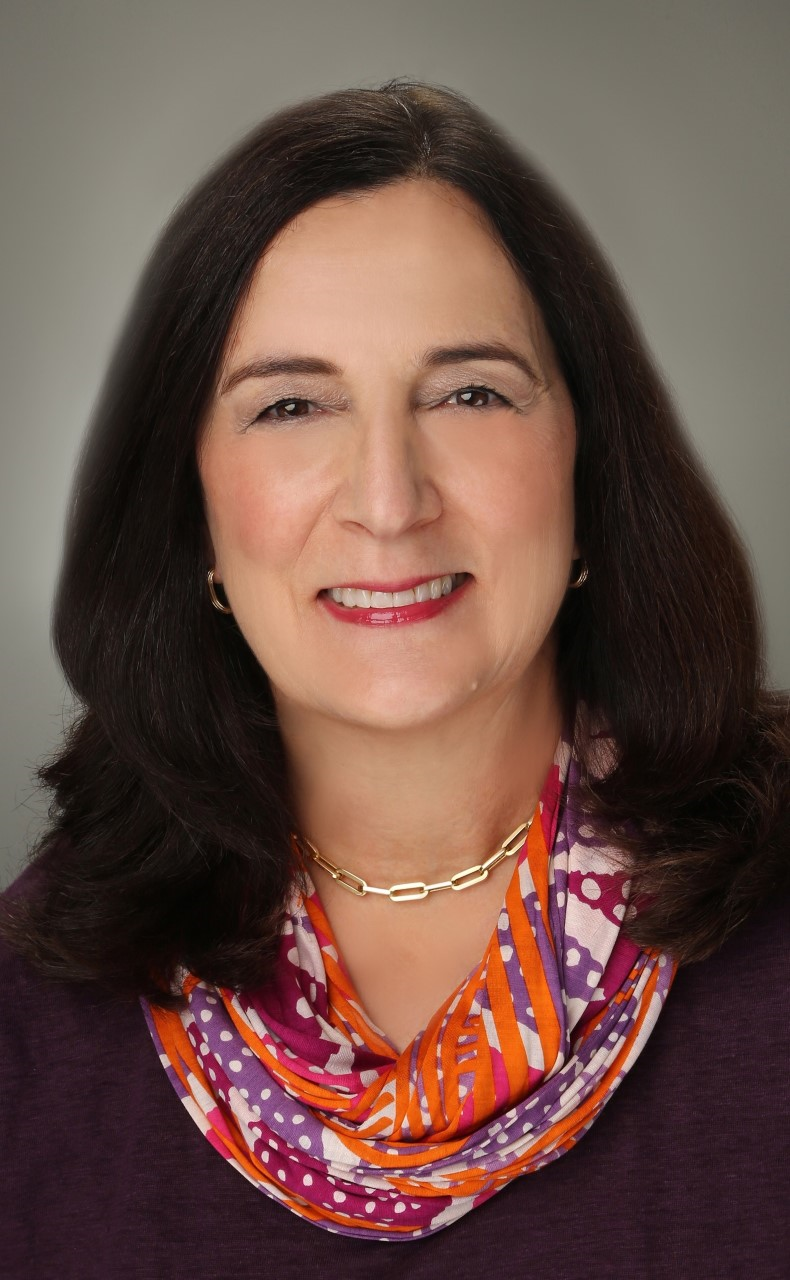 First, I'll provide some background and context for how I came to use mediation in schools. For years, I had heard students say things like:
"My teacher hates me!"
"My teacher is unfair—she sent me out and other people were talking!"
"Why should I show my teacher respect when he doesn't show me respect?"
I also heard teachers say things like:
"Jack will not stop talking in class!"
"Regina comes to class and puts her head down!"
"Leo never opens his book!"
I often saw how students could have an outburst in class, get suspended, and then return to class, sometimes days later, as though nothing had happened. But something did happen—and there was little to no opportunity for the teacher and student to talk with each other, learn what had caused the outburst, and find ways to prevent such a behavior in the future. For those students with repeated misbehavior, their disciplinary consequences removed them from the classroom repeatedly, their behavior didn't improve, and they fell further behind in their academic progress.
After obtaining mediation training and a graduate degree in educational leadership, I realized that with all the interventions currently in use, we were neglecting to address the heart of a successful student outcome: the teacher and student relationship. So I adapted a standard mediation technique for use in schools.
I had many questions as I began:
Would teachers be resistant to teacher-student mediation?
Would students be reluctant to meet with their teachers in a mediation?
Could mediation have a positive impact on school climate?
Would parents appreciate mediation? [Note: "Parent" is the term I use to include guardians and caregivers.]
How could we measure the impact of mediation on student performance?
Could mediation also be applied to student and even adult conflict in schools?
There was only one way to answer these and many additional questions, and that was to do some "action research" and start to implement teacher-student mediation. In the summer of 2011, I suggested to my administrators at Centennial High School, the mid-size, diverse Midwestern high school where I work as a school psychologist, that we pilot the use of teacher-student mediations. Restore the Respect tells the full story of what happened next; here's a little preview from the book:
 "Away from the hubbub of the classroom and all the other students, away from grade books and discussions of missing assignments, the structure of mediation provided a teacher and student with the opportunity to speak with a different voice, hear with different ears, and see with a different perspective. I was touched as I saw teachers lean in and show care, compassion, and a sincere desire to help their students. I was moved to see students rise to the occasion and respectfully, honestly, and appropriately express themselves to an adult. People were real in these meetings, speaking about hopes, goals, and frustrations. Sometimes there were tears. Sometimes there were hugs. Teachers and students relaxed and beamed when positive statements were made: 'I like Ms. Reynolds because she cares' or 'Martin makes really insightful comments.' The universal human need to be understood and validated cannot be underestimated, and the structure of the mediation facilitated these game-changing moments. People could tell their full stories without interruption; they were heard nonjudgmentally; and they were given a safe space to address concerns, make amends, and move forward." 
Since I spend the bulk of Restore the Respect on teacher-student mediation, I will start with that here as well.
Teacher-Student Mediation is a highly-structured 50-minute meeting led by a trained adult mediator. The mediator sets the tone and pace of the meeting in order to provide a safe environment for the teacher and student to expand their understanding of each other's perspectives, rebuild trust in their relationship, and develop a plan to move forward. The meeting is more than simply a conflict resolution opportunity—it is to model social, communication, and problem-solving skills, while rekindling positive regard between the participants. The technique follows a simple format, however, several chapters provide step-by-step training so that the mediator knows how to address the issues that may arise.
Teacher-Student Mediation is NOT a "let's get everyone in a room to talk" meeting where people "tell their sides" in order to uncover "what really happened" or "who is telling the truth." Often there are multiple truths, depending on each party's viewpoint, so while clarifying information is very helpful, the purpose of the mediation is to restore a respectful teacher-student dynamic so the teacher can teach and the student can learn. Also, teacher-student mediation is not to be confused with "peer mediation" because teachers and students are not peers. The meeting is also not to identify either a perpetrator or a victim in order for the perpetrator to make amends or apologize. That being said, often apologies are offered spontaneously in a mediation, and are very impactful because they are sincere and unscripted.
Mediation with Students: The technique for student mediation also uses a trained adult mediator and follows the basic mediation format; however, because the participants are children, modifications are made. In the book, I provide a step-by-step guide for how to conduct student mediations, problem-solving strategies, and sample contracts.
Adult mediation in schools: I also advocate for the use of mediation among adults in schools. In busy school environments, student learning comes first, and not a lot of time is devoted to how the adults get along. In the book, I provide a guide for how to conduct adult mediations, and give numerous examples of how mediation can smooth over prickly work relationships and restore goodwill.
I also share "insider" information for how parents can navigate the school system to help their children, and how educators can effectively respond to parent needs. As someone who has worked in public school for over 30 years, I am eager to share these tips.
MEDIATION SUCCESS STORY
*Note: To honor confidentiality rules, I created a composite from true mediation stories.
Alex, a 14-year-old freshman male, began the semester in his math class with good work habits and a B average in the class. Now, six weeks into the semester, Alex's grade is dropping. He comes to class late, puts his head down, and does not do any classwork. The teacher, Mr. C, thinks that this "shut down" is because a week before, he raised his voice at Alex, saying, "Stop acting like a fool! You need to get to work!" On about day 7 of this shift, Mr. C. approached Alex at his desk and asked if anything was wrong. Alex bolted out of his chair, yelled, "Leave me alone!" and left the class. Alex ended up in an administrator's office. The administrator spoke with Alex and called Alex's home. Alex was given a disciplinary consequence of one lunch period in the detention room for leaving the class without permission. The administrator also asked the parent, Alex, and Mr. C. if they thought a teacher-student mediation would be helpful. Everyone readily agreed.
Mr. C. is a young teacher with a vastly different background from Alex. Mr. C. often attends trainings to become more culturally responsive and to better understand his diverse students. During the mediation, he described his observation of Alex's decline in his class, and his concern that he had pushed him too hard. He described Alex as a very bright student and gave specific examples. Mr. C. said that the reason that he pushed Alex was because he knew Alex could do great work. Mr. C. thought he had crossed a line, offended Alex, and feared he had burned a bridge in his relationship with Alex.
When it was Alex's turn to talk, he was visibly touched by the kindness expressed by Mr. C. Alex explained that the decline in his performance was due to circumstances stemming from home and had nothing to do with the teacher. His family was being forced to move at the end of the month. Alex had to help with packing and it had been very stressful on his family. He barely recalled the time Mr. C. had reprimanded him in the class. In fact, he said this about Mr. C: "He's a great teacher who cares about his students. He always has our backs. He wants to see us succeed."  Alex went on to describe the particular day when he left the class. He added, "I know I shouldn't have taken out my bad mood on Mr. C. He didn't deserve that."
When Mr. C. heard what Alex had to say, he was visibly moved, and got a burst of new energy to work even harder to help Alex reach his goals. Alex, too, was touched that Mr. C. had taken the time to have this meeting, because it showed how much he cared about him as a person. He mattered. He wasn't invisible in the class. When it became time for Mr. C. and Alex to speak directly to each other, Alex said, "Sorry." Mr. C. thanked Alex for the apology and said that he would do all he could to help Alex get back on track in his class.
The next time I saw Mr. C. in the hall, he told me how much the mediation helped. Even though there was no significant problem in their teacher-student relationship, just the opportunity to show care and concern to Alex was very impactful on his future performance.
***
I want to extend a huge thank you to Ondine Gross for being here today and giving a preview of the mediation technique she describes in detail in Restore the Respect. Stay tuned—she'll be back on the blog on Thursday for a Q&A about mediation! (Read the Q&A here.)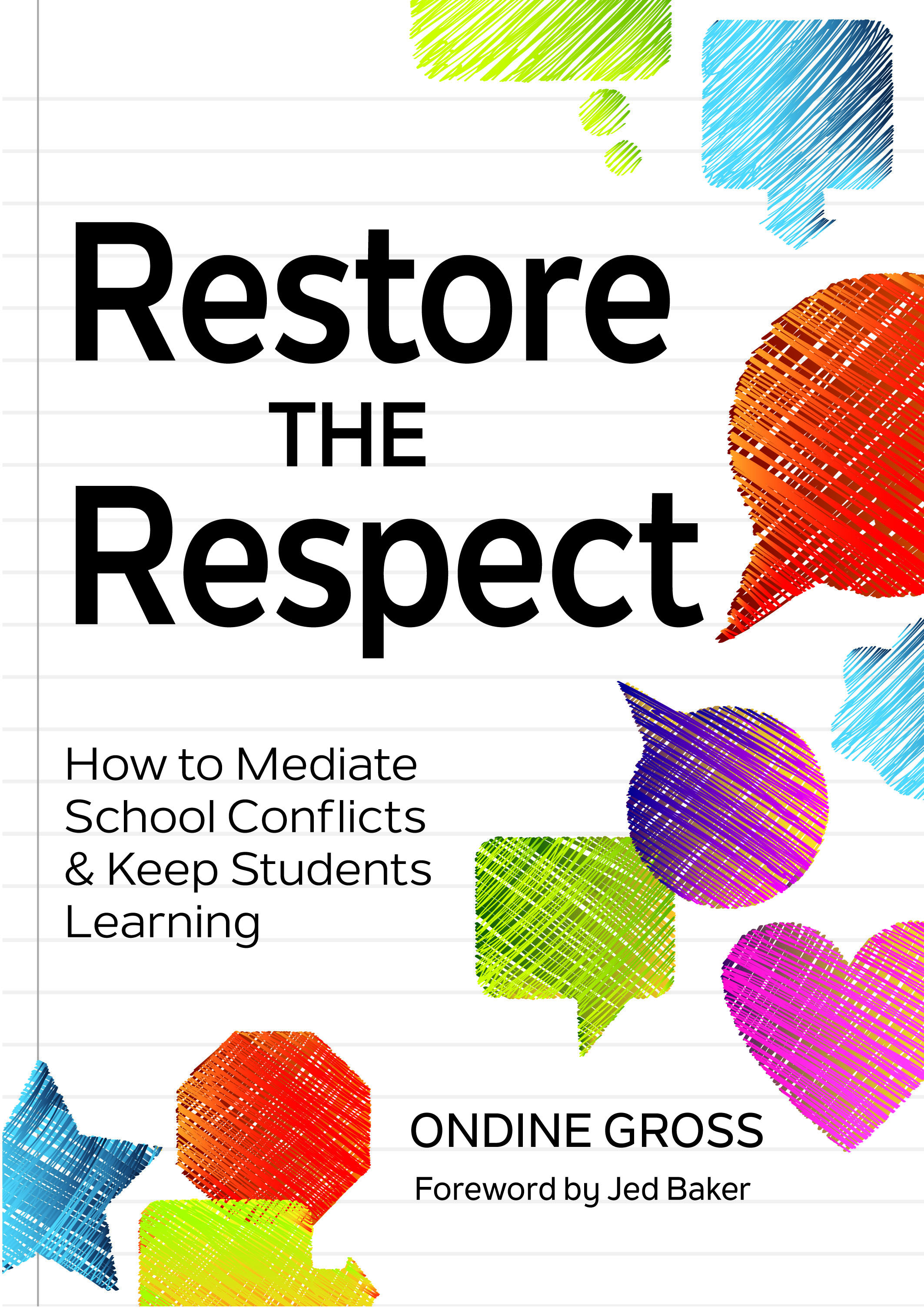 ABOUT THE BOOK
This reader-friendly guidebook introduces you to an easy and effective 50-minute mediation technique for teachers and students in Grades K-12. School psychologist Ondine Gross guides you through the whole process of starting a teacher-student mediation program, conducting successful mediations, and collecting and monitoring data to measure the effectiveness of the program. You'll also learn how to use the technique to mediate conflicts between students and between adults in schools, including staff members and parents.
Go here to explore Restore the Respect and order your copy.