Promoting Peer Engagement for Young Children on the Autism Spectrum: 7 Activity Ideas
October 29, 2019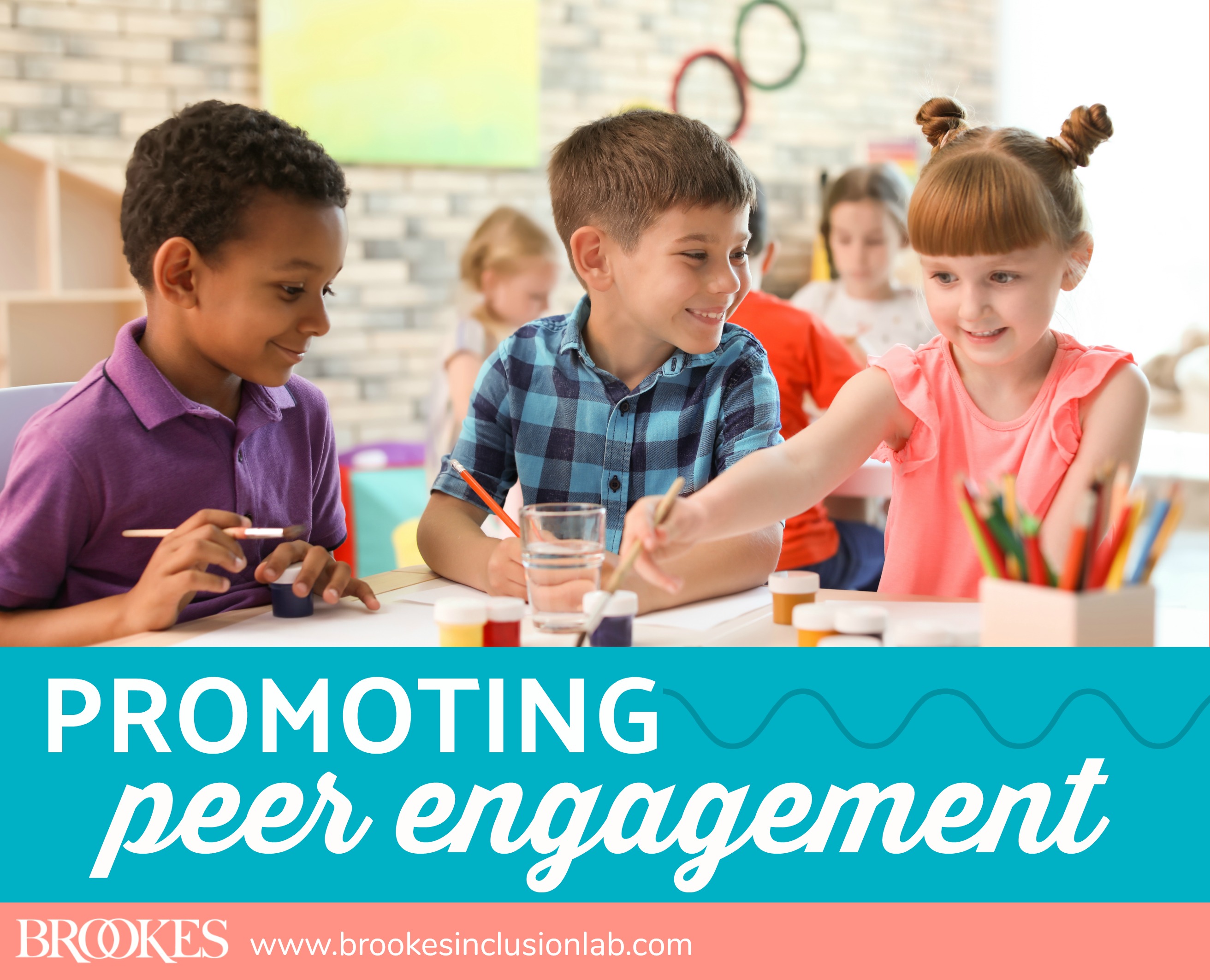 How do you promote friendships and peer engagement in your inclusive early childhood classroom? Encouraging communication and cooperation is important for all your young learners, but it may be more of a challenge to get autistic children to play and participate in activities with their classmates.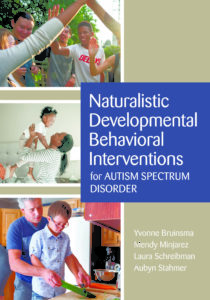 Today's post gives you 7 creative activity ideas for promoting peer engagement for young children on the autism spectrum and their peers. Excerpted and adapted from the new book Naturalistic Developmental Behavioral Interventions for Autism Spectrum Disorder, these activities are coopera­tive arrangements in which children need to interact with one or more of their peers to complete the activity. Cooperative arrangements are easy for you or another adult to facilitate (both in classrooms and at home), and they tend to be effective because they directly reinforce social skills for the children involved. Try these activity suggestions—or create your own variations—to boost the social skills of all your learners.
Promote peer interaction with puzzles. Puzzles present a great opportunity to encourage collaboration between peers. When kids are sitting together at the puzzle table, prompt your student to request, "Can you pass one of the puzzle pieces?" from a peer, and then ensure that the peer passes the piece—providing natural reinforcement for that appropriate request.
Team them up for train play. If your students want to play with trains, put the parts of the train set in clear containers or bags. Distribute them among the children so that no one has enough items to construct a track and play alone. Prompt the students to look at the pieces the other children have and ask to trade if they want an item a friend is holding. This is a highly motivating strategy for encouraging children to practice initiating requests to peers. (Once the trains are all set up, you can also encourage a student to participate in play by imitating a peer's use of the train before taking a turn.)
Set the stage for snacktime. When it's time for snack, give all the plates and cups to your student with autism and all the snacks to a peer. Encourage the first child to ask their friends which color plate and cup they want. Once the child has passed out the plates, they can request snacks from the peer in charge of the food distribution. This way, the child gets direct natural reinforcement for initiating a request to a classmate. (You can also encourage kids to prepare snacks for each other, to help them practice asking questions about which, where, and how much food another child would like.)
Have fun with pretend-pizza prep. Kids love playing restaurant, and it's the perfect opportunity to encourage peer interactions. Create a pretend-pizza restaurant in an area of your room, give each student a round "pizza" made of cardboard or another material, and ask each child to make a favorite "topping" using classroom art supplies: paper, Styrofoam, cardboard, felt. Then have the children make their own special pizzas with all the toppings they want. Prompt students who need social-skills practice to request the toppings they want from their peers.
Tweak game rules to boost teamwork. The physical games you play in the classroom can also be designed to include cooperative arrange­ments. You may have to change the rules slightly, but if you introduce these new rules clearly at the start of the game, they'll often be well received—especially if they make the game more fun! For example, try putting two buddies in charge of calling out "red light, green light." That will require the two children to cooperate and discuss when to call which instruction. Shooting baskets can also be made cooperative: just set a timer and have the kids work together to get as many baskets as pos­sible in 2 minutes. (Make different balls worth different points to add to the fun—and add a little math!)
Pair them for puppet-making. When you're introducing an art project like puppet-making, set the expectation up front that the students will work together in small groups to complete a single puppet. That sets the stage for ongoing interaction and negotiation about the project. Walk around and encourage your students to talk with each other about what their puppet should look like. They can ask and answer ques­tions about the color of the puppet's hair, the type of clothes to make, which materials to use for the facial features, and what to name the puppet until they come to a shared decision. To keep creating new reasons for the children to interact, move the materials for completing the project around the table so that children will have to ask their classmates for what they need. For example, having only one pair of scissors or one container of glue per table will ensure that children have to take turns and ask for items frequently.
Cook up some collaboration. If you have the chance to lead a cooking activity with your class, cook up collaboration and communication opportunities from start to finish. A child with strong reading skills can be put in charge of the recipe, and other kids can be prompted to ask questions about what steps to complete next. If you're working together in a large group, you can give each ingredient to a different child so that the child holding the mixing bowl gets repeated practice requesting the needed items. For children who are ready to practice conversation skills beyond requesting, encourage the kids to ask questions and share comments about their favorite foods. When the food has been prepared, seat the children together so they can enjoy eating it as a group, and encourage them to talk about how it looks and tastes.
Try these activities in your inclusive classroom—and share them with parents so they can try variations at home—to help reinforce social skills for all children. And for more guidance on effective interventions for kids on the autism spectrum…
EXPLORE THE BOOK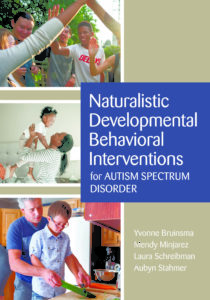 Naturalistic Developmental Behavioral Interventions for Autism Spectrum Disorder
Edited by Yvonne Bruinsma, Ph.D., Mendy B. Minjarez, Ph.D., Laura Schreibman, Ph.D., & Aubyn C. Stahmer, Ph.D.
Rooted in both ABA and developmental theory, Naturalistic Developmental Behavioral Interventions (NDBI) are some of today's most effective, evidence-based, and widely used interventions for autism. This new book gives you a clear and detailed overview of the foundational principles of NDBI, an in-depth look at the most successful NDBI models, and guidance on using specific NDBI strategies to improve child outcomes.
LEARN MORE