12 College Success Tips for Students with Disabilities
May 14, 2019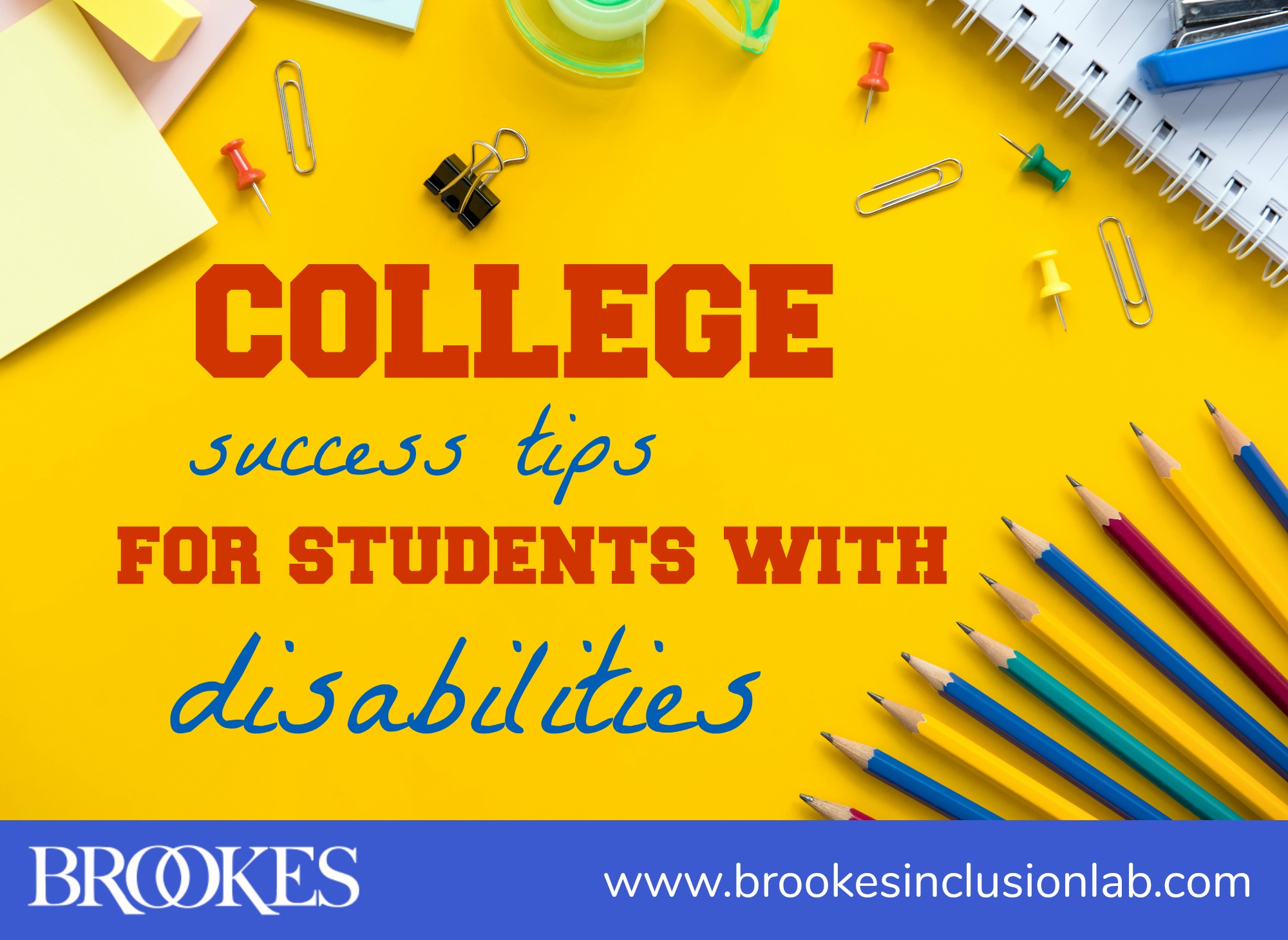 Not very long ago, postsecondary education was a dream out of reach for students with developmental disabilities. While we still have a long way to go, more and more colleges are now embracing inclusive options—for example, see this recent Forbes article about the transition programs being offered in hundreds of colleges nationwide.
With preparation, support, and accommodations, students with disabilities can thrive in a postsecondary learning environment. Today's post, excerpted and adapted from several Brookes books (see the end of the article for credits), offers 12 tips for supporting students—and preparing them to support themselves—before, during, and after the transition to college.
While planning postsecondary education…
Teach students self-determination and self-advocacy skills. Students will need to be comfortable advocating for themselves and making their own decisions when they're in college or another postsecondary education setting. These skills can be taught by mentors, educators, family members, and other self-advocates. (This blog post gives you some practical advice on supporting students' self-determination skills.)
Prepare students for the differences between high school and college. Once a student graduates and moves on to postsecondary education, they will have to adjust to a range of new responsibilities, from organizing their own schedule to requesting supports. This chart, excerpted from the book Essentials of Transition Planning by Paul Wehman, articulates some of the main differences between high school and postsecondary settings for students with disabilities. Preparing students for these changes well in advance can help ease the transition and help them be proactive about getting their needs met.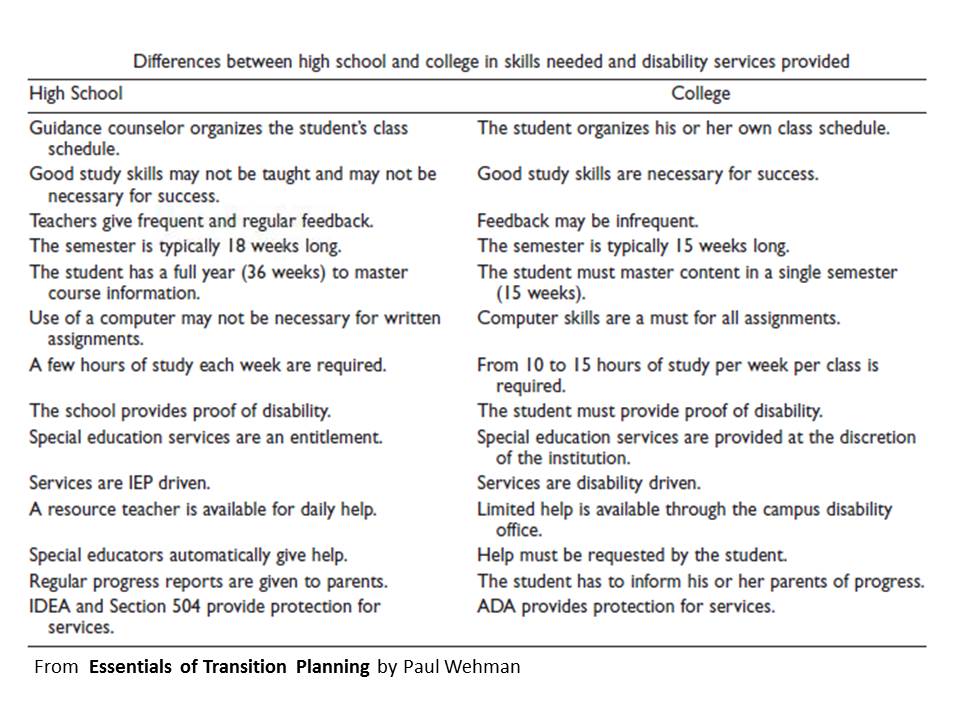 Inquire early about supports. Colleges that receive fed­eral funding have a disability support services (DSS) office available, and some colleges have more comprehensive support programs in place for students with disabilities. If you're a parent or self-advocate, ask about the level of supports provided at each college, research the quality of these programs, and visit the college in person to determine whether it's a good fit.
Gauge a school's level of awareness and acceptance of disability. In interviews with parents and young adults with ASD about their postsecondary college experiences, researchers found that students thrived when surrounded by staff who promoted autism acceptance and when they found other students they felt they could relate to.* When visiting a college, ask how they promote disability awareness and acceptance on campus, among both faculty and students.
Consider modifying the typical college pathway. Four years away at college isn't the only option available. Students might plan to start their postsecondary educa­tion at a community college and then transfer to a public or private 4-year college.
Explore online courses. For students who have the motivation and ability to work independently, online classes have some benefits: they reduce the social and sensory overload of in-person classes and allow the student to work at their own pace.
During and after the college transition…
Plan a reduced workload. A full load of courses can make the transition to college especially challenging. For many students, it might be beneficial to take fewer classes at a time and complete their college coursework over an extended period of time. (To manage the classes students will be taking, apps that support skills such as note taking, time management, and organization may be helpful. Here's a handy list of some free apps students might want to check out.)
Choose professors with accessible and engaging classrooms. Before deciding what classes to take, students should talk to allies: other students and faculty who can point them to professors who might be a good fit for them. They should look for instructors who are flexible and open, use a variety of teaching methods, and offer many different ways for students to show what they know. Instructors who have had training in universal design for learning (UDL) principles may be an especially good choice, since teachers who use UDL assume that their classrooms will be diverse and their students will require multiple ways to learn and represent their knowledge. Some instructors, for example, may use audio clips to supplement verbal explanations, graphic organizers to help students understand connections among topics, and websites where students can access more examples and information.
Advocate for accommodations. Postsecondary education facilities that receive federal funding are required to give students with disabilities reasonable accommodations. Students can request accommodations such as extra time in test taking, a sign language interpreter, and audiobooks (see below for a list of 9 possible accommodations for students with disabilities). To receive accommodations in college, students must take the lead in disclosing their disability to the DSS office, providing documentation of the disability, and advocating for the accommodations they need. Requirements for documentation will vary, so students should follow the guidelines of their college or university.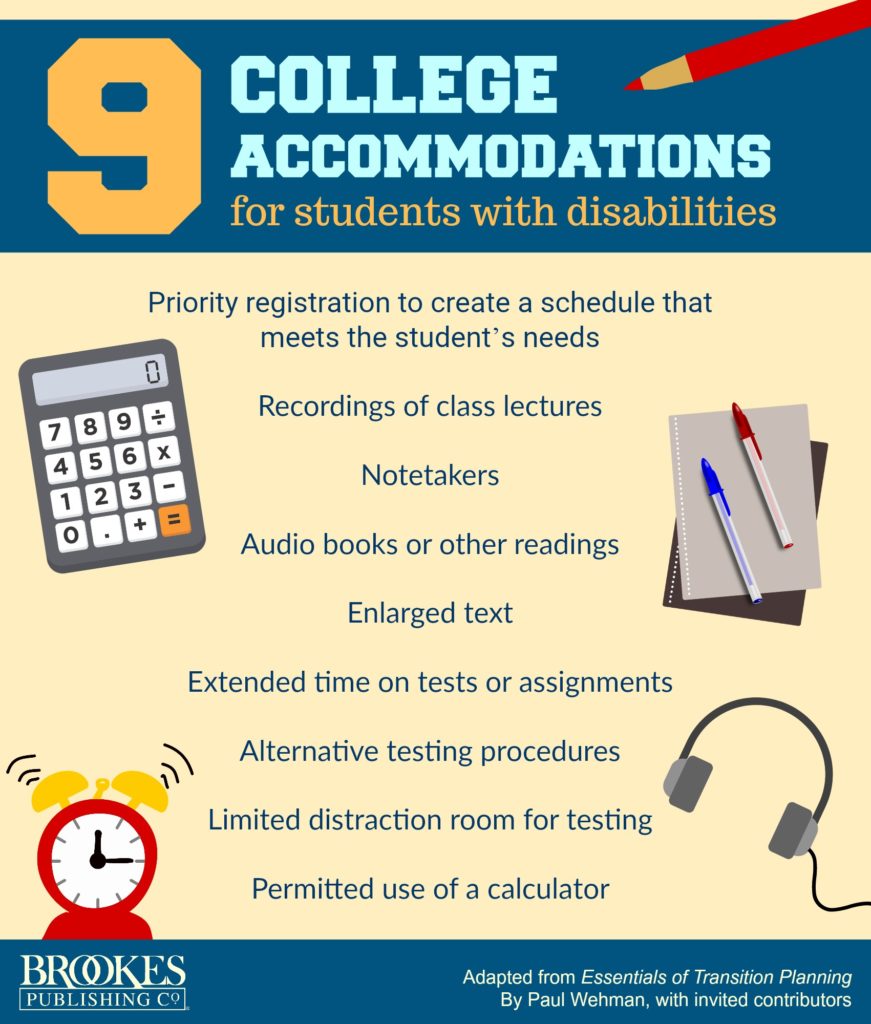 Allay faculty concerns. Postsecondary educators may have limited experience with including students who have disabilities and making accommodations. Some professors might have concerns: Will I have to spend a lot of time making changes to lectures and tests? Will accommodations disrupt the classroom or force me to change my teaching style? Students can help allay these concerns by learning how to explain in plain language why they need the accommodations and how they work. They should plan to approach the instructor in advance of the class to offer information and documentation from the DSS office. This will give the teacher plenty of time to ask questions and seek additional supports if they need to.
Seek out support services. Some fee-based support services, such as the College Living Experience, partner with universities, community colleges, and technical schools to provide students with wrap-around supports. This is one option for receiving supplementary supports in areas like academics, social skills, independent living, and career development.
Bookmark trusted online resources. During the college search and transition, resources such as Think College can be your best friend. This national organization creates and curates a wide array of resources on topics related to postsecondary education for people with intellectual disability. On their website, you'll find a resource library with more than 600 journal articles, webinars, lesson plans, and more; a regularly updated listing of all college programs for students with ID around the country; and an Innovation Exchange where you'll find curated resources on specific topics.
READ MORE
The suggestions in this post were adapted from Chapter 40 of the newly updated Children with Disabilities, Eighth Edition, edited by Mark L. Batshaw, Nancy J. Roizen, & Louis Pellegrino,  with the exception of "Choose professors with accessible and engaging classrooms" and "Allay faculty concerns," adapted from the book Think College by Meg Grigal and Debra Hart. Refer to those books for more information, and also check out:
Essentials of Transition Planning, by Paul Wehman with invited contributors
Your Complete Guide to Transition Planning and Services, by Mary Morningstar & Elizabeth Clavenna-Deane
Preparing Students with Disabilities for College Success, edited by Stan F. Shaw, Joseph W. Madaus, & Lyman L. Dukes III
*Sosnowy, C., Silverman, C., & Shattuck, P. (2018). Parent's and young adults' perspectives on transition outcomes for young adults with autism. Autism, 22(1), 29–39.