23 Tips for Designing and Arranging Your Inclusive Classroom
August 15, 2018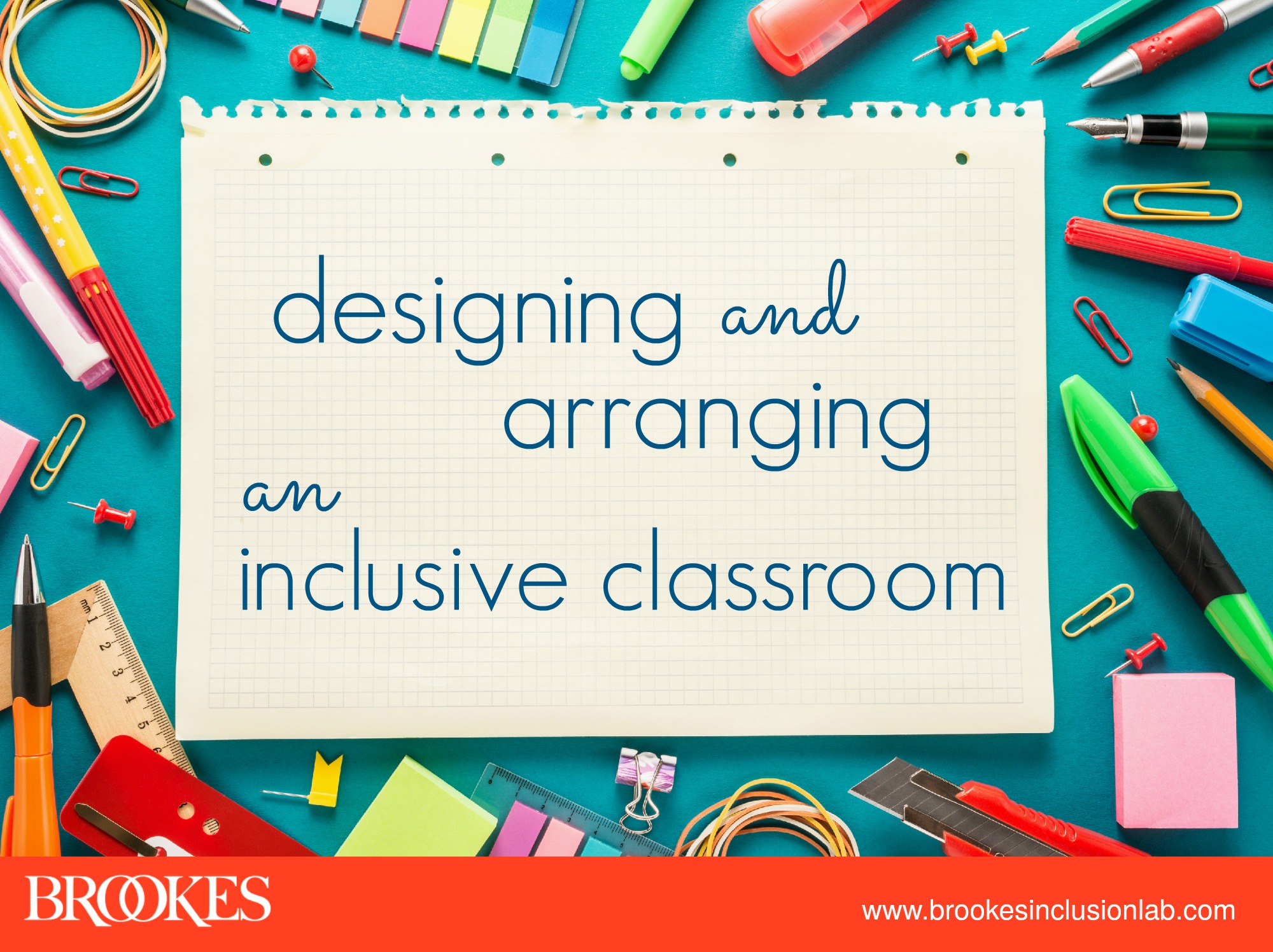 A comfortable, safe, and thoughtfully designed physical environment is essential to the success of any inclusive classroom. In today's post, we bring you some quick tips and insights you can use to guide the physical arrangement of your classroom, from desks and tables to instructional materials. Try these ideas in your classroom this year, and let us know which ones worked best for you! (These tips were excerpted and adapted from two books: The Special Educator's Toolkit by Cindy Golden and Supporting Students with Emotional and Behavioral Problems by Lee Kern, Michael P. George, & Mark D. Weist.)
Furniture placement
Treat your classroom furniture as objects that can be manipulated to accommodate various lesson formats and foster achievement of behavioral expectations.
Set up your furniture to facilitate your easy movement to all parts of the instructional space. Make sure all your students are accessible to you.
Plan the best, least disruptive route to the most frequently used classroom destinations: the pencil sharpener, the wastebasket, your desk. Strategically place these items to minimize disruptions and make the most of your classroom time.
Make tables available for small-group lessons and place them strategically so you can continue to visually monitor the rest of the class during small-group instruction.
Keep an eye on behavior during small-group activities. If the classroom gets too noisy, rethink your desk or table configurations. Try decreasing the size of small groups from five students to three students, for example, and change the composition of the groups so that each student who tends to be disruptive is grouped with two students who are usually engaged and productive.
For younger children, make sure there's plenty of space on the floor for circle time, in the play area, and near the door to line up when it's time to leave the room.
Watch out for furniture arrangements that cause difficulties in monitoring and supervision. When students are in too close proximity to one another or are unobserved by the teacher, disruptions to learning could easily arise.
Make a list of classroom arrangement needs for specific students. Which students need extra space for wheelchairs? Which leaners may need extra space to walk during sensory breaks? Which kids need room for their paraprofessionals, OTs, or other support personnel?
(Suggestions 1-7 from Kern; suggestion 8 from Golden)
Work areas
Designate different areas of the room for different skill activities: academics, social skills, leisure skills, and job-related skills. For instance, reading and math instruction may take place with student desks aligned facing a whiteboard or SMART Board, but students could choose individual spaces in the classroom for independent reading.
Dedicate an open space in the back of your classroom for social skills instruction, role-plays, or other activities.
Make sure that student seating during various lessons and activities is predictable and promotes smooth transitions throughout your school day.
If you have different skill development groups, designate them by physical space or the configuration of furniture, so your small-group lessons can continue without disturbance or interruption from other groups.
Watch out for any spaces that prompt students to frequently compete verbally and physically for desks or spaces during transitions.
Use low-tack tape to delineate different areas of the room. If this isn't allowed in your school, then use different colored carpet squares or solid color rugs to help visually differentiate the areas.
Try creating area dividers made of PVC pipe and fabric. Piece together the PVC to make a lightweight square frame with a T at the floor to stand it up. You can use a few yards of fabric and a simple seam at the top to make a curtain for the divider. Because the divider is lightweight, it is appropriate for classrooms that include students who may become aggressive.
Wall space can further delineate the areas of your room by creating visual cues and boundaries. When your students enter each area, they should have visual clues about the area's function.
(Suggestions 1-5 from Kern; suggestions 6-8 from Golden)
Instructional materials & displays
Ensure that instructional materials and supplies for small group instruction are readily accessible to students and staff, allowing for prompt initiations, uninterrupted lessons, and efficient transitions.
Consider spreading out where your classroom materials are stored. One teacher, for example, had a single storage cabinet that caused disruption when many students needed materials at the same time. He removed the cabinet (also adding classroom space) and installed portable shelving placed in three separate areas in the classroom, so students wouldn't be competing to access a single storage space.
Clean out clutter and organize your classroom paperwork. (See this blog post for tips on organizing your paperwork.)
Create colorful, visually pleasing wall displays. Your room decorations should not only reflect the personalities of you and your students, but also create energy and excitement about learning. (Note that solid background colors for bulletin boards are better for students with sensory issues or sensitivity to visual clutter.)
Frequently rotate displays of student projects and papers so that everyone gets a chance to have their work spotlighted. Consider highlighting your students' newly acquired skills as well as outstanding work.
Prominently post your classroom schedule and expectations. Keep posted expectations few and simply worded.
If you don't have many corkboards, thrift stores are great places to find old ones. Or you can use a small amount of wall paint (if allowed) and paint a large square on the wall in a different color. You can hang items in this square and it'll appear to be a separate wall area.
(Suggestions 1-5 from Kern; suggestions 6-7 from Golden)
Safety
While you're setting up your classroom, here's are some safety tips to follow. Be sure that:
Potentially dangerous items such as scissors, knives, and paints are stored and secured
Disinfectants are labeled properly and stored
Emergency exit maps are posted
Electrical cords are in good repair and removed from aisles
Ceiling lights are working properly
Furniture, floors and carpets are in good repair
Equipment is secured and in good working order
Personal items such as keys and purses are securely stored
A written plan for managing emergencies and episodes of dangerous behaviors is in place and communicated to aides, support personnel, and building administrators
In your own experience, what tips and tricks have helped you create a physical environment that meets the needs of all students? If you have a success to share, add it in the comments below!
LOOK INSIDE THE BOOKS
View the contents, full descriptions, book reviews, and free excerpts:
The Special Educator's Toolkit by Cindy Golden
Supporting Students with Emotional and Behavioral Problems by Lee Kern, Michael P. George, & Mark D. Weist
Topics