3 Common Legal Mistakes When Teaching Kids with Special Needs
September 6, 2016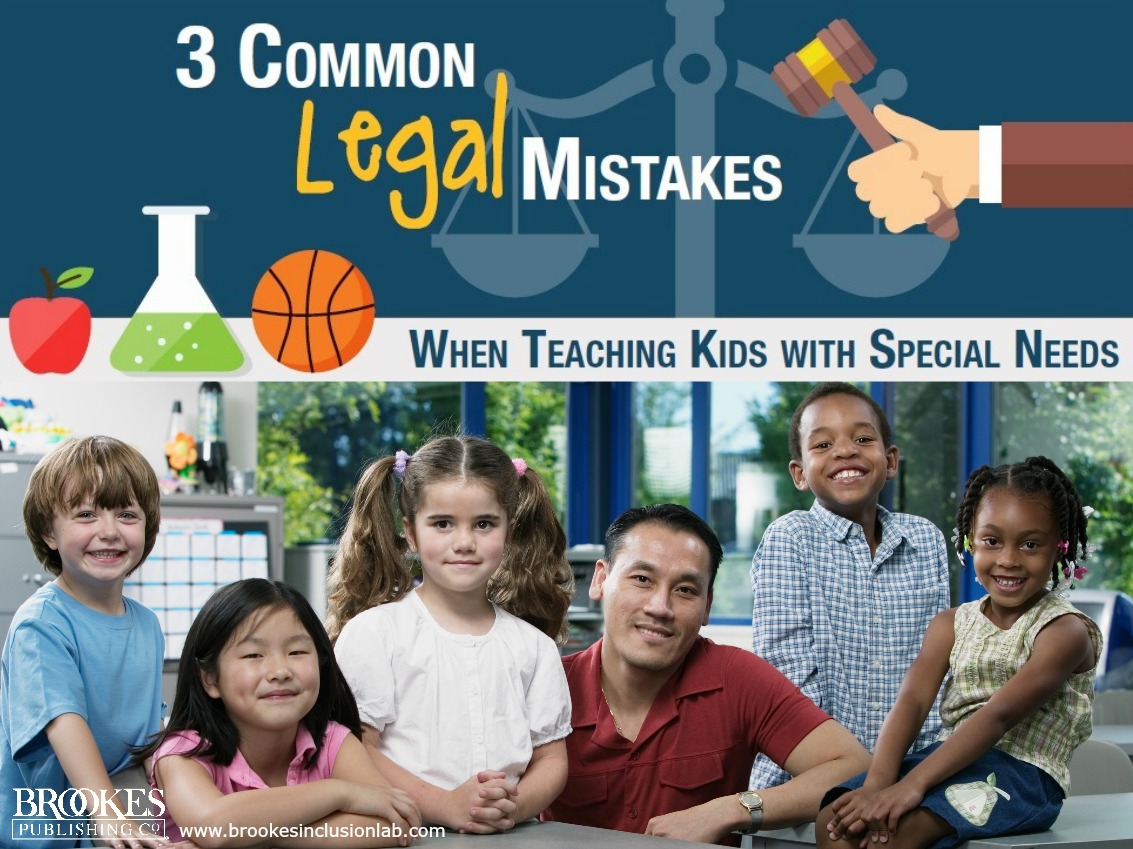 When you're teaching students with special needs in an inclusive classroom, one of the most important things you can do is keep yourself informed about the legal rights of the student and family–and your legal responsibilities as an educator. Not knowing what the law says can lead to friction with the family, unwitting violation of student rights, and even lawsuits.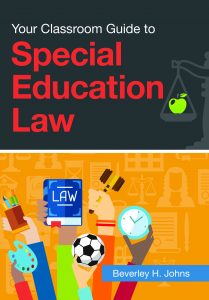 If you want to stay informed and avoid legal pitfalls, we recommend the new book Your Classroom Guide to Special Education Law by Beverley H. Johns, M.S. It's a plain-English guide to the basics of special education law–no jargon, just reader-friendly explanations and lots of engaging features like quizzes, activities, and case stories.
Excerpted and adapted from the book, today's post introduces three of the most common legal mistakes educators make when teaching kids with special needs. (At the end of the post, there's a pinnable infographic that sums up all three points–keep it on hand and share it as a quick reference.)
Misquoting the law or regulations when asked a question by parents or colleagues.
When you're asked an important question about a student's legal rights, you might feel pressured to have the answers at your fingertips. But unless you're sure you have the right information, hold off on providing an answer until you can check reliable sources. When legal rights and issues are in question, it's never advisable to fake an answer. That's a fast way to lose credibility with others. If you don't know the answer, just say that you're unsure and will have to look it up. Then research the correct answer and get back to them as soon as possible. There's no shame in having to check (or double check) what the law says–the person who asked the question will respect your conscientious attention to the facts.
Relying on other individuals' knowledge of the law, regulations, or pending legislation when you are unsure of their credibility.
Your rule of thumb should be: When in doubt, check it out. If a colleague quotes a law, a piece of regulation, or a pending bill, don't accept it at face value; it's always a good idea to ask the individual for the specific citation. If you find that the individual misquoted the law, regulation, or proposed legislation, then you'll want to store that information for future reference. If this person quotes the law again, you'll know that you have to be careful to check out the information for yourself.
Failure to take your responsibility seriously in the evaluation or placement process.
Prepare well for your role in a student's evaluation or placement process. It can require extra work, but never look at the process as a nuisance. It's a serious obligation that with the future of a child at stake–decisions that are made now can reverberate throughout that student's whole life. So as you prepare for your part in the process, take the time to review records carefully, gather assessment information, and explore all possible placement options for the student based on his or her individual needs.
INFOGRAPHIC
Here are the key points from today's post as an infographic, ready to print out for your files or share on Twitter, Facebook, and Pinterest: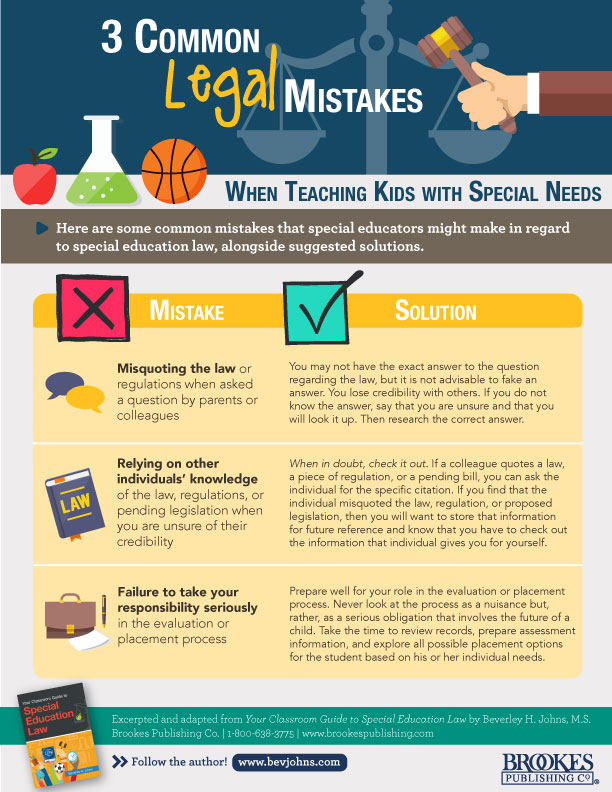 LEARN MORE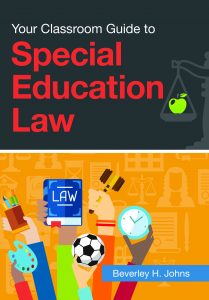 For more guidance on adhering to the law as you teach students with disabilities, check out Your Classroom Guide to Special Education Law. Read an excerpt and check out the early reviews here!