4 Things Principals of Great Inclusive Schools Do
December 8, 2015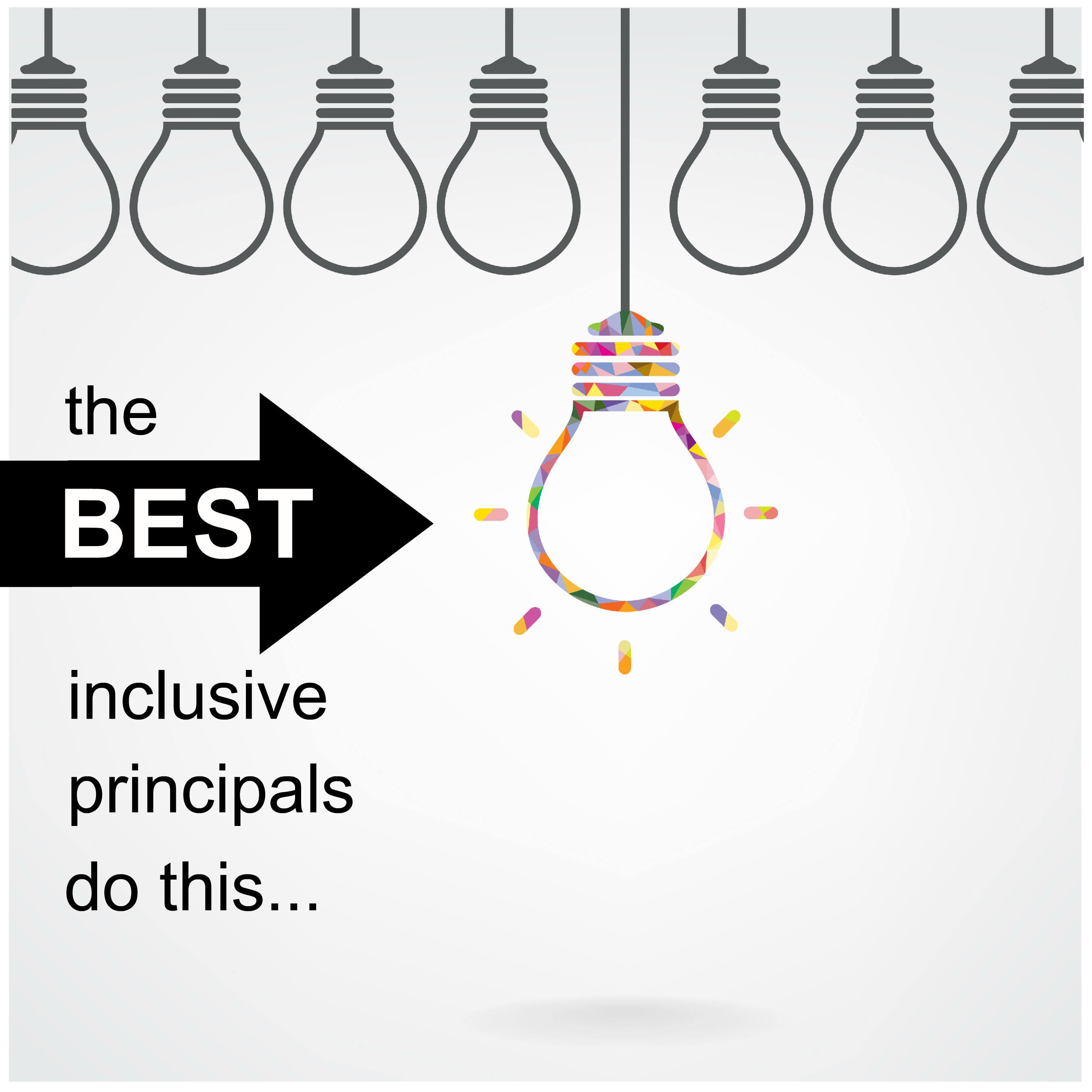 Today's post focuses on one of the most critical elements of successful schoolwide inclusion—a passionate and committed principal. What kind of principal does a successful inclusive school need? Inclusion expert Julie Causton sums it up in one powerful sentence: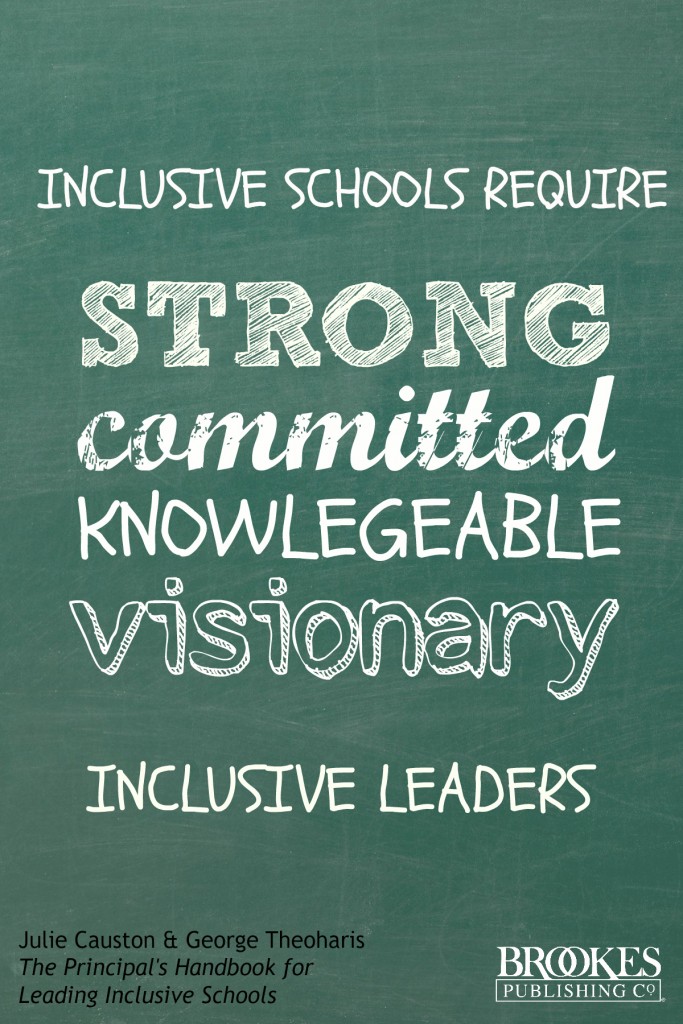 Maybe you're lucky enough to have—or be—this kind of principal. Or maybe this is the kind of thing you pin to your quote board on Pinterest and then stare at it, feeling overwhelmed. Those are big adjectives to fill (especially "visionary"). With something as complex as inclusive school leadership, how do you know if you're doing it right?
In The Principal's Handbook for Leading Inclusive Schools, Julie Causton and George Theoharis describe some success factors based on the work of researchers who've watched principals in action. Here's an outline of their 4-part vision and some helpful food-for-thought downloads.
#1. Set a bold, clear vision of full inclusion.
Principals of successful inclusive schools aren't afraid to set the bar high and follow through. They articulate a bold vision of full, unfettered access to general education for every student—and they champion this schoolwide goal loud and clear at staff meetings. The vision remains at the forefront, drives their decision-making, and doesn't get sidelined when other issues arise.  
Print this "New Leadership Job Description" poster for a powerful vision of inclusive school leadership.
#2. Engage in collaborative planning and implementation.
A good principal might take the lead in setting the goal and creating the vision, but it takes a team to plan and implement successful schoolwide inclusion. To develop a cohesive service delivery plan, create a special leadership team and invite general and special education teachers, SLPs, OTs, and paraprofessionals to take part. Getting staff buy-in is easier when you have a diverse team of professionals creating and presenting the plan, not just the principal.

Here's an example of how one principal worked with a specialized leadership team to develop a plan for inclusion.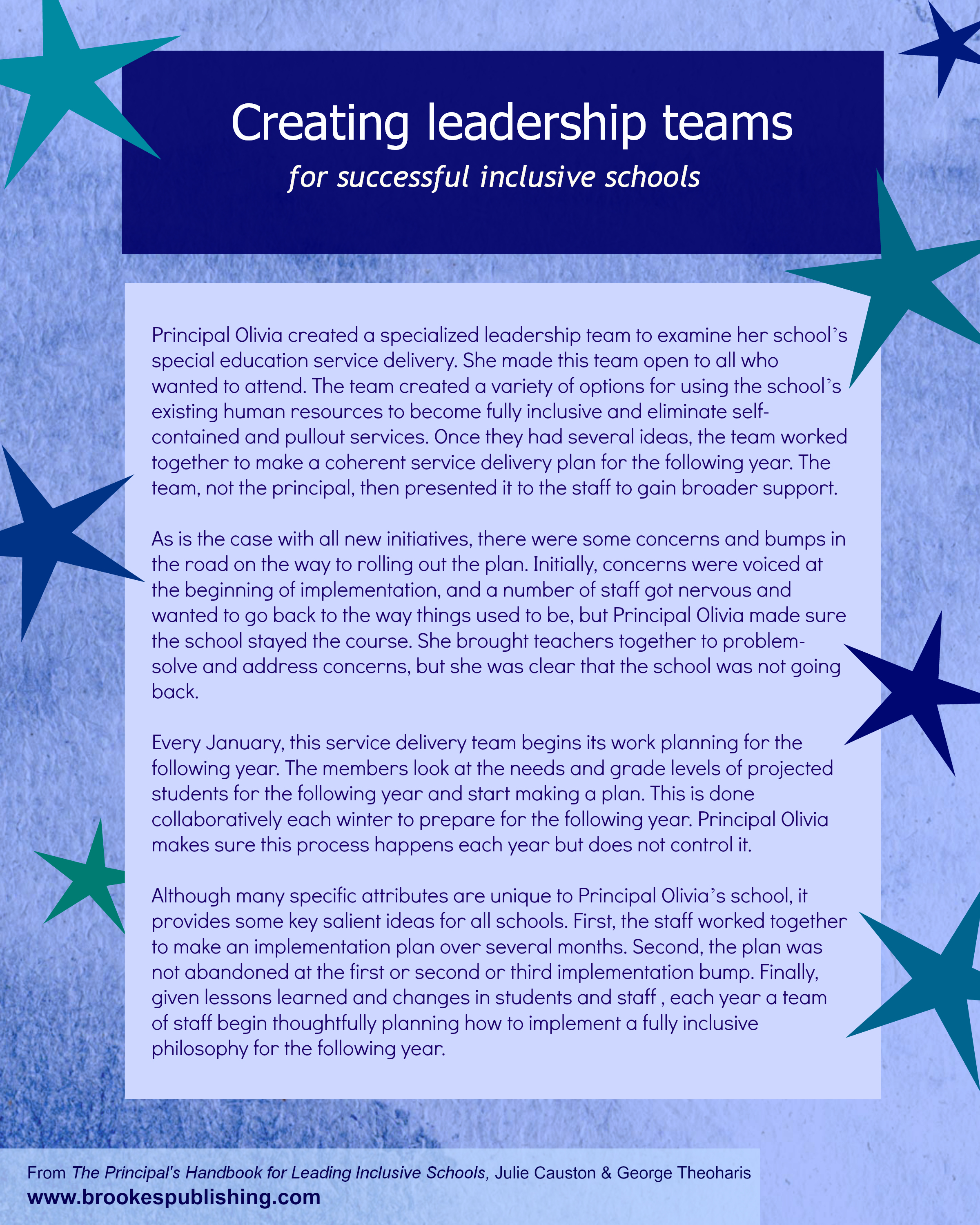 #3. Develop and support teams of professionals.
Teamwork isn't just crucial in the planning stages—it's an everyday success factor for all inclusive schools. Great principals develop teams of specialists and generalists to put their vision of full inclusion into practice. They create dynamic new teaching teams of special and general educators who co-plan and co-deliver instruction. They might bring in outside experts (a collaboration facilitator, for example) or offer team development workshops to help staff work together in innovative and creative ways. They work hard to build time for collaboration into the school day, so team communication is strong, respectful, and consistent.

Here are 9 tips for making time for meetings with your inclusive school team.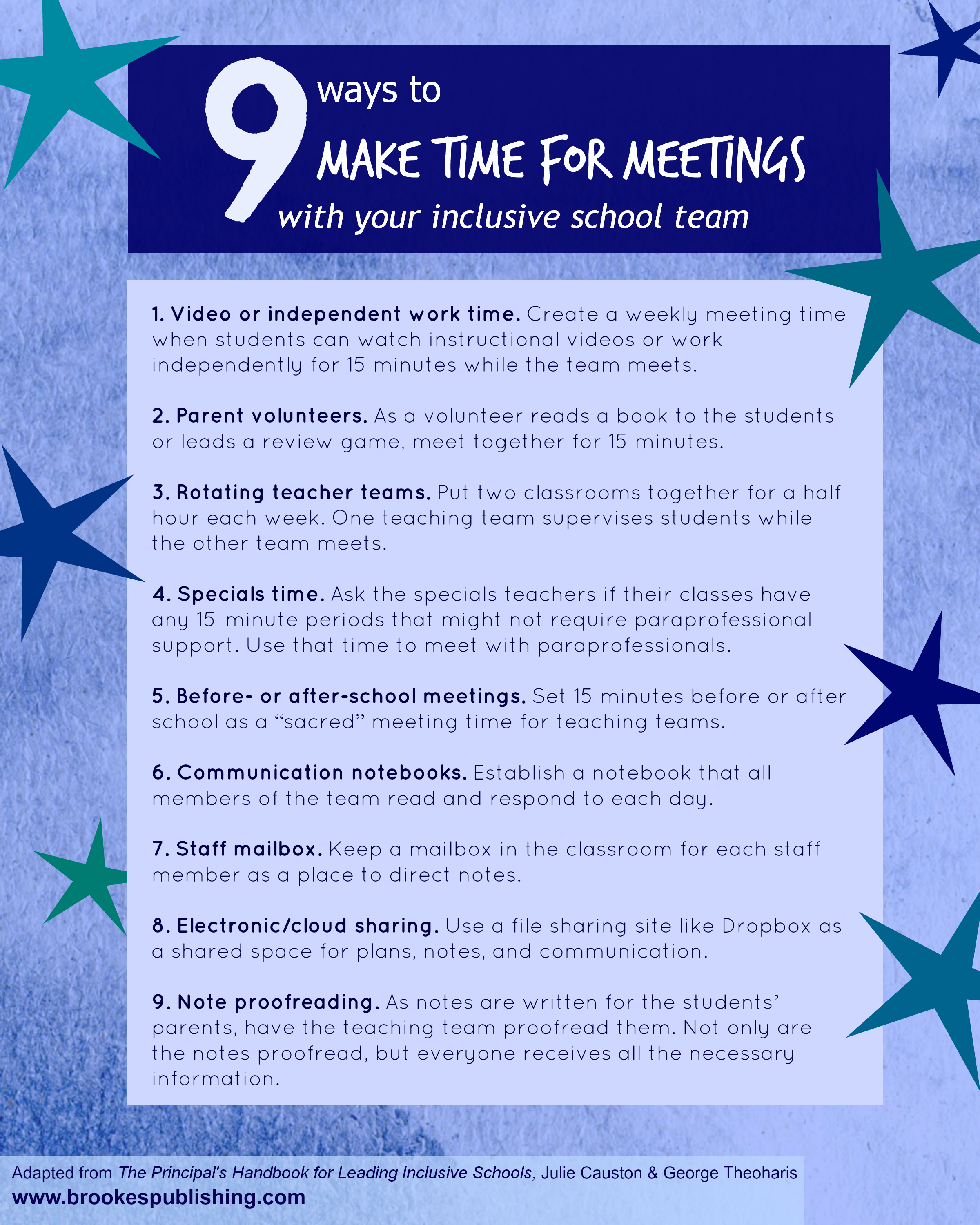 #4. Reduce fragmentation.
Inclusion can't be just a bullet point on a list of initiatives. Successful principals make inclusion a part of everything—it's woven into the fabric of the school's culture. Inclusion should inform new curricula and instructional approaches. It should be reflected in every extracurricular activity and program. When this is the new reality, inclusion won't be seen as a passing fad or a service for students with disabilities. It'll be, as Julie Causton puts it, "the way we do things around here."

These quick examples show how 3 successful principals made inclusion a part of their whole school's culture.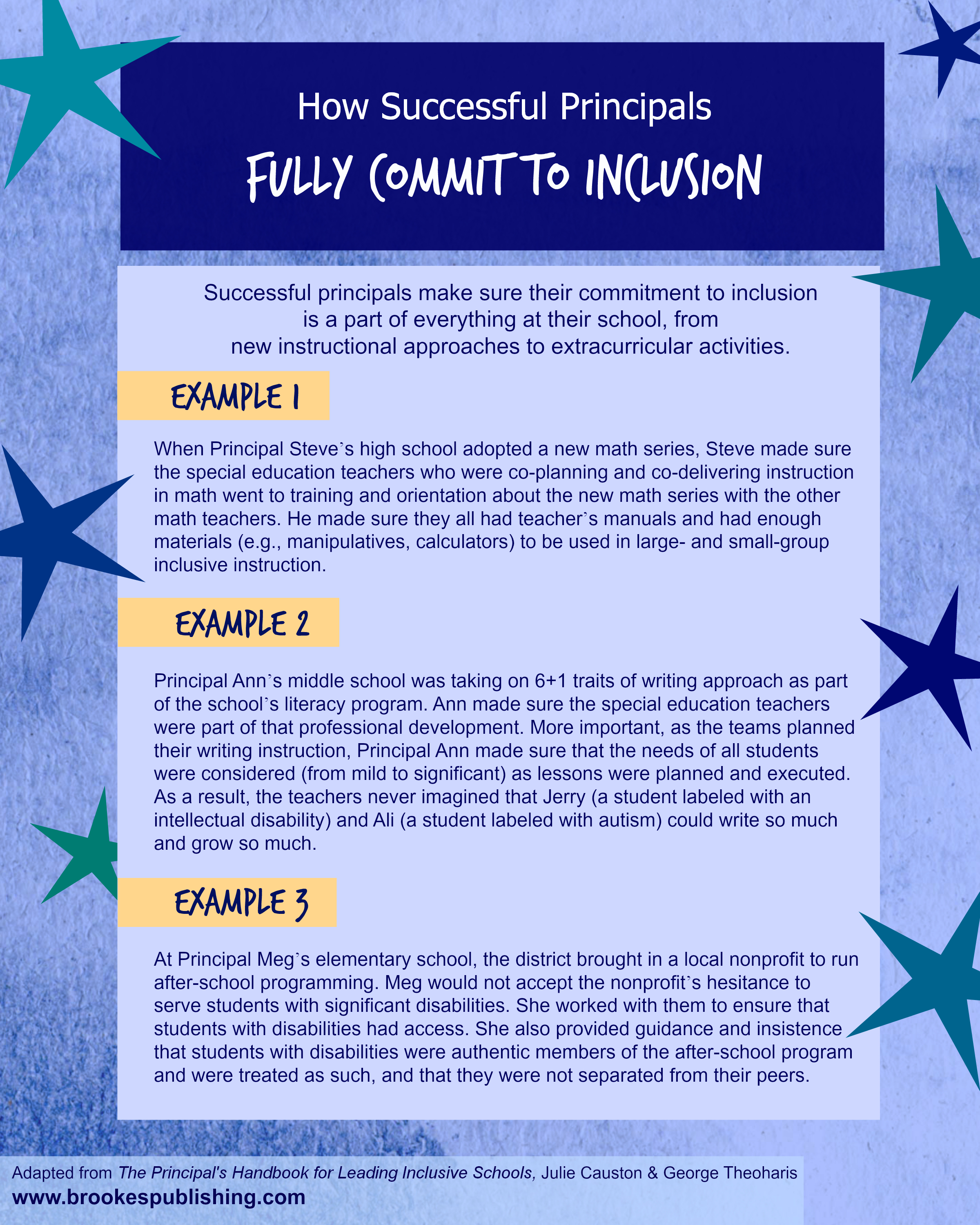 Stay tuned for more tips and strategies on schoolwide inclusion, and share this post with your favorite principal today—because no matter where you are in your inclusion journey, there's no such thing as too much inspiration!
Are you a principal in an inclusive school—or a teacher who works with a great school leader? What's the most important thing a principal can do to make inclusion work? Tell us in the comments below!
Topics