5 Peer Support Approaches That Work!
March 27, 2018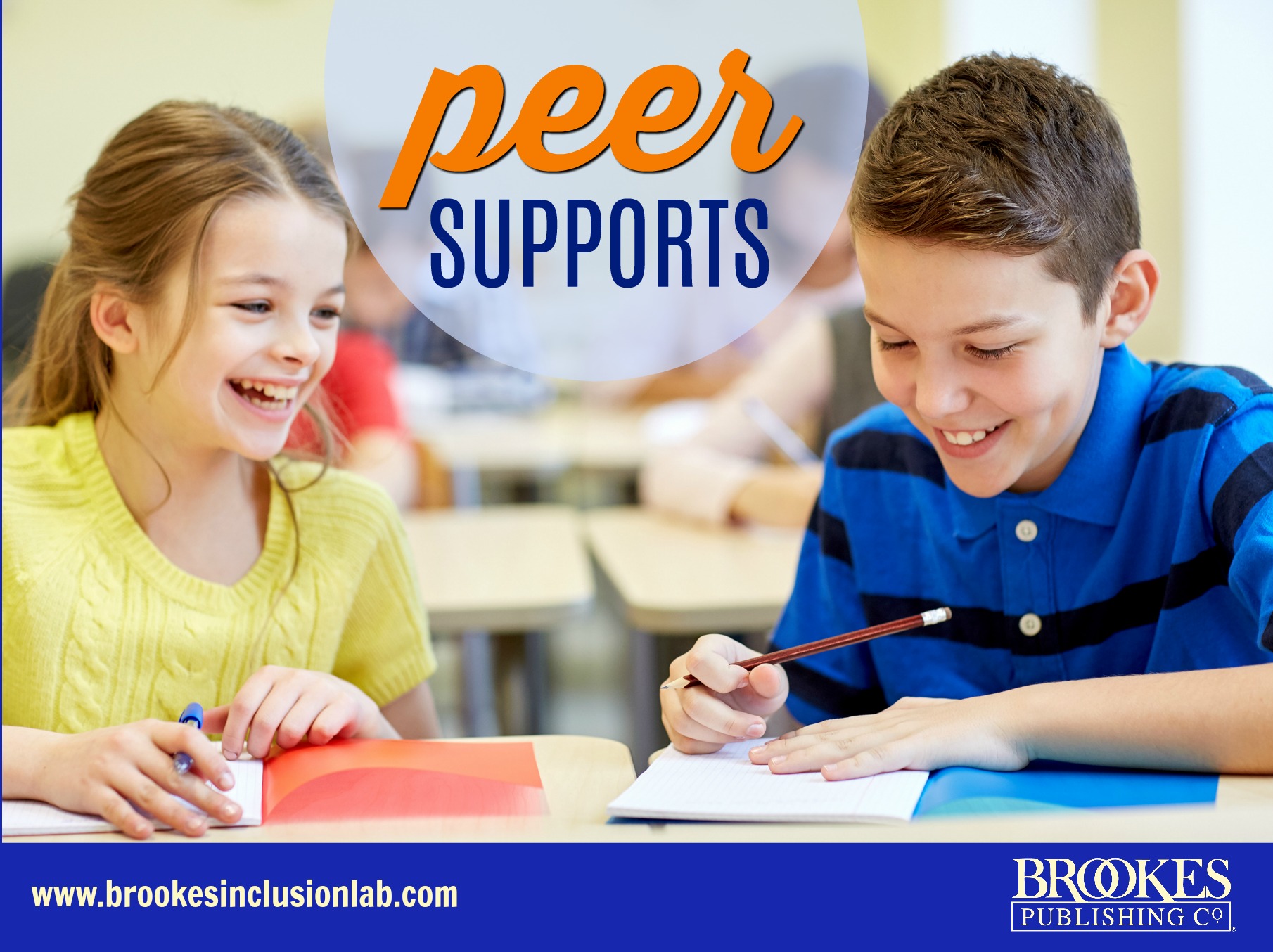 In inclusive classrooms, peer supports are a great way to help meet the needs of all learners. While they can't take the place of individualized supports delivered by teachers and other members of a student's school team, they're an important supplemental strategy to keep in your inclusion toolbox.
If you worry that peer supports can place an undue strain on your students, fear not—effective peer supports delivered under your guidance can benefit all students in your classroom, with and without disabilities. Here are just some of the ways they can help (adapted from Peer Support Strategies for Improving All Students' Social Lives and Learning, by Erik Carter, Lisa Cushing, & Craig Kennedy):
For students with disabilities, peer supports can:
Increase the frequency and quality of interactions with classmates
Help them develop new friendships and supportive relationships
Expand their social networks
Promote their sense of belonging
Ensure broader participation in class and school activities
Improve their social competence and social skills
Inspire higher expectations from teachers and peers
Boost their proficiency in the use of communication systems
Strengthen their independence and self-determination
Support acquisition of new academic skills
Foster greater academic engagement and curricular access
Promote progress toward educational goals
Give them less stigmatizing and intrusive sources of supports
For students without disabilities, participating in peer support activities can:
Strengthen academic engagement and class participation
Increase their opportunities to receive and provide social support
Help them acquire new support and advocacy skills
Connect them with additional attention and feedback from adults
Spark lasting friendships
Inspire a sense of accomplishment and personal growth
Increase their class and school attendance
Help improve their grades and homework completion
Develop a stronger appreciation for the importance and value of inclusion
Increase their self-confidence and help them assume greater responsibility
Deepen their knowledge about and understanding of specific disabilities
Help them understand and accept diversity and individual differences
What peer support strategies have you tried in your classroom? Here are 5 effective approaches that benefit students with and without disabilities, excerpted and adapted from Social Relationships and Peer Support by Rachel Janney & Martha Snell. Look them over and think about which ones might be most helpful to your learners.
 Peer modeling
Peers provide recorded or live demonstrations of targeted social skills
Situations modeled should be familiar ones that students are likely to encounter
Peers explicitly tell the observing student what they are doing and why
Can be used informally during the course of the day or during formal, structured learning sessions
Peer buddy systems
Peers provide incidental teaching during nonstructured, routine classroom activities
Many buddy systems in lower grades emphasize increasing and improving a student's communication with peers
More formal, structured buddy programs may focus on instructional support for secondary school students during inclusive classes
Friendship groups 
Lunch, recess, or after-school groups explicitly designed to bring together students with disabilities and their peers for socialization and fun
Work especially well when inclusion is minimal or if a student with disabilities is new to a school
May meet weekly around specific themes like the homecoming dance or school grounds improvement
Good opportunity to build social relationships and provide informal support channels for students with disabilities
Cooperative learning
Students work in small, mixed-ability groups and support each other's learning
Competition is deemphasized in favor of cooperation, mutual support, and shared accomplishments
All group members work together toward a shared goal; group is successful only when each member achieves the goal
Peer tutoring
Students get one-to-one instruction on a particular topic, assignment, or skill by a classmate, a peer, or an older student
Peer tutoring programs can use fixed roles for students or allow them to alternate between tutor/tutee roles
Especially effective in incremental learning, in which there's one correct answer that the tutor is able to guide the tutee toward
To learn more about these peer support approaches, we recommend the following books:
Peer Buddy Programs for Successful Secondary School Inclusion
Peer Support Strategies for Improving All Students' Social Lives and Learning
Social Relationships and Peer Support, Second Edition
READ MORE BLOG POSTS ON PEER SUPPORTS
10 Practical Principles for Peer Supports: Getting Students Ready to Help
A Win-Win: McGavock High's Peer Buddy Program
"A Win/Win for All Students": Expert Q&A on Peer Buddy Programs
Topics