5 Tips for Building a Reciprocal Relationship with Parents of Young Children
February 10, 2022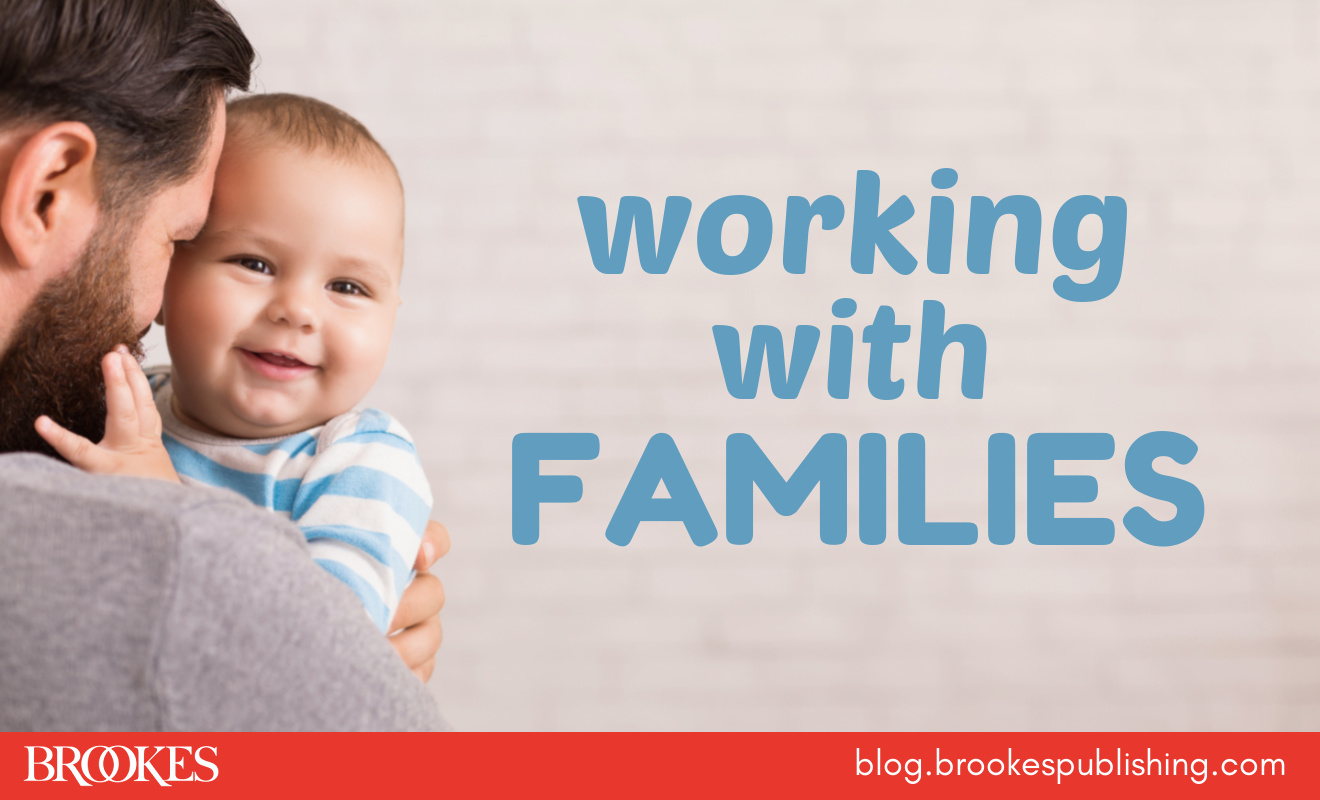 For early intervention professionals, successfully supporting a young child's development begins with building a trusting relationship with the family. Caregivers are the experts on their children, and between visits, they're the ones who will be implementing interventions and making the most of natural learning opportunities. Your efforts to understand and support parents and other family members will make them more receptive to learning from you—and using what they learn long after your visit is over.
In her early intervention guidebook Pause and Reflect, Dana Childress emphasizes the importance of intentionally taking time to establish a positive rapport with each family. Here are five strategies—excerpted and adapted from Pause and Reflect—for establishing and nurturing a reciprocal, respectful relationship with the families you work with: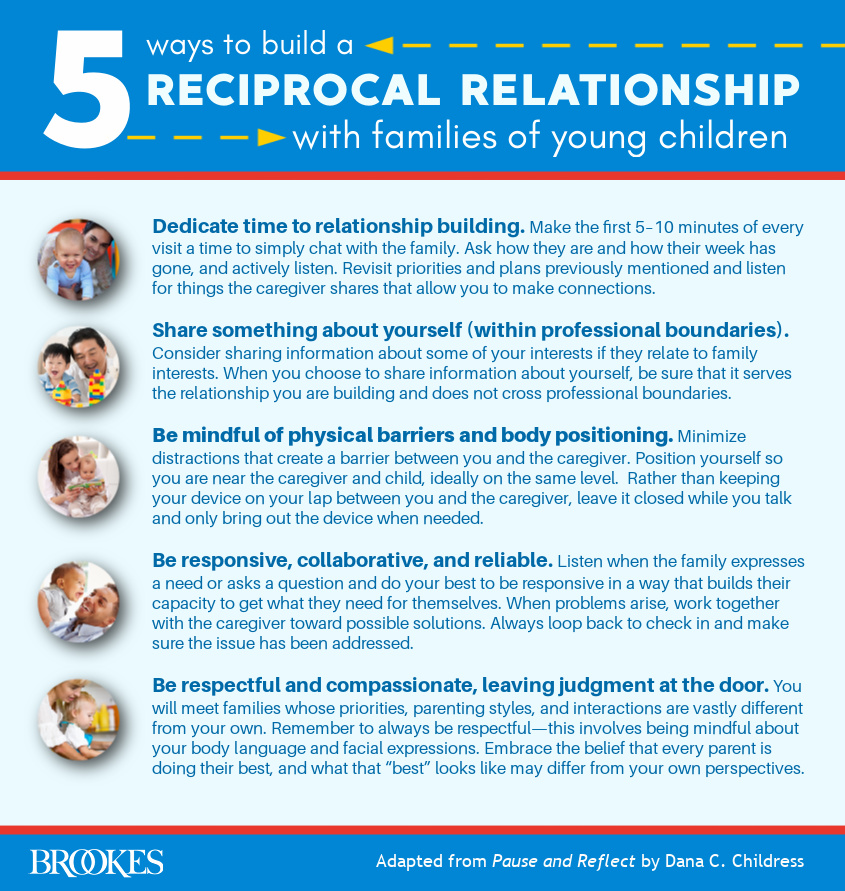 Like the tips in today's post? Download them as a full-color, ready-to share graphic!
GET THE GRAPHIC
Dedicate time to relationship building.
Relationships are built on shared information, spending time together, and building connection. A great place to begin is by making the first 5–10 minutes of every visit a time to simply chat with the family. Ask how they are and how their week has gone, and then actively listen. Revisit priorities and plans you previously mentioned. Listen for things the caregiver shares that allow you to make connections: "You're a big sports fan? Me too!" or "Oh, you like to go to the beach? What does Elijah think of the sand and the waves?"
Connections can build rapport and help the caregiver feel more comfortable with sharing information with you. They also help you understand the child and family. Whatever the caregiver chooses to share, be sure to use your body language to show your interest and provide kind, attentive feedback: "That sounds really hard. Is that something you would like us to address?" If you are early in your relationship, it can be helpful to look for opportunities to compliment the family, too: "Wow, you have so many beautiful plants. Does it take a lot of time to care for them?" Showing interest can lay a foundation for the caregiver to see that what is important to her matters to you (or, asking about the plants could lead you to find out that the child is learning to help with watering, which can lead to natural learn­ing opportunities). The time you take for relationship building is never wasted time.
The time you take for relationship building is never wasted time.
Share something about yourself (within professional boundaries).
Sharing information about yourself can be an effective way to build that reciprocal relationship that is essential to early intervention. You might consider sharing information about some of your interests if they relate to the family's interests. Or perhaps you and the caregiver grew up in the same area of the state. When you choose to share information about yourself, be sure that it serves the relationship you're building in the context of EI and does not cross professional boundaries.
This can be a very fine line. Relationship building in a professional context means that you are friendly with the caregiver but not entering into a friendship. Sharing too much personal information can make caregivers uncomfortable, such as talking about the argument you had with your partner last night or sharing your child's milestones when the caregiver's child is far away from those accomplishments. Dana Childress shares this anecdote to illustrate:
I learned this lesson the hard way when my son was the same age as the child I was working with. The mother and I would chat about our children and she would frequently ask about my son. During one visit, I remember mentioned that my son was "talking up a storm." Her face changed as she said how won­derful that was and I could detect that my inadvertent "mommy moment" had reminded her what her son was not yet doing. This was definitely not my intention but still did dam­age. It was a reflection point for me to realize that I was crossing a boundary that was not serving either of us. This can be a challenge when caregivers ask about our families or want to get to know us more personally. Be gentle about how you handle these requests, and always think about the possible impact of what you will share, for yourself and for the relationship.
Relationship building in a professional context means that you are friendly with the caregiver but not entering into a friendship.
Be mindful of physical barriers and body positioning.
Whenever you can, minimize distrac­tions that create a barrier between you and the caregiver. Many service coordinators and service providers take devices with them to type notes or get documents signed. Rather than opening your laptop or tablet and keeping it on your lap between you and the care­giver, leave it closed while you talk and only bring out the device when needed. Hiding behind your device, or even your thick folder of paperwork, makes relationship building harder because it can signal to the caregiver that you are more invested in the required activities of interviewing or document signing than in getting to know the person sharing the information or signing the form.
Other physical barriers can involve how you manage your own body in the family's space. Do your best to be comfort­able where the family is. Position yourself so that you're near the caregiver and child and ideally on the same level. Ask where the caregiver would like you to sit or play. Dress professionally but appropriately for the work you do—wear darker, washable fabrics so you can get messy. Stash a change of clothes in your car in case you need to make a quick change between visits.
...minimize distractions that create a barrier between you and the caregiver.
Be responsive, collaborative, and reliable.
Listen when the family expresses a need or asks a question and do your best to be responsive in a way that builds their capacity to get what they need for themselves. When problems arise, work together with the care­giver toward possible solutions (rather than trying to fix the problem for the family). Relationships are built on trust, so whenever you make a commit­ment to the family, whether it be agreeing to help find a resource or contacting the service coordinator to request an IFSP review, do what you say you will do. Always loop back to check in and make sure the issue has been addressed. Let them know you made the call or found the resource. Be a reliable partner.
When problems arise, work together with the care¬giver toward possible solutions...
Be respectful and compassionate, leaving your judgment at the door.
You will meet fam­ilies whose priorities, parenting styles, home environments, and interactions are vastly different from your own. Your values and beliefs about child rearing, cleanliness, and health may be challenged. No matter where you find yourself or with whom you interact, remember to always be respectful. You may not always like what someone does, but you can always show respect and compassion as a fellow human being. This involves being mindful about your body language, facial expressions, and the oral (or sign) language you use.
Being respectful also means leaving your judgment at the door and approaching each fam­ily with an objective point of view. You are a support to the family, and it is your job (not theirs) to meet them where they are. Look for common ground on which to build your part­nership and when all else fails, remember that your mutual care for the child can ground you. Start there and approach each relationship with an open mind and heart. Embrace the belief that every parent is doing their best, and what that "best" looks like may differ from your own perspectives. None of us are perfect but all of us are trying. You might just learn something from a family who challenges your beliefs, so approach each relationship with compassion and respect—the same as you would want for yourself.
You are a support to the family, and it is your job (not theirs) to meet them where they are.
Keep these five essential tips in mind as you develop productive, respectful relationships with families of young children. And for one-of-a-kind workbook that will help you reflect on your daily work in early intervention, get the book behind today's blog post!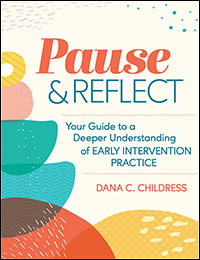 Pause and Reflect
Your Guide to a Deeper Understanding of Early Intervention Practice
By Dana C. Childress, Ph.D.
Dana Childress, a seasoned practitioner and trainer, gives you a systematic, organized, and efficient way to pause and reflect on your early intervention practices, so you can be confident that you're translating the best, most current knowledge into real-world action every day. Includes interactive exercises, reflection prompts, realistic examples, self-assessments, knowledge checks, action plan templates, and reflective journal pages—plus a free 6-month book study guide to help facilitate training sessions!
EXPLORE IT NOW
Topics
Tags