7 Essential Tips for Building a Classroom Library on a Budget
August 25, 2022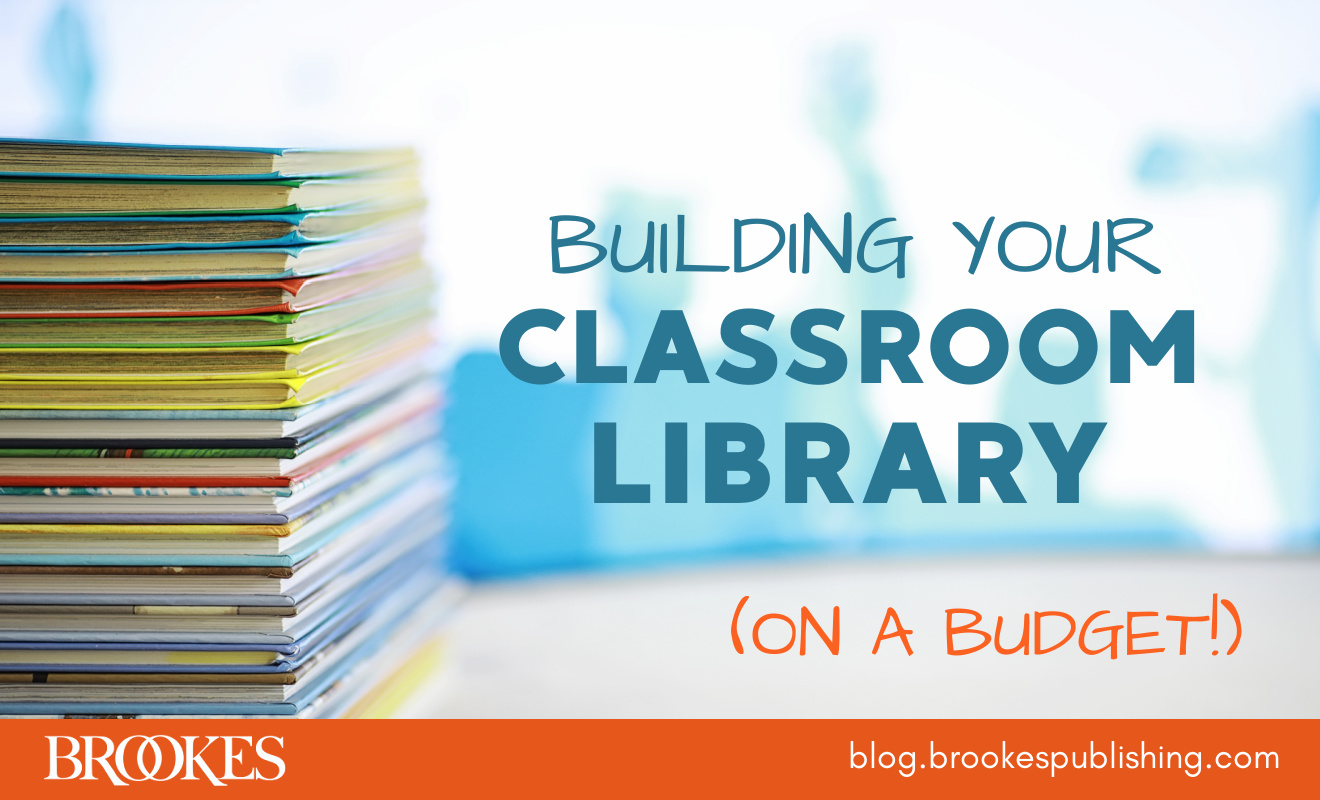 A well-stocked, diverse classroom library can spark a child's lifelong love of reading—and expand the key literacy skills you're teaching every day. But before you spend your own money on building up a library your students will love, read the tips in today's post. Excerpted and adapted from Comprehensive Literacy for All by Karen Erickson & David Koppenhaver, this post outlines 7 ways you can expand your in-class library while minimizing your out-of-pocket expenses.

Reach out to fellow teachers.
Teachers in your school might agree to request book donations in lieu of Christmas or thank-you gifts, in honor of students on their birthdays, or as a way that families can share books they no longer use in home collections. A group of teachers can band together to share their collections, particularly in underfunded schools. For example, if you and five other teachers each have 30 books you are willing to exchange monthly, then all of you have a collection of 180 books instantly. Retiring teachers are renowned for their generosity to colleagues, particularly those new to the profession—they may be willing to donate some or all of their children's book collection to you.

Contact your school librarian.
Children's librarians can be an invaluable resource in helping you locate specific books for specific kinds of readers, for problem-solving the issue of access for your students, and for helping you expand your collection. They may be able to direct you to sites such as Tar Heel Reader's Switch Interface page or Paths to Literacy's Accessible Books page. They know books and how to search for information, and they are eager to help. Their professional organization, the American Library Association, has a page of information about and links to organizations that donate books.

Let families know that book donations are welcome and appreciated.
Families are a potentially overlooked resource in acquiring books for classroom collections. Families receive annual requests from schools for disinfectant wipes, packaged snacks, paper, and other classroom supplies. Parents who can afford it may be willing to contribute more so that every class member is recognized with a book donation. (You can help families out by sending books home nightly with students and including tips like those found at Project Core to support parents and children in communicating about the books they're reading.)

Write mini-grants to fund your classroom library.
DonorsChoose is an online charity founded in 2000 to support K–12 schools across the United States. Teachers can solicit charitable donations for educational projects, and site users choose projects or causes to contribute to. Some teachers use DonorsChoose to fund reading technology, library expansions, a reading garden, book sets, and genre additions.
DonorsChoose provides clear guidance on how to compose and submit a request at their site. Once your proposal is reviewed and accepted, it's posted on the organization's website, and the requested materials are shipped to you when the project is funded. (If you fund your classroom library through DonorsChoose, then be sure to have your students write thank-you letters to the donors.)

Make the most of free online reading resources.
Tar Heel Reader is a collection of thousands of free, easy-to-read, accessible books on a wide range of topics. Each book can be speech-enabled and accessed in multiple ways, including eye gaze, touch screens, and up to three switches. The books can be read online, on tablets, or on smartphones or downloaded and printed. Many public libraries also provide free access to Tumble Books, a subscription service of hundreds of high-quality, digital children's books on multiple grade levels that can be listened to or read silently. Take a field trip to your public library, make sure everyone gets a library card, and then help students and their families put Tumble Books (and the rest of the library's resources) to good use.
To boost the home-school connection, you might also consider recording read-alouds of the books in your collection and making them available through your school wiki to parents who (for whatever reason) are unable to read aloud regularly with their child. A variety of apps and QR code generators can be used to make read-alouds available to students and their families.

Find books at thrift stores and yard sales.
Don't discount places like Goodwill, Habitat ReStores, yard sales, and other locations that sell new and gently used items. These organizations and events often have books they are trying to sell cheaply, sometimes more than they can get rid of. They periodically have deep discounts when they want to clear inventory, particularly at the end of the day or the end of a sales event.

Ask for help from local clubs and foundations.
Service organizations are always looking for a worthy cause. Local clubs and community foundations can be a great resource—if you provide these organizations with specific guidelines about the kinds of books you need, then you may be able to help them help your students. For example, one teacher conducted an evening workshop for a local fraternity on how to create books using Microsoft PowerPoint. She gave them a list of her students' interests and received more than 200 new digital books by the end of the semester!
However you put your classroom library together, remember to provide students with a wide range of books spanning different interests, materials, and genres. Ensure diversity so that all students see themselves represented in the literature on your shelves. Engage inexperienced readers by finding or making texts that are sufficiently easy for them to read. And think beyond storybooks—to engage more students with reading, include materials like travel brochures, reference books, comics, newspapers, and song lyrics for them to explore (see the download below for suggestions). If you have another great suggestion for funding your classroom library, please share it in the comments section below.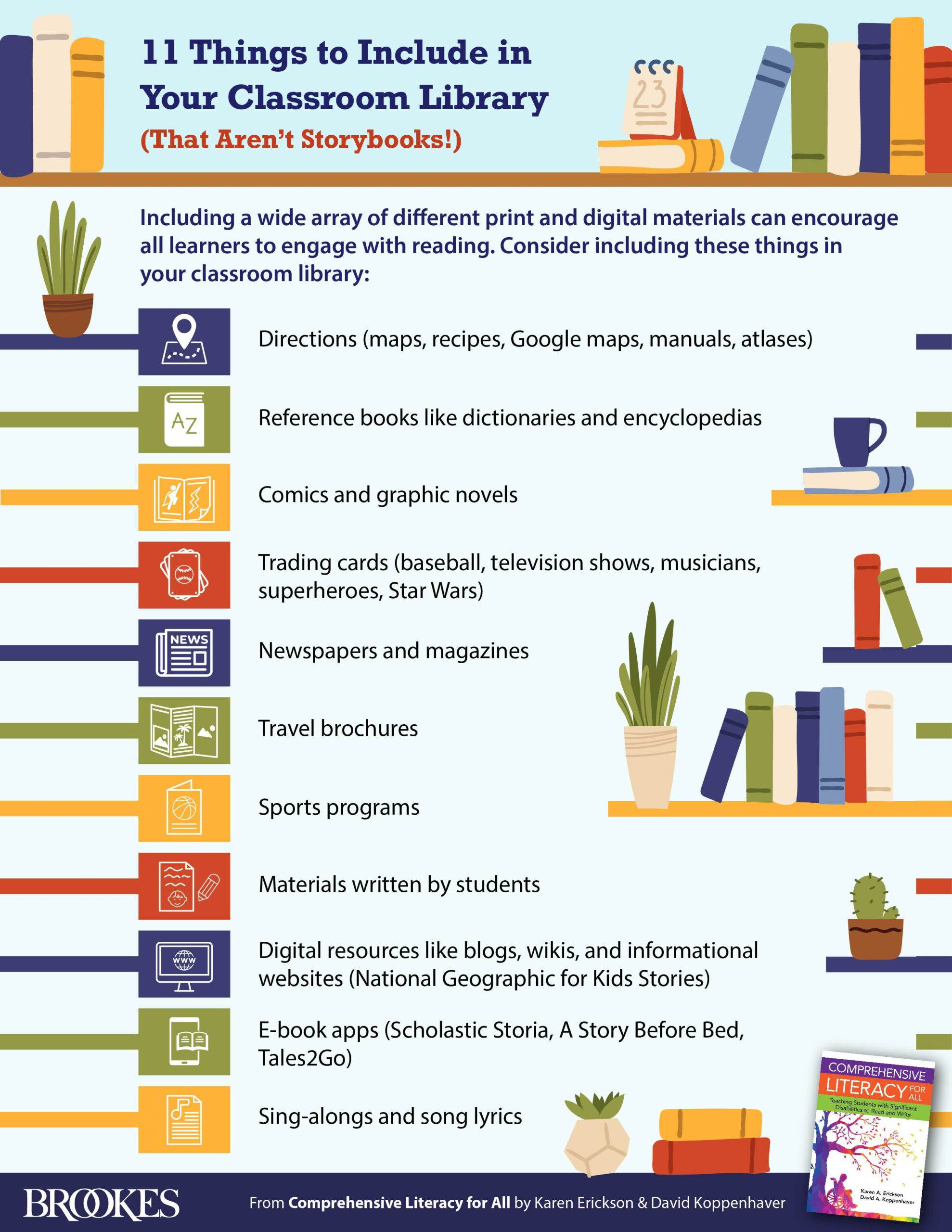 FREE DOWNLOAD:
11 Things to Include in Your Classroom Library (That Aren't Storybooks!)
Download now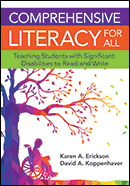 Comprehensive Literacy for All
Teaching Children with Significant Disabilities to Read and Write
By Karen Erickson, Ph.D., & David Koppenhaver, Ph.D.
Drawing on decades of classroom experience, the authors present their own innovative model for teaching students with a wide range of significant disabilities to read and write print in grades preK–12 and beyond. Foundational teaching principles blend with concrete strategies, step-by-step guidance, and specific activities, making this book a complete blueprint for helping students acquire critical literacy skills they'll use inside and outside the classroom.
LEARN MORE
Topics
Tags