7 Ways to Make Your Book Corner More Accessible (Early Childhood Inclusion Tips)
October 8, 2015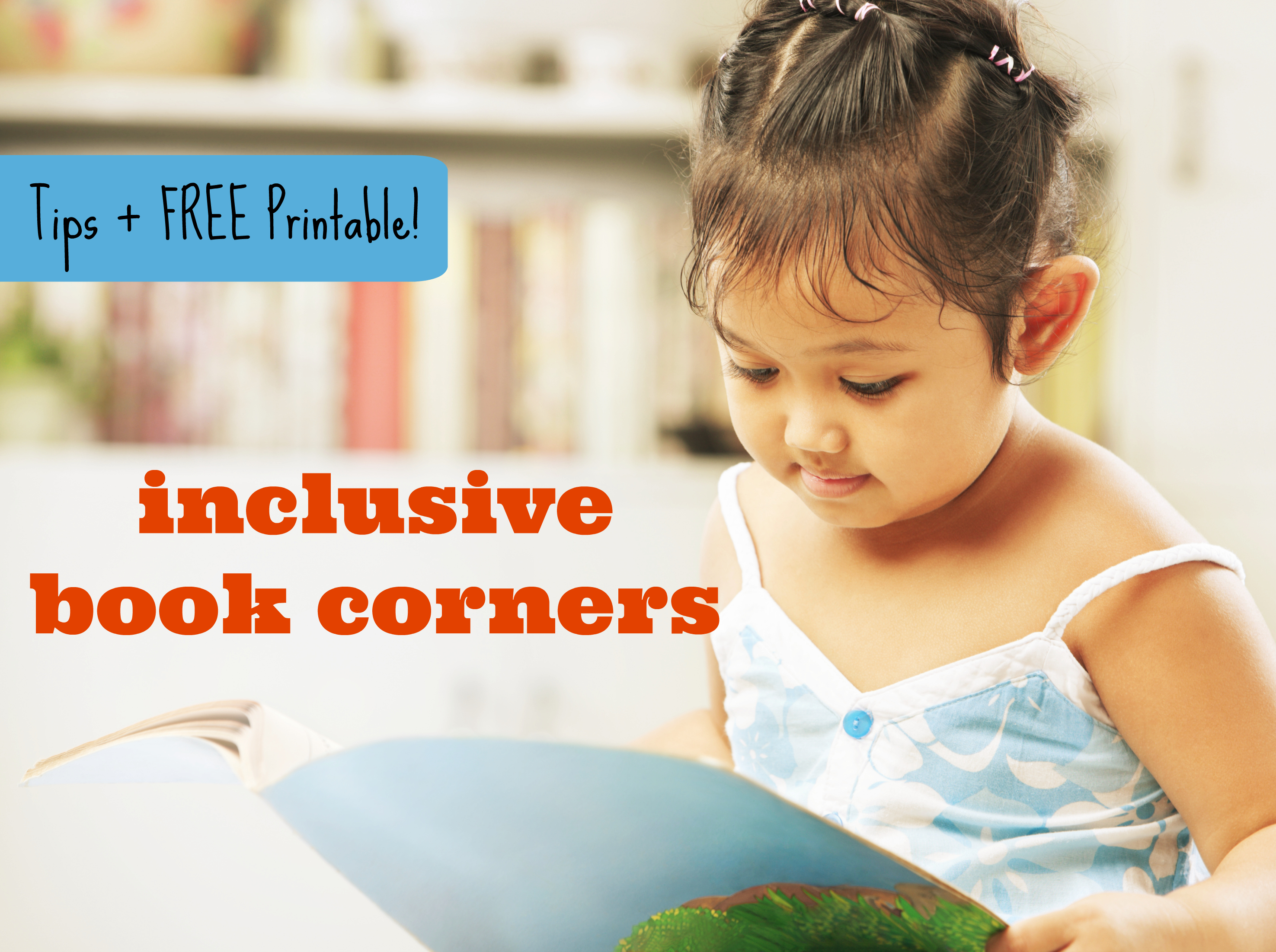 A lifelong love of reading often starts in a cozy, welcoming place—an early childhood classroom's book corner. Here, kids can snuggle up with a wide variety of books while they hone their emerging literacy skills, from recognizing letters to making connections between pictures and story.
As an inclusive educator, your challenge is to make sure all students can access and benefit from your classroom's book nook. With just a few supports and adaptations, you can make this important area a welcoming and inclusive space for children with different learning styles, special needs, and temperaments.
Here are seven common challenges to book corner accessibility, followed by easy tips you can use right now to solve them. (These suggestions were adapted from the second edition of Building Blocks for Teaching Preschoolers with Special Needs. Check out the new third edition here!)
Challenge #1: Sam is easily distracted—sometimes he stops by the book corner, but he doesn't focus on anything for very long.
Tip: To meet the needs of children with attention issues—and all your students—carefully consider the arrangement and location of your book corner. Is it near a noisy area like the water table? Do children have to pass through it or near it to get to another popular classroom center? A book corner should be in a low-traffic area and near other quiet centers. Another way to hook the attention of a distractible child is stocking a shelf with some books on his favorite topic. If Sam is fascinated with dogs, try adding some new canine tales to your library.
Challenge #2: Maria wants to look at books independently, but she has trouble turning the pages and often feels frustrated.
Tip: Homemade "page-turners" can make books more accessible to kids with motor challenges. You can get colorful stick-on bits of Styrofoam in any craft store and attach them to the upper right corner of book pages so they're easier to separate and lift. Board books with sturdy cardboard pages are easier to manipulate, too (you can buy them or make your own if you're feeling especially creative!)
Challenge #3: Aliyah doesn't seem interested in the storybooks and nonfiction books in our book corner.
Tip: For a child who isn't yet interested in or ready for the books on your shelves, include a few photo albums with familiar pictures. You might compile an album of photos from this year's field trips and class activities.
Challenge #4: We use books on tape for children who prefer them or find it difficult to engage with physical books. But some kids have trouble using the CD player. How can I help them operate it without teacher intervention?
Tip: For children who respond well to visual cues, try using green tape (for start) and red tape (for stop) on the buttons, or label the parts of the machine with stick-on numbers to show the sequence of steps. You might also try peer supports: hook up two pairs of earphones to the player and have children operate it and listen in pairs.
Challenge #5: Our book corner includes an area where kids can write using pencils, paper, and crayons. Ty has fine motor challenges and can't hold a crayon yet, so he doesn't have a chance to participate.
Tip: If you have a writing area in your book corner, make sure you include multiple ways for children with varying motor skills to express themselves. With a felt or magnetic board and letters, Ty might find it easier to participate in writing time.
Challenge #6: Elliott gets very loud and excited whenever he listens to books on tape or CD. How can we encourage his enthusiasm while minimizing disruptions for the rest of the kids?
Tip: If you have a student who has trouble regulating his emotions in the book corner, try having an adult join him for storytime. The adult can share in and promote his enthusiasm and use a gentle pat on the shoulder or other reminder to help him express excitement in a less disruptive way.
Challenge #7: Jia is learning to talk. I love that she chooses to read books during free-choice time! How can I enhance her time in the book corner with more chances for her to practice talking?
Tip: Pair Jia with a talkative friend and encourage them to "read" stories to each other (children who can't yet read can make up their own words to go along with the pictures). This way, Jia can have more chances to observe how to tell a story and practice her own speech.
What do you think—which tip(s) will you try in your classroom? And what else can teachers do to make a book corner accessible to all kids? Add your suggestion below!
Like these ideas? Print them now for easy reference (along with some bonus tips + space for your own ideas!)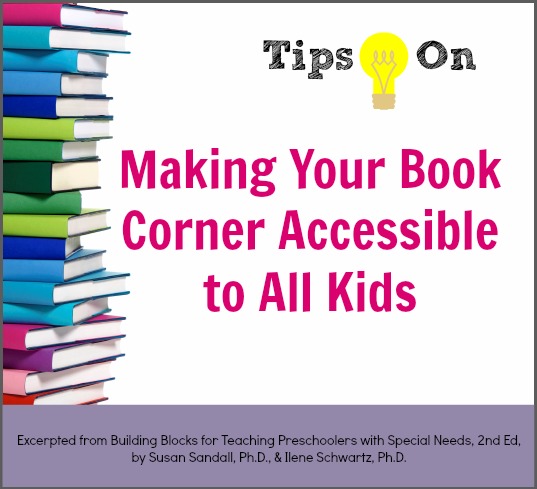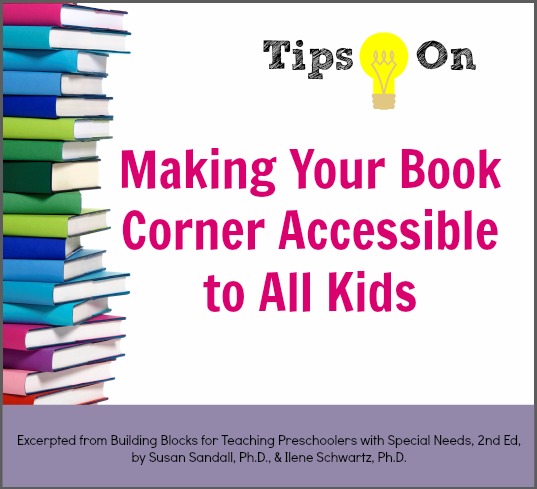 Keep reading!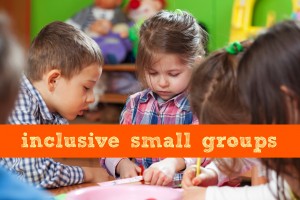 Get more tips from the Building Blocks book in this Inclusion Lab post, 8 Ways to Make Your Small Group Activities more Inclusive.