For Inclusive Schools Week: 9 Inclusion Goals & Free Resources
December 5, 2017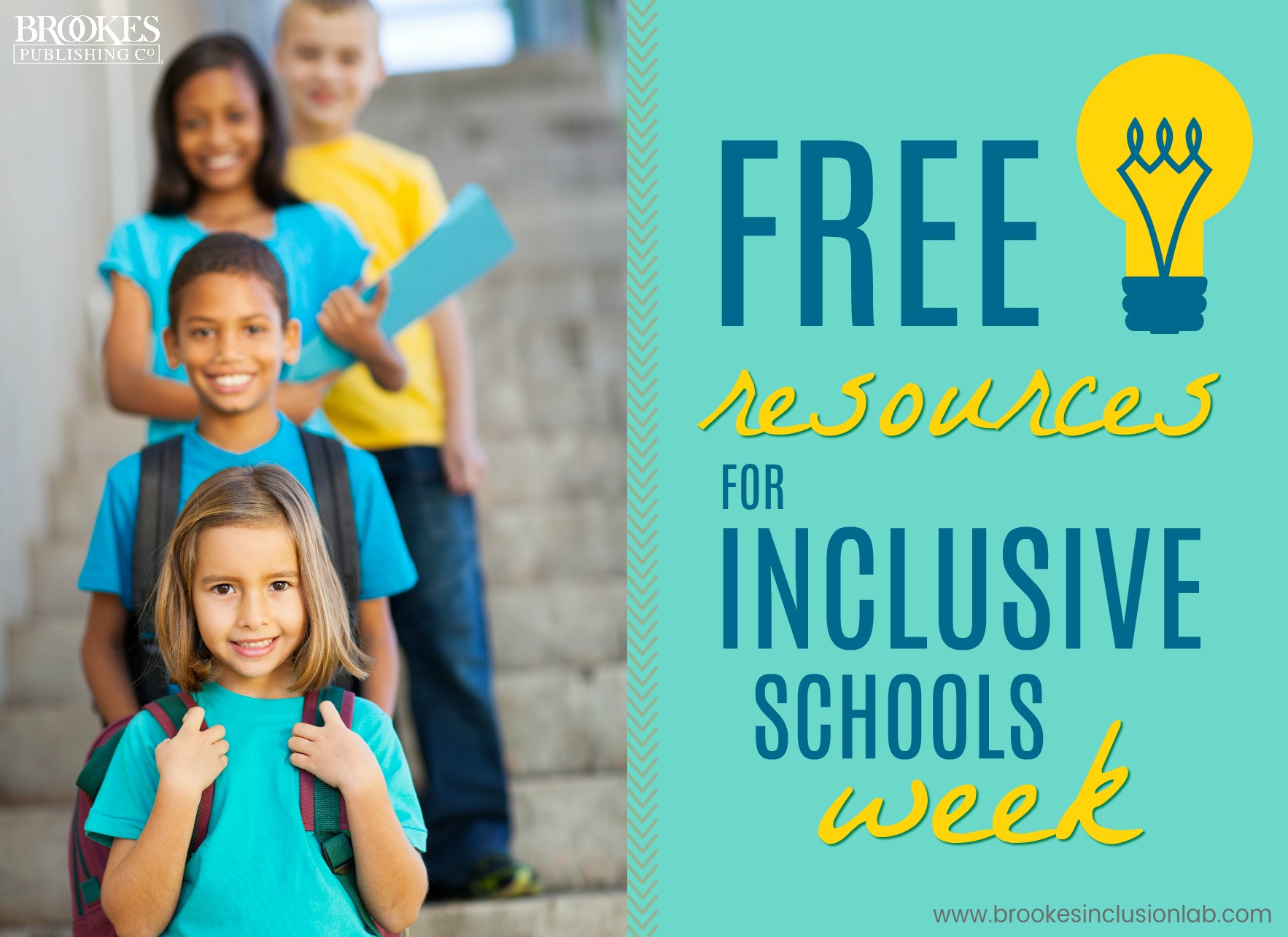 Happy Inclusive Schools Week! Whether you're a teacher, paraprofessional, principal, parent, or one of the many other education professionals who help inclusive schools thrive, we celebrate and honor you this week and thank you for everything you do to welcome, teach, and include all learners.
To help you out as you gear up for another productive year, we've brought together some possible inclusion goals to consider for the new year, and some free resources to help you work toward them. Bookmark this post to keep these resources close at hand—and if you like them, please share them with your colleagues who work toward fully inclusive schools and classrooms.
Do an "inclusion checkup."
Is your school inclusive? Find out with this quick 20-item checklist from Paula Kluth, one of today's most dynamic and trusted voices in inclusive education. The checklist helps you see where your school is succeeding and what practices you need to work on, and it includes space where you can list practical action steps.
Brush up on best practices.
Looking for some proven strategies and guidelines on strengthening inclusion in your school? Watch a webinar and read a journal article by top inclusion expert Cheryl Jorgensen! Based on best practices in inclusive education, the webinar offers you tips on increasing student participation and learning through curriculum, collaboration with other professionals, and innovative use of technology. And the article, from The International Journal of Whole Schooling, takes you inside Cheryl's Beyond Access Model that promotes full membership, participation, and learning for students with disabilities. (Stay tuned for news about Cheryl's upcoming inclusion guide, It's More than Just Being "In".)
Make the most of technology.
Whether you have access to fancy high-tech teaching tools or lower-tech helpmates, today's technology can help you meet the diverse learning needs of all students. In this excerpt from Technology Tools for Students with Autism, you'll get an overview of some readily available options, including text-to-speech software, pacing boards, sentence starter strips, and visual schedules.
Put the brakes on bullying.
Bullying in schools affects a high percentage of students with disabilities, affecting their ability to focus, learn, and thrive in inclusive classrooms. This excerpt from Recognize, Respond, Report illuminates the prevalence of bullying and disability-based harassment in schools, helps you distinguish bullying from normal childhood conflict, and outlines the legal protections students with disabilities are entitled to.
And to take a first small step toward helping hurting students heal, share these anti-bullying cards with kids. Each one has a snippet of wisdom from a child who's also struggled with bullying at school.
Get your lessons off the page.
A powerful differentiation technique is thinking beyond paper-based worksheets—and providing students with creative representations of new content and alternative ways to express what they know. There's a great explanation of this concept in this short video introducing Paula Kluth's You're Going to Love This Kid! professional development DVD. (The "get it off the page" discussion starts at 2:49.)
Try blended practices.
"How can I hold 30 (or 40) hands when I only have 2?" If you've ever asked this question, check out this colorful slide presentation from the 17th National Early Childhood Inclusion Institute. Brookes author Jennifer Grisham-Brown introduces you to blended practices—the concept of combining special and general education techniques to help all children learn.
Make collaboration a priority.
Why is collaboration essential for inclusive education, and how does it come into play at each level of the response to intervention (RTI) framework? Read this excerpt from Collaborative Teaming to find out.
And in this excerpt from The Educator's Handbook for Inclusive School Practices, you'll review the important roles every member of the school team should play in making inclusion work.
Strengthen the teacher-paraprofessional relationship.
An essential learning experience for both teachers and paraprofessionals, this webinar with inclusion expert Julie Causton includes tips and tools for managing a paraeducator's complex job expectations. (And for more practical tips and insights for paraeducators, follow the Paraeducate blog.)
Learn from inclusion heroes.
Have you printed your free inclusion calendar yet? Last year we asked for "inclusion hero" nominations and featured 12 amazing winners in our annual calendar. Meet them and get some of their best tips and insights on successful inclusive classrooms!
***
What do you think—will you use some of these resources in the new year? What would you like to see more of on the Inclusion Lab? Webinars, book excerpts, videos, free printables, author interviews? Something else we haven't thought of yet? Let us know in the comments—we're here to help you reach your goals and teach all learners!
Topics