How to Make Your Classroom Inclusive for Students with Cerebral Palsy
September 5, 2017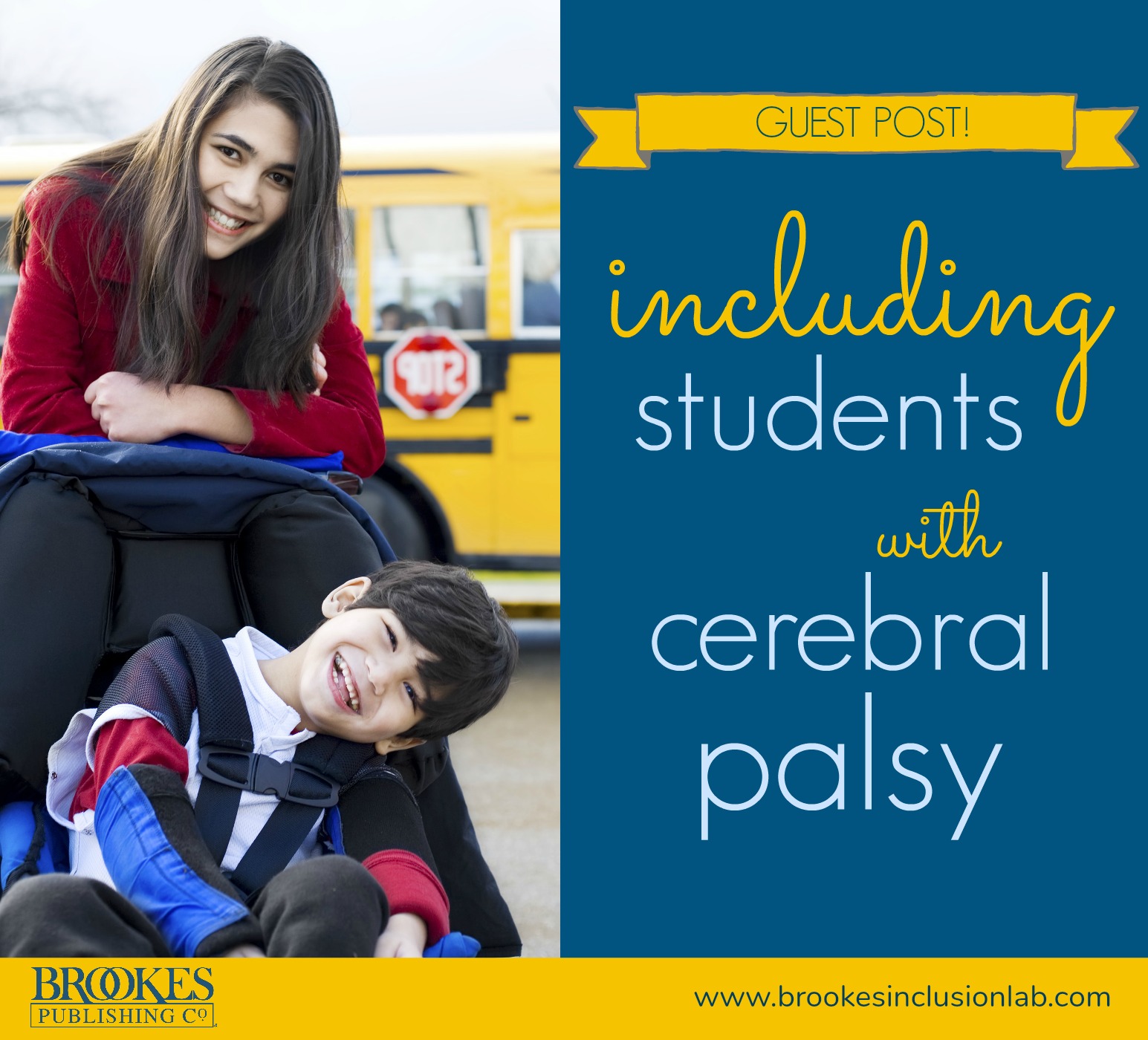 Happy Tuesday, Inclusion Lab readers! Today I'm excited to welcome the team at the Cerebral Palsy Guidance website. They're here to debunk some myths and share their top 6 things educators need to know to make their classrooms more inclusive for students with cerebral palsy. Read on for their insights and practical guidance.
***
Many children with cerebral palsy have special needs, but those needs vary by individual. Some children living with this non-progressive but lifelong condition have minimal disabilities, while others will always struggle to be independent. Despite degree of disability, children with cerebral palsy are always less likely to be included in activities, including in school. To ensure they create inclusive classrooms, educators need to know more about the condition and the individual children living with it.
About Cerebral Palsy
Cerebral palsy is a condition that results from brain damage or brain malformation. It most often occurs during childbirth or during fetal development. It is a neuromuscular disability that has no cure, but it's not progressive and can be managed with a variety of therapies and interventions. Cerebral palsy largely affects the ability to move and control muscles, posture, balance, and coordination.
The degree of disability varies from mild to severe. Some children can walk almost completely normally, while others need assistive devices or wheelchairs. Children with cerebral palsy may also have a range of disabilities caused by or affected by the condition, from hearing or vision loss to gastrointestinal disorders to cognitive disabilities to behavioral issues, and many others.
What Teachers Need to Know to Be More Inclusive
For both special education and general education teachers, providing inclusivity for students with cerebral palsy is so important. As with other children living with disabilities, these kids are more likely to be excluded from classroom activities and discussions, social events, sports, and recreation. They need understanding adults and teachers to help provide more inclusion.
Here are some fundamental things teachers need to know about students with cerebral palsy:
Most children with cerebral palsy do not have IQ deficits. It's a common misconception that a child who struggles to move or control movements–in other words, a child who looks different–also has a cognitive disability. More than half of all children with cerebral palsy have an average to above average IQ. It's important for teachers to realize this and not to assume a child with cerebral palsy is not as academically capable as others.
The range of disabilities in individuals with cerebral palsy is large. While there are many similarities between individuals with this condition, there are more differences. Some can walk; others cannot. Some have limited vision; some children are in pain; some have severe cognitive deficits, while others have above average intelligence. Teachers must get to know the abilities and limitations of each child and not make assumptions.
Children with cerebral palsy need to be actively included. A teacher may not think about inclusion on a daily basis, but for a child who is at risk for exclusion, it needs to become an active part of the day. Teachers need to be aware of the issue and take active steps to help include those who are likely to be excluded. They can try:

calling on a child during discussion
assigning a child a leadership position
starting small and structured group activities and requiring all to participate
instituting a mix-it-up day in the cafeteria, requiring every student to sit with someone they have never sat with before during the lunch period

Most children with cerebral palsy need more space. With muscle movement as a main characteristic of this condition, having enough space to move is crucial. Limiting spaces can lead to less inclusion. Classrooms should be designed to be uncluttered and with plenty of space between desks and other objects.
Rates of autism are higher in children with cerebral palsy. Children with cerebral palsy are at a higher risk for having other developmental disabilities, including autism. Teachers should be aware of this because they are not always diagnosed.
Students with cerebral palsy are more likely to be bullied. Bullying is a big problem for many students, but those with disabilities are at greater risk. Children being bullied are even more likely to be withdrawn and to end up being excluded as a result. With a student with cerebral palsy in the classroom, teachers need even greater awareness of bullying so that they can take steps to prevent it or to intervene. Important things that teachers can do include establishing and enforcing rules in the classroom, intervening immediately when bullying is observed, and getting parents and administrators involved.
Inclusion is so important for the healthy development of any child, but for those at risk of exclusion, teachers must be especially aware and informed. Cerebral palsy can be limiting, but it shouldn't be, especially in school where all children deserve to have the same opportunities. Teachers can play a large and positive role in ensuring they get those.
***
Many thanks to the Cerebral Palsy Guidance team for being here today and sharing these important considerations for teachers. So much of what they said in this post aligns with our philosophy of presuming competence and considering the specific strengths and needs of each child in your classroom. We love hearing from inclusion advocates like this awesome team, so if you have tips of your own to share or a success story related to inclusive education, please drop us a line (jlillis AT brookespublishing DOT com) and your post could be featured on the Inclusion Lab!
About Cerebral Palsy Guidance
Cerebral Palsy Guidance is a website dedicated to providing answers and practical help to parents of children with cerebral palsy. They offer in-depth information and articles on a wide range of topics related to cerebral palsy, including symptoms, common myths, education, communication, mobility, daily living skills, and transitioning to adulthood. Check out the website and share it with families–it's filled with great resources!