Modifying Curriculum in Minutes!: A Guest Post from Inclusion Expert Nicole Eredics
May 24, 2022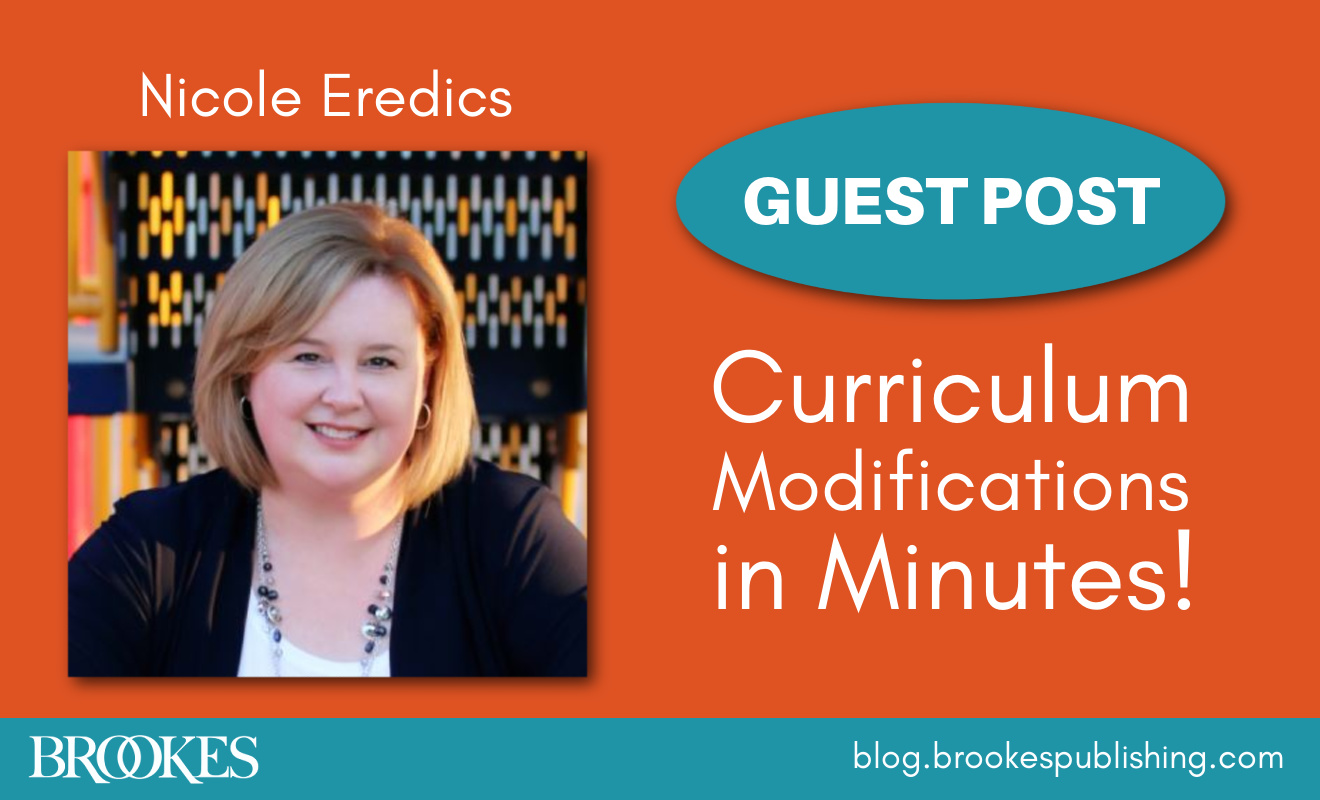 Curriculum modifications are an important tool for fully including students with disabilities, increasing their access to the general curriculum, and helping them make progress. Today on the blog, we're welcoming Nicole Eredics—inclusion expert and author of the popular guidebook Inclusion in Action—to talk about a few strategies any teacher can use to modify their curriculum. Read on for Nicole's wisdom on making your curriculum more accessible to all learners!
***
Over the years, people have asked me how to fully include students with disabilities in the same general education classroom as their peers. I respond by talking about the systems of support within the school setting, such as the allocation of personnel and resources. I mention the importance of developing an inclusive school culture where everyone has the same recess, lunch, and opportunities to participate in school-wide activities. I also detail the characteristics of inclusive classroom structures, such as routines, materials, and instructional design.
However, I emphasize that while all of the above are essential elements of the inclusive process, our efforts are weakened if we are not also including students with disabilities in the same general education curriculum that is being taught to their peers.
Imagine going to the movie theater and not being able to order your favorite snack from the snack bar. Or, what if you were asked to play soccer but you weren't allowed to kick the ball? Now, think about how you would feel as you watched your friends buy their snacks or your team kick the ball across the field. While those scenarios seem highly unlikely in real life, they are strikingly similar to the "inclusive" educational experiences of many students with disabilities.
Even when students with disabilities appear to be included physically—having a place or desk in the classroom—if they are not learning the same subject matter as their peers, then inclusion is not happening. Why? Even though the classroom is accessible, the curriculum is not. It's important to know that when students with disabilities are placed in a general education classroom, their inclusive experience encompasses everything that there is to offer in that room. This includes interactions with peers, resources, materials, activities, and the same meaningful and rich coursework.
Adaptations Are Key
Sometimes a student with disabilities may be able to learn the same grade-level material as their peers, and sometimes they may not. Therefore, to include a student with disabilities in the general education curriculum, we need to provide an array of appropriate supports that allow the student to access content and make progress to the greatest extent possible (much like we do when we include students with disabilities in the general education classroom). Those supports include adaptive equipment, paraprofessionals, and the main focus of this post—curriculum adaptations.
Curriculum adaptations come in two forms: accommodations and modifications. Curriculum accommodations are used when students work at grade level but require support accessing the curriculum in order to make progress. Curriculum modifications are for students who do not yet work at grade level and require support achieving the curriculum. Most teachers are familiar and skilled at making accommodations, since there are no changes made to the learning outcomes of the curriculum. Accommodations include adjusting presentation, response, setting, and timing and scheduling. Modifications, on the other hand, require substitutions, additions, and deletions to the grade-level curriculum so that the student can learn it to the best of their ability level.
Modifying curriculum for students who do not yet have an understanding of grade level content has long been the sole responsibility of the special education teacher. However, since the goal of inclusion is to include the student in as much of the general education environment and curriculum as possible, then we have to expect that making modifications needs to be the responsibility of every teacher. When general education teachers take ownership over the development and delivery of lessons for all their students (on IEPs or not), then we can truly begin to move towards more inclusive classrooms where students have the opportunity to experience, access, and achieve curriculum alongside their peers.
Getting Started with Modifications
Unfortunately, general education teachers are rarely taught how to modify and design a lesson for a student who does not yet work at grade level. How can they get started? For teachers who want to know how to fully include their students with disabilities in the classroom, here are 4 easy steps they can use to modify their curriculum in minutes:
Begin with the right mindset and presume competence. It's important to begin by making the least dangerous assumption about our student's abilities and presume competence in students. By doing so, we are motivated to find ways to make lesson content accessible and achievable. In addition, we do not set boundaries on learning or "teaching to the test".
Identify and align the goals that need to be taught for students with and without disabilities. Look for common themes, content, and learning outcomes within a subject strand. Look to curriculum above and below grade level.
Plan a lesson that will teach both the aligned grade-level and modified goals. Build a lesson that allows for a range of learning, such as differentiated learning activities. If you are using a prescribed lesson, then substitutions, additions, and deletions to the content will need to be made. There are 4 key areas in a lesson plan where you can make those adjustments:
Content: Provide content that is related to the grade-level curriculum but is at a level more appropriate for student with disabilities. For example, a student with modified learning goals in a fifth-grade class might learn how plants grow by planting an actual seed and observing its growth over time, rather than learning about the plant's cellular functions.
Instructional Method: Provide an alternate and better-suited form of instruction. A student on an IEP can create an art project related to a novel that the class reading.
Conceptual Difficulty: Change the difficulty of the lesson. The teacher can provide answer prompts or an answer bank to use for an assignment.
Educational Goals: Target educational goals that are appropriate and achievable. The teacher can change the educational goals of a grade-level math sheet on fractions to create a math sheet on addition by having the student add the numerator and denominator of the fraction.
Use high-leverage instructional strategies to engage students in learning. Don't just rely on a few basic techniques such as yes/no questions. Refer to Robert Marzano's Taxonomy, which provides an extensive list of activity stems to encourage various levels of thinking skills.
As explained in this post, curriculum modifications are the key to full inclusion. When curriculum is modified, students with disabilities can participate all the learning opportunities that are available to their peers. In order to maximize those opportunities, it is imperative that all educators, including general education teachers and specialists, learn how to effectively deliver lessons that are designed for all learners.
***
Thanks to Nicole Eredics for visiting the Brookes blog today and sharing these guidelines for inclusive educators. For more detailed information and strategies for modifying curriculum, be sure to check out her book!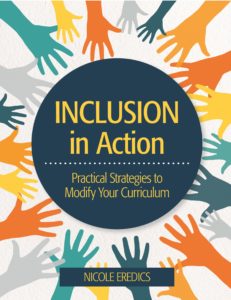 Inclusion in Action
Practical Strategies to Modify Your Curriculum
By Nicole Eredics, B.Ed.
Equally useful as a beginner's guide to inclusion and a goldmine of practical ideas for experienced teachers, this must-have book will help make your curriculum "possible and achievable" for every learner. You'll start with a big-picture guide to creating an inclusive culture in your classroom and school, and then you'll get 40 teacher-tested strategies to modify your curriculum for students who work below grade level. Each strategy comes with student goals, step-by-step directions and implementation tips, suggested interventions and extensions, and samples of authentic student work.
Topics
Tags