Notice the Need, Meet the Need: A Q&A with Jen Alexander on Trauma-Sensitive Back-to-School Plans
July 28, 2020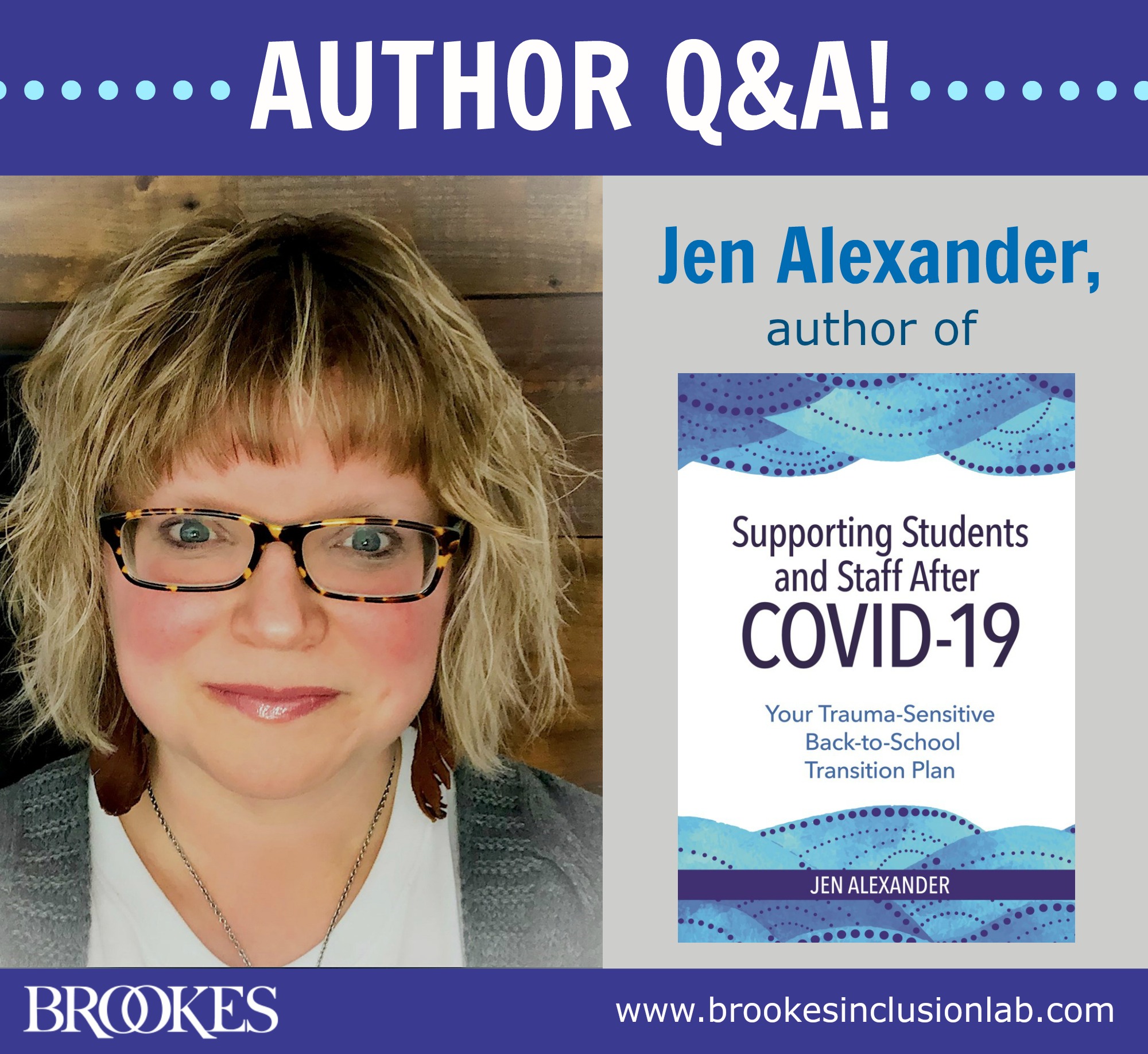 As the new school year approaches, we've been reading stories and comments on social media from educators across the country. To say the least, teachers are struggling with mixed feelings—fear and confusion, anger and apprehension, excitement and determination—and we empathize deeply. This is a uniquely trying time for teachers, parents, and students. We can't make the enormous challenges you're facing go away (though we wish we could!), but we'll at least be here to bring you some relevant and helpful information as the new school year starts. (Please don't hesitate to recommend a topic for a blog post or a coffee chat in the comments section—we want to know what would help you the most right now!)
Trauma-sensitive teaching practices will be on everyone's mind when school starts, so today the Inclusion Lab is welcoming Brookes author Jen Alexander, the trauma expert behind Building Trauma-Sensitive Schools and the upcoming ebook Supporting Students and Staff After COVID-19. Ms. Jen is here to share her insights on what it means to be a trauma-sensitive teacher, what kinds of emotions and behaviors teachers might expect from students as school re-starts, why the phrase "notice the need, meet the need" has become a guiding light for her, and more. 
Q. Your upcoming book, Supporting Students and Staff After COVID-19, is the kind of resource every elementary school will be looking for as they plan for reopening. Could you tell us in a nutshell what your book covers and what kind of back-to-school resources it offers teachers?
A. The team at Brookes worked extremely hard to publish this book on a short timeline because we all knew that returning to in-person schooling would be stressful for school leaders, educators, families, and students, whether preparing for face-to-face, distance, or hybrid learning. Supporting Students and Staff After COVID-19 explains the types of stress and trauma that have been (and still are) occurring within communities. It also gives educators practical ideas that will help them meet the emotional and social needs of their students, particularly when creating a new normal as brick-and-mortar schools reopen.
Specifically, there are discussion questions, professional development plans, suggestions for meeting the needs of children who may demonstrate varied stress responses, lessons for the first weeks of school that will help teachers facilitate community-building in light of the collective trauma of COVID-19, and more. Throughout, educators are challenged to center equity as well as their own self-care when creating trauma-sensitive transition plans.
Q. When schools reopen, children will have navigated six months (or more) of hardships related to the pandemic: anxiety, social isolation, parental job loss, and illness within the family, just to name a few. What are some ways that the effects of this trauma might manifest in classrooms, and how might lengthy periods of trauma and uncertainty affect a student's learning?
A. You are exactly right. COVID-19 is life-threatening and has caused or exacerbated already existing adversity for many families. The pandemic has necessitated social isolation for everyone, high-risk conditions for essential workers, and significant changes to how things used to be. Understandably, this has contributed to stress, loss, grief, and trauma for adults as well as youth. Routines were disrupted, social connections changed, and many have felt out of control.
At best, youth and adults will likely feel awkward as they return to brick-and-mortar school buildings—and at worst, frightened. Separation anxiety may be common. A heightened need for freedom and control would not be surprising for students. Some may feel a lack of trust associated with school because they lost access to trusted relationships. And for some youth, distance learning went well, and they may not want to return to school buildings.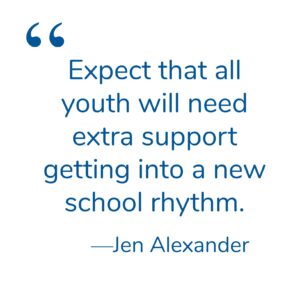 Expect that all youth will need extra support getting into a new school rhythm, and that everyone, adults included, may experience a degree of sensory overload as their worlds open back up. For educators, decision fatigue combined with the responsibility to try to keep everyone safe will contribute to increased stress responses. Being prepared for these stress states and the varied reactions that may accompany them will be critical for educators, because teaching and learning will be difficult until everyone feels safe, is connected with others positively, and can regulate their stress responses.
Q. Teachers have probably been hearing a lot about the importance of trauma-sensitive practices in schools—particularly now, as we manage the everyday stressors of living through a pandemic. Can you give us your personal definition of what it means to be a trauma-sensitive educator?
A. Sure. Let me start by saying that trauma sensitivity was a necessity for every educator before the pandemic, and it's of even higher importance now. In my first book, Building Trauma-Sensitive Schools, I modified SAMHSA's responsibilities of trauma-informed care providers, which resulted in the four R's of being a trauma-sensitive educator:
1) Realize the widespread impact of trauma on learning and behavior
2) Recognize signs that may indicate a trauma response
3) Respond by fully integrating knowledge of trauma into policies, practices, and procedures
4) Avoid re-traumatization by disrupting harm-inducing school practices and decreasing unnecessary triggers in educational environments
Although what we do matters, trauma sensitivity is really about how and why we do what we do. It requires being responsive to individual needs in relation to trauma that may be present, whether we know about it or not.
Q. In your book, you introduce and discuss the concept of "notice the need, meet the need." What does this mean in the context of trauma-sensitive teaching, and why is it something that every educator should put into practice and use as a "guiding light"?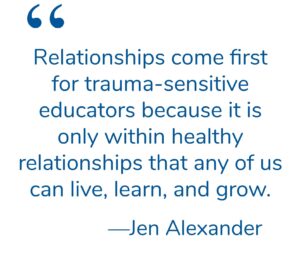 A. These phrases have become central to my work of facilitating professional development for educators who are learning how to build trauma-sensitive schools. Here's why. Relationships come first for trauma-sensitive educators because it is only within healthy relationships that any of us can live, learn, and grow. Healing from trauma occurs within relationships, too. To build strong relationships with children, adults should engage in a relational process called attunement, whereby the adult reads the child's cues and responds by appropriately meeting the child's needs.
Attunement is necessary for all children, and it's central to soothing heightened stress responses in traumatized youth as well. When an educator notices that a child is feeling anxious and gives them a look of caring and reassurance, it's as if the adult is saying, "I see that you are feeling big feelings, and I'm here to help. You are not alone." When educators #NoticeTheNeed and #MeetTheNeed, they provide nurturing as well as a level of challenge that is just right for each student.
The better educators know their students and the more sensitive they are to their individual needs, the more accurate they will be in noticing and meeting those needs. No one needs to get it right 100% of the time. In fact, how people work through breaks in attunement is a big part of the dance of healthy relationships. We can #NoticeTheNeed that results from a misunderstanding, conflict, or harmful action, and #MeetTheNeed by repairing our connection in a way that meets each person's needs. Educators can teach students how to navigate this process as well.
Q. Recently there's been a great deal of important discussion about racial justice and equity in schools. Can you talk about how your approach to trauma-sensitive teaching can help support teachers who are actively trying to strengthen their commitment to equity?
A. Thank you for asking this question. Importantly, no one can be a trauma-sensitive educator without acting in ways that disrupt inequities and fight racism (or other injustices) within and beyond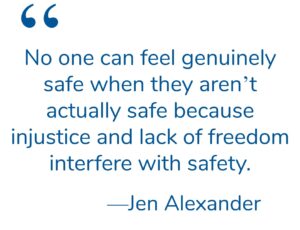 educational systems. That's because our goal as trauma-sensitive educators is always to help students feel safe, be connected, get regulated, and learn.
No one can feel genuinely safe when they aren't actually safe because injustice and lack of freedom interfere with safety. Trauma-sensitive educators must understand this, learn more by reading and listening (if necessary), and fight with others for personal and systemic change. Preventing harm in and out of school is as important as responding to the individual needs of students who have already experienced trauma.
Q. Your book contains some great activities for building classroom community and promoting social-emotional competencies after schools reopen. Could you share or describe a few of these activities here?
A. Thank you, I hope teachers find the activities helpful. One of my favorite children's books that relates to collective stress and trauma is "Swimmy" by Leo Lionni. In the story, many little fish are frightened of a scary tuna fish, but thanks to the leadership of Swimmy, they learn that by sticking together, they can conquer their fears. It's a message that can give students hope as schools reopen.
I created four lessons that go with this read-aloud that will help educators help kids as they build community together. The lessons are grounded in two phrases: I feel… and I need… By creatively making a unique fish that illustrates their personal characteristics, elementary students will explore who they are and what they feel in coming back to school. Then, groups of students will work together to create a large habitat that helps meet the needs of all the fish. Throughout, children are encouraged to share as little or as much as they'd like with others (and in a variety of ways).
Through discussion, activities, writing prompts, games, and get-regulated breathing exercises, everyone in the classroom community will have an opportunity to not only practice expressing their feelings and needs (in ways that are comfortable for them), but also practice responding to others' feelings and needs in sensitive, fair, and just ways. This promotes self-awareness, self-management, healthy relationships, empathy development, and give and take within relationships, as well as standing up for self and others when something unfair happens. The activities were written for face-to-face instruction when school buildings reopen, but they could be modified for distance learning if desired.
Q. When teachers think about going back to school after a long and unprecedented absence, many are feeling overwhelmed—there are so many lingering fears about safety and logistics and so many concerns about how students will cope. No one knows for sure what's going to happen and how this will go, and that's scary. What's the best advice you can give educators who are struggling with their own emotions during this challenging time?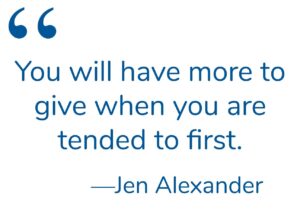 A. First, please know that these feelings are completely understandable, and you are not alone if you are experiencing them. Honoring your own feelings and needs is just as important as working to meet the needs of your students. In fact, you will have more to give when you are tended to first. If the systems you are in could be doing more to help you (and others) be and feel safe and otherwise be ready for teaching and learning, I encourage you to stand up with other educators and together, speak your truth about your needs. You matter and the work you do matters too.
Above all, you must be well to do this work well. Sometimes it calls for being more intentional about how you are taking care of yourself and your people. Other times, it means fighting for systems-level change that will help you, your colleagues, students, and families. As always, it requires teamwork because we are truly better together.
***
Thanks so much to Jen Alexander for being here today and sharing important insights on trauma-sensitive teaching. Her upcoming ebook, Supporting Students and Staff After COVID-19, is really a wonderful resource that every teacher should have as schools reopen. It's coming out at the end of August, but you can read more about it and sign up for alerts here.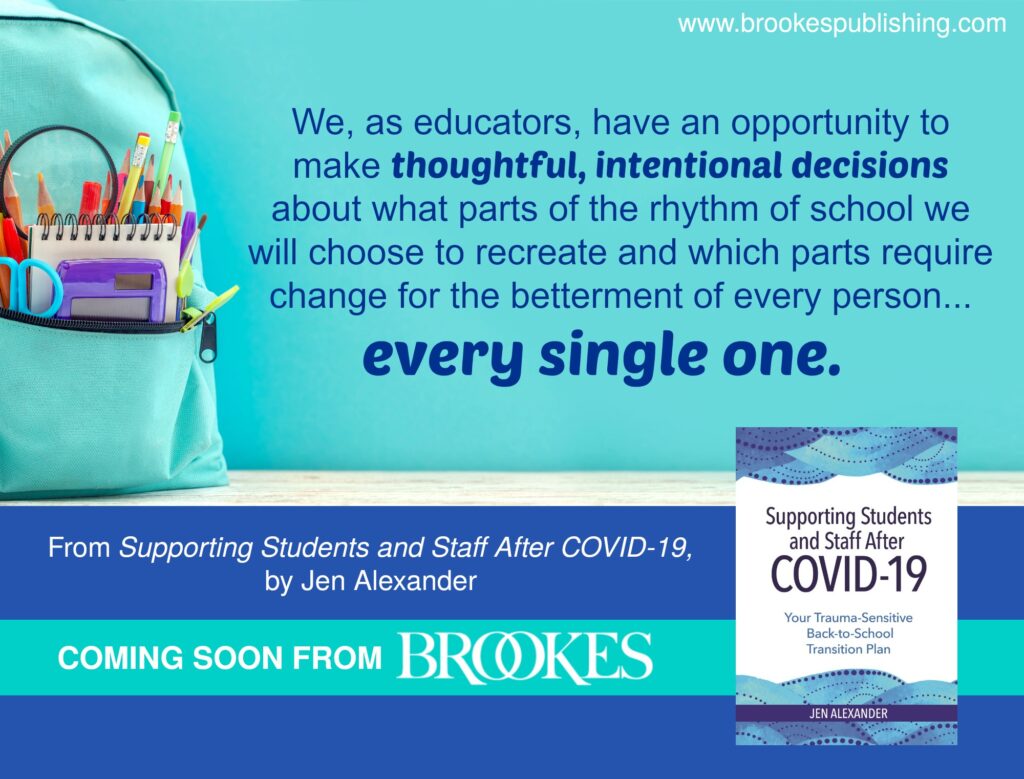 MORE FROM JEN ALEXANDER
Watch the webinar
Trauma-Sensitive Student Support During School Closures: Practical Strategies for Helping Caregivers Help Kids
Hear her interview on the #TIENetworkPodcast
Listen to episode 11 on iTunes, Google Play, Spotify, or SoundCloud
Read the blog posts
11 Things You Can Do Right Now to Build a More Trauma-Sensitive Classroom
Reassuring Connections: 4 Brookes Authors Share Tips for Supporting Stressed-Out Students
Topics