Overcoming "Yeah, But…": How to Reframe Barriers to Employment for Students with Disabilities
November 22, 2022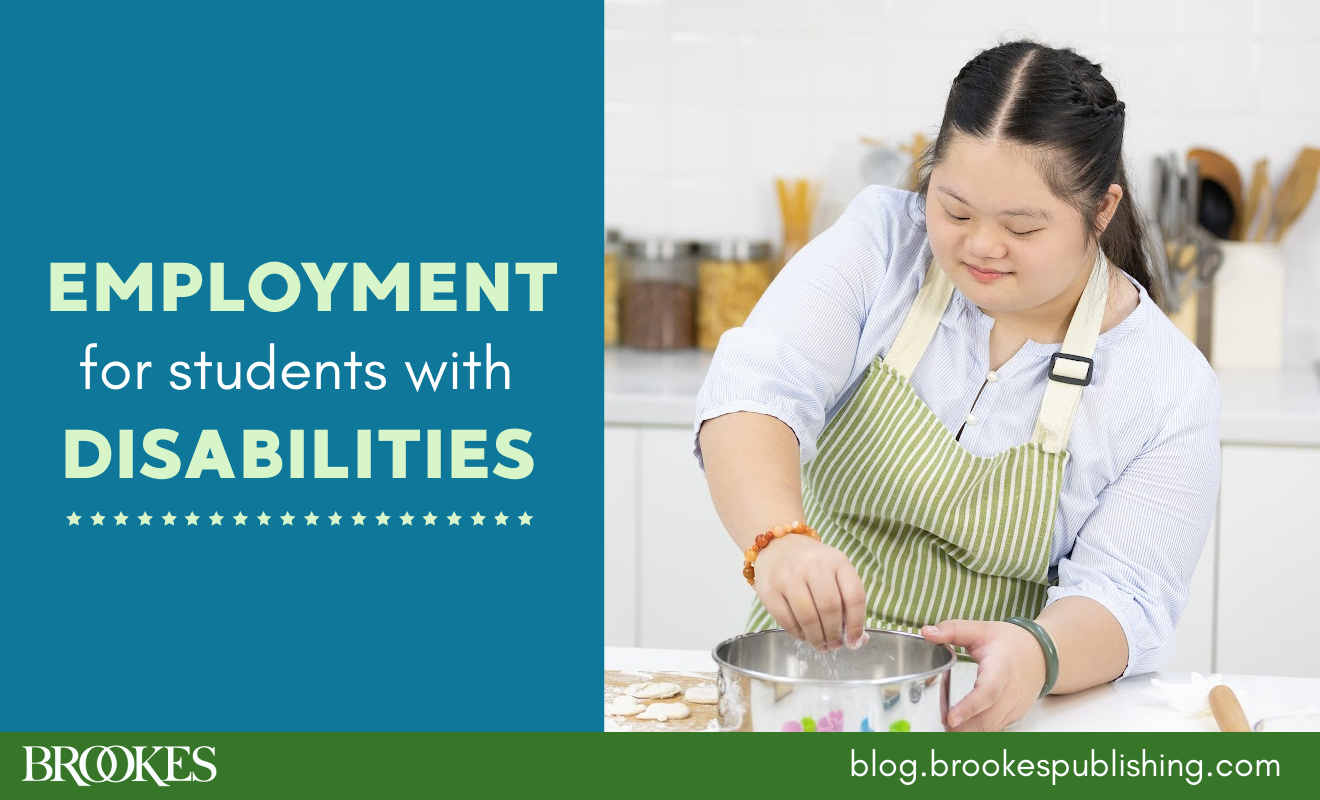 If your job involves supporting a smooth transition to adulthood for students with disabilities, you may find yourself facing potential roadblocks as you explore employment opportunities for the young people you work with. How can you pull yourself out of a "yeah, but…" mindset as you envision the possibilities for a student's future career?
As authors Wendy Parent-Johnson, Laura Owens, & Richard Parent-Johnson explain in their book the key is to embrace an "employment first" perspective: Instead of asking if this young person can work, we start from the assumption that the individual is going to work and it's up to us to figure out how, given the person's specific assets and skills. In other words, flip the glass from a negative half-empty to a positive half-full.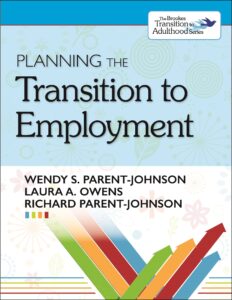 Here are three examples that demonstrate how to reframe—and overcome—potential barriers to employment for students with disabilities. Excerpted and adapted from Planning the Transition to Employment, these examples show how rethinking obstacles with an employment first lens can lead to creative solutions that support student success.
Here are three examples that demonstrate how to reframe—and overcome—potential barriers to employment for students with disabilities. Excerpted and adapted from Planning the Transition to Employment, these examples show how rethinking obstacles with an employment first lens can lead to creative solutions that support student success.
Example 1: Tiana
Potential barrier: This student's disability is "too severe"—there are just too many barriers to employment.
Tiana uses a wheelchair for mobility, has a visual impairment, has limited verbal skills, and has an intellectual disability. She attends a segregated class at her high school where she is focusing on life skills. School and adult services evaluation criteria for determining eligibility have deemed Tiana's disability "too severe," and Tiana is consequently deemed "not ready to work."
What questions could you ask?
Why are strategies to teach skills not working?
What instructional strategies and supports would be helpful?
What are Tiana's unique talents that she contributes to a workplace?
What does Tiana like to do, and what does she already do in other environments?
How could this situation be reframed?
Conduct situational assessments in real business settings to determine Tiana's functional skills. Spend time with Tiana outside of school: see who she spends time with, what she does outside of school, and what she enjoys Complete a community map, develop business relationships, and visit local companies to determine various job requirements. Revisit Tiana's educational program, explore opportunities for learning that are relevant to work, and involve her with her peers.
What might success look like?
Tiana lived in a group home, so the teacher interviewed the staff and spent time with Tiana in the home. She saw that Tiana was very outgoing, always smiling, and wanted to be helpful. The teacher found out that Tiana's day consisted of going to school and then going home—she did not have any connections outside those two worlds. While at the group home, the teacher noticed that Tiana enjoyed watching the group home staff at work in the kitchen, though Tiana watched from the kitchen door because of the size of her wheelchair.
The teacher completed a community map to determine what types of businesses were within a 1- to 2- mile radius of where Tiana lived. She invited several local businesses to her business advisory committee meeting (a bimonthly meeting with local businesses to discuss employment for her students). The manager of a local restaurant attended, and he explained he had a son with spina bifida and would like to meet Tiana.
Tiana and the teacher went to lunch at the restaurant and met the manager. Using a few words and her communication device, Tiana communicated that she wanted to work in the kitchen. The kitchen was very small, but the manager felt confident he could make it work. Tiana was hired 3 days a week to weigh and package food prep items.
Several adaptations were made given Tiana's physical and visual disabilities. First, a small fan was attached to the back of her wheelchair to blow open the plastic bags for the food. The plastic bags were attached to a large metal bookend and bent at an angle so the fan would blow open the bag when Tiana used her fist to loosen the top of the bag. A small digital scale was also put on her tray, and Tiana, using her "good hand," would place the food items until the scale beeped to indicate 3 ounces. Tiana took the cardboard container and dumped the food into the bag, then took her fist and pulled the full bag off, dropping it into a large container filled with ice sitting next to her wheelchair. Her goal was to complete 50 to 60 bags in the 2 hours she worked. Every 30 minutes, one of the kitchen staff gathered the bags and brought them to the cooler.
Example 2: Michael
Potential barrier: Michael lives in a small rural community where job opportunities are limited.
Michael has an intellectual disability and lives in a small rural community. The town has a population of 2,000 and a small downtown area with a few shops, a gas station, a medical office, a veterinary clinic, a fast-food and sit-down restaurant, town hall, a law office, a sheriff's department, a hair salon, and a school.
What questions could you ask?
Where do other people who live in this small town work?
What are Michael's skills and interests?
Why are job development strategies not working?
What supports would help Michael be successful?
How could this situation be reframed?
Conduct a labor market analysis in the community by researching future growth plans, local labor market needs, and what the economy can support. Explore business options in nearby cities if accessible. Can a satellite be developed in the community? Can it be replicated as a self-employment option? Can carpooling be arranged with another member of the community?
You might also develop business relationships and promote the talents of your students. Word of mouth and relationships are key strategies for finding jobs in any community and even more so in a small town where everyone knows everyone.
What might success look like?
Michael's teacher spent time visiting businesses and getting to know the hiring people at events that were held in the community. She found opportunities to create situations presenting her students as competent workers. For example, she conducted onsite situational assessments, shared success stories, and connected new businesses with previous employers who served as references to dispel misconceptions.
The teacher considered what would be a benefit for her students and, with the support of her administration, created a school-based bakery that her students could run side by side with students without disabilities. The bakery was opened to the community and filled a need for fresh-baked goods. Students got to know the customers and built their résumé while gaining valuable skills. The teacher began arranging to conduct situational assessments and internships in a variety of businesses, turning some work experiences into permanent jobs.
Through these opportunities, the teacher was able to get a good idea of what Michael liked to do and the environments he thrived best in. Michael liked to push buttons, listen to water, and fold—a perfect match for a laundry position. The few laundry jobs available in the community were already taken, but a fitness gym was soon to be opened, and the idea of a laundry service arose. With the help of vocational rehabilitation, Michael became a small-business owner, installing an industrial-sized washer and dryer in his home. The hair salon and fitness center contracted with Michael's laundry service to pick up their soiled towels; wash, sterilize, and fold them; and return a batch of clean towels the next morning. Word of mouth became his primary marketing tool, and before long, Michael had four other businesses to add to his list of customers.
Example 3: Rubin
Potential barrier: This student's career goals seem unrealistic.
Rubin uses a wheelchair. His career goal is to be a rapper—his favorite artist is Tupac Shakur. Rubin has difficulty in his academic classes and spends most of his time in the hallways at the school. He does not see the connection between his career goal and what he is learning in school.
What questions could you ask?
Why is Rubin interested in being a rap artist?
What skills does Rubin have that might lead to a career in this industry?
What makes this goal unrealistic (be specific)?
What about the music industry is appealing to Rubin?
How could this situation be reframed?
Use this as an opportunity to teach self-advocacy and self-reflection. Set up an experience (if you can) in the area of interest and have Rubin reflect on what he liked and did not like. Ask what steps he would take to reach his goal—starting with the overall goals, what short-term steps would he need to take to reach that goal? If the goal is something not attainable in your area, go to the local college/university or high school and have the student talk with the music or band teacher. Have him research the career path of other rap stars. Talk with Rubin about other options along with the goal. He can still pursue the goal, but you can help him pursue something to pay the bills.
What might success look like?
The team brainstormed ideas about how Rubin could explore the rap music world and build connections with others interested in similar music. They thought about music stores, concert venues, radio stations, band performances, rap artist contacts, high school musicians, and college programs. A plan was set up for Rubin to visit these settings and talk with people to begin to understand what he would have to do to become a rap artist. As he became immersed in that world, Rubin learned about other opportunities in the industry and began developing relationships to help him get connected.
After researching the rap industry, Rubin agreed to take an English class focusing on poetry writing. The teacher's husband was a musician and had his own studio where musicians from the area created their demos. Rubin met with Randy, who talked with him about the ins and outs of the music business. Randy connected him with another studio that worked with musicians in the hip hop/rap industry. Rubin participated in a summer work experience with this studio and was connected to a business that created demo CDs for various local artists. Rubin began working at this company, where he packaged the CDs for local artists, and he continues to hang out at the studio from time to time.
While at the CD company, Rubin also connected with local artists. Recently, he went with one of the artists to distribute their CDs to local radio stations. The demo CD business hired Rubin part time during the school year, and Rubin continues to write his songs and spend time with the musicians from the studio and CD company. He has developed a strong network of local musicians who review his songs and share a common creative bond with him.
These three examples show how reframing barriers to employment can lead to innovative solutions that help students launch their careers. For more comprehensive guidance on planning the transition to employment, check out the book behind today's post!
---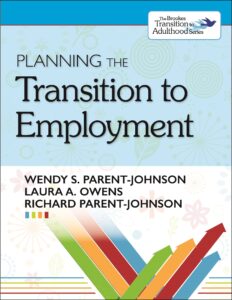 A Practical Guide to Parenting With Positive Behavior Support
By Wendy S. Parent-Johnson, Ph.D., Laura Owens, Ph.D., & Richard Parent-Johnson, Ph.D.
Get students with disabilities ready for integrated, competitive employment with this practical guide. You'll find tried-and-true strategies for helping students navigate each step of their transition, from beginning the early stages of career preparation (as young as Grade 7) to exploring job opportunities with local businesses and sustaining employment.
Topics
Tags