Q&A: How to Strengthen Students' Executive Function Skills with Unstuck and On Target!
February 15, 2022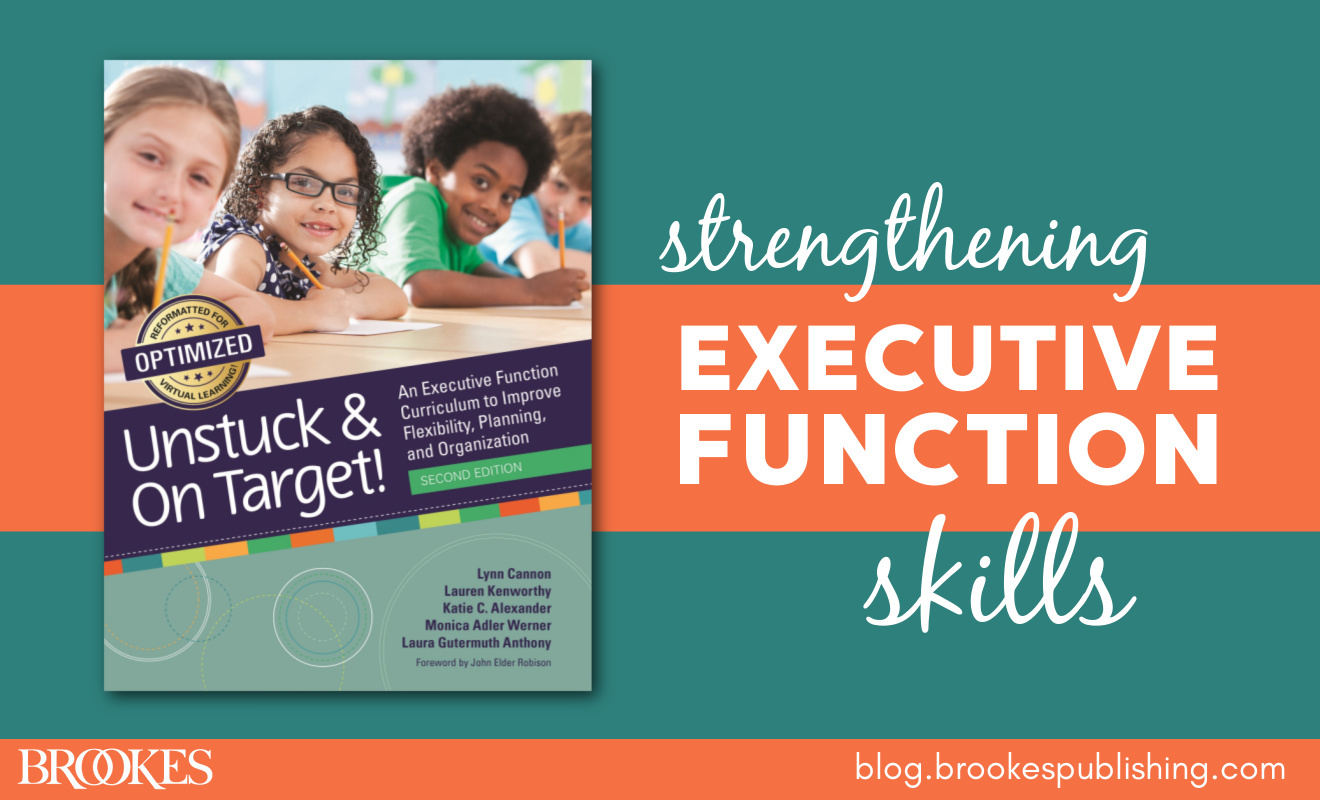 The past few years have confronted school communities with unique challenges, including breakdown of the structure and consistency that many students rely on to thrive. Nurturing students' executive function skills is one important thing teachers can do to help students succeed in any era that requires flexibility, emotional regulation, persistence, and strong organizational skills.
In today's post, we're highlighting an intervention that can help: a proven curriculum called Unstuck and On Target! Developed to strengthen executive function skills in school settings, this curriculum is a great way to support students—and it's especially helpful for learners on the autism spectrum and those who have ADHD or other challenges that affect executive function.
Here are answers to 7 key questions about Unstuck and On Target!, enhanced with insights from the developers: Lynn Cannon, Lauren Kenworthy, Katie C. Alexander, Monica Adler Werner, and Laura Gutermuth Anthony.
Q:
What are the goals of Unstuck and On Target?
A:
Problems with flexibility and goal-directed behavior can be a major obstacle to success in school and in life. Unstuck was developed to improve executive functioning in students at school, so they can be more flexible, well-regulated problem-solvers in the classroom and beyond. (Executive functioning skills include planning, flexibility, and organization. Executive functioning problems include having trouble with transitioning and completing multiple-step tasks.)
The developers of Unstuck and On Target! describe the two main goals of the curriculum this way:
• The first goal is to increase cognitive flexibility, organization, and planning abilities of students with executive dysfunction so that they can more easily shift from topic to topic and task to task, and consider new ideas or another person's point of view.
• The second goal is to provide an intervention that works in the classroom and will ultimately allow the teacher to spend more time focusing on teaching and less time on managing behavior.
Q:
Who can use Unstuck, and which students can benefit?
A:
All types of professional school personnel—including teachers, special educators, school social workers, speech-language therapists, occupational therapists, counselors, or school psychologists—can teach Unstuck effectively.
Unstuck can be used for children who have executive functioning problems and the verbal ability of a 7- or 8-year-old. The authors developed and tested it with children in Grades 3-5.
Q:
How does Unstuck help you help students and families?
A:
Unstuck can be implemented in any setting: general or special education classrooms, pull-out groups, or after-school clubs. It helps you make a difference by:
• Providing 21 school-based small group sessions that last 30–40 minutes each
• Including simple classroom and home practice guides to make each lesson easy to implement
• Giving you all the materials you need, or uses items that you likely have in your classroom (glue, scissors, etc.)
• Providing parent resources in both English and Spanish to strengthen the home-school connection
• Including visual supports and posters to help students grasp abstract concepts
Q:
How is Unstuck implemented in the classroom?
A:
The developers give this succinct explanation of how Unstuck works:
During the course of the intervention, students are introduced to key vocabulary known as scripts. Examples of these scripts include stuck vs. unstuck, flexibility, Plan A & Plan B, and Big Deal Little Deal. These scripts are the foundation for instruction. At the beginning of each unit, students receive a new script, uncover what the script means, and work through a variety of different practice and generalization opportunities. The scripts create common language that develops between the students, teachers, and parents—language that can be used to support and encourage use of the skills and continues long after the culmination of Unstuck & On Target.
Q:
Can Unstuck be used in virtual learning environments, too?
A:
In today's world, it's critical that teachers be able to implement the Unstuck curriculum virtually as well as in person. That's why all Unstuck materials are now available in fillable PDFs, so teachers can project the worksheets and add to them during the course of the lesson. All the posters and game boards also available in print-ready PDFs and PowerPoint files, allowing teachers to make as many copies as they need.
The Unstuck developers share these practical tips for virtual implementation:
• First, the reinforcement system is designed to highlight and celebrate students using newly acquired Unstuck skills by giving tally marks and verbal praise. You will want to think of a way to visually represent these moments for students—many of our teachers have found the whiteboard feature on most computers to be an easy solution, or a jar of pom-poms or marbles that you keep next to you while you are teaching to show to students what they are earning.
• Second, Unstuck has several visuals that are beneficial in teaching new skills and serve as visual reminders throughout the intervention. They are now available electronically, but without a traditional classroom to display them, so you will want to find a way to offer them to students. Many teachers have found it helpful to review them during whole group times like morning meeting.
• Finally, while very few of the lessons require additional materials outside of what is included in the manual, you will want to review the materials list to make sure students have the necessary materials on hand.
Q:
Does Unstuck really work?
A:
The authors tested Unstuck in Title I elementary schools with racially, ethnically, and language diverse families and compared it to an empowering behavior management program (Contingency Behavior Management, or CBM). They found that:
• Students and parents liked Unstuck more than CBM.
• Unstuck worked well for students on the autism spectrum and for students with ADHD in improving classroom behaviors (social reciprocity, transitioning, rule abidance, participation, getting unstuck, and being less negative). These improvements were also maintained one year later!
• Unstuck and CBM worked well for everyone, no matter how old they were, what race they were, the family's income, or what language was spoken in the home! Also, any educational team member, regardless of his or her discipline or expertise, can lead the groups.
In interviews, students spoke highly about the changes Unstuck has helped them implement. One student cited the benefits of "being able to have multiple plans because if I don't have multiple plans I get stuck. If I have multiple plans I can get a little of what I want, rather than not at all. In most situations that's better." Another student said this after learning the Unstuck approaches: "When I get really mad at a teacher or friend, I try to think about is it really necessary to get mad. I try to stay calm and be flexible and cope with what is going on."
Q:
How can today's busy teachers make time for a supplementary curriculum like Unstuck?
A:
Most teachers who are stressed and overwhelmed can't begin to imagine adding something else to their school day, unless it's proven to help students and the benefits are really worth it.
The Unstuck developers point to the solid research base behind their intervention and its proven impact on students: "This means that if we dedicate the time to teaching Unstuck, not only will our students learn valuable life skills that will positively impact their academics and social interactions, we will gain back a good portion of the time that was being dedicated to redirecting and managing behavior throughout the school day." The developers also highlight the flexibility of Unstuck. It can be implemented in a variety of settings—in class, pull-out groups, or a lunch bunch—and the frequency (one time a week, multiple times a week) is also up to each individual teacher. And the impact of Unstuck will continue far beyond the brief lessons: "The power will come from not only the explicit lesson instruction, but also how you use the language and concepts to support instruction and interactions across the school day."
GET A FREE SAMPLE LESSON
Fill out this quick form to get free access to a sample Unstuck lesson!
WATCH THE WEBINAR
Get more details about Unstuck in this webinar presented by co-developers Lynn Cannon, M.Ed., Social Learning Specialist; and Lauren Kenworthy, Ph.D., Pediatric Neuropsychologist.
Topics
Tags