Spotlight on CHAMPPS: The New PreK Motor Program That Gets Kids Moving and Learning
November 10, 2022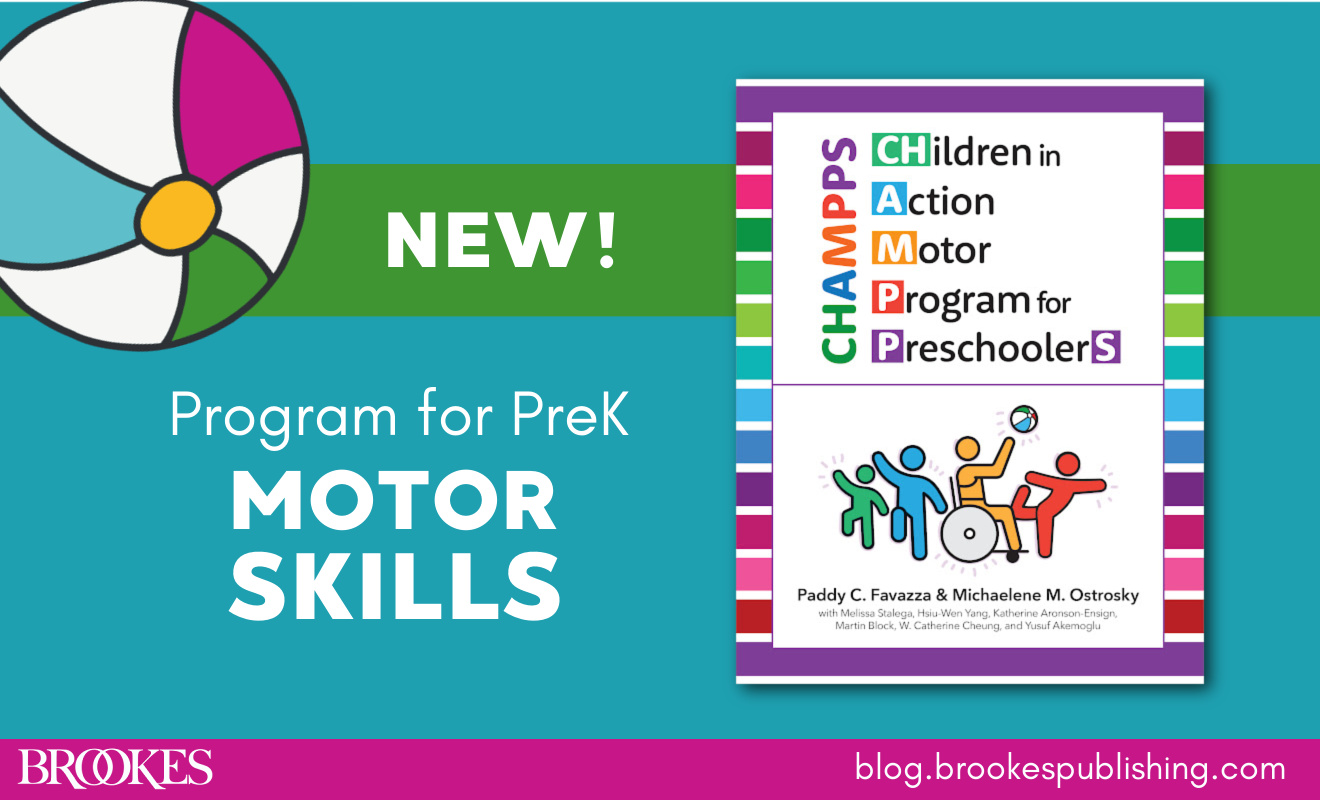 "CHAMPPS provides an exceptional blueprint of theoretically grounded, evidenced-based motor practices that preschool teachers and other early childhood professionals can integrate into their daily curriculum."
—Tina Stanton-Chapman, Ph.D., Associate Director and Professor, Early Childhood Education and Human Development, University of Cincinnati
As sedentary behavior and screen time continue to rise among children—including preschoolers—early childhood programs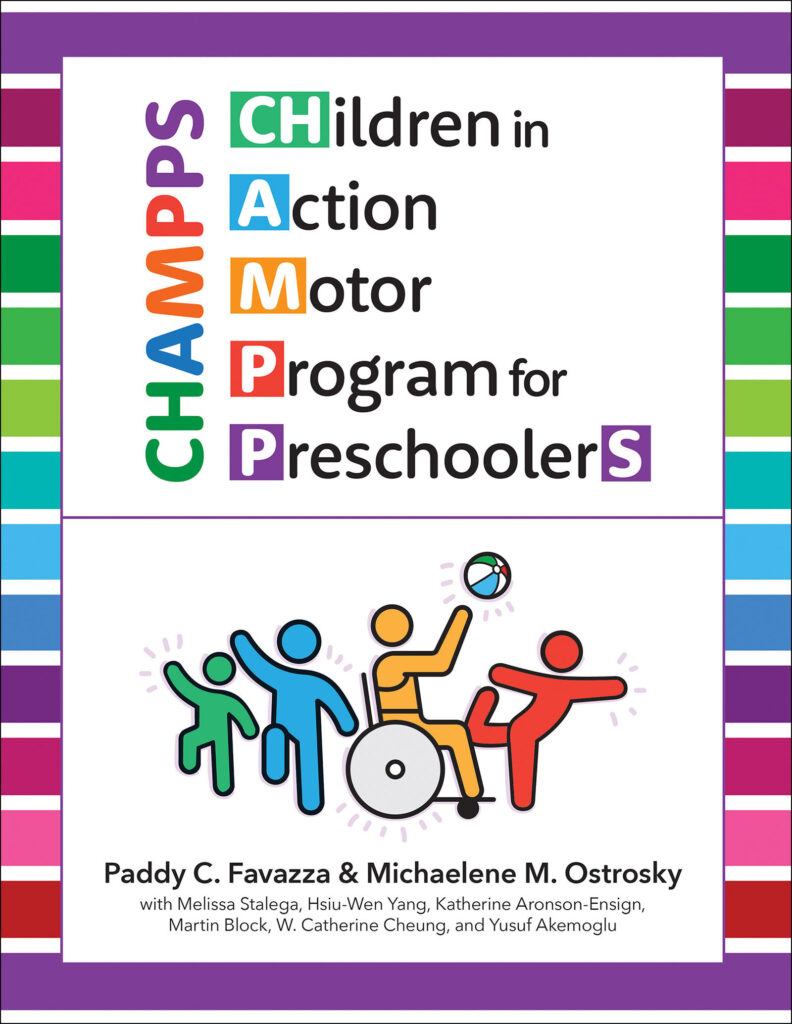 need more ways to encourage more movement in all kids. The team behind the new preK program saw a gap that needed to be filled: a research-based motor program CHAMPPS designed specifically for children with diverse abilities, meeting the needs of today's inclusive preschool classrooms. Today's post shows how this innovative new program increases all children's physical activity while supporting key school readiness skills, including social, language, and pre-academic skills.
Here's a quick introduction to how CHAMPPS works and how it can benefit your preK program:
7 units focus on important motor skills
CHAMPPS has seven units that focus on the most common motor skill areas acquired during the early childhood years: 1) foundational skills such as body awareness, motor imitation, and visual tracking, 2) walking/running, 3) balance/jumping/hopping, 4) catching, 5) throwing, 6) striking, and 7) kicking.
30-minute lessons get kids moving and having fun
Each CHAMPPS unit includes a detailed 30-minute lesson plan with one warm-up activity, three core motor activities, and one cool-down activity. Children sing during the activities, which helps them learn and practice the motor movements. Kids build confidence and skill by repeating the movements and songs several times a week, and optional lesson variations allow you to balance familiarity with novelty.
UDL strategies meet every child's needs
Because preschool classrooms have children with diverse learning needs, every CHAMPPS lesson includes a wide array of universal design for learning (UDL) strategies and ideas. Before implementing a lesson, teachers select the UDL strategies that match the needs of their students. The UDL strategies ensure that each CHAMPPS lesson is tailored to the needs of the class and that every learner benefits.
School readiness suggestions enhance key skills
Each lesson also offers school readiness knowledge/skill suggestions. Teachers preselect the school readiness areas—motor, social, language, approaches to learning, and/or pre-academic—that will support objectives from their preschool curriculum.
Interactive music videos support movement
Music videos are used in CHAMPPS because they elevating children's physical activity level while providing a unique type of visual and auditory support for practicing the motor skills introduced in the lessons. The CHAMPPS manual offers a list of suggested videos to choose from. Teachers can also preselect interactive music videos that reinforce the motor movement from each CHAMPPS unit using the included criteria for music video selection.
Recommended books link literacy to motor play
Interactive motor books are used in CHAMPPS to link literacy to motor play while increasing children's physical activity levels. Each CHAMPPS unit recommends preschool interactive motor books that correspond to the motor movements children will be practicing. Teachers can preselect an interactive motor book from the suggested preschool motor books, or they can use the criteria for book selection to identify an interactive motor book that reinforces the movement from that CHAMPPS unit.
Family activities boost the home-school connection
Each unit includes weekly communications for families, encouraging them to implement CHAMPPS at home after the motor activities have already been introduced at school. The family communications include ideas for using common items from their home in place of specialized equipment.
Practical supports make implementation easy
In addition to the lessons, the CHAMPPS manual provides a wealth of practical supports for teachers:
Charts with ideas for incorporating UDL strategies and school readiness skills
Activity variations to support inclusion and child engagement
Home Activities that enable families to do CHAMPPS activities at home
Walk-Around Cards that summarize activities for quick reference during lessons
Visual Support Cards with illustrations that model key movements
Skill Leveling Guide for determining a child's skill level and modifying instruction
Wall posters that list the activities and songs in each CHAMPPS unit for easy reference
Guidelines for choosing books, videos, and classroom materials for motor activities
A one-of-a-kind program for teaching kids critical skills while they're having fun, CHAMPPS is a great addition to any preschool curriculum. To read an excerpt and download a sample activity, follow the link below!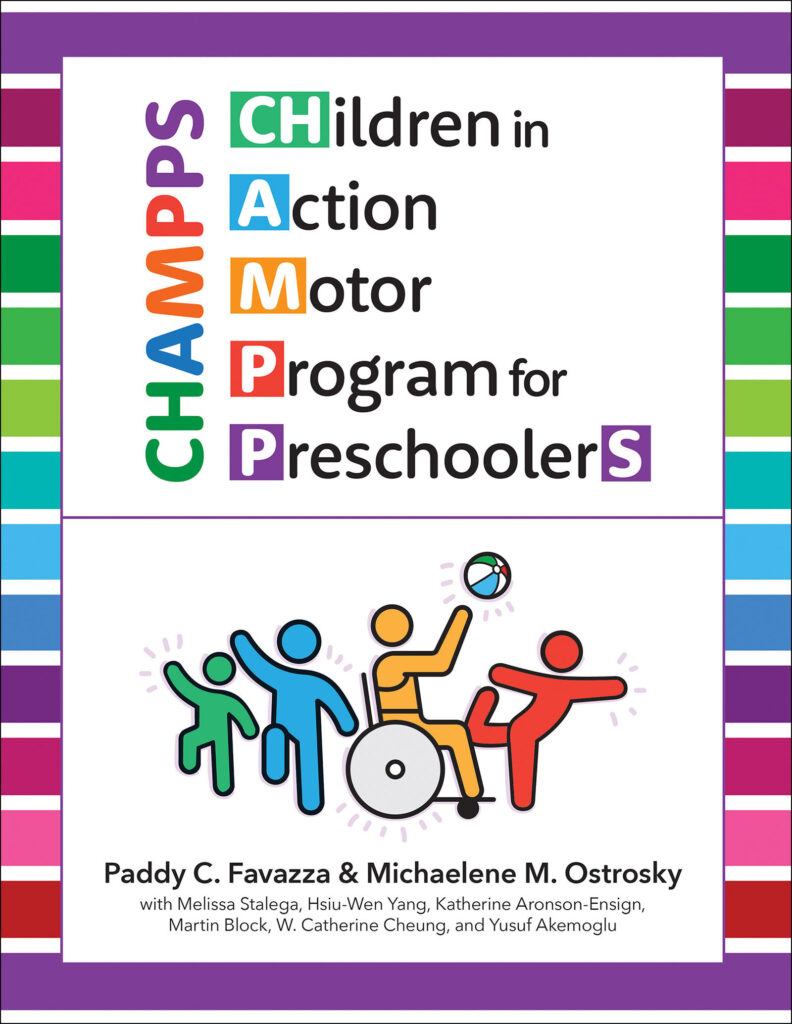 CHildren in Action: Motor Program for PreschoolerS (CHAMPPS)
By Paddy C. Favazza, Ed.D., & Michaelene M. Ostrosky, Ph.D., with Melissa Stalega, Hsiu-Wen Yang, Katherine Aronson-Ensign, Martin Block, W. Catherine Cheung, & Yusuf Akemoglu

Topics
Tags