Teacher Appreciation Week: 4 Great Resources for Free Teacher Tips
May 8, 2018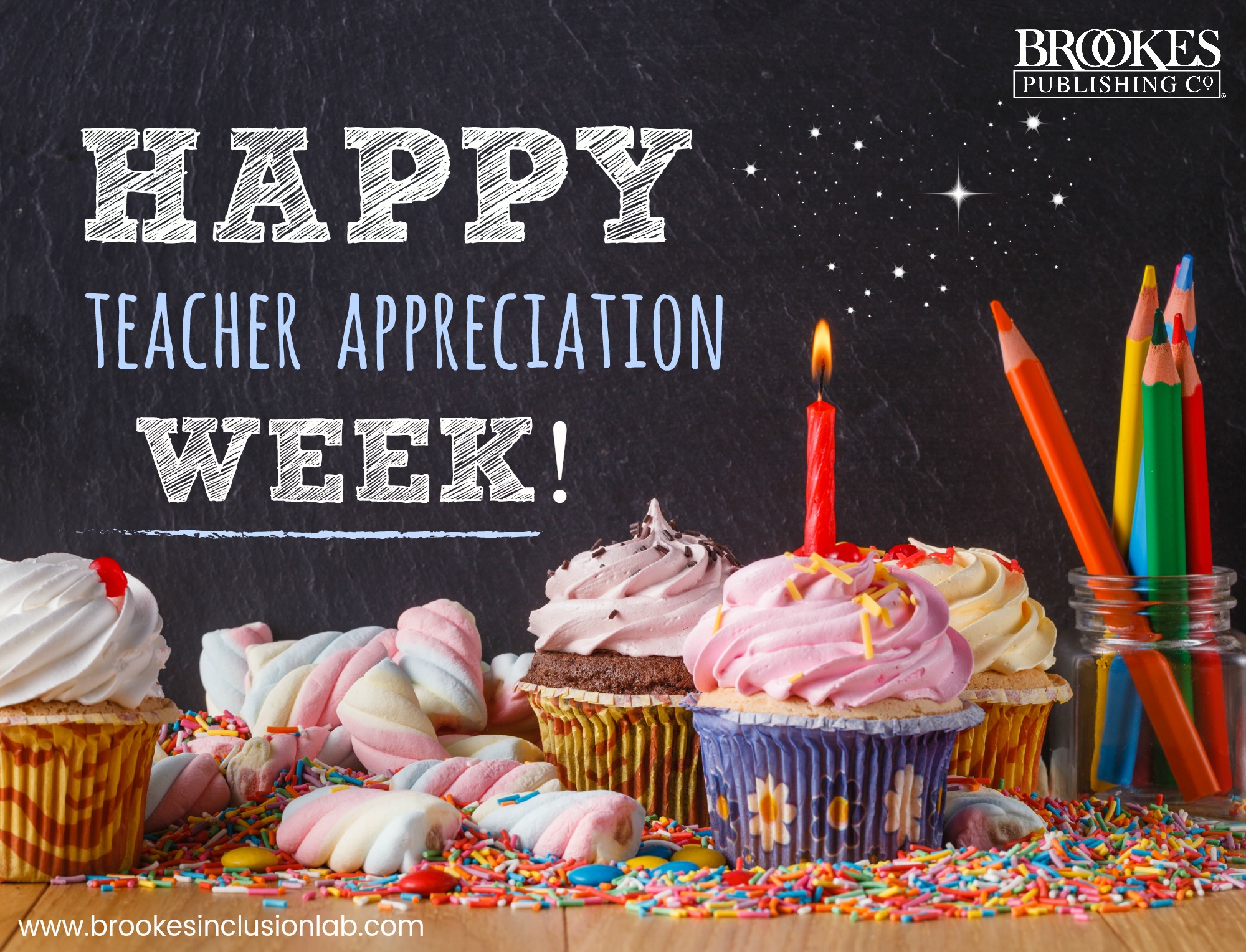 Happy Teacher Appreciation Week! To all educators who work tirelessly to create classrooms, lesson plans, and school activities that welcome and include all students: you have our deepest thanks and admiration.
Brookes, the publishing company behind the Inclusion Lab, shares your goals and dreams for inclusive education. So today we're highlighting our top 4 free resources (besides the blog :-)) for teacher tips, strategies, and inspiration. And at the end of the post, we'll unveil our special Teacher Appreciation discount, which you can use all week at the Brookes online store, and a giveaway of inclusion books.
Okay, let's get started!
edWeb Webinars
First on our list is our free professional learning community, called Teaching All Students: Practical Strategies for Inclusive Classrooms. Launched in partnership with edWeb.net, this online community is a great place to discover and share practical inclusion resources, including some awesome webinars with Brookes authors. Here are some of our most popular webinars for inclusive educators:
Practical Strategies to Modify Your Curriculum for Students Working Below Grade Level
Presented by: Nicole Eredics, author of Inclusion in Action
Inclusion Is More Than "Just Being In"
Presented by: Cheryl Jorgensen, author of It's More Than "Just Being In"
What Every Educator Should Know About Special Education Law
Presented by: Beverley Johns, author of Your Classroom Guide to Special Education Law
Step by Step: Lesson Planning Using Universal Design for Learning
Presented by: Patti Kelly Ralabate, author of Your UDL Lesson Planner
Engaging All Learners: 5 Steps to Creating More Inclusive Classrooms
Presented by: Julie Causton, co-author of the Inclusive School Practices series
Recognize, Respond, Report: Preventing and Addressing Bullying of Students with Special Needs
Presented by: Lori Ernsperger, author of Recognize, Respond, Report
Sign up for the online community today to watch these webinars and get access to new ones!
Resource Library
Have you been to the Brookes Resource Library? On our website, you'll find an archive of hundreds of free resources: book excerpts, videos, infographics, articles, and more. Here are some sample resources for teachers:
Taking Care of Them, Taking Care of You
Stress and anxiety can be a huge obstacle for both teachers and students–so we reached out to some of our most respected authors for their best stress-busters. Their tips and wisdom are gathered in this free ebook, a great resource to print, keep, and share with fellow teachers.
Excerpt of Inclusion in Action
Get a free sneak peek at one of our most highly anticipated new books, Nicole Eredics' Inclusion in Action! Download an excerpt that includes the full table of contents and Chapter 3, "Supporting Inclusion in the Classroom."
Paula Kluth's Top 10 Tips for Teachers: Supporting Students with Autism in the Inclusive Classroom
These 10 simple ideas will help you address some of the unique learning, social, and communication needs of students with autism while bringing out the best in all learners in your classroom.
Brookes YouTube channel
 Our YouTube channel is another good resource for quick tips, prerecorded webinars, and author Q&As. Here are three sample videos for teachers:
What do general and special educators bring to the co-teaching equation?
What does good co-teaching look like in an inclusive classroom, and how can a general and special educator build a strong, respectful, and productive partnership? Get a glimpse in this excerpt from the professional development DVD that accompanies How to Co-Teach by Elizabeth A. Potts & Lori A. Howard.
Ask autism expert Paula Kluth: How do I improve my student's literacy skill and development?
Listen to Paula Kluth's answer in response to the question: How do I support and increase my student's literacy skill and development when all he wants to do is read books about the Bermuda Triangle? Hear Paula's thoughts for how to creatively make use of that interest and tie it in to more expanded topics and assignments.
How do you support second-language learners in the classroom?
Put second language-learners on the path to success with the tips demonstrated in this video, excerpted from the One Child, Two Languages in Action Professional Development DVD featuring Patton O. Tabors and Mariela M. Páez. Get a glimpse into one early childhood classroom where every child is developing their language.
Brookes Pinterest boards
If you're a Pinterest fanatic, follow our boards for cool graphics, inspiring quotes, and useful tips. Here are our top boards for teachers:
Inclusion–our most popular board for K-12 teachers! Hundreds of pins on IEPs, adaptations, UDL, teacher collaboration, and much more.
Classroom Tips & Tricks–quick and inexpensive classroom hacks, tip sheets to save, and helpful hints you can use right away in your classroom.
Behavior–blog posts, books, quotes, and other resources to help you implement positive behavior support, reduce bullying, calm your class down, and more.
Quotes We Love–colorful, ready-to-share quote graphics from our own books, plus our favorites from other trusted sources on inclusive education.
SPECIAL SAVINGS & GIVEAWAY!
As a special thanks to our teacher friends, we're offering our U.S. and Canada customers FREE SHIPPING on orders from the Brookes website from now through Friday (5/11). Just use the code TEACHWK18 when you place your order!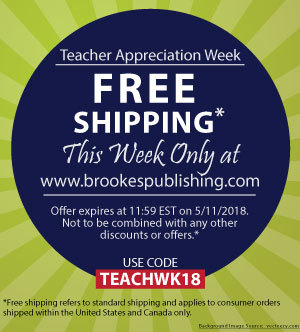 We're also giving away another prize pack: 6 of our most popular inclusion books and a sturdy zippered tote bag. To enter the giveaway, just comment on this post with "count me in!" (U.S. entries only, please.)