"The Most Complex Needs Help You Grow the Most": An Inclusion Q&A with Whitney Rapp
October 16, 2018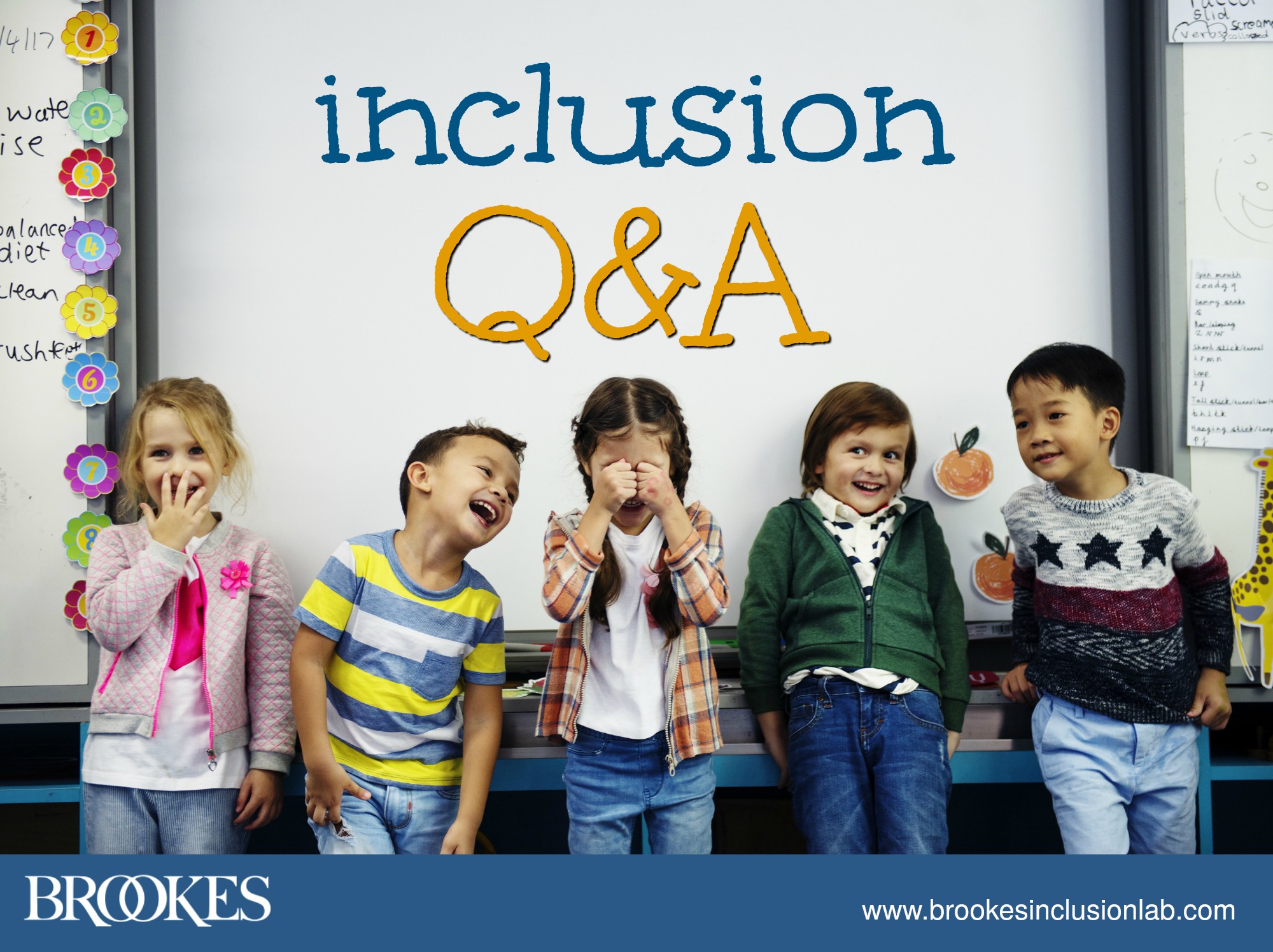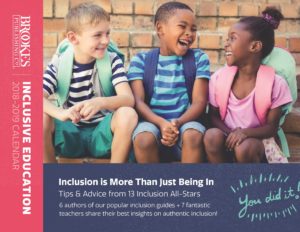 For this year's inclusion calendar, "Inclusion is More than Just Being In," we spoke to several Brookes authors about how to create authentic inclusion in classrooms and across whole school communities. To share their answers with a wider audience, we've been highlighting the full text of these Q&As right here on the Inclusion Lab.
Next in the spotlight is Whitney Rapp—the inclusion expert behind books like Teaching Everyone and Universal Design for Learning in Action. Here, Whitney talks about how she prepares other teachers to promote authentic inclusion, her biggest inclusion influences, her best advice for new educators, her favorite inclusion resources, and more.
Q. What's one specific thing you do—or encourage educators to do—to ensure that students with disabilities are more than just physically "in" the classroom and experience full participation as a valued member of their school community?
As a teacher educator, I teach and model the importance of building a strong community in the classroom where students have an opportunity to share personal experiences and interests, where they can make mistakes without shame or blame. I also encourage my teacher candidates to think critically about what they read and what they see and hear in classrooms, and to constantly be aware of, and speak up against, ableist assumptions. For example, if they hear that inclusion or co-teaching is important because students with special needs will benefit, they should clarify that all students benefit from inclusion or co-teaching.
Q. What advice do you have for educators new to inclusion?
There is no one strategy or list of strategies that will work every time. The effectiveness of a strategy depends on the individual student, his/her strengths, needs, and context. The more strategies you have in your toolkit the better, because you will have more to choose from to match what each student needs. That said, none of them will work unless you have the foundational belief that all students are valuable to your classroom community, and all students are capable and competent. Remember, the most complex, challenging needs will help you grow the most as a teacher.
Q. How did you gain the knowledge and skills necessary to create authentic inclusive environments and real inclusion?
I read as much as I can, both academic and trade/practitioner literature about what teachers are using and investigating in their own practice. I also visit schools as much as I can, observe in classrooms, and ask teachers why they implement the practices they do. It gives me an understanding of the how their practices take shape over time and the evidence they use to determine what is effective, for whom, and in which contexts.
Q. What is one thing that an inclusive classroom absolutely must have?
Passion. You have to be passionate about children and seeing them learn, passionate about the subject you teach, and passionate about lifelong learning. If you lose passion, you stagnate, lose the energy to face challenges, try new things, and reflect meaningfully on your own practice.
Q. Why did you make the decision to work in this field?  
There are endless opportunities for problem-solving. I love figuring out answers to tough questions, thinking out of the box, and coming up with creative ideas. That never stops. Every year, there is a new group of students, and the learning, problem-solving, and creativity starts anew.
Q. What inclusion resources do you recommend for educators?   
I would recommend Cheryl Jorgensen's work on school-wide inclusive practice, because it can't be effective unless its systemic, as well as resources with practical suggestions for the classroom, such as Nicole Eredics' new book [Inclusion in Action]. I am currently working on a book with Katrina Arndt and Susan Hildenbrand that reiterates those beliefs and provides specific practices for meeting the needs of all students in highly diverse classrooms, without lowering expectations. In other words, you need a balance of the big picture and the daily details, to see how it all fits together.
Q. Can you share a brief inclusion success story you encountered in your classroom?
Overhearing a boy confidently telling others that he receives extra help sometimes and that's okay. He shared so much with one simple statement: he felt safe sharing about himself in the community, he is a budding self-advocate, it's okay to have differences, and it's okay to share them.
Thanks to Whitney Rapp for sharing her inclusion wisdom! To download the calendar with quotes and tips from Whitney and 12 other educators and experts, just click the button below.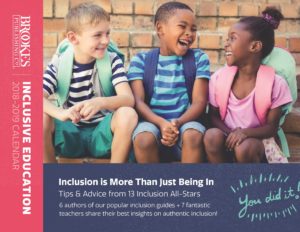 Topics