"Where Do We Start?" Cheryl Jorgensen's 10-Step Plan for Jumpstarting Inclusion
November 14, 2018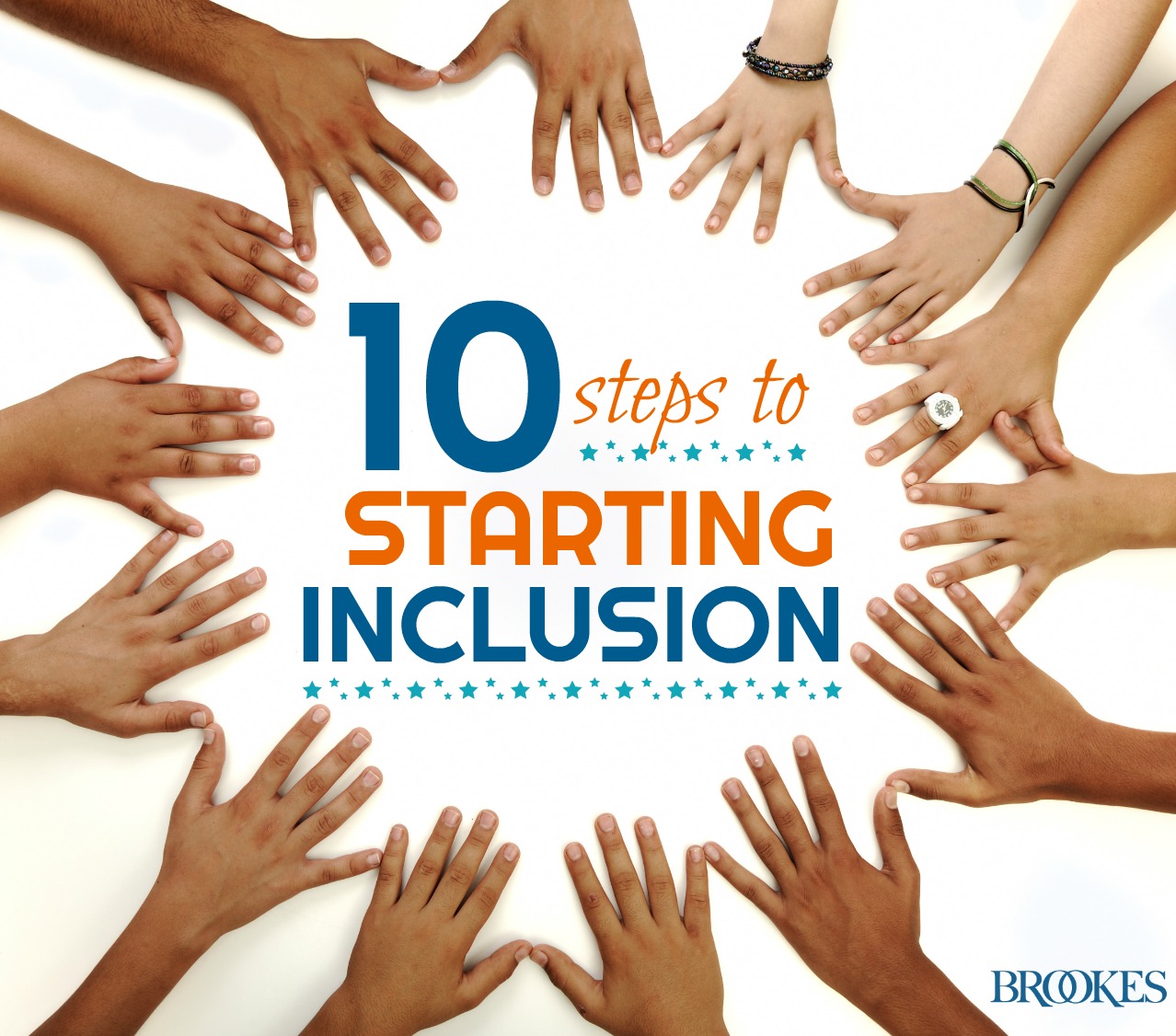 Here's a question from an elementary school principal that might sound familiar to you:
This spring our school is beginning to plan for including students with ASD in general education classrooms. We have 10 students with ASD in kindergarten through fifth grade. Where do we start?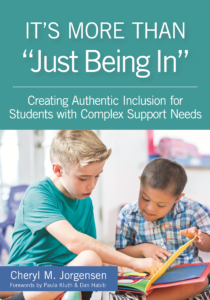 If your school is just getting started with planning for inclusion, this principal's search for guidance may resonate with you. Today's post, excerpted and adapted from the excellent new inclusion guide It's More Than "Just Being In" by Cheryl M. Jorgensen, provides you with ten steps to jumpstart your inclusion journey. Directly answering this principal's question, Dr. Jorgensen offers practical, real-world steps that any school team can take to make their school more inclusive, both for students with ASD and learners with a wide range of other needs.
STEP ONE: Assemble your team
Bring together a team that represents your key stakeholders and designate them as your inclusive education leadership team. Include a general education teacher from each grade level; all special education case managers; the SLP, OT, and PT who provide services to students; a couple of paraprofessionals; your reading specialist (or a Title I teacher); your building or district special education administrator; several parents; and at least one student with ASD.
STEP TWO: Plan to keep parents informed
Develop a plan for keeping all parents of children with and without disabilities informed of your plans as they evolve. This might include giving a monthly update at a PTA meeting, holding information sessions for parents, and talking with the parents of the children with disabilities about the "why" and "how" of inclusive education.
STEP THREE: Collect resources
Identify a few key books, research articles, and videos that everyone on the leadership team will read and watch together. I would suggest the book You're Going to Love This Kid! by Paula Kluth (2023), the videos Including Samuel (Habib, 2007) and We Thought You'd Never Ask (Hussman, 2008) and a manual I wrote for the National Education Association called Including Students with Autism (Jorgensen, 2014).
STEP FOUR: Visit an inclusive school
There is no substitute for seeing inclusion in action. Contact a local school in which all students are included in general education and resources from general and special education and Title I are deployed to support all students' academic and behavioral success. The SWIFT Center has a lot of great resources on their website as well.
STEP FIVE: Hold professional development workshops
Identify which general education classroom each student will join, and provide monthly professional development workshops for those general education teachers and other members of your students' education teams. The workshops should focus on seven key topics: 
1) the rationale for inclusion
2) inclusive education best practices
3) collaborative teaming and new roles for special educators and related services providers as supporters of students' participation in general education instruction
4) peer supports and cooperative learning
5) UDL and ensuring access to all instructional materials
6) planning the curricular and instructional adaptations that students with complex support needs require to encourage their full participation
7) positive behavior supports
If you have students who use AAC, then workshops on that topic for those students' teams would be important as well. Look for online webinars or conferences (e.g., an annual conference sponsored by the PEAK Parent Center, or workshops offered by TASH).
STEP SIX: Block out time for instructional planning
Plan next year's school calendar so that each student's education team has 1 hour of common planning time per week. During these meetings the teams will talk about upcoming lessons and units and discuss the supports that the students will need to fully participate and learn. [Note: Dr. Jorgensen's book has instructional planning forms that can help with this step.]
STEP SEVEN: Designate planning days over the summer
Give each student's team a couple of days of planning time during the summer to get a head start on instructional planning. It will help all the students start the year off positively if the team feels as if they can "hit the ground running" with a couple of weeks' worth of materials and other supports already planned.
STEP EIGHT: Develop IEPs
Write each student's IEP so that his or her goals and objectives are aligned with your state's learning standards and special education and related services are delivered primarily within the context of general education instruction in the general education classroom. 
STEP NINE: Create a staffing schedule that facilitates inclusion
Create your staffing schedule to maximize the time that special education teachers and related services providers are in general education classrooms co-teaching whole group lessons, working with small groups, or providing side-by-side support to individual students.
STEP TEN: Encourage before-school get-togethers
Suggest that each student's parents host at least one summer get-together for a few children who will be in their child's classroom. A low-key playdate in the backyard with one structured group activity goes a long way to help children feel as if they are part of the group even before the new school year begins.
The first few weeks and months will be filled with challenges and daily questions from staff, so be sure that you are a daily presence in those classrooms providing leadership, encouragement, and tangible supports so that everyone can have a successful year.
***
Together, these ten steps will help you welcome and include all learners in age-appropriate general education classes. Is there anything you'd add to this list? Any critical step toward inclusion that needs to be included in this quick-guide to getting started? Add your thoughts in the comments below and share your wisdom with fellow educators!
KEEP READING
If you liked today's excerpt, check out the whole book: It's More Than "Just Being In."
Read our inclusion Q&A with author Paula Kluth.