"You Learn By Doing": An Inclusion Q&A with Paula Kluth
September 25, 2018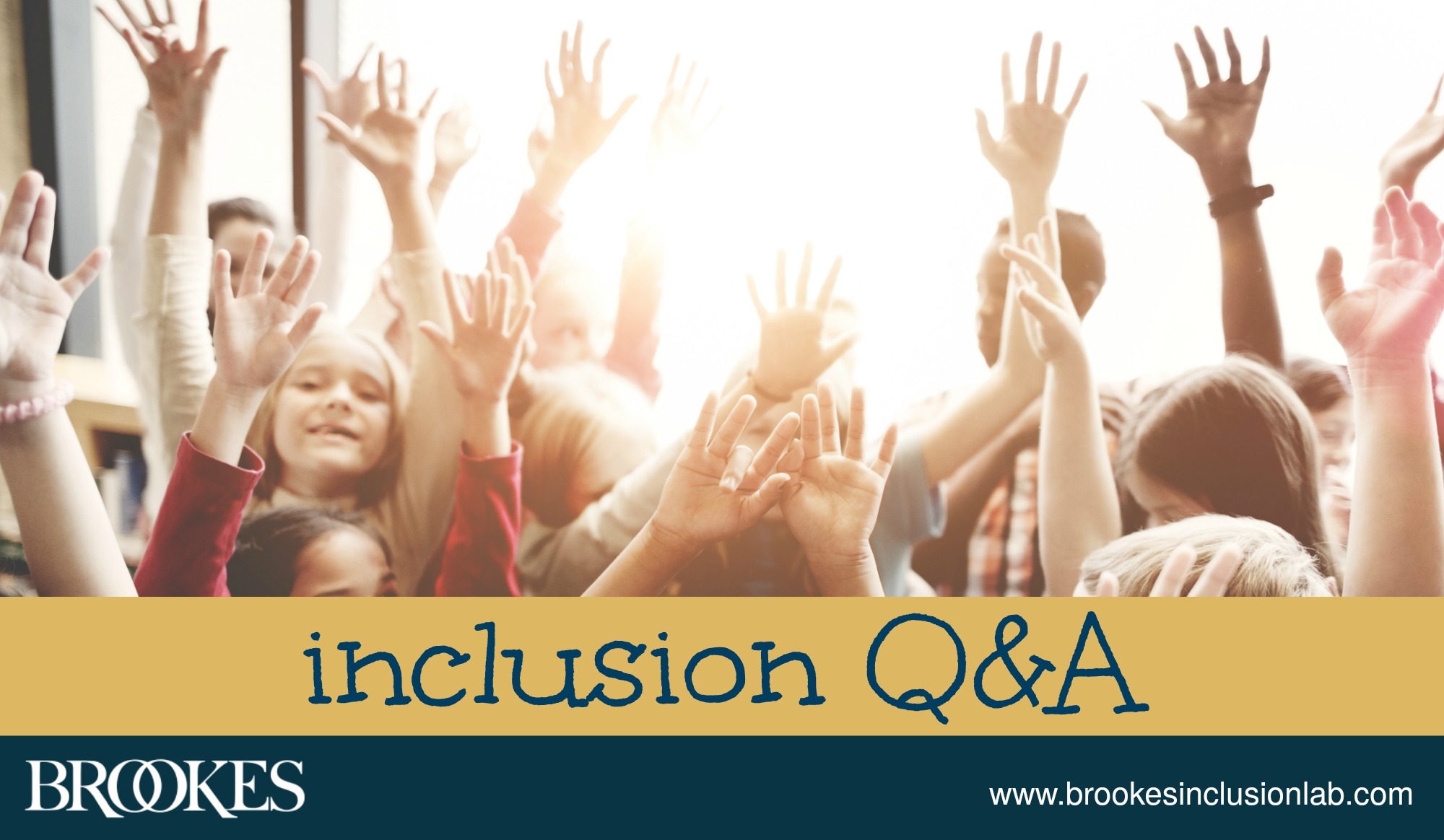 For this year's inclusion calendar, "Inclusion is More than Just Being In," we spoke to several Brookes authors about how to create authentic inclusion in classrooms and across whole school communities. We got great answers, some of them so thoughtful and detailed that they wouldn't fit on the calendar page! So to share them with a wider audience, we've been highlighting the full text of these Q&As right here on the Inclusion Lab.
Next up in the spotlight is author, presenter, and in-demand expert Paula Kluth–the creative mind behind popular books like You're Going to Love This Kid! and Just Give Him the Whale. Paula talks about her biggest inclusion influences, her best advice for new educators, the benefits of "learning by doing," and more.
Q. What's one specific thing you do–or encourage educators to do–to ensure that students with disabilities are more than just physically "in" the classroom and experience full participation as a valued member of their school community?
One specific thing that I encourage is to keep in mind that the student's "true north" must be the classroom teacher and the norms of that space. If there are deviations from this, we should question those deviations and ensure there is a meaningful and appropriate reason for them. So, if all fourth-grade students start their day on the playground, line up at the main entrance, go to their lockers, and file into their classroom, then all students with disabilities should do the same. Be wary of common deviations in these rituals (e.g., having students with disabilities "check in" at a special education room before they head to their general education classrooms; placing lockers of students with disabilities together instead of assigning them based on general education classrooms).
Q. What advice do you have for educators new to inclusion?
Start with the students.
Teachers may feel overwhelmed when teaching in an inclusive classroom for the first time. It may feel like there is a lot to know in terms of supports and services. There may be new strategies to learn or new materials to explore. There may even be new colleagues to meet and new connections to make. All of this can cause some confusion and inspire a lot questions, but in these moments, it's important to pause and consider the "why" and the "what" of our work: our students.
Get to know your students using whatever tools work best for your group. You could use student surveys, meet with learners individually or in small groups, or engage in formal or informal classroom observations. For students with more complex needs, you may need a wider range of tools to learn more about them. Try home visits, video assessment, or personal portfolios to gather information.
It really is all about individuals. If you know one student with Down syndrome, you know just one student with Down syndrome.
Q. How did you gain the knowledge and skills necessary to create authentic inclusive environments and real inclusion?
You learn by doing. You can watch videos and read books about inclusion, but to really understand how to do the work, you have to do the work.
In some places, there is a notion that we need to pull kids out to "get them ready" for inclusion. The truth is, however, there are no prerequisites for inclusion and the best preparation for inclusion is inclusion! This goes for staff and students.
To gain the knowledge and skills necessary to create authentic inclusive environments, we need to bring learners with general education classrooms and solve problems in context. When something doesn't work, we have to try something else. This process of inclusion–this dynamic–should be the rule not the exception. As educators, we should expect challenges. We should be open to solving problems as they emerge. I always say inclusion is a process; if you can't find a way, you may need to make a way.
 Q. What is one thing that an inclusive classroom absolutely must have?
A coffee maker! Hard working teachers need a lot of support and a bit of caffeine.
 Q. Why did you make the decision to work in this field? 
I graduated high school in the 1980s; this was not a time when inclusive education was commonly practiced in secondary education. A special education teacher at my high school, however, was pushing to provide her students with inclusive experiences. Mrs. Derginer created informal opportunities for diverse groups of students to eat together, learn together, and hang out together after school. She encouraged us to develop connections and build relationships…and we did.
This teacher had a big influence on me as a person and as an educator. I became a teacher because of her–and undoubtedly because of lessons learned from my classmates with disabilities. One thing I learned from Mary is that teachers should not assume that social connections are absent (especially in middle school and high school) because of a lack of interest on the part of the students. We certainly cannot force friendships as teachers, but we have a lot of power to create the types of conditions and support the types of strategies that help friendships begin, grow, and strengthen.
 Q. What inclusion resources do you recommend for educators?  
I have so many favorite resources for teachers. First of all, I am a big fan of social media as a way to connect with others and share practices. Best practice changes daily as new supports and tools emerge, so sites like Facebook, Pinterest and Twitter can help teachers keep in touch with emerging ideas and innovative colleagues.
I also recommend that educators explore materials that help them understand disability from the "inside out." I devour autobiographies like Carly's Voice, Count Us In, and Planet of the Blind (and maintain a Pinterest page with some of my favorites) and I keep pages like Ollibean and www.inclusionforsabrina.org bookmarked to learn more about the diverse needs of people with disabilities and their families.
As for my own work, I recommend different products for different people and situations, but my website is probably the best place to visit to find resources as it connects visitors to all of my books and other sites. My website feature blog posts, video clips, articles, and more. Another place to get free content is my YouTube channel. You will find clips from my DVD package, You're Going to Love This Kid, on the channel as well as tutorials related to some of my other books, including "Just Give Him the Whale" and From Text Maps to Memory Caps.
Big thanks to Paula Kluth for sharing her inclusion insights! To download the calendar with quotes and tips from Paula and 12 other educators and experts, just click the button below.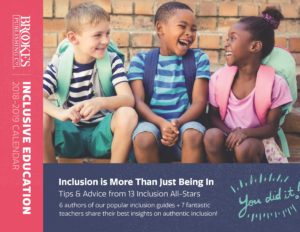 Topics