10 Self-Care Tips for Early Intervention Professionals
December 6, 2022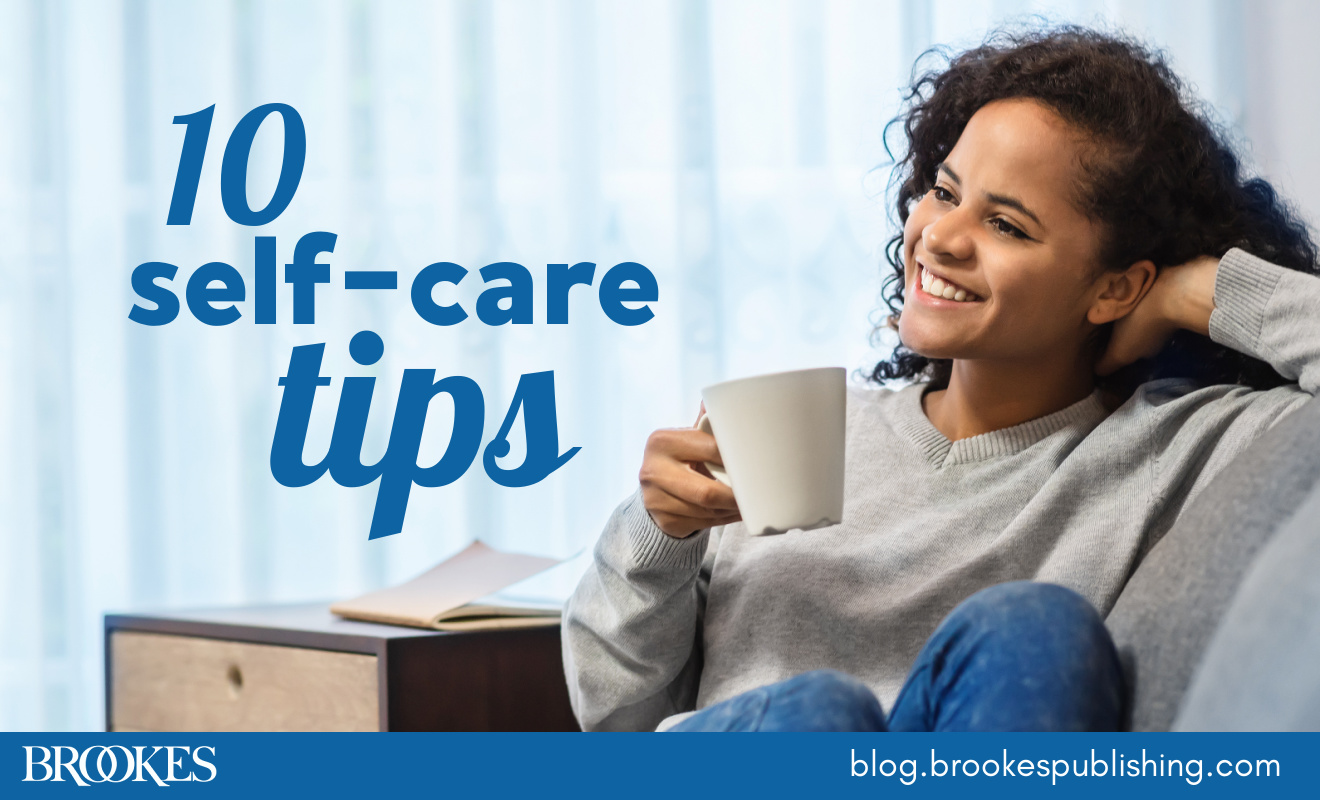 Early intervention is not an easy job. Busy schedules and documentation duties, conflict with team members, worries about how to provide the best support to under-resourced families—there's so much that can contribute to your daily stress.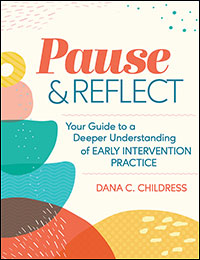 In her early intervention guidebook Pause and Reflect, Dana Childress offers some sound advice to dedicated professionals who may not always think to take time for themselves in the midst of their hectic work lives. Excerpted and adapted from the book, Childress's tips will help EI professionals avoid burnout and stay optimistic and refreshed in the year ahead.

Take 20 minutes for yourself every day. Find at least 20 minutes each day to do something for yourself, to downshift or re-center. What these 20 minutes look like will be completely up to you and may differ day to day. Use this time to exercise, read a book, listen to music or a podcast, write in your journal, walk or play with your dog, relax in your hammock, meditate, take a bath, snuggle with your kids, work on a puzzle, drink a cup of tea, knit, call a friend, or simply do nothing at all. Figure out what recharges your soul and make time for it every day.
Process your work experiences with colleagues. Sometimes, the best medicine for work stress is to talk with someone who understands. Share how you feel and process your experiences with a trusted colleague or supervisor. Vent if you need to (because we all do at times) but do so respectfully. Support others who are stressed, which can make you feel better too. Just remember to avoid sharing your stressors with the families you work with. They will often care deeply about you and may even ask how you are. Be mindful of professional boundaries, sharing only as much as necessary. Never talk about personal stressors with families and do not vent to them—they deserve your best face forward.
Be mindful of your attitude and how you think. When you're stressed, it can be easy to let it eat away at your attitude, sometimes without you even realizing it. If you're burned out, negative about families, or exasperated about work responsibilities, you can spread that to your colleagues. Instead, catch yourself, reflect, take a break when you need it, and decide to be a source of positive energy in your office. Sure, you will have your down days, but be mindful to not let them take over. If they do, talk with someone you trust to help you manage your feelings and consider your options. If you find yourself frustrated about a family situation, check in with yourself about what you are thinking. Reframe negative thoughts in a more positive light (rather than "Jaqui's mother keeps canceling our visits. She doesn't care what we're doing" to "I'm doing my best to engage Jaqui's mother. Maybe she has other important things going on. I'm going to talk to my colleague for new ideas.").
Stay organized. The more organized you are, the more likely that you'll feel better about your workload and less stressed about managing it. Just don't overthink it. If you end up worrying for an hour about how to properly color-code that Excel spreadsheet, then you might want to back away from your computer and take a nice long brain break.
Say "no." This is a hard one. Many of us in EI are people pleasers and helpers. We say yes when we can help someone else, forgetting to say no when it does not serve our own self-care. There will be times when you cannot say no to a job responsibility, but before you agree to take on another task, at least pause. It's almost always okay to ask for some time to think about your response. You may not be able to say no to that new referral, but you can certainly talk with your supervisor about feeling overwhelmed before you say yes, or ask the service coordinator for some time to think about it so you can consider your current workload. Just check in with yourself before you take on more work, whenever you can.
Set boundaries and leave it at work. Leaving work at work can be hard in this profession. We care deeply about the families we work with and sometimes bring home our emotions, tension, or exhaustion. If you find yourself thinking about families a lot when you are not at work or even taking their calls outside of work hours, it is definitely time for a self-check. If you find yourself talking a lot about work at home, press pause and do some self-examination. When work is leaking into or negatively affecting your personal life, it's time to check your boundaries. That's not easy—it takes intention, attention, and action. Add physical cues to your day to help you recognize your boundaries. Wait to put your badge or nametag on until you get to your office and take it off at the end of the day before you go home. Develop a transition routine between home and work, such as listening to a radio show or audiobook that you only treat yourself to during this time. Close your eyes and imagine your work day running off of you like river water pouring over a boulder.
Ask for help when you need it. There is no weakness in asking for help. You help families all day; it is absolutely okay to need help yourself. If you are feeling stressed, schedule time to talk with your supervisor. Before that meeting, consider how you're feeling and what words best reflect your experience, and try to come up with an idea or two for improving your situation. Your supervisor may be more likely to work with you when you present possible solutions to a problem. Perhaps you need a pause on new referrals for a week to catch up. Maybe taking some time off would help. Ask for the help you need and access the support network you have. If you find that you need more help than your network can provide, ask for more formalized help. Seeking out counseling can be one of the best things you can do for yourself.
Take a day off. What? Take a day off? I have 25 children to see each week and paperwork to do and…Okay, breathe. If you laughed when you saw this suggestion or any of the thoughts you just read actually did run through your mind, it's probably time to take a day off. Take a mental health day. Take a day for you. If a whole day seems impossible, take an afternoon off. If you have leave time through your employer, use it.
Take a vacation. A whole week off? Yes! Take a vacation or even a staycation. You may love your work, but time away can be just what you need to balance your life and refresh yourself. Pick the week far in advance so you can plan for how you will make up visits and manage your responsibilities. Prepare for your vacation so you can leave work behind and focus on relaxation, fun, connection with your family, or whatever you look forward to during that time. Just remember, when you take time off, that means time off—no work-related emails, phone calls, or squeezing in a meeting here or there. Time. Off.
Find your balance. You love what you do, so why does it matter to take time off or pay attention to your stress? When we get rooted in a stressful work life, we can get so accustomed to it that we fail to even notice it, leading to an imbalance. More of our energy is sapped in the work stress we feel, so we have less energy for the rest of our life, for our families, and for ourselves. Think about your life over the course of one week and visualize where your energy goes by making a pie chart. If you find that you are out of balance, yielding too much energy to work, then jot down some ideas for how to regain your balance and set a goal for yourself.
Use these tips from a voice of experience to guide your self-care efforts this year—and for a one-of-a-kind guide that will help you reflect on and strengthen your daily work in early intervention, get the book behind today's blog post!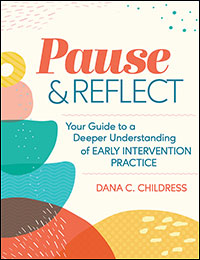 Pause and Reflect
Your Guide to a Deeper Understanding of Early Intervention Practice
By Dana C. Childress, Ph.D.
"A terrific, practical book…The workbook arrangement, examples, and framework of pausing and reflecting on how things are going on specific EI visits can lead to better outcomes for the family and child and improve the competence of even the most seasoned provider." —Lynda Cook Pletcher, M.Ed., Retired Technical Assistance Specialist, Early Childhood Technical Assistance Center, Chapel Hill, NC
LEARN MORE
Topics
Tags