6 Free Webinars for Inclusive Educators
October 15, 2019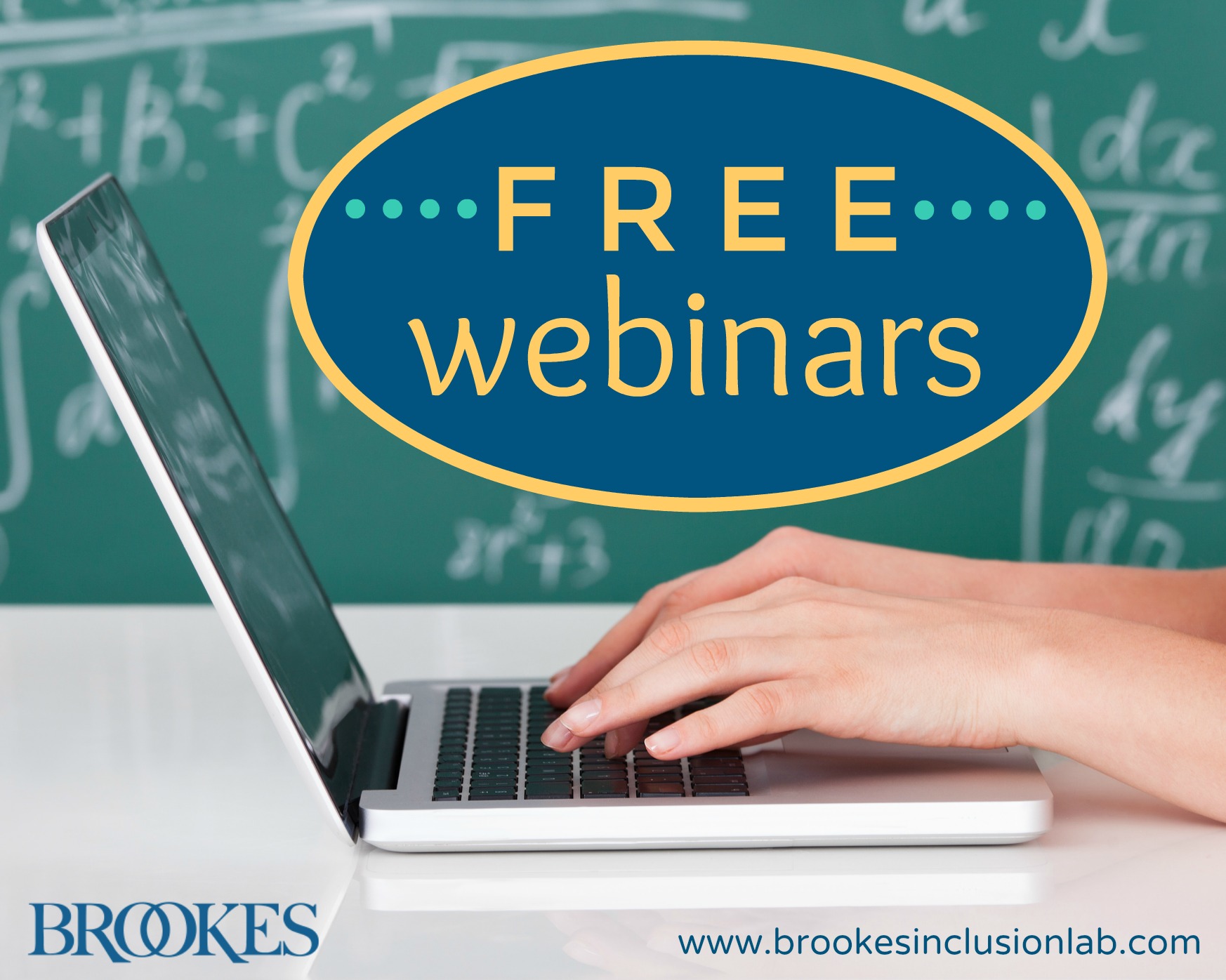 This blog is brought to you by Brookes Publishing, a trusted publisher of books and other resources on education, disability, and early childhood. Brookes has partnered up with edWeb to create an awesome—and yes, FREE!—professional learning community called Teaching All Students: Practical Strategies for Inclusive Classrooms. The best feature of this community has to be the free webinars with the experts behind Brookes books. When you join, you get access to more than 25 engaging and informative webinars on topics like behavior, time management, data collection, and theory-to-practice inclusion strategies. (And you can earn CE certificates for watching!)
Here are a few of our popular free edWeb webinars for inclusive educators. You can watch the recordings anytime (and to get access to live webinars, join the Teaching All Students community today).
The Data Collection Toolkit
Presented by Cindy Golden, Ed.D.
Overwhelmed by the details of collecting and analyzing data? Watch this one-hour webinar, based on Cindy Golden's The Data Collection Toolkit, and get answers to critical questions like:
What are the basic steps to data collection?
What are some ways to collect academic and behavioral data?
How can I organize data collection for IEP goals and objectives?
How do I analyze the data I have collected?
How do I use analyzed data in IEP or parent meetings?
Resolving Tough Individual Student Behavior Challenges with Prevent-Teach-Reinforce (PTR)
Presented by Rose Iovannone, Ph.D., BCBA-D
Learn all about the PTR approach to solving behavior challenges—straight from the director of the Prevent-Teach-Reinforce (PTR) Project! Author Rose Iovannone gives you a comprehensive introduction to the PTR approach in this recorded webinar. You'll:
Learn about the five steps of the PTR model
See how PTR intervention plans help you prevent problem behaviors, teach replacement skills, and reinforce new skills
Discover user-friendly tools that school teams use to implement PTR effectively
Get case examples that vividly demonstrate how to apply the steps of PTR
Practical Strategies to Modify Your Curriculum for Students Working Below Grade Level
Presented by Nicole Eredics
Modifying your curriculum can open doors to an inclusive, high-quality education for students who work below grade level. In this webinar, seasoned educator Nicole Eredics gives you a complete introduction to:
The fundamentals of creating and maintaining truly inclusive classrooms
The role of curriculum modifications in the education process
How to modify any curriculum for students with intellectual disabilities
Strategies that will quickly and easily modify curriculum in any classroom with suggestions for interventions and extensions
Useful educational resources for modifying curriculum
How to support diverse learners through universal design for learning, social and emotional supports, and accommodations
Building Trauma-Sensitive Schools: Your Guide to Creating Safe, Supportive Learning Environments for All Students
Presented by Jen Alexander
How can you give hope and help to students exposed to trauma? In this webinar, trauma expert and educator Jen Alexander shows you how to:
Apply strategies used by trauma-responsive educators in trauma-sensitive schools
Differentiate between regulated and dysregulated arousal states
Help students get regulated and ready to learn
Use the River of Feelings visual—a practical tool for students of all ages—to teach children and teens how to identify and eventually manage their arousal states
Understand your own stress responses
Improve your personal self-care plan
Picture Inclusion!
Presented by Whitney H. Rapp, Ph.D., Katrina L. Arndt, Ph.D., and Susan M. Hildenbrand, Ed.D.
Teaching practices that support all students are possible! Learn why and how in this webinar, which helps you:
Connect theories of inclusive education with everyday classroom practices
See how inclusion works in three diverse model classrooms: Grades one, three, and five
Learn how to use inclusive practices across academic content areas—including English language arts, math, science, and social studies—and special subjects like art, music, physical education, and technology
New Teachers: Surviving the Schedule
Presented by Elizabeth A. Potts, Ph.D., and Lori A. Howard, Ph.D.
New teachers have so many responsibilities to juggle. Discover how to expertly manage your time and avoid time-wasters in this webinar, which gives you valuable tips on:
Using master schedules to avoid missing important deadlines
Using technology to prompt timely conversations
Scheduling necessary conversations and your own planning time
Self-evaluating and adjusting the plan as necessary
Collecting materials and ideas that work so that you can begin planning for next year
Remembering why you chose teaching in the first place
Join our edWeb community today for access to more free webinars from trusted experts like Julie Causton, Cheryl Jorgensen, Belva Collins, and more. (The community is also a great place to find and share practical inclusion resources.) Sign up today—it's easy and free!
JOIN THE COMMUNITY