9 Free UDL Resources Every Teacher Should Know About
November 5, 2019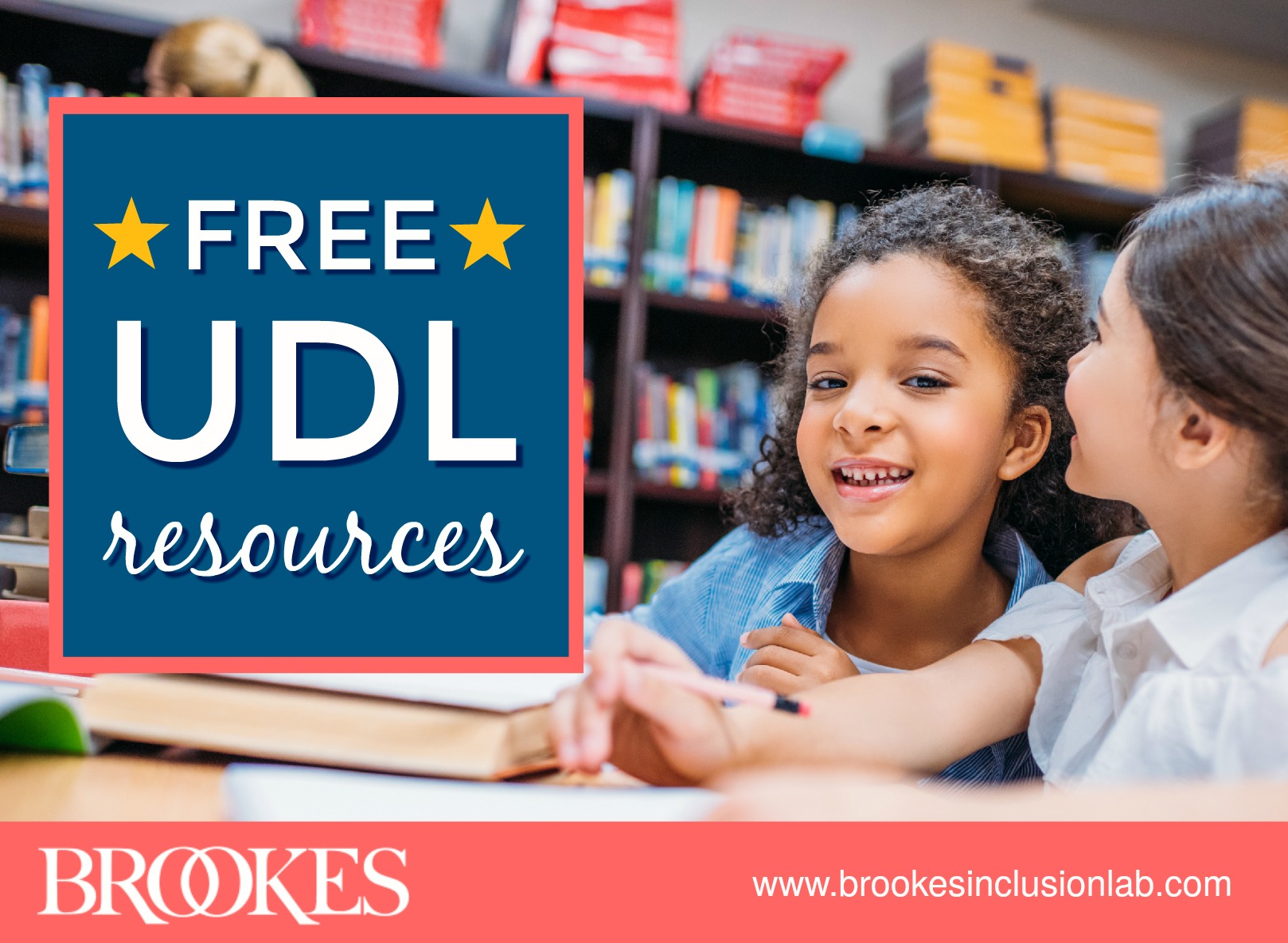 Universal design for learning (UDL) is one of the most-discussed topics among our readers and social media followers. We keep our ear to the ground when it comes to UDL—and in today's blog post, we're sharing a few key resources on how to create a universally designed learning environment. From podcasts to videos to creative activities, all of these learning tools are free and ready to use. Take a look and discover a new favorite go-to UDL resource (and recommend one of your own)!
Loui Lord Nelson's UDL in 15 Minutes podcast
Whether you're just getting started with UDL or you're looking for some new tips and strategies, you'll love this series of quick and engaging podcasts with real teachers, led by Design and Deliver author Loui Lord Nelson. You'll learn from the success stories and challenges of educators who are implementing UDL in a wide variety of learning environments, from preschool to graduate school. And because the podcast itself was designed using a UDL framework, you'll have many different options for consuming the content, including a recording, a transcript, a video montage using the podcast recording, and a followup blog post.
There are already more than 25 episodes of this awesome podcast to learn from and enjoy! Just click the button below to explore the archive and start listening (or reading, if you prefer).
Katie Novak's AHEAD keynote
Author and UDL expert Katie Novak delivered this dynamic, thought-provoking keynote at the 2017 AHEAD Conference—and it's a must-watch for every educator, no matter where you are on your UDL journey. Titled "UDL Implementation: It Takes a Village," this 47-minute presentation is packed with memorable metaphors, visuals, and "a-ha moments" on
Why UDL is necessary to transform learning for all students
What UDL looks like in practice
How you can create personalized goals and strategies for making the most of UDL in your own school and classroom
CAST UDL Studio
Did you know that CAST has established an online "UDL studio" where anyone can create and share universally designed educational materials? Create a free account, and you can:
Browse, read, and interact with the complete library of projects created by other UDL Studio users.
Set up your own UDL studio where you can develop new projects and share them with other educators.
Access free resources for copyright-free media to use in your UDL projects, plus guidance on developing your own text, animations, audio, and video.
EXPLORE THE STUDIO

LEARN ABOUT CAST


UDL Sample Activity Pack
Want some classroom strategies for providing multiple means of engagement, representation, and action & expression? Download this sample pack from the book Universal Design for Learning in Action by Whitney Rapp. You'll find ready-to-use guidelines and activity suggestions, along with a Why It Works section that clarifies the research supporting each idea.
#UDLchat Archives
The lively #UDLchat on Twitter is one of the best ways to connect with other UDL-minded educators and share ideas, questions, challenges, and tips. If you want to see what these Twitter meetups are like and uncover some UDL gems from past chats, the National Center on UDL has a year's worth of #UDLchat discussions archived on Medium.com. Explore chats on creating the perfect UDL "cocktail," supporting teacher preparation and UDL knowledge-building, engaging the brain, bringing UDL from theory to practice, and more.
UDL Guidelines
Need a refresher on the UDL Guidelines? CAST has you covered! The online home for the recently-updated Guidelines includes:
An introductory video by CAST's co-founder, David Rose
A downloadable version of the helpful UDL Guidelines graphic organizer
A FAQ about the goals, development, organization, and use of the Guidelines.
A summary of the research evidence used to develop the Guidelines.
UDL Lesson Planning webinar
After you've explored the fundamentals of UDL, your next question is probably "how do I use UDL in my lesson planning?" Find answers in this hourlong webinar with Dr. Patti Ralabate, author of Your UDL Lesson Planner. Dr. Ralabate walks you through 6 easy steps you can follow to get started with UDL in your lesson planning, from defining clear goals to refining lessons through careful reflection. (This webinar is prerecorded and ready to watch anytime—no registration needed.)
Think UDL podcast
If UDL in 15 Minutes has you itching for more podcasts on universal design for learning, check this one out—especially if you're interested in how to implement UDL on the postsecondary level. Host Lillian Nave investigates the what, why, and how of UDL with her guests, who are designing and implementing strategies in postsecondary settings with learner variability in mind. (Both audio and transcripts are provided.)
Past episodes include:
Responding to Neurodiversity and Shifting Campus Culture (with Elizabeth Coghill)
Training Faculty Jedis (with Danielle Wilken)
Creating Inclusive Space for All (with Zach Smith)
UDL Principles and Practice video series
See what UDL looks like in real classrooms! Developed by the National Center on Universal Design for Learning, this series of six brief videos will give you vivid examples of UDL in practice, in classrooms ranging from Grade 1 to Grade 6.
WATCH THE SERIES
Have a favorite online UDL resource to recommend? We'd love to hear about it—add your suggestion in the comments below!