"All of This is a Whole Lot": A Letter During the Pandemic from Author Jen Alexander
February 3, 2022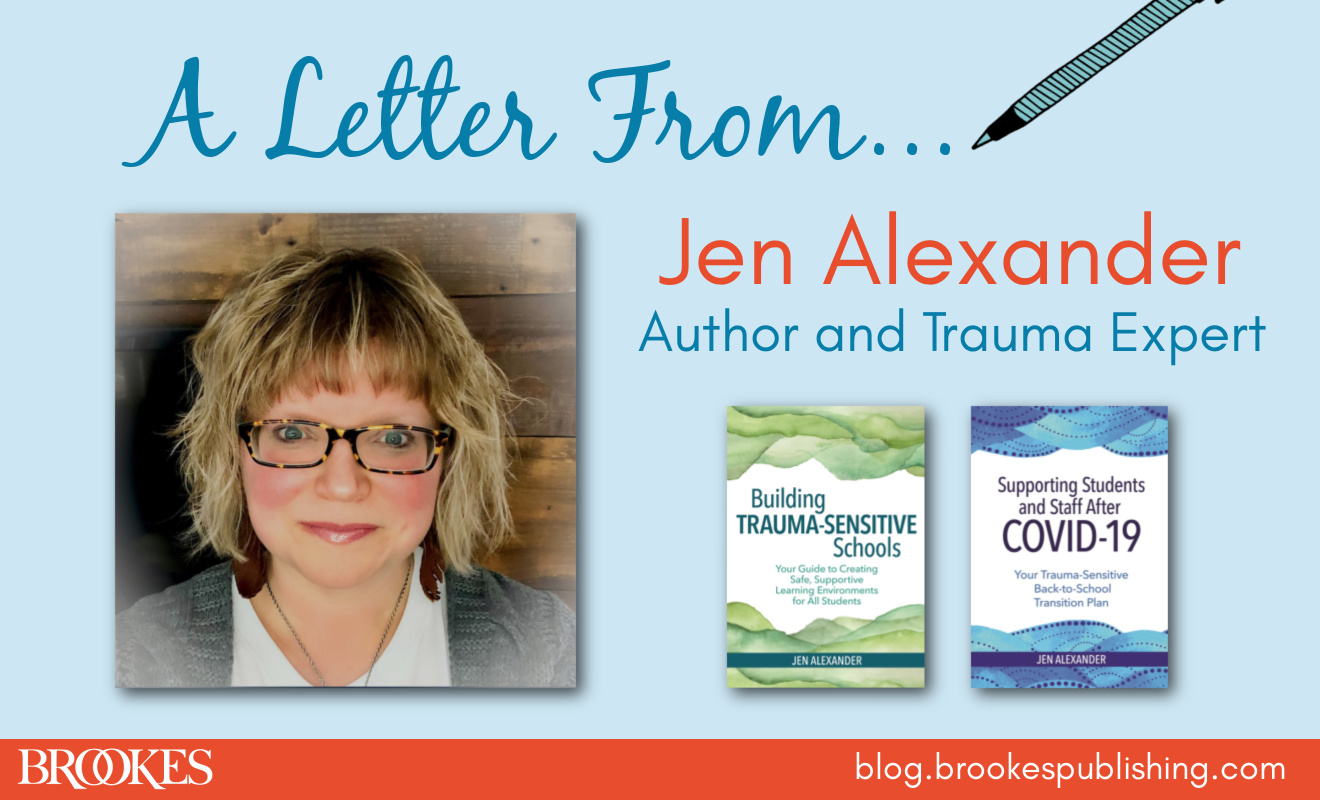 If you care for and work with young children, you've no doubt been feeling many things as the pandemic continues to unfold. Frightened by the possibility of illness. Anxious about the long-term developmental effects of the COVID-19 era on our youngest citizens. Frustrated and overwhelmed by the realities of teaching and parenting young children who can't yet be vaccinated.
Today we're sharing a heartfelt letter to you from trauma expert Jen Alexander, author of the books Building Trauma-Sensitive Schools and Supporting Students and Staff After COVID-19. Ms. Jen is someone who truly understands the impact of trauma on the lives of young children and their teachers and caregivers, and she's here to share words of compassion, wisdom, and hope—without denying or minimizing the very real layers of trauma and loss that we've suffered over the past two years. Take a break to breathe and read this empathetic letter, and share it with anyone else who may need to hear these gentle and truthful words right now.
Dear fellow humans who care for young children,
If you're worried about the effect of the pandemic (and everything accompanying it) on young children and their development, you are not alone. I'm concerned too.
When big stress impacts adults, it touches the young children in their care, both at home and in their learning environments. First, little ones depend on adults to meet their needs within attuned relationships. An overwhelmed or shut-down caregiver has more difficulty being present. Consistently #NoticingtheNeed and #MeetingTheNeed becomes harder, and responsiveness within caregiving relationships can change. There may be not enough tender eye contact or healthy playfulness. And there may be too much irritability or time feeling disconnected as primary caregivers or educators understandably focus on adulting during a period of ongoing uncertainty, change, and trauma.
Additionally, the pandemic directly impacts children. Illness disrupting the household can bring worry for young kids, and some have been sick themselves. Insecurity—related to fear, grief, and the stress of  ever-changing routines and not having basic needs met—can also cause a lack of real or felt safety for youth. Staff shortages and schedule disruptions in childcare or school settings also contribute to unpredictability and a lack of continuity within relationships.
All these factors increase stress for young children. Of course, this stress also synergizes with other potential traumas that many children and their families experience. Traumas that compound pandemic-related stress include discrimination, racism, marginalization, natural disasters, housing or food insecurity, a loved one's substance abuse or illness, high-conflict households, maltreatment, and neglect.
As vaccines have become available to many but not all—particularly youth under five—caregivers of young children may be experiencing even more pressure, especially as new variants emerge. Their families' health risks continue while others' vulnerability may go down, necessitating even more hypervigilance for those who care for little ones. Educators also continue to feel the responsibility of keeping young children safe, while they themselves are overwhelmed, exhausted, or both from years of dealing with COVID-19 and its ever-changing rhythms. At the same time, many educators are also feeling attacked by community members or state and national leaders even though they absolutely need increased support—now more than ever before.
It's a lot. Let's just acknowledge that for a moment. All of this is a whole lot.
As someone who cares deeply for young children, I've been thinking lately about Maggie Smith's poignant 2016 poem "Good Bones." You, as a reader, may question why a trauma expert has chosen to focus on this collection of words right now, but I hope you'll stay with me for a moment. Its connection to what we do is important, I think.
While the author admits that our lives are short and the world can be terrible, she tries to shield her children from the cruelty and ugliness because, as she puts it, "I am trying to sell them the world." Using a real estate metaphor, she says that any good realtor who's trying to sell a house that's falling apart will go on about its good bones: "This place could be beautiful, right? You could make this place beautiful." (You can read the entire poem here.)
Nothing can bring us to our knees like thinking about the innocence of childhood juxtaposed with a global pandemic killing millions. Am I right? And yet maybe that's what is needed most—a genuine acknowledgment of how gut-wrenching this has been and still is. The layers of loss are real. So is the trauma. While we may numb ourselves to these realities to stave off feeling and dealing our way through this mess, healing will eventually require that we reckon with the painful truths of this time in our lives and in our collective history. As much as we may wish we didn't have to face this, it's necessary. And sometimes, when we meet in a place of such rawness, there is an exhale that finally can happen—a settling, if you will—that is in direct contrast to holding our breath.
If it could be put into words, it might sound something like this: "Ohhh, this is where we are, isn't it? And it's awful. Let us let go and just be in it for now—present for ourselves and one another. Right here, as we are. It's okay to feel it." This acceptance, when alongside a holding of sorts, can be both shattering and beautiful—relief-bringing, even. In the honoring of deep pain through connection to self and others, perhaps we can truly come back together again in our humanity—heart to heart, soul to soul, and nervous system to nervous system. That, of course, is also what our children need. They need us. They need you—a present, feeling, loving human who can be there for them in all of life, both when it's wondrous and when it's breaking our hearts.
Now that we've addressed the existential meaning of where we are and why it matters, here are a handful of practical suggestions for helping yourself and the young children you care for as this collective trauma continues to unfold:
Acknowledge the truth related to the losses and traumas you've experienced, as you can and when you're ready to do so. (Until then, do what you need to do to keep on keeping on). Telling children the truth is important—even though they usually don't need the whole truth. Answer their questions, nothing more.
Feel and express your feelings in ways that work for you. It doesn't have to be all at once and it can be later; trust yourself. While it's not good for little ones to see you overwhelmed, it is helpful when they hear you put words to what you feel (and when you help them do that, too). It's okay to say, "I'm having big feelings. I'm frustrated that there weren't enough workers today." And don't forget to seek support when you need it!
Prioritize a predictable, yet flexible, rhythm in your own day-to-day and for the youth you care for; this brings real and felt safety for everyone. Weave in small comforts as much as possible.
Emphasize how you connect and reconnect with little ones. For instance, the way you greet one another after an absence and how you say goodbye during a transition matter. Take time for connection. Acknowledge feelings: "It's sad to say, 'See ya later,' and we'll feel such joy when we come back together again." Consider co-creating a special hello or goodbye ritual with young children, and teach other caregivers how to do the same. Include unique words, movements, and expressions. Use touch as much as is comfortable. These shared moments, when genuine in the dance of each relationship, help establish soothing patterns of connection and regulation.
Incorporate other rituals (even silly ones) around change. Here's an example: "That was a switcheroo message. It means our schedule is switcheroo-ing again. What do we do when there's a switcheroo? We yell, 'AGH' and do a wild dance." Then do a dance together. While so much is up in the air, small rituals like these bring some predictability to what we do when things change. It's like saying, "This is hard, but we know what to do. I've got you."
Snuggle, read, explore, engage all senses, move, and play. Your kids need lots of self-directed time, especially when so much is out of everyone's control. Joining them in play and exploration is good for you and your relationship, too.
When you don't handle yourself in the way you'd prefer, own it, repair, and move on. This models for children that they too can make mistakes and work through them with you. Say, "Oops, my words aren't helping right now. Can I have a do-over?"
No matter what, let us remember that this place truly can be beautiful. It already is. It has good bones. Parts may need to be gutted (or already have been by the pandemic and other experiences). Some remodeling is definitely in order. But we can and must imagine the potential already here.
I can't think of a better reminder of this than our children. We need only bend down and look our little ones eye-to-eye to feel this truth in every cell. We're here to protect and care for them, yet they bring us right back to what really matters. And their belief in our good bones? Well, it's unmatched, along with endless imagination for what could be. Let's lean in, listen, and make this place beautiful—together.
Take good care,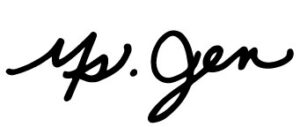 Poem citation: Smith, Maggie. (2017). Good bones. Tupelo Press.
Topics
Tags