INCLUSION IN ACTION: Q&A with author Nicole Eredics
April 10, 2018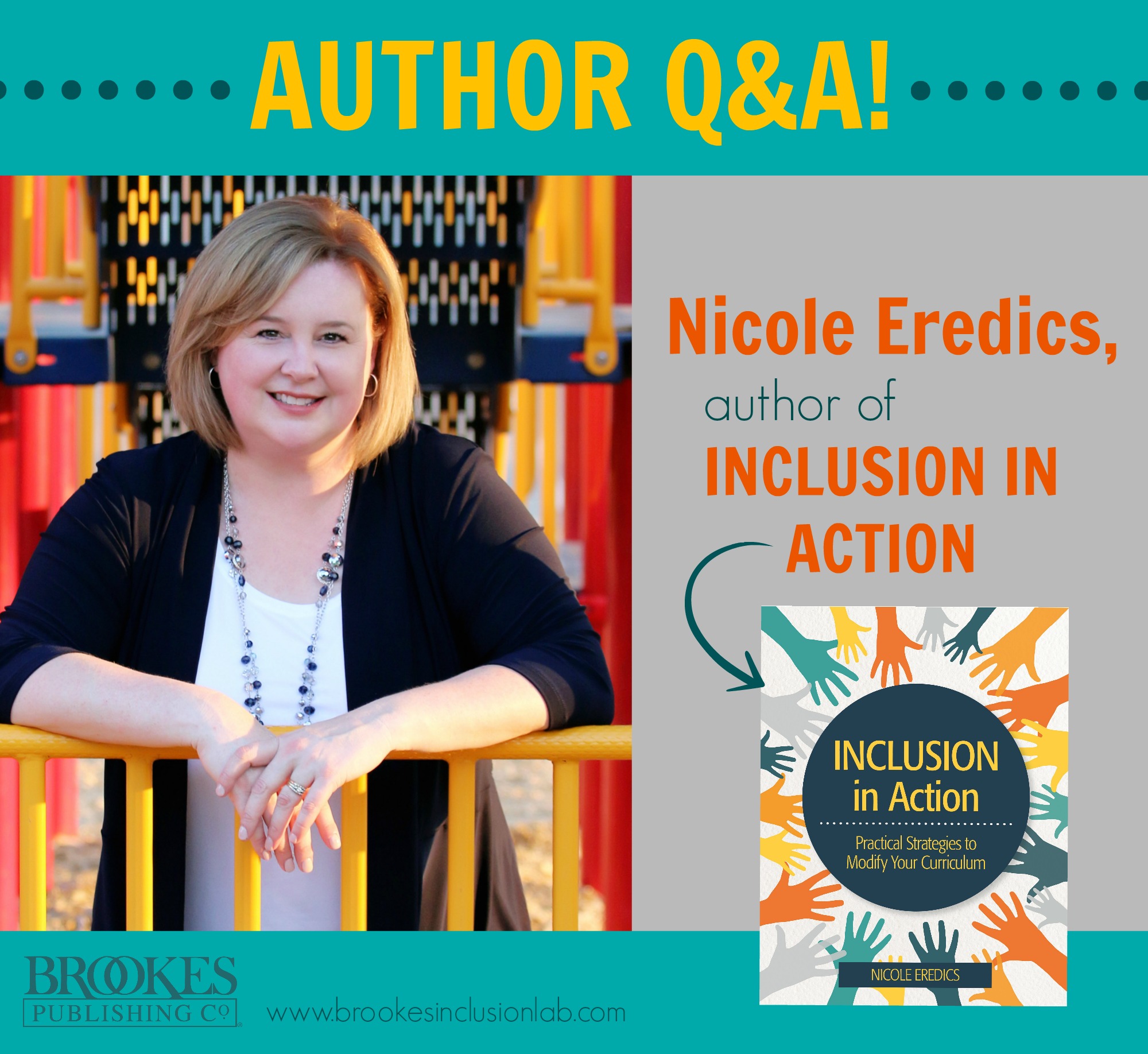 Happy Tuesday, readers! Today I'm thrilled to welcome Nicole Eredics: inclusion expert, educator, creator of the popular blog The Inclusive Class—and Brookes author! Nicole's written one of our acclaimed books, Inclusion in Action, a practical guide to modifying your curriculum and creating classrooms that welcome and include all students. We had a chat with Nicole about the book, her advice for new teachers, and what it takes to create an authentic culture of inclusion in a classroom.
1. As a seasoned inclusive educator and blogger, you have a true expert's perspective on what classroom teachers really need to make inclusion work. What specific needs do you think your new book fulfills for the average teacher?
Teachers are busy people and they need resources that are easy to read with useful ideas that are quick to implement. With that in mind, my new book outlines practical strategies that teachers can use immediately to modify their general education curriculum and fully include students with intellectual disabilities. Furthermore, the strategies are low-prep, low-tech, and include real-life examples. There are reproducible templates as well as a list of helpful resources on modifying curriculum. Teachers will find that this book gives them the information and tools they need to effectively teach and include all students in their classrooms.
2. Inclusion in Action offers tons of excellent, practical modification strategies to make the general curriculum accessible. What would you say to a teacher who picks up your book and thinks "well, I'd love to modify my curriculum, but I'm really concerned I don't have the time and resources?"
The strategies in the book were chosen specifically for teachers who feel they don't have the time and resources to modify curriculum. Not only are they instructional strategies that are familiar to every educator, they require little preparation and are low-tech. They don't need expensive software nor are they difficult to implement. In fact, many of the strategies can be used on the spot!
3. Can you give an example from your own experience of a modification strategy that was especially effective?
I have found that simplifying the concept has always been an effective way to modify my curriculum. By deleting some of the content and/or substituting it with less complex, similar concepts, students can still participate in the class activity while working at their ability level. For example, a student with intellectual disabilities can brainstorm words related to a topic while the class writes a paragraph about the same topic.
4. We talk a lot about universal design for learning (UDL) here on the blog. How does the approach you outline in your book complement the UDL approach that more and more educators are adopting and advocating for?
Much like UDL, my book acknowledges that students learn in different ways and at different rates. It also supports the philosophy that teaching should reach all learners. Moreover, my book offers strategies for learning that are used within the UDL framework. They are strategies that motivate and stimulate an interest in learning, and they allow students to present information in various ways and teachers to differentiate ways in which students can show what they know. Teachers can be confident that this book will complement UDL in their classrooms.
5. Schools across the country are making strides toward authentic inclusion, but it's still very much a work in progress. What are some things that need to change in order for fully inclusive classrooms to become the norm?
I've come to realize over the years that no matter how many resources, materials, and supports there are for inclusive education, it is the teacher that ultimately determines its success.  If the teacher is not trained in inclusive education or unwilling to create an inclusive environment, then inclusion will ultimately fail. This was my biggest reason for writing Inclusion in Action. I wanted to give teachers the information and strategies they need to modify general education curriculum so they can begin to include our least included students—those with intellectual disabilities.
6. You have a section in your book about creating an "inclusive classroom culture." Can you talk a little about that term? What does it mean to you, and what are the first steps to building a culture like that in a classroom?
Every classroom has its own culture. Classroom culture is the shared beliefs, attitudes, and behaviors of the teacher and students. Teachers play a big role in developing and nurturing inclusive culture in the classroom. They see the academic and non-academic strengths in every child. Teachers also value the social-emotional development of students and teach inclusive social skills: students are taught to respect and include one another. Furthermore, teachers nurture inclusive culture by reflecting on and responding to student needs. For example, teachers find ways to engage students in learning by differentiating lessons. An inclusive classroom culture is essential to successfully including students with disabilities.
7. Can you offer some advice to overwhelmed novice educators? What's one thing you wish you knew about inclusive education when you were just starting out?
My advice to novice educators is to start small. You don't have to do everything at once. Pick one or two things and become proficient at those things first. Then try something else until you become really good at it. For example, pick one subject that you can differentiate. Once you become skilled at differentiating that subject, try another subject. Or, you might want to work on your classroom's homework routine. You might even try out a new assessment tool. Build your repertoire of teaching skills and your expertise over time. There is no need to do and learn everything at once!
***
Thanks so much to Nicole for being here today and sharing her words of wisdom with us. If you liked this Q&A and want more of Nicole's classroom-tested strategies and invaluable insights, here's what to do next:
ORDER THE BOOK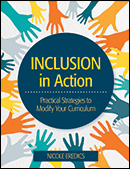 We can't recommend this book enough. It's down-to-earth and immediately useful for both new and seasoned teachers, with a super-helpful overview of inclusion and 40 specific strategies for curriculum modification.
SHARE THE QUOTES
We made some quote graphics from Inclusion in Action, perfect for sharing on social media!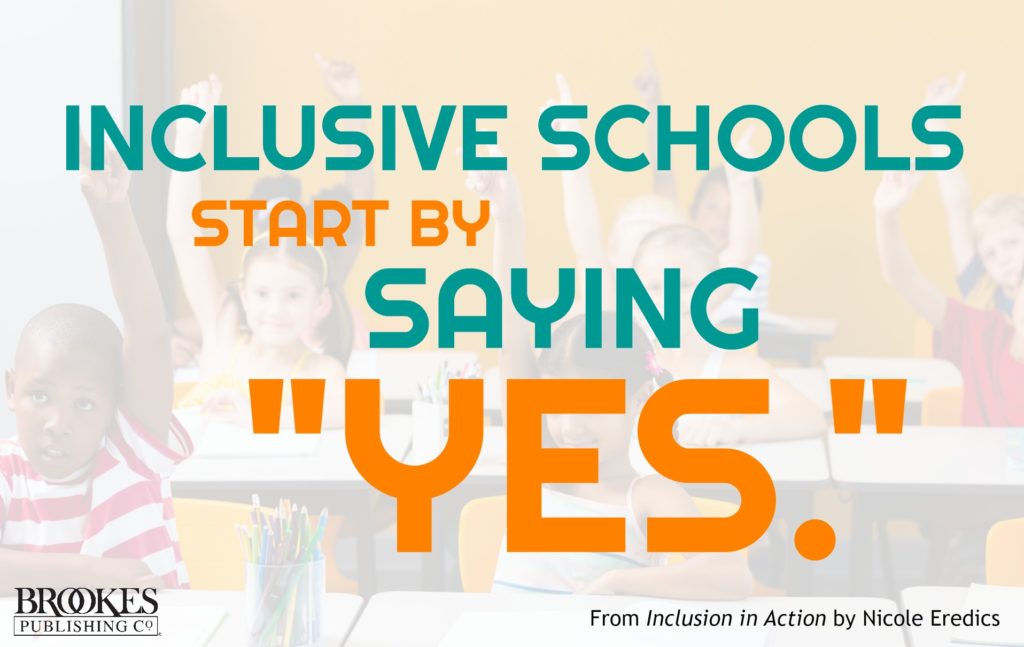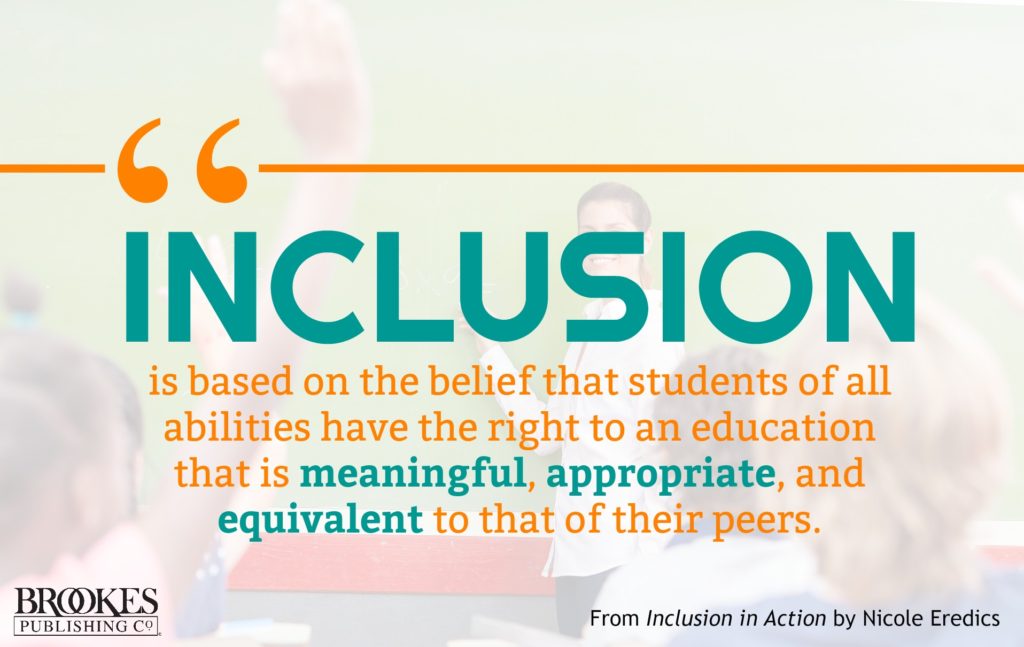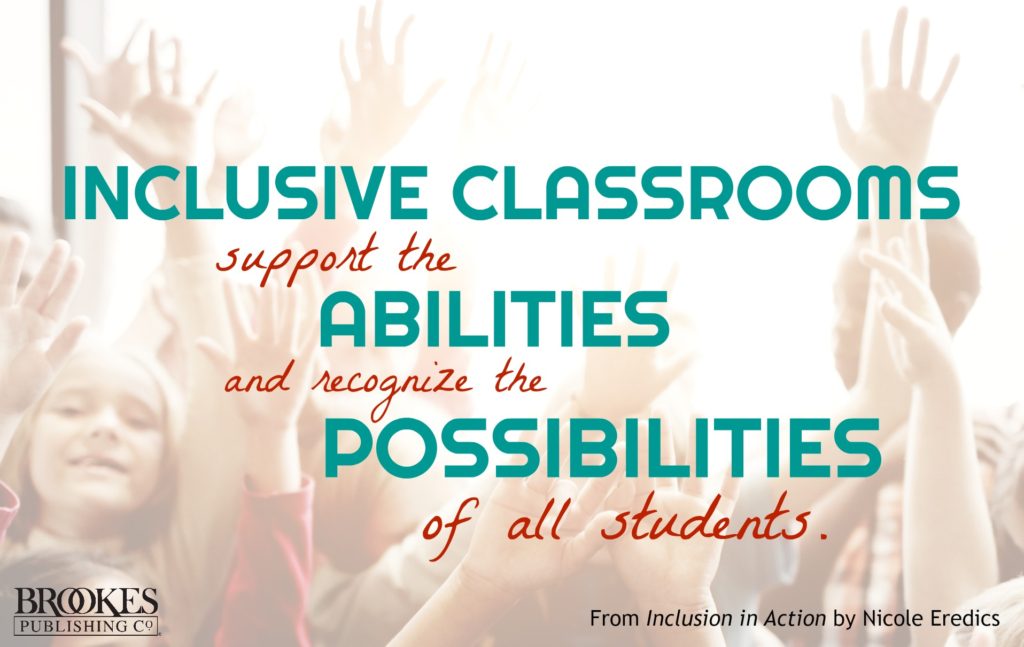 READ NICOLE'S OTHER POST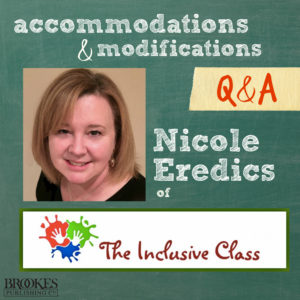 In this Q&A from May 2016, Nicole gives some tips and insights on using accommodations and modifications, with useful examples.
VISIT NICOLE'S BLOG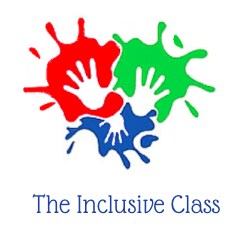 If you aren't already a regular visitor to The Inclusive Class, bookmark it for practical strategies and excellent visuals–the images of sample modified assignments are especially helpful.
Topics