Our Top 10 Free Resources for Inclusive Schools Week
December 6, 2016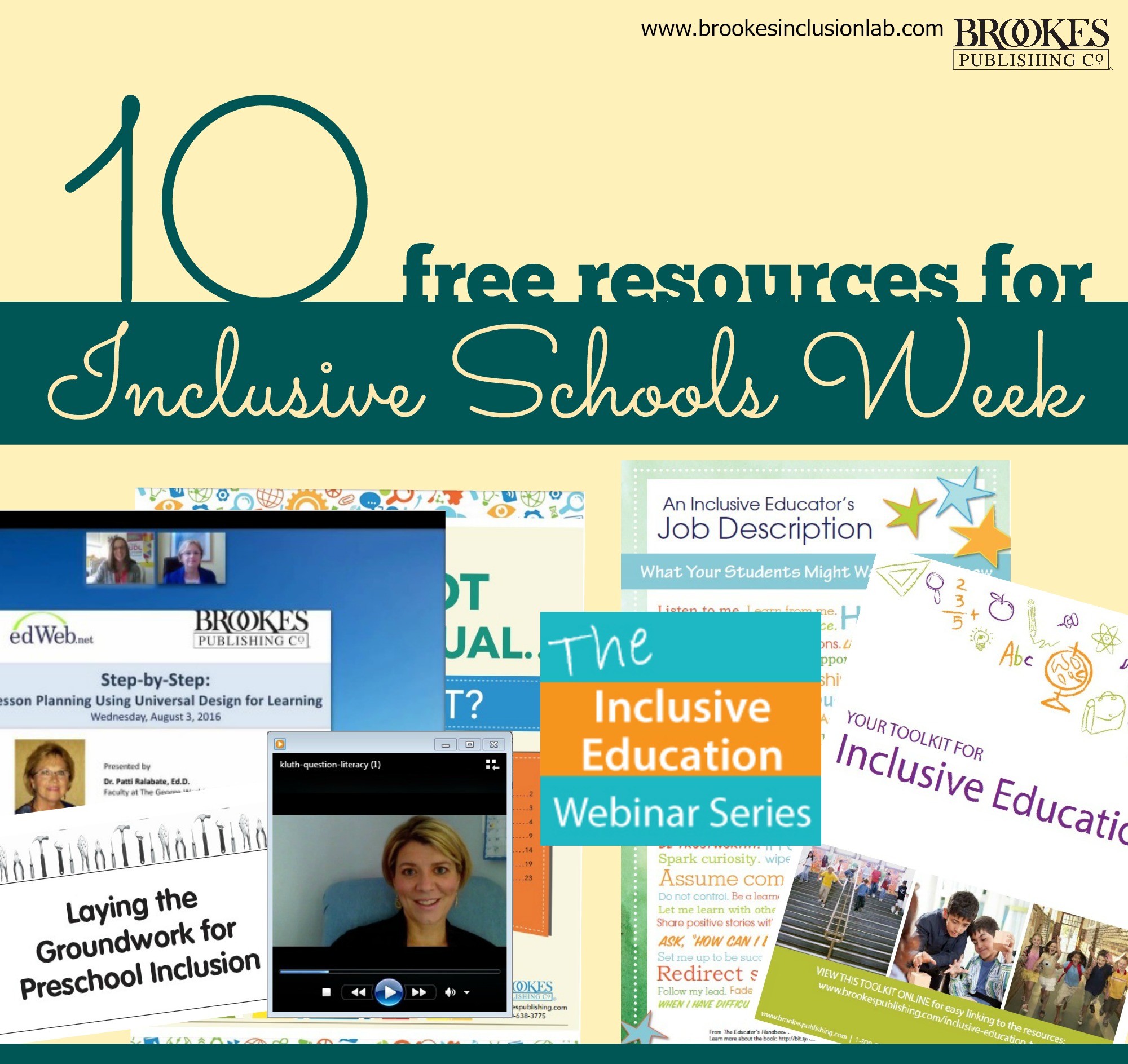 Happy Inclusive Schools Week to all of our readers–the dedicated teachers, paraprofessionals, OTs, PTs, SLPs, principals, families, and self-advocates who work together to create schools and classrooms where every child learns and fully participates. Here at the Brookes Inclusion Lab, our goal is to support your goals, and that's what today's post is all about.
Over the past few years we've built up a big collection of free resources on inclusive education, and this seemed like a great time for a top-10 list. So I went through our archives (both on the Inclusion Lab and on the Brookes website) and assembled a handy list of some of our best inclusion resources–webinars, book excerpts, printables, and articles on some of the most important topics in inclusive education. Bookmark this post to keep these resources at your fingertips, and share them with your colleagues who work toward a fair and equitable education for all students.
Inclusive Education webinar series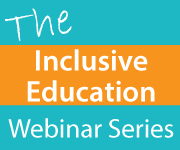 Brookes teamed up with the Inclusive Class blog to bring you this series of three webinars on critical inclusion topics. They're ready to watch and rewatch anytime! Get guidance from Cheryl Jorgensen on "Planning for Full Participation and Learning in the Inclusive Class," hear Whitney Rapp's tips and strategies for "Supporting Behavior in the Inclusive Class," and learn from Julie Causton's expert advice on how to manage "The Role of the Paraprofessional in the Inclusive Class."
WATCH THE WEBINARS
"Fair Is Not Always Equal…Now What?" ebook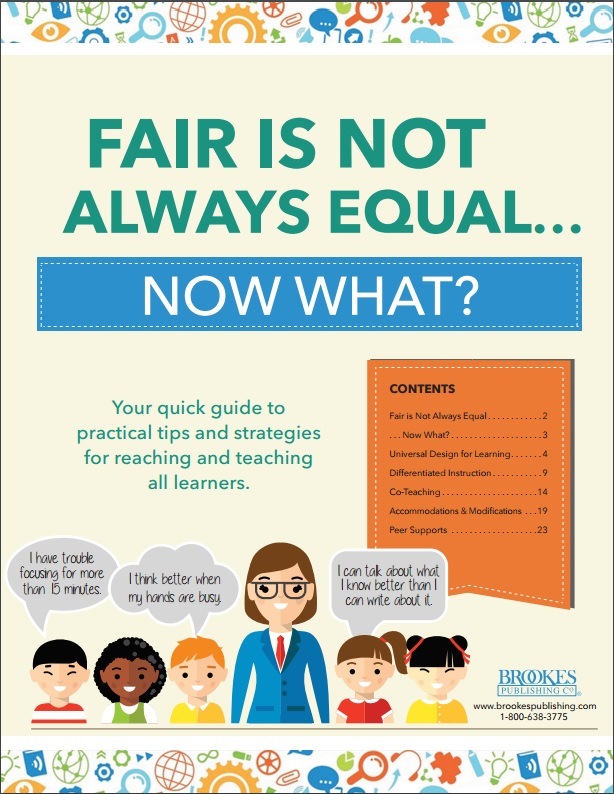 This full-color ebook excerpts the best posts from our Fair Is Not Always Equal…Now What? blog series in one convenient place. You'll get expert Q&As, tip sheets, and success stories on universal design for learning, differentiated instruction, co-teaching, accommodations and modifications, and peer supports.
GET THE EBOOK
Paula Kluth video clips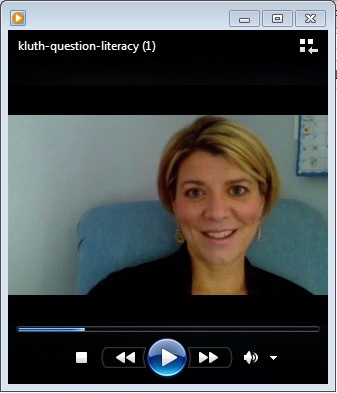 Paula Kluth is one of today's top experts on inclusive education. Click the "Resources" tab on this page for access to 3 videos of Paula answering reader questions on hot topics: high school inclusion, positive behavior support, and literacy development.
WATCH THE VIDEOS
"High-Quality Preschool Inclusion" article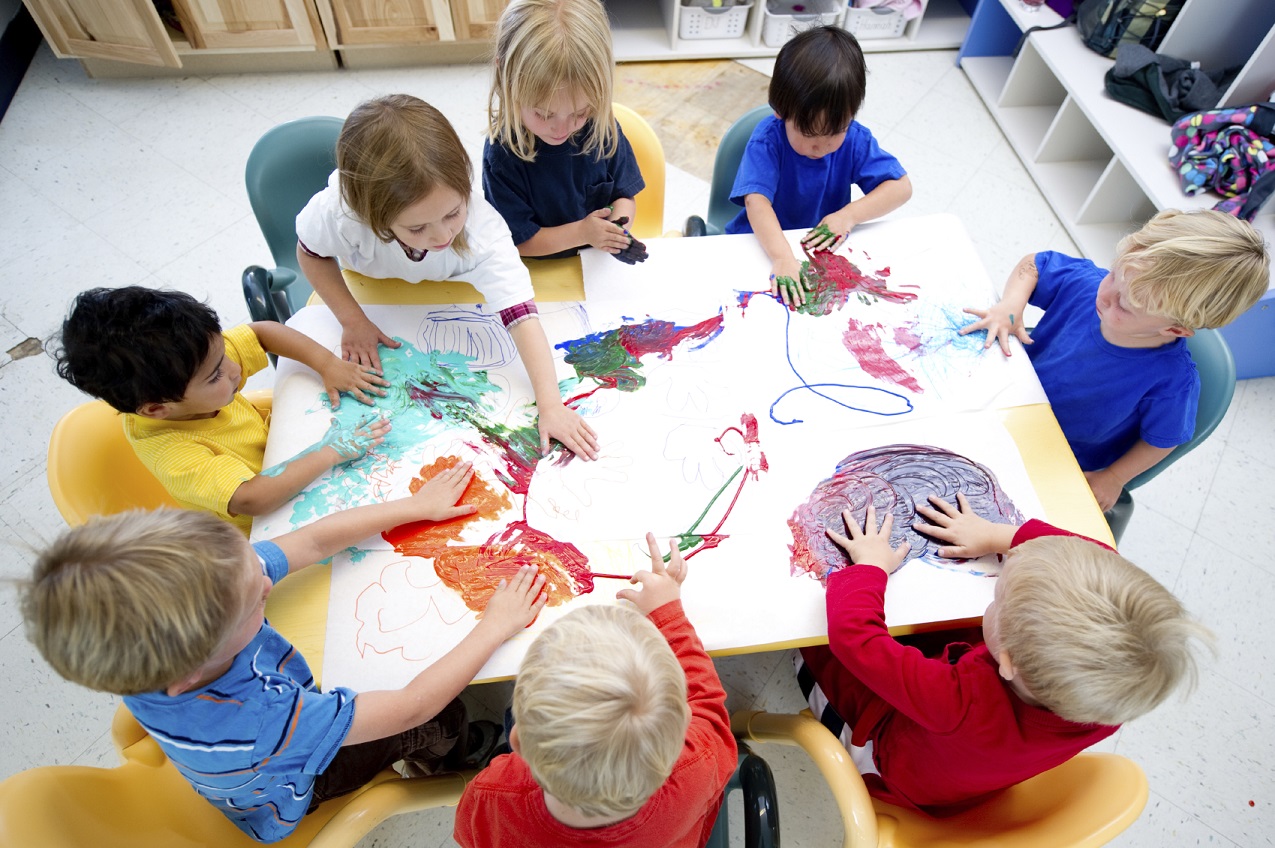 This article from the Brookes Early Childhood newsletter answers 13 frequently asked questions about preschool inclusion–and gives early childhood program leaders some of the basics they need to get started with inclusion in their own program.
Inclusive Education calendar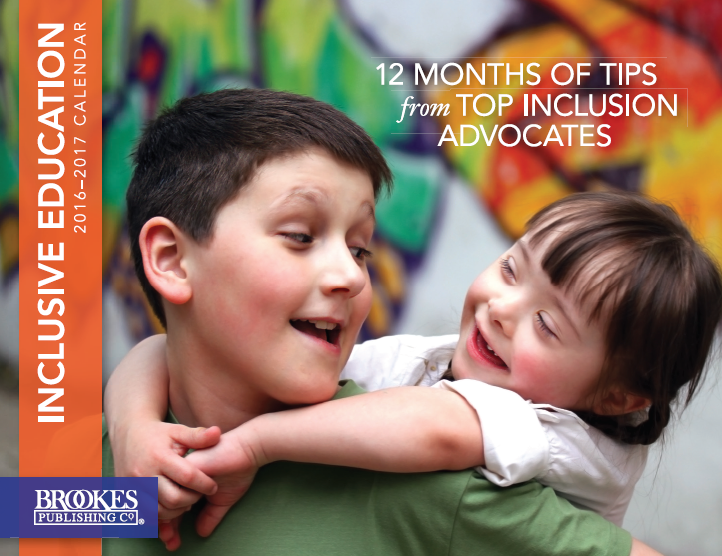 The school year may be half over, but it's still a great time to print and hang this 2016-2017 calendar–filled with beautiful photos and practical tips from some of today's most respected inclusion experts and organizations.
Inclusive Educator Job Description poster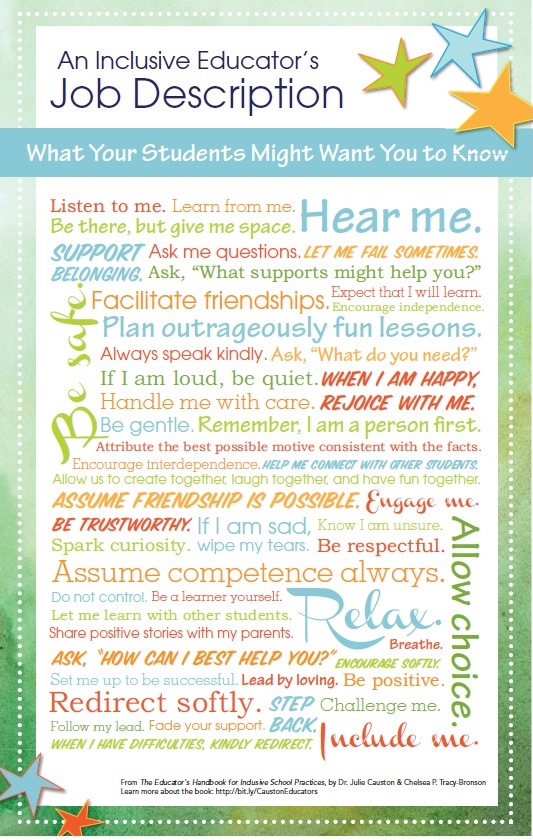 Ready to print and hang in your classroom–or anywhere you'd like a gentle, inspiring reminder of what your kids need–this beautiful poster displays warm and wise words from Julie Causton's Educator's Handbook for Inclusive School Practices. Just click the "Resources" tab at the link below to get your poster today.
PRINT YOUR POSTER
What is Quality Inclusion? (book excerpt)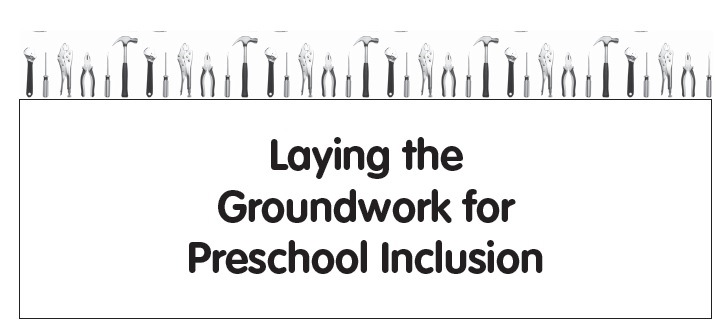 This excerpt from The Preschool Inclusion Toolbox walks you through the components of effective inclusion in early childhood programs. Includes a helpful Preschool Inclusion Self-Checklist that programs can use to assess their current practices and track their progress over time.
Your Toolkit for Inclusive Education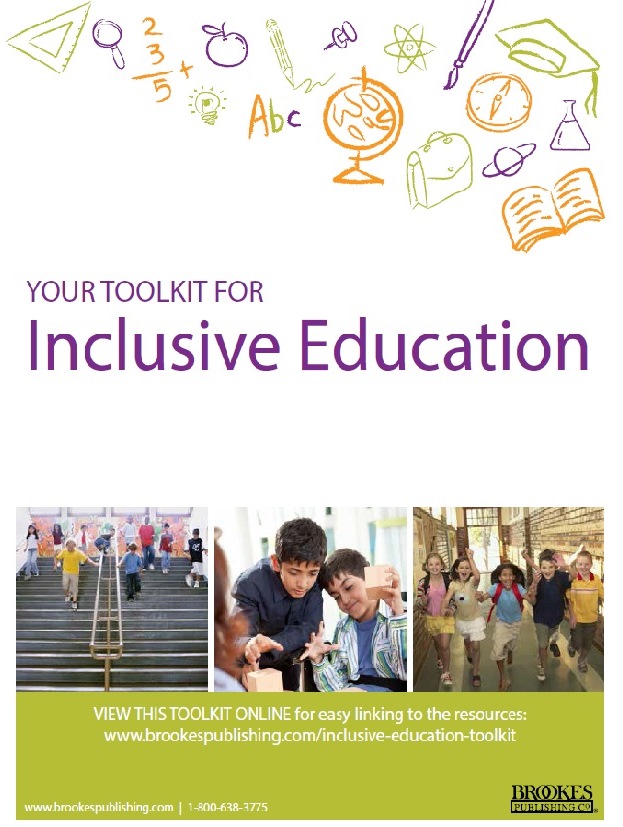 Keep this PDF close at hand–it compiles links to some of the best articles, tips, checklists, activities, organizations, videos, websites, and blogs on inclusive education.
DOWNLOAD YOUR TOOLKIT
Patti Ralabate UDL webinar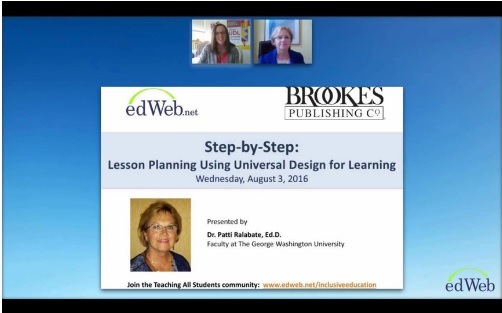 In this ready-to-watch webinar, Step by Step: Lesson Planning Using Universal Design for Learning (presented by Brookes and edWeb), author Patti Ralabate clearly presents the six steps of UDL lesson planning and how to implement them in your work. Click the "Resources" tab at the link below to get access the webinar anytime (and read an excerpt of Dr. Ralabate's book!).
WATCH THE WEBINAR
"Differentiated Instruction: 7 Key Principles and How-Tos" (blog post)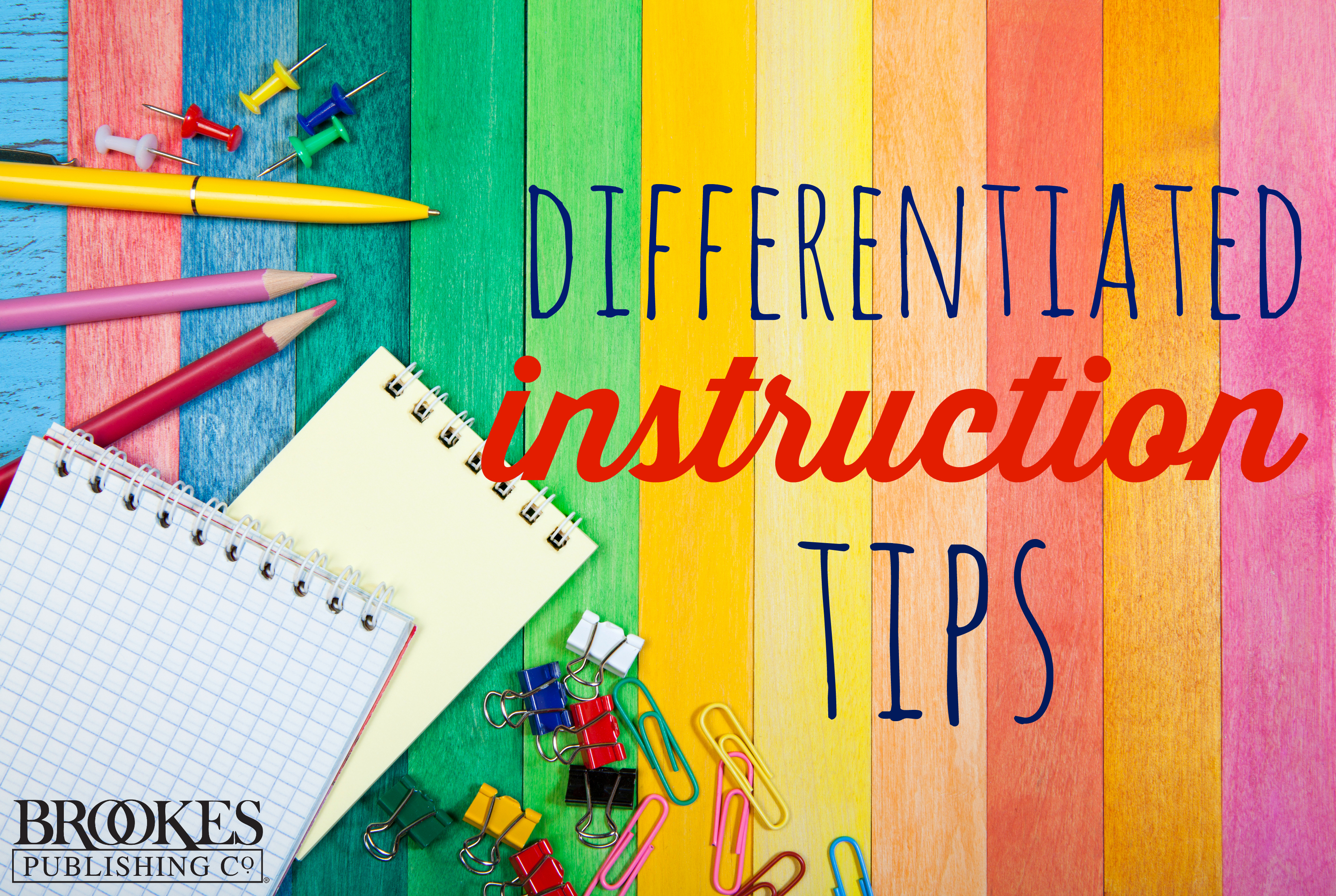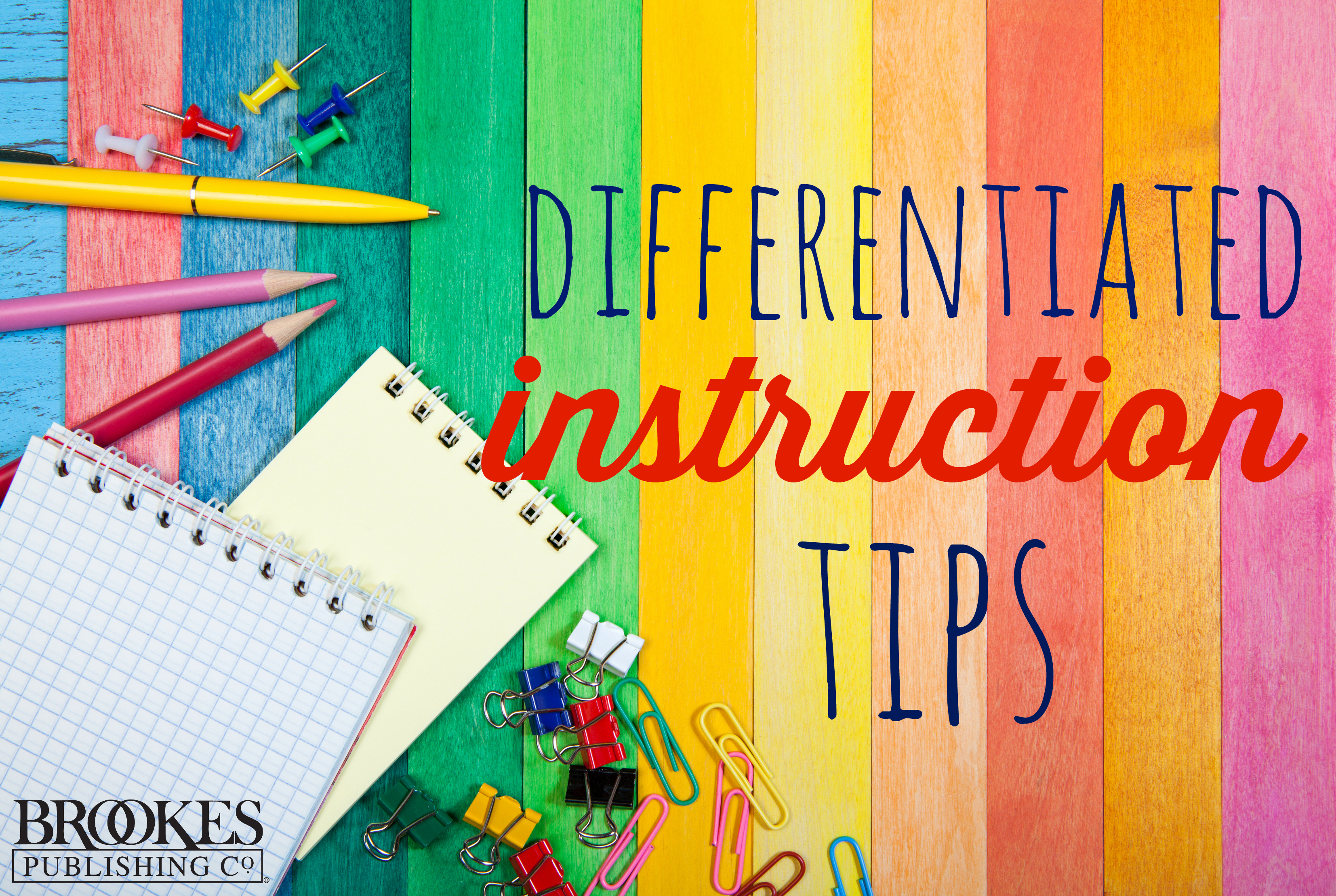 One of our most popular Inclusion Lab posts of 2016, this article explains 7 principles of differentiated instruction and gives you classroom examples for each one.
READ THE POST
***
Hope these resources are helpful to you during Inclusive Schools Week and beyond! To get more free resources on inclusive education all year long, be sure to subscribe to the Inclusion Lab, sign up for the Brookes newsletter, and check out the free webinars and more in our inclusive education community on edWeb.
BOOK GIVEAWAY
[NOTE: The giveaway is over, but you can check out Paula Kluth's books here.]
We've got an amazing prize to give away for Inclusive Schools Week: a package of four books by top inclusion expert Paula Kluth, all signed by the author!
ENTER TO WIN: Comment below with either a.) a challenge you've been experiencing in your inclusive classroom, or b.) a specific topic you'd like to see us cover on the blog in the new year. We'll choose an entry randomly and announce the winner next week right here on the blog! (U.S. entries only, please.)