Spotlight on QUILS: ES
February 23, 2023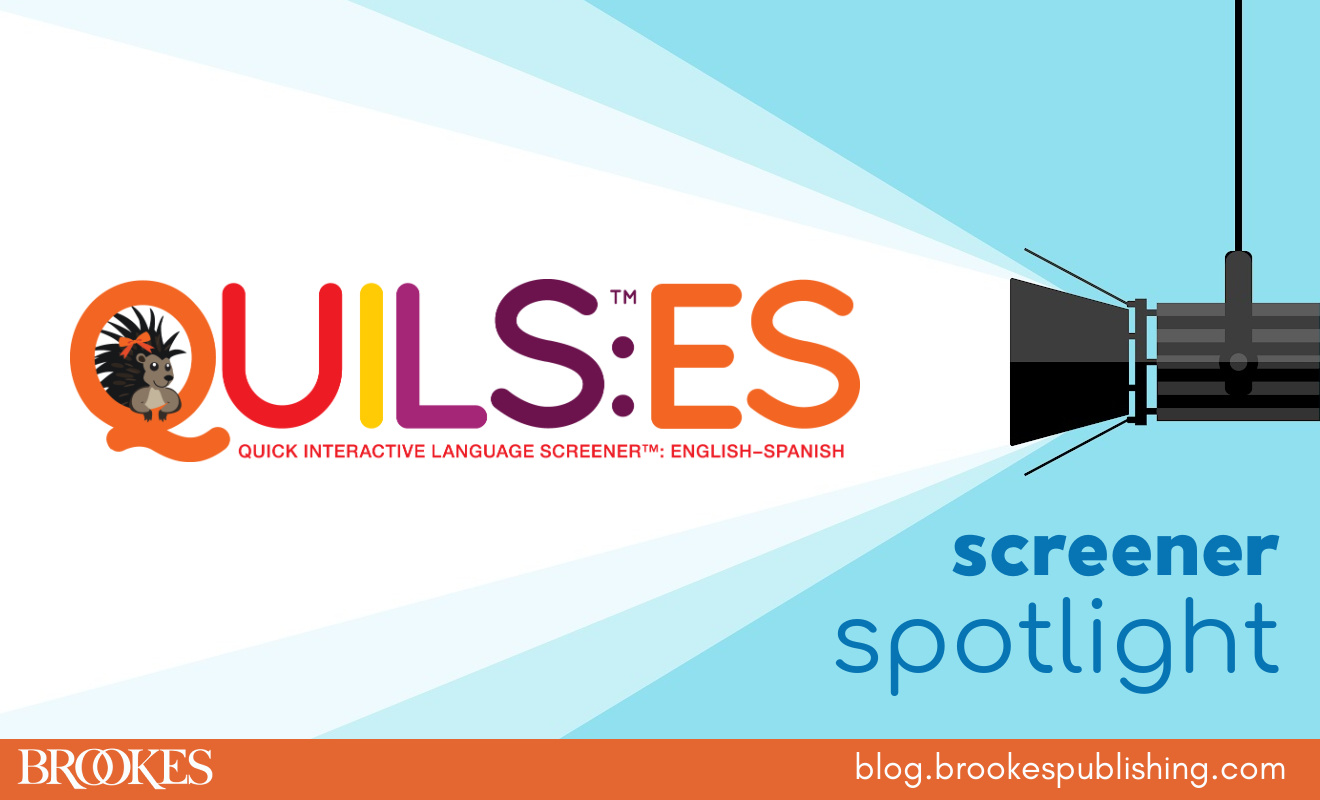 Are the young bilingual children in your classroom making age-appropriate language progress? Screening is the best way to know for sure—and in today's post, we're highlighting a fun web-based screener for use with the growing population of English–Spanish bilingual children from ages 3 through 5. Read on for answers to 8 key questions your early childhood program might have about the Quick Interactive Language Screener™: English–Spanish (QUILS™: ES).
Q:
What areas does QUILS: ES screen in young bilingual children?
A:
Like the QUILS screener for children whose primary language is English, QUILS: ES looks at three key domains of language knowledge that predict a child's later academic success:
Vocabulary: What words do children already know?
Syntax: What do children understand about how words go together in sentences?
Process: How skilled are children at learning new language items?
FREE DOWNLOAD: 4 Reasons to Take a Closer Look at Language Skills of Dual Language Learners
Q:
Is it just a QUILS translation? How does QUILS: ES address the specific needs of bilingual learners?
A:
QUILS: ES isn't simply a translation of the QUILS screener. To give an accurate, comprehensive picture of the skills of bilingual children, QUILS: ES has separate English and Spanish sections. The screener uses the child's highest score per skill type across both the English and Spanish sections to derive their Best Overall Score and their Best Scores for each of the three areas. The English and Spanish sections of QUILS: ES were carefully developed to reflect the variability in grammar rules and word meanings across both languages. The English section is different from the monolingual QUILS and includes all new items, specifically chosen to complement the Spanish section. All items were chosen by child language development experts and examined to reduce bias for any specific dialect.
Because QUILS: ES compares a child's progress to that of other young children exposed to both English and Spanish, it's sensitive enough to pinpoint potential language delays and difficulties in bilingual children. That means bilingual learners who need extra support will be able to get it as early as possible.
Q:
Is QUILS: ES easy to use? Does it take a long time?
A:
QUILS: ES is easy to administer: the child completes it, and no special training is required to supervise the screening. QUILS: ES uses interactive items and cute cartoon illustrations to hook children's attention and keep them engaged throughout the screening. The tablet or touchscreen computer actually does all the "work" of administering the screener and recording the child's answers, so any responsible adult (teacher, paraprofessional, classroom volunteer) can supervise QUILS: ES.
It takes about 15–20 minutes for children to complete each QUILS: ES section (English and Spanish). Scoring is automatically calculated, and reports are ready for download immediately—saving time for busy teachers and others who may supervise the screening.
SEE HOW IT WORKS: Learn about the 6 steps of QUILS administration!
Q:
What kinds of reports can we run through QUILS: ES?
A:
QUILS: ES can create a variety of reports based on your desired criteria. There are three types of reports:
Student Reports: Overview of a student's individual screening, including overall performance, area scores, and a brief recommendation
Parent Report: Overview to facilitate a conversation with parents about their child's performance
Group Reports: Overview of multiple students based on selected criteria, allowing an at-a-glance view of the screening results or status information
Q:
Does the adult supervising QUILS: ES have to be fluent in Spanish?
A:
No—The adult who supervises QUILS: ES doesn't need to be a Spanish speaker. The narration and instruction to the child are in Spanish, but instructions for the supervisor are in English, and each section of the screener progresses automatically (unless the supervisor pauses it).
WATCH A QUILS: ES WEBINAR! Language Screening of Pre-School Bilingual (Spanish-English) Children, presented by Aquiles Iglesias, Jill de Villiers, and Roberta Golinkoff
Q:
Is there evidence that QUILS: ES is reliable and valid?
A:
Yes. QUILS: ES was tested with a normative sample of 362 children, grouped into 3-, 4-, and 5-year-old age bands. Psychometric studies, including Rasch analyses, have established the reliability and validity of QUILS: ES. The items in QUILS: ES were carefully selected to be culturally neutral, and DIF analysis ensured that there is no gender bias. (Review the evidence base for QUILS: ES in this free excerpt from the manual.)
Q:
What technology do we need to use QUILS: ES?
A:
For QUILS: ES administration, all you need is a tablet, laptop, or desktop with touchscreen technology and Internet access. (For more in-depth answers to your technical questions, see this QUILS FAQ page and download this handout.)
Q:
Can we use QUILS: ES remotely, or does it have to be administered in person?
A:
During COVID-19 closures, the QUILS: ES team worked to support ongoing screening efforts while balancing the need to ensure the integrity of the QUILS: ES tool. They developed guidance on how to administer QUILS: ES over a web conferencing platform, to help practitioners and researchers continue their important work when in-person administration isn't possible. You can download the guidelines for remote QUILS: ES administration here.

Native Spanish speakers make up the bulk of students nationwide identified as English language learners—the fastest-growing demographic in schools. QUILS: ES is the best and most accurate way to get a complete picture of the language skills of these bilingual children. Add this screener to your program's toolbox of resources to help set dual language learners up for long-term success!
TAKE THE NEXT STEP: Visit the QUILS website for more resources, excerpts, and case studies.