The Benefits of Peer Supports: A Middle School Case Story
June 14, 2022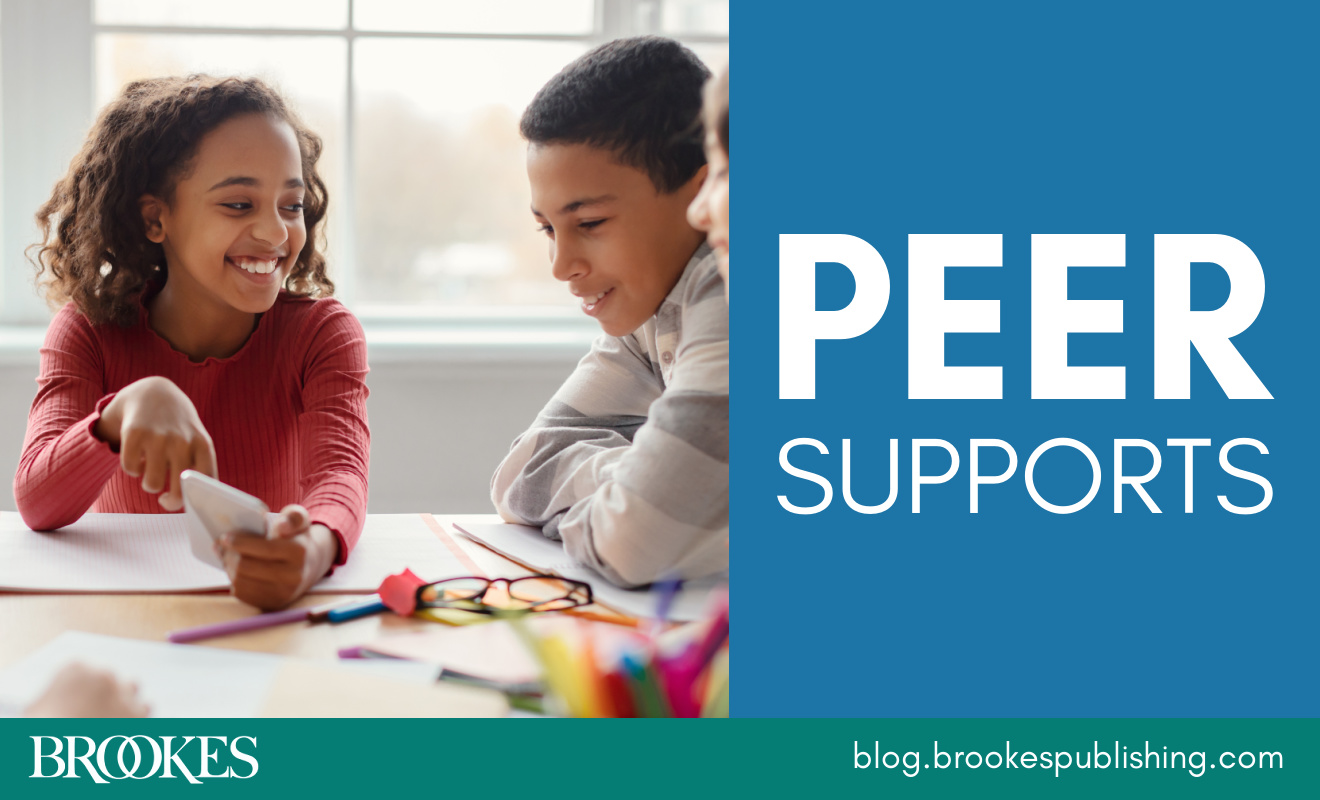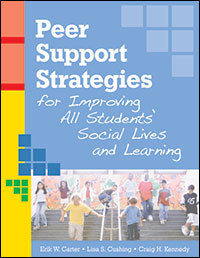 Offering a wide range of benefits for students with and without disabilities, peer support arrangements are one effective strategy for supporting authentically inclusive education. In today's post, you'll read a compelling case story that illustrates the benefits of peer support arrangements in a middle school. Excerpted and adapted from Peer Support Strategies for Improving All Students' Social Lives and Learning by Erik Carter, Lisa S. Cushing, & Craig H. Kennedy, this example shows how peer supports can help promote access to the general curriculum and social interactions for students with disabilities (including significant disabilities).
***
Although inclusion and equity are central to the mission of Roberts Middle School, students with significant disabilities have not always participated fully in the life of this school. As part of their school improvement plan, administrators and educators committed to rethinking the avenues through which they supported general education participation for students with extensive support needs. In addition to emphasizing collaborative teaming and differentiated instruction within professional development trainings, the school also decided to infuse peer support strategies more prominently into their service delivery model.
Eli is a seventh grader who loves being a student at Roberts. He enjoys most of his classes (except math), gets along well with most of his teachers, and looks forward to going to school each day, except when he has a test. Although he has a significant disability, he is pretty typical of most students at his middle school. Rather than communicating verbally, Eli uses an augmentative communication device to interact with others, express his needs and wants, and participate in class activities. And because of his cerebral palsy, he uses a motorized wheelchair to navigate the school campus.
Last year, Eli received direct support from Ms. Shodren—a paraprofessional who is working toward obtaining her certification as a special educator—in most of his classes. Although Ms. Shodren continues to be present in many his classes, Eli now works with several peers throughout the school day. His teachers used a variety of approaches to identify interested peers, and now Eli is paired with Saundra in English, Terry in social studies, and Matthew in science. Ms. Shodren spent time with each of these peers at the beginning of the semester to show them how to use basic instructional strategies, help Eli participate in group activities, program his communication device, and encourage interactions with other classmates.
As these peers became more confident in their ability to support Eli academically and socially, Ms. Shodren shifted to a more supervisory role in which she checked on them periodically throughout each class period, made sure they stayed on task, and provided any needed assistance the classroom teacher was not able to provide. Saundra, Terry, and Matthew all know that Ms. Shodren and the classroom teacher remain available to assist them if they need help or if they need to spend more time completing their own work.
Ms. Shodren continues to provide support to Eli and his peers, helping Eli to access the curriculum in meaningful and successful ways. She communicates regularly with the general and special educator to make sure that the necessary adaptations and modifications are considered in advance. When she is not working directly with Eli and his peers, Ms. Shodren typically circulates around the classroom, providing help to other students who need extra support.
Eli's peers have made a great difference in his day-to-day life. In English, for example, Saundra assumes a variety of roles, including helping Eli take basic notes, learn key vocabulary words related to the lesson, keep track of his homework assignments, and record his answers. She also models for other classmates how to interact with someone who uses an augmentative communication device. Although students were curious about his device, they were initially hesitant to start a conversation with Eli—nervous that they might say the wrong thing or touch the wrong button. Seeing Saundra converse with Eli helped his classmates feel at ease. When Eli is frustrated, needs help, or wants to share something, Saundra encourages him to use his device to communicate his needs, rather than screaming. When the bell rings, Saundra and her friends usually walk with Eli to his science class, introducing him to other students they see, talking about what each plans to do after school, and helping him navigate the crowded hallways.
Eli interacts with many more of his peers than he did last year. Through these relationships, Eli is acquiring important social skills and expanding his friendship network. Instead of engaging in challenging behavior, he is learning to communicate his needs in more socially appropriate ways. Eli's peers feel comfortable letting him know when his behavior is just "not cool," just as they do with their other friends. Although Ms. Shodren has been trying to communicate this same message, Eli seems to respond much better to when he hears it from his peers.
Saundra, Terry, and Matthew all try to encourage their classmates to get to know and help Eli during class. Gradually, other students are beginning to hang out with Eli at lunch and after school and new relationships are forming. Eli finally feels like he truly belongs in his classes. The benefits of peer support interventions are certainly not limited just to Eli. His peers are learning valuable lessons, gaining important skills, and developing new friendships. Saundra, Terry, and Matthew—as well as their classmates—now have an opportunity to get to know one of their classmates with whom they had previously had limited interactions. And they are discovering that although Eli may do some things differently, he shares far more in common with other seventh graders than they had first realized.
Although Saundra's parents were initially hesitant she might fall behind in her work, Saundra continues to maintain an A average in all of her classes. Matthew and Terry, however, actually increased their grades when working with Eli. Both previously struggled in most their classes, but each found the extra help they received from Ms. Shodren and the strategies they learned to support Eli helped keep them more engaged and focused during class.
***
This example highlights some of the many ways peer supports can help students with disabilities access inclusive learning and social opportunities—and improve educational and social outcomes for typically developing students, too. For a complete guide to implementing peer support strategies in middle and high schools, pick up the book behind today's post!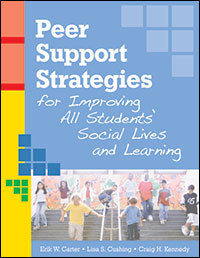 Peer Support Strategies for Improving All Students' Social Lives and Learning
By Erik Carter, Ph.D., Lisa S. Cushing, Ph.D., & Craig H. Kennedy, Ph.D.
A complete, start-to-finish guide to peer supports, this book is packed with photocopiable planning, implementation, and evaluation tools; evidence-based strategies; and vignettes that illustrate successful peer supports. Get this must-have book and create schools where all students—with and without disabilities—help each other reach their academic goals, make new friends, and live full and meaningful lives.
GET THE BOOK
Topics
Tags