10 Musts for Teaching Literacy Skills to Students with Significant Disabilities
February 4, 2020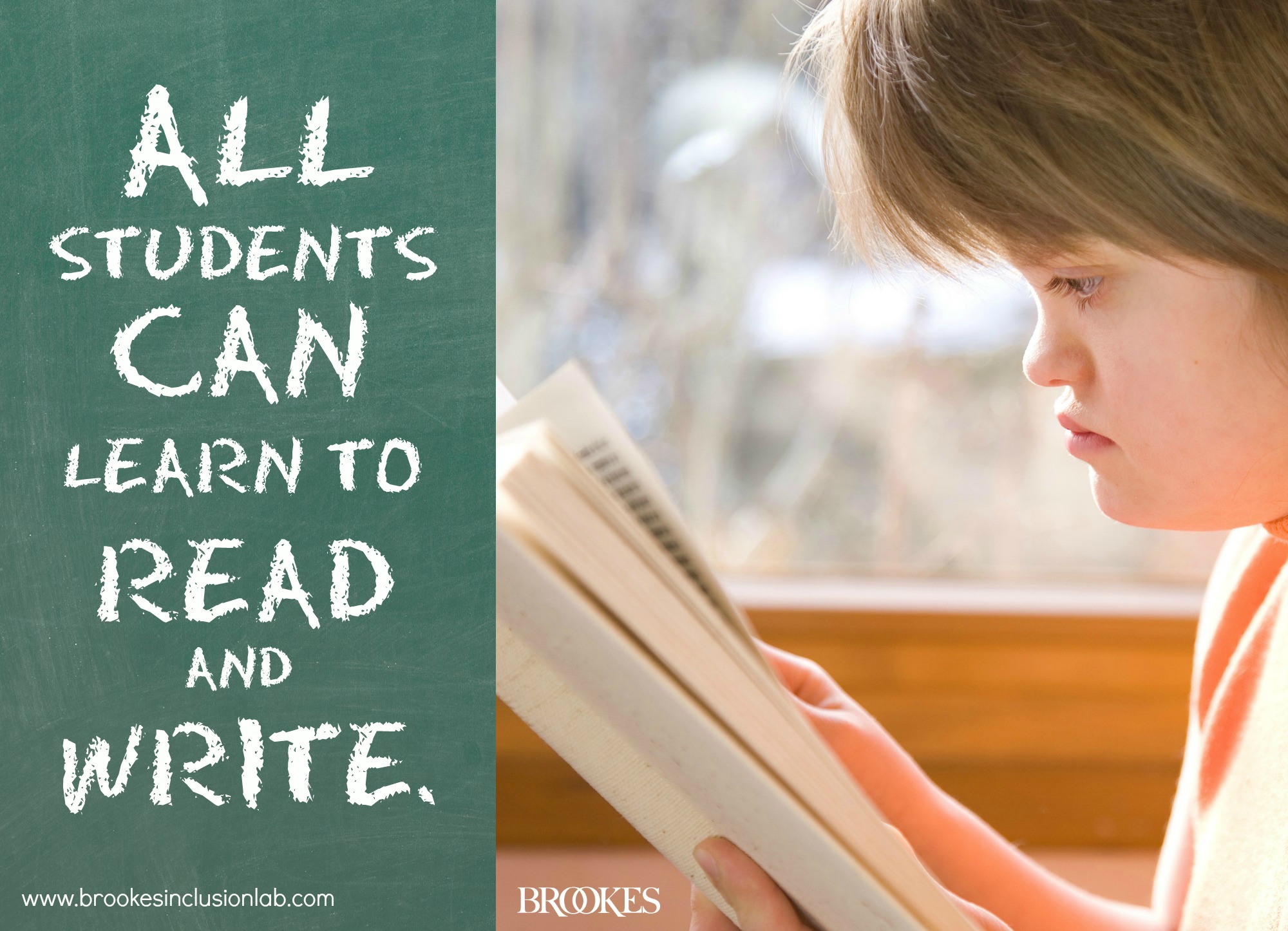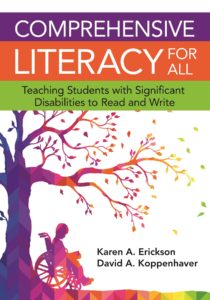 All students can learn to read and write. That's the belief behind the new book Comprehensive Literacy for All, written by Karen Erickson & David Koppenhaver. Today we'll be looking at a few key findings from this innovative, forward-thinking book, which fully explores how to provide comprehensive, high-quality literacy instruction to students with significant disabilities.
Erickson & Koppenhaver are both professors and literacy researchers with a history of classroom experience. In their research, they've identified 10 success factors that are present when students with significant disabilities are learning to read and write. In today's post, we share a summary of these elements, excerpted and adapted from Comprehensive Literacy for All. Use these elements (and the accompanying suggestions) as a starting point for supporting students with significant disabilities as they learn critical literacy skills they'll use forever.
Success factor #1: Knowledgeable others
To become literate, students with significant disabilities need the cooperation and collaboration of a whole team of supportive adults. They require:
teachers who un­derstand that learning isn't dependent on perfectly functioning bodies and oc­curs at different rates
families who read with them, build their confidence, and partner with teachers and other ser­vice providers
SLPs to implement effective language and commu­nication interventions
occupational therapists to help them make books and writing tools more accessible
AT specialists who support them in making their world more accessible
collaborative teams who believe in the student's abilities and are willing to problem-solve and experiment as long as it takes to achieve success
Success factor #2: Means of communication and interaction
Students with significant disabilities need a reliable way to communicate precisely with classmates, educators, and families. Learners need to be able to:
make predictions, summarize main ideas, ask questions, and make comments during literacy lessons
suggest revision and editing ideas during peer writing conferences
talk to family members, classmates, and teachers about their reading preferences
Providing individualized communication support to students will help them become active members of your literacy learning community. (For a whole chapter on using assistive technology to support literacy, see Comprehensive Literacy for All.)
Success factor #3: Repetition with variety
Repetition with variety keeps learning interesting, prevents students from tuning out during instruction, and helps your students grow as readers and writers by increasing their independence and flexibility. Try these strategies for engaging and teaching students through repetition with variety:
Work with students to revise a text for publication. Revisit the text to consider whether it conveys what the author intended and whether the intended audience will understand.
During shared reading, model and interact with beginning communicators using core vocabulary—but use it differently on each page and in each text.
Conduct word wall lessons. Introduce a new set of words each week and then engage the class in dozens of different daily activities with all the words to help increase sight word knowledge.
Hang sentence charts that build on prior knowledge. Make these predictable charts where the beginning sentence stems are same, but the con­clusion of each sentence is based on individual students' interests.
Success factor #4: Cognitive engagement
Cognitive engagement, as defined by Erickson & Koppenhaver, is "the act of putting persistent effort into mental pro­cesses such as thinking, reasoning, and judgment in order to understand and learn." Focusing on students' cognitive engagement can have many benefits, from greater time on task to increased persistence when challenges come up. You can encourage cognitive engagement during literacy activities by:
Offering students choices of writing topics
Giving students time to share their writing with classmates
Modeling how to make predictions about story events based on illustrations
Encouraging students to write more and avoiding specific instructions when it's time to revise
Success factor #5: Cognitive clarity
"Why are we learning this, and why is it worth remembering?" To help your students answer this question, hone their sense of cognitive clarity. You can do this by engaging students in meaningful and interesting tasks like these:
When a letter is introduced, assist students in writing words that begin with that letter and composing texts for real audiences requiring use of that letter.
When students are reading for meaning, set a purpose to guide their comprehension and help them make connections between what they already know and the text to be read.
When students are writing first drafts, remind them to read aloud what they have written to see if it sounds like what they meant to write.
When students have cognitive clarity, cognitive engagement follows—and generalized learning isn't far behind.
Success factor #6: Personal connection to the curriculum
"What's in it for me?" Students learn better when they have a good answer to this question. Build students a bridge to learning by helping them make personal connections to the curriculum. For example:
In writing activities, facilitate student topic choice and publish student writing.
In guided reading lessons, regularly choose texts that build on students' existing understanding and experience.
In self-directed reading, continually seek out texts for student reading or listening that represent individual or collective student interests. Acquire a wide variety of books in your classroom to increase the possibility of students making personal connections between literature and their own lives.
Success factor #7: Encouragement of risk taking
Risk taking in the classroom often leads to new learning—but fear of failure may loom large in the minds of students who have learning struggles. Encourage your students to take more academic risks by establishing a sense of safety and belonging in the classroom. For example:
Accept noncon­ventional communication attempts to show students that it's safe to try to communi­cate.
Avoid restricting reading choices to narrow achievement bands.
Praise your students' use of strat­egies, regardless of the outcome.
Encourage discussion about reading rather than focusing mainly on assessing student understanding.
Convey to students that their ideas matter more than their test scores.
Model potential new ways of communicating ideas.
Publish all students' work.
As students feel safe and supported in your classroom, they'll likely become more willing to take academic risks, making it easier to acquire new skills.
Success factor #8: Comprehensive instruction
Comprehensive instruction hinges on two big ideas:
Students learn to read and write in different ways.
To meet students' different needs, teachers must teach everything about reading and writing, from letter–sound relationships to reading fluency to independent text comprehen­sion.
Clearly, there are only so many hours in your school day, and it's difficult to teach every­thing about reading and writing in such a limited timeframe. But you can organize your day to accommodate the widest possible array of learning opportunities. (For a complete guide to comprehensive instruction, see the Erickson & Koppenhaver book.)
Success factor #9: Significant time allocation
Comprehensive literacy instruction requires a significant time investment—but students with significant disabilities may receive very little time for literacy learning. Consider implementing a comprehensive instruction framework that helps you determine the broad emphasis of each period of instruction and what your time allocations should look like. (The guidelines provided in Comprehensive Literacy for All can help.)
Success factor #10: High expectations
Keep your expectations high for all students—the least dangerous assump­tion is to assume that every learner is capable of emergent literacy and communication, regardless of disability. Encourage students to build their skills through a wide variety of activities:
Daily reading aloud with the student
Writing or partner-assisted writing activities
Interactions and modeling with symbolic communication
Shared reading interactions
Predictable chart writing
Independent student access to books
As Erickson & Koppenhaver state in their book, "successful teachers of students with sig­nificant disabilities do not ignore their diffi­culties. They simply recognize that although disabilities affect literacy learning, they need not impair it." The bottom line is, every learner deserves access to high-quality reading and writing instruction—and with the right supports, everyone can become a literate citizen.
EXPLORE THE BOOK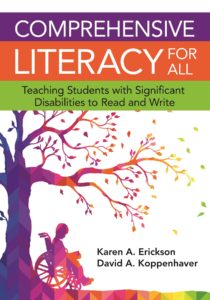 Comprehensive Literacy for All
Teaching Children with Significant Disabilities to Read and Write
By Karen Erickson, Ph.D., & David Koppenhaver, Ph.D.
Drawing on decades of classroom experience, the authors present their own innovative model for teaching students with a wide range of significant disabilities to read and write print in grades preK–12 and beyond. Foundational teaching principles blend with concrete strategies, step-by-step guidance, and specific activities.
LEARN MORE