9 Inclusion Resolutions for 2020
December 10, 2019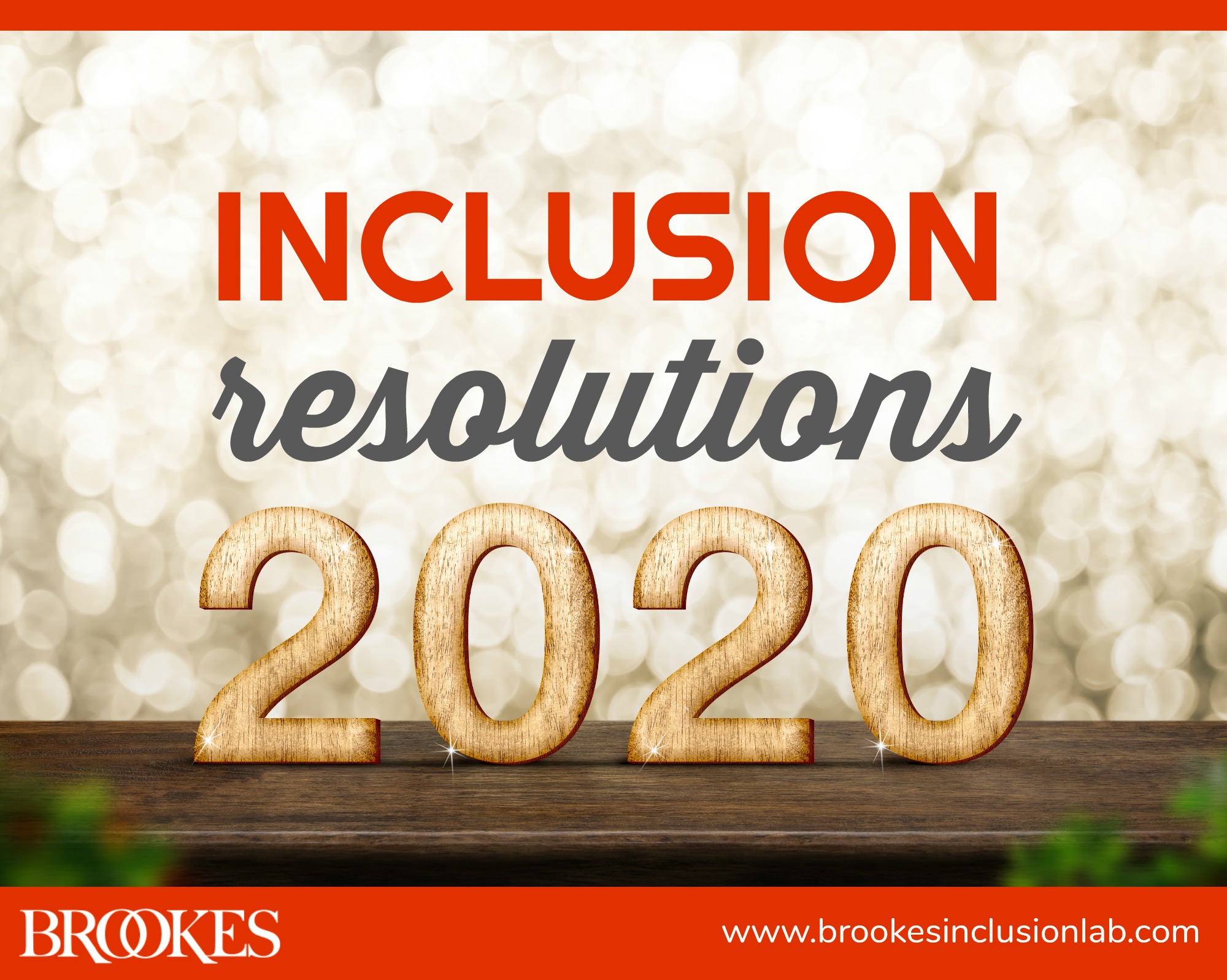 Hard to believe, but it's almost time to say goodbye to 2019. As you close the book on another year—and look forward to the second half of the school year—are you making any teaching-related resolutions?
New Year's resolutions don't work for everyone; many people prefer a less formal, lower-pressure approach to embracing change and making improvements. But if you're a "resolution person" who loves writing your goals down at the start of a new year (on fancy cardstock…in calligraphy…), today's post might be for you. Today we're sharing 9 inclusion-related resolutions you might consider making in the new year, including links to some of our best blog posts and other helpful resources to get you started.
Here's to a happy and productive 2020! Thanks so much for reading our Inclusion Lab posts this year, and keep our blog bookmarked for much, much more to come!
I will learn what's worked in other classrooms and give new inclusion strategies a try.
With so many plates spinning in the air, it can be tough to even think about what's going on in other classrooms. But since fellow teachers are the best source of information and support, make it a goal to reach out to at least a few inclusive educators you haven't talked to before—whether in school, on social media, or at a conference—to exchange ideas and problem-solve together.
If you're more of a learning-from-books kind of person, we've got a few guides that are almost like having your own inclusion mentor by your side. Nicole Eredics, a seasoned inclusive educator, shares lots of stories about what worked for her in the bestselling book Inclusion in Action. And in Picture Inclusion! (by Rapp, Arndt, & Hildenbrand), you'll find dozens of student snapshots and lesson plans from model inclusive classrooms to mine for insights and lessons.
I will get started with UDL.
Are you a UDL convert in theory, but you're not sure where to begin? If figuring out your first steps to UDL is on your resolution list, we have some great resources to recommend. Start with this post to access free UDL resources—podcasts, videos, online tools, and more—that help you bring UDL from theory to practice and show you what it looks like in real classrooms. And if you don't have this on your calendar already, set a reminder to participate in #udlchat on Twitter, where you can connect with fellow educators and share tips and strategies.
I will look for new ways to support students affected by trauma.
An authentically inclusive classroom makes every student feel safe and welcomed. For the many students who experience trauma severe enough to negatively affect their school success (one in four, according to the National Child Traumatic Stress Network Schools Committee), teachers need to be proactive about creating a trauma-sensitive learning environment.
New Brookes author Jen Alexander can help. A seasoned school counselor and teacher trainer, she's an expert on building school environments that address the needs of children who experience trauma and reduce their barriers to learning. Start by reading this blog post (adapted from her book) for 11 tips on making your inclusive classroom a safer and more nurturing place for all students. Then watch an engaging Q&A with Ms. Jen, see and share this short video on trauma from Brookes and We Are Teachers, and get an excerpt of the book Building Trauma-Sensitive Schools.
(What kind of content would you like to see us develop on the topic of trauma-sensitive schools? Professional development materials? Webinars? Practical guides? Let us know in the comments—this is an important topic that we'd like to address in greater depth.)
I will make time for more collaboration and co-planning with colleagues.
There are so many ways to devote more time to partnerships with other members of your team!
Read this post for some good tips on carving out more time for collaboration.
If you're a coteacher, join #coteachat on Twitter to exchange collaboration tips with fellow educators.
Check out Two Teachers in the Room, Elizabeth Stein's excellent Middleweb blog on coteaching.
Take a look at the infographic in this blog post, which shows how one school made a few relatively simple changes so their teachers could reap the benefits of collaboration.
I will troubleshoot my organizational system and fix what isn't working.
Mostly everyone (students and teachers alike) starts the school year with freshly sharpened pencils and the best of intentions—but by December, your pencils have probably pulled a disappearing act and those folders and baskets might need an organizational tune-up.
When it comes to organization, Cindy Golden is our resident expert—she's the author of The Special Educator's Toolkit, a practical guide to expertly managing everything from schedules and paperwork to student supports and behavior plans. This blog post shares some of Dr. Golden's tips on organizing three key types of teacher paperwork: lesson plans, student work, and student information. See if there's a tip or two you can implement in the new year! (And to help with that nagging disappearing-pencil problem, here are some creative tips from the folks at We Are Teachers.)
I will seek out some new ways to confront bullying, inside and outside the classroom.
According to a 2018 survey of more than 160,000 students conducted by nonprofit group YouthTruth, bullying is on the rise among middle and high-school students—one third of the students who were surveyed reported being bullied.
Bullying is a complex problem without an easy solution, but small positive actions can have a big impact. In the new year:
I will try to infuse more joy into my classroom.
We live in uncertain times, and some days joyfulness doesn't come easily. But today's kids need warmth, positivity, and small celebrations more than ever—and you probably do too.
As a starting point, read this blog post—based on the work of Julie Causton and her colleague Kate MacLeod—on how to cultivate and share joy in your classroom and in yourself. Pick one or two ideas to try in 2020 (we especially love the Share a Note and Blog It activities). And as the new year gets underway, share your own strategies on social media (if you do, please tag us at @BrookesPubCo—we'd love to hear what you do to make your classroom a joyful place).
I will find more ways to celebrate diversity.
Tolerance may have been a buzzword in the past, but in today's diverse and inclusive schools, simple tolerance of differences isn't enough. As Carol Tashie and Zach Rossetti note in their contribution to the book Quick-Guides to Inclusion:
"It is not enough for schools to simply tolerate the differences among us, for tolerance implies a hierarchy of value. One prizes good health, but tolerates a cold. When schools promote tolerance, they send the message to students that, "You are welcome only if you act, look, sound, think, and talk like us." This reinforces the prejudice of a social hierarchy, decreasing the likelihood that students will become friends. On the other hand, when schools strive to celebrate diversity, they send the message to all students, "You are welcome as you are and we need you as you are."
To help create a learning environment where diversity is celebrated:
I will start preparing students for life beyond the classroom.
Get your students thinking about what they want their adult lives to look like. What are their hopes and dreams? What kind of career might they be interested in? What do they NOT want to do in the future? Even if your students seem too young to be thinking about their adult lives, it's never too early to start planning!
Here are some good resources to help you support all students in mapping out a bright future:
What's your biggest "inclusion resolution" as we start a new decade and look to the future? Share it in the comments below—and stay tuned to the Inclusion Lab in the new year for more quick tips and how-to strategies for inclusive educators!
Topics