"Start with Strengths": An Inclusion Q&A with Author Julie Causton
August 21, 2018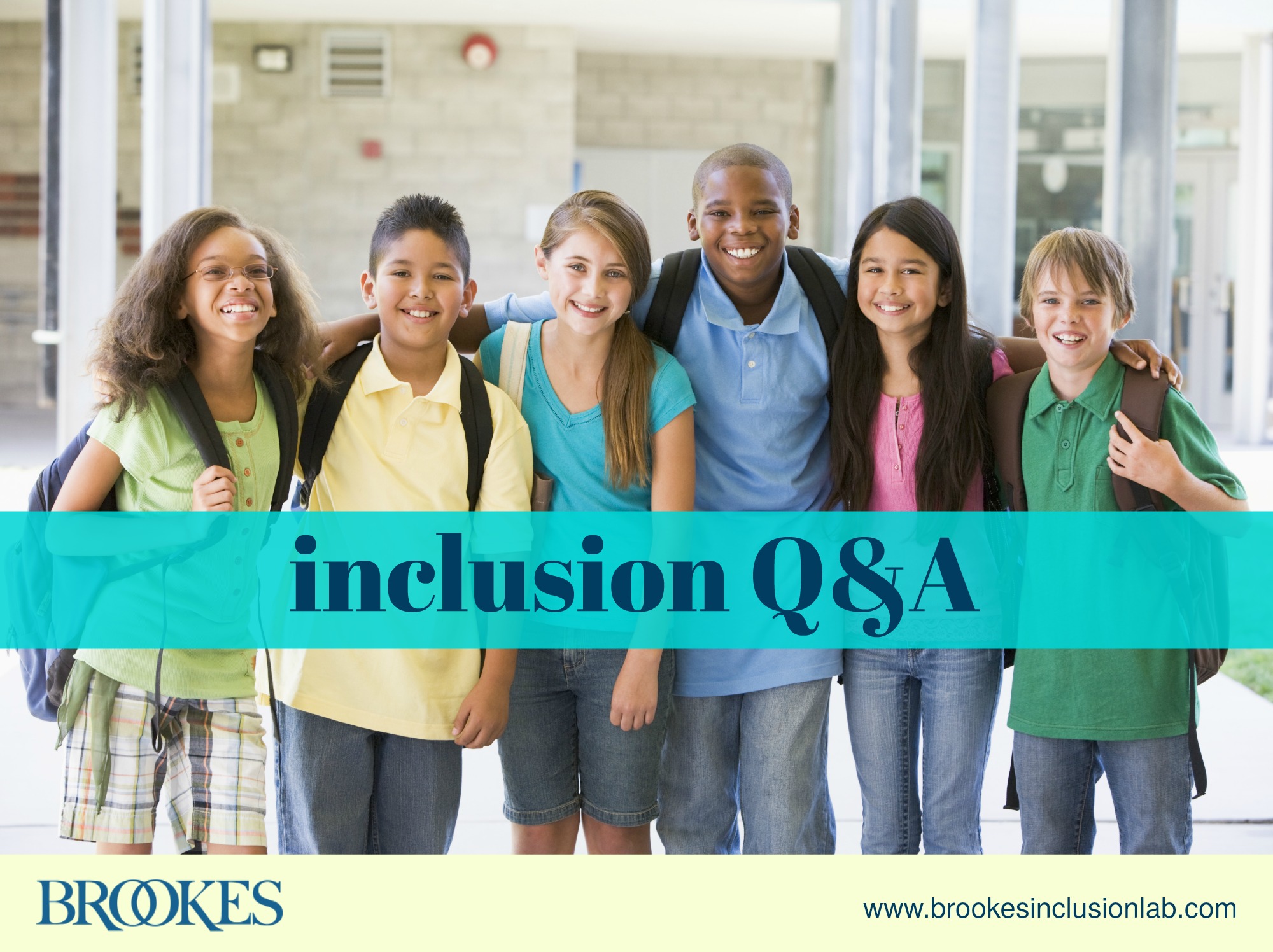 For this year's inclusion calendar, "Inclusion is More than Just Being In," we spoke to several Brookes authors about how to create authentic inclusion in classrooms and across whole school communities. We got awesomely enlightening answers, some of them so thoughtful and detailed that they wouldn't fit in the calendar! So over the next month or so, we'll be highlighting the full text of these Q&As right here on the Inclusion Lab.
First in the spotlight is Brookes author Julie Causton, coauthor of the popular Inclusive School Practices series. Here, Julie shares her words of wisdom about the biggest success factor in inclusive classrooms, her favorite inclusion resources, advice for new educators, and more.
Q.What's one specific thing you do—or encourage other educators to do—to ensure that students with disabilities are more than just physically "in" your classroom and experience full participation as a valued member of their school community?
A. We create what we measure, so I tell them to measure different and weird things. In the field of education, we are used to measuring phonics skills and math-fact speed, and that is all very important. But also: measure laughter, measure smiles, measure the number of times students interact and connect. Measure the number of times students spontaneously help each other or wipe a friend's tears. Because when we measure the right things, we can create the conditions where real learning can occur.
Q. What advice do you have for educators new to inclusion?
A. I'd have to say I have two pieces of advice. The first is to start with strengths—when designing lessons, think about the strengths (not weaknesses) of students. Then you will create experiences where children are motivated and able to shine. You can work on challenges by using strengths.
Secondly, I would say, let children lead this work. Students know naturally how to include one another. We are only there to provide guidance and support. And sometimes, you can sit back and watch the real beauty that happens naturally.
Q. How did you gain the knowledge and skills necessary to create authentic inclusive environments?
A. I had an excellent education at the University of Wisconsin-Madison and incredibly talented professors (Lou Brown, Alice Udvari-Solner). But after that, I'd say I learned from students and parents primarily. They showed me that all people want is an authentic, happy life filled with friendships, fun, and access to anything anyone else has access to. So I learned to create meaningful, important goals for people—and I learned how to remove barriers and make the act of learning outrageously fun!
Q. What is one thing that an inclusive classroom absolutely must have?
A. Love! People think it is weird that I talk about love in schools. But more than ever, we need schools to be places of love and connection. Of course we know inclusion improves test scores, but it's more than that. Inclusion makes for real friendship, real life, and real love.
Q. Why did you make the decision to work in this field?  
A. I visited a special education classroom when I was student teaching. I was embarrassingly surprised at how gifted and talented this group of students were. At the same time, I was stunned to see what these students did not have access to. I decided that something must be done to get these students access to peers, as well as general education content and curriculum. Although I was a special educator, I was more an advocate for changing this outdated system. So although I work inside the system, my main focus is to change it to make it more humanistic and supportive of student growth through inclusion.
Q. What's one "big idea" of inclusion that we should follow?
A. The more we move away from the idea that students with disabilities need to be fixed and toward the idea that disability is diversity, we can have an entirely different and wholly better approach.
Q. What inclusion resources do you recommend for educators?   
A. Besides my books? Anything by Paula Kluth, Dan Habib, Cheryl Jorgensen, Alice Udvari-Solner, or Rich Villa. [Editor's note: We especially recommend Paula Kluth's "You're Going to Love This Kid!" professional development package and Cheryl Jorgensen's new book, It's More than "Just Being In."]
Thanks to Julie Causton for sharing her inclusion wisdom! If you want more from Julie, she's also co-developed an awesome online course for paraprofessionals and launched a podcast on inclusion with her professional partner, Kate MacLeod. Check them out, and be sure to explore her Inclusive School Practices book series if you don't have it already!
GET THE CALENDAR 
Download our new inclusion calendar with quotes and tips from educators and experts.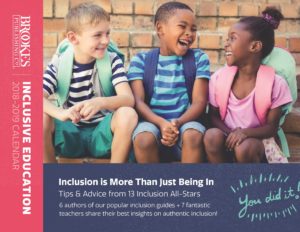 Topics