11 Tips for NEW Inclusive Educators
August 25, 2015
[*Congratulations to Nancy, winner of our Paula Kluth signed book giveaway! Enjoy your free copy of You're Going to Love This Kid; hope it gives you lots of great ideas for including all children.]
Hi, teacher friends…and welcome to your new school year!
When you're a new teacher in an inclusive school, starting your first year can be a roller coaster. There's so much to learn and prepare for, from partnerships with parents and other teachers to logistics like classroom setup and curriculum modifications.
Over the next few weeks, we'll be sharing some quick tips and ready-to-use resources for inclusive educators. Print them out, tack them to your bulletin board, share them with your favorite teacher–they're a great way to start your successful school year.
First up: 11 tips from veteran educator Julie Causton, an in-demand inclusion expert and author of these books on inclusive school teams. We love these real-world survival tips because they're just like Julie: fun and high-energy, but also smart and practical. Here's a colorful, pinnable version for you–enjoy, and please share with the other teachers in your life: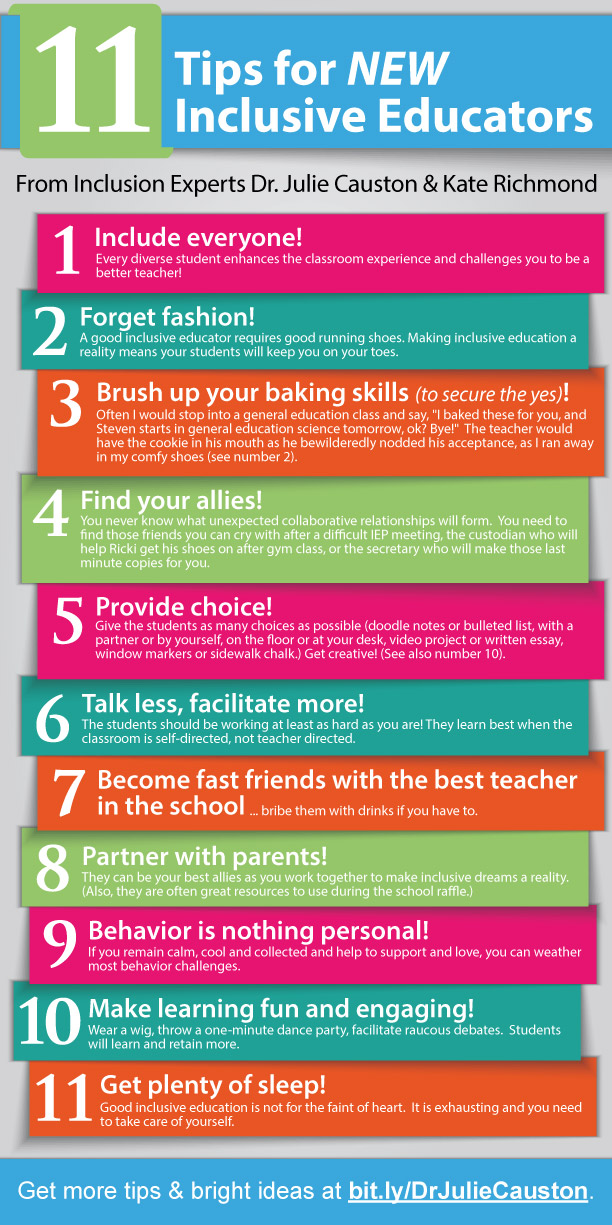 Here are some other helpful tips and resources from Julie Causton: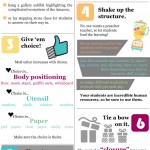 Julie Causton and her colleague Kate Richmond share some specific tips on how to flip a teacher-directed lesson so it's more engaging and student-directed. Check out their 6 best tips (in a colorful infographic!)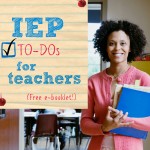 "How Inclusive Educators Lead the IEP Process." 
This booklet of quick tips is adapted from Julie Causton and Chelsea Tracy-Bronson's new book, The Educator's Handbook for Inclusive School Practices. It outlines what to do a month before an IEP meeting, the day of the meeting, and after the meeting.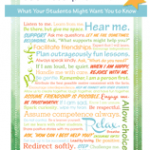 Free "job description" posters.
Julie includes inspiring job descriptions in her books for principals, paraprofessionals, OTs, SLPs, and inclusive educators. They're such a great reminder of the actions and qualities of a successful educator, and now you can print them out for free in poster form! (Do you have one of these up on your bulletin board? Send me a photo at jlillis AT brookespublishing DOT com. We'd love to see!)