11 Things Rocking Co-Teachers Do
January 14, 2016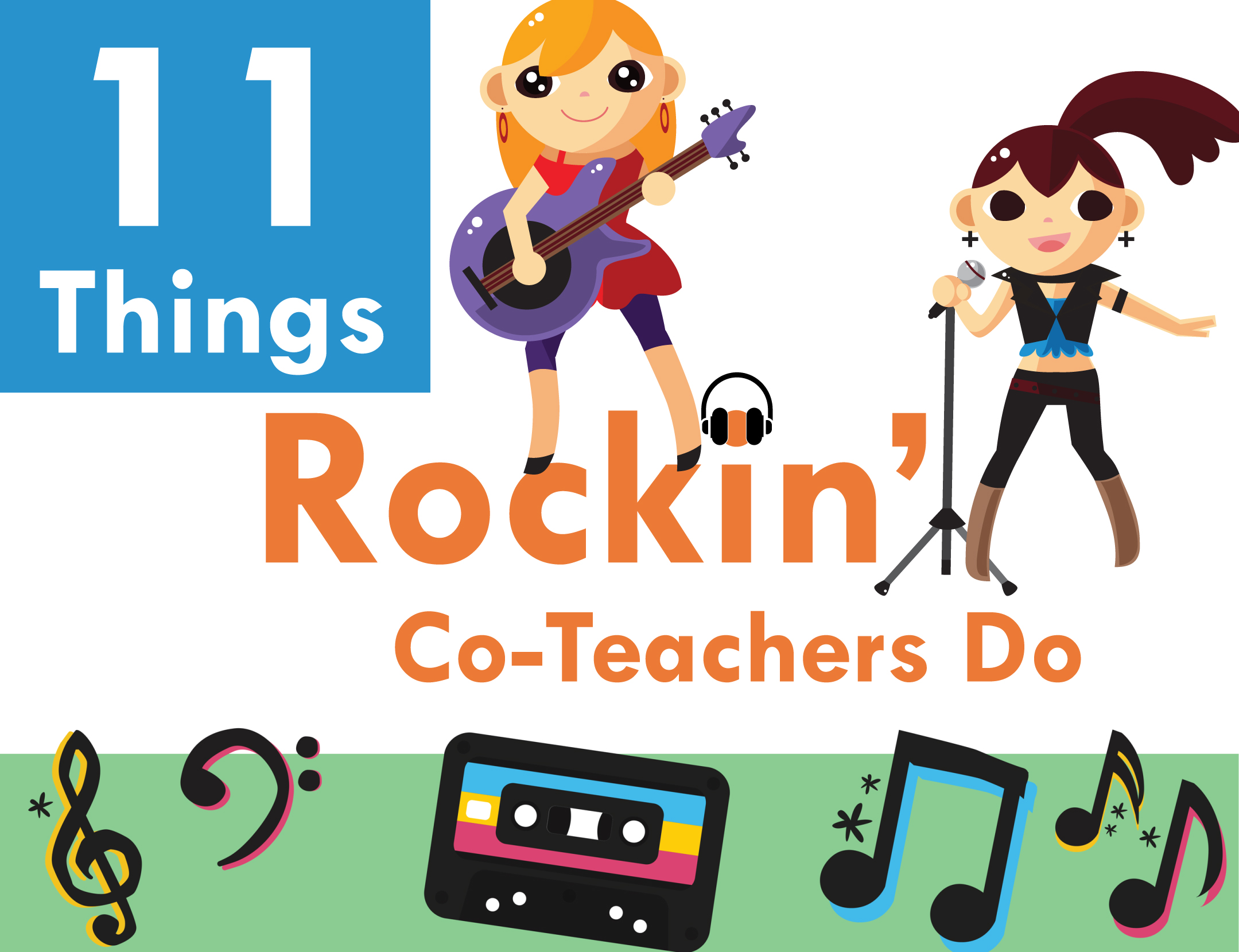 This post is part of our Fair Is Not Always Equal…Now What? blog series. Stay tuned for many more posts!
Happy Thursday, everyone! Today I'm bringing you a list of critical success factors for all co-teachers, excerpted and adapted from Julie Causton's book, The Educator's Handbook for Inclusive School Practices. If you're currently in a co-teaching partnership or preparing to partner up in the future, keep this list on hand as a fun reminder of the essentials of effective team teaching. (And at the end of the post, there's a great infographic ready to share with your fellow teachers.)
11 things rocking co-teachers do
A list by Julie Causton
Say it proud. They make sure both names are on the door and classroom website.
Communicate collectively. They refer to the classroom as both of theirs and talk about their shared space and joint teaching duties with students, families, and colleagues. Newsletters, letters, and notes are sent jointly, signed by both teachers.
Switch it up. They rotate co-teaching arrangements, and often. They switch on and off, leading lessons and supporting. They rotate who begins lessons. They work with all students. They do not work with the same small group of students daily. They switch groups.
Get the message out. Let the office know that any announcements should be addressed to both of the teachers, using both of their names. The message of joint teaching and of inclusive co-teachers is infused throughout the school.
Schedule conferences for times that both can be available. They understand the importance of demonstrating that a team of educators is working with individual students.
Take turns leading the class to the next activity with transitions. They both walk students to schoolwide events or to other classes.
Share any teacher space, including the classroom, desks, or tables. They both have access to all classroom supplies and both are invested in the organization of the classroom.
Check the language they use unknowingly. They use the phrases our classroom, we created, and ours instead of my classroom, my class, and that is mine. There is a sense of shared ownership, responsibility, and accountability. They are truly a team and communicate this through the language used in conversations, conferences, and in their daily teaching.
Do the behind-the-scenes work together. Everyone does all the tasks. Tasks are split up to maintain equity. Both teachers plan, design, and work on lesson plans. They work together to universally design lesson plans from the beginning. They both create accommodations, modifications, and differentiate the content, process, and materials.
Rotate and share in assessments and student conferences. Assessment data are easy to talk about when both educators teach, work with, and assess each learner.
Collaborate to the fullest extent. They problem-solve, critically reflect, and make changes to their classroom on an ongoing basis as a way to continually improve their skills, meet students' needs, and provide the best inclusive education they can create for their students!
Like this list? Here it is in infographic form. (If you like it, please share on your favorite social media site to help spread the word!)
What are some other features of an effective co-teaching partnership? Did we miss something important? Add your suggestion in the comments below!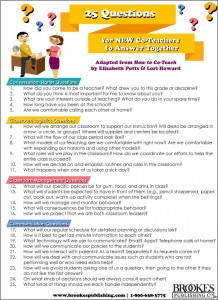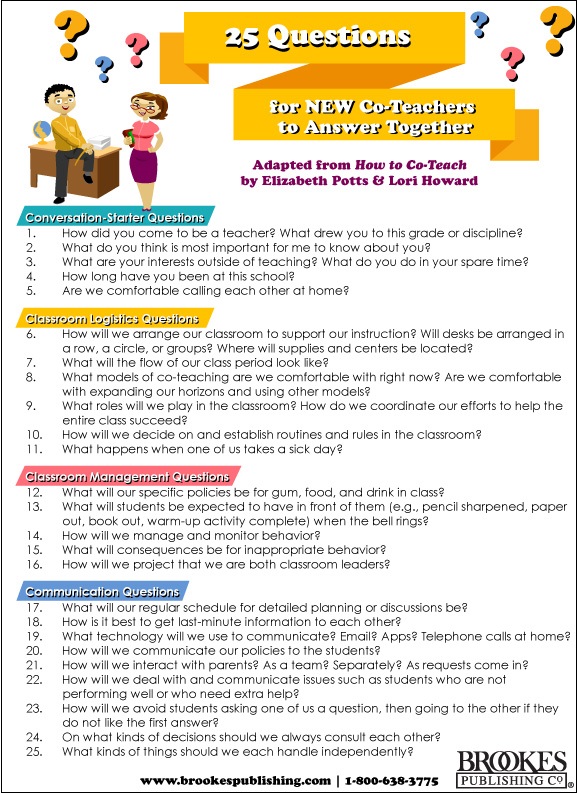 25 Questions for New Co-Teachers to Answer Together (blog post with free printable)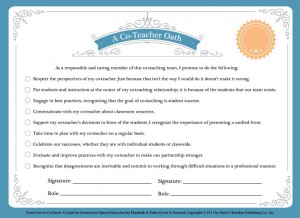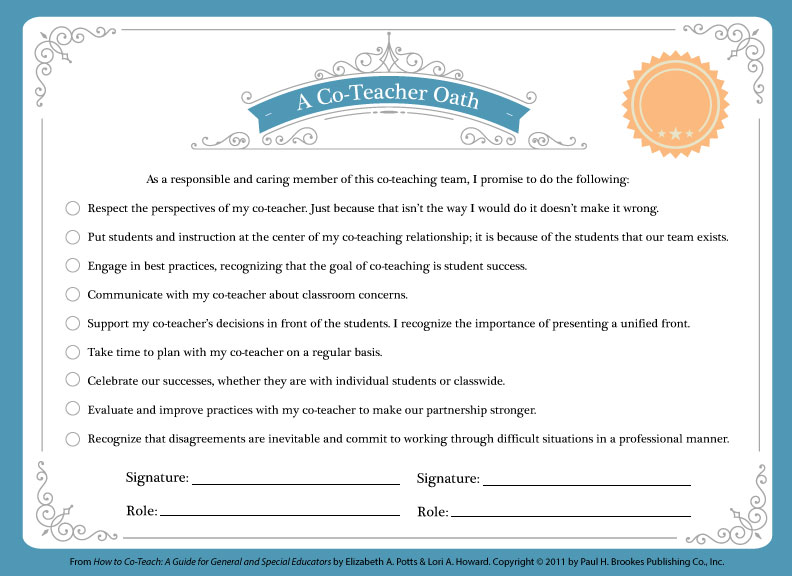 Co-Teacher's Oath (free printable oath to sign together–a good conversation starter for co-teachers)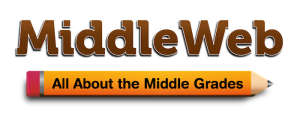 Two Teachers in the Room. Over on MiddleWeb, co-teaching coach and expert Elizabeth Stein regularly shares insights and strategies in helpful, practical blog posts. Bookmark this page for some of the best co-teaching advice around!